Abstract
A major challenge for the development of a highly effective AIDS vaccine is the identification of mechanisms of protective immunity. To address this question, we used a nonhuman primate challenge model with simian immunodeficiency virus (SIV). We show that antibodies to the SIV envelope are necessary and sufficient to prevent infection. Moreover, sequencing of viruses from breakthrough infections revealed selective pressure against neutralization-sensitive viruses; we identified a two-amino-acid signature that alters antigenicity and confers neutralization resistance. A similar signature confers resistance of human immunodeficiency virus (HIV)-1 to neutralization by monoclonal antibodies against variable regions 1 and 2 (V1V2), suggesting that SIV and HIV share a fundamental mechanism of immune escape from vaccine-elicited or naturally elicited antibodies. These analyses provide insight into the limited efficacy seen in HIV vaccine trials.
Your institute does not have access to this article
Relevant articles
Open Access articles citing this article.
Svenja Weiss

,

Vincenza Itri

…

Susan Zolla-Pazner

Nature Communications Open Access 16 February 2022

Lina Sun

,

Amy V. Paschall

…

Fikri Y. Avci

Nature Communications Open Access 21 May 2020

M. Giel-Moloney

,

M. Esteban

…

K. V. Pugachev

Scientific Reports Open Access 27 December 2019
Access options
Subscribe to Journal
Get full journal access for 1 year
$199.00
only $3.90 per issue
All prices are NET prices.
VAT will be added later in the checkout.
Tax calculation will be finalised during checkout.
Buy article
Get time limited or full article access on ReadCube.
$32.00
All prices are NET prices.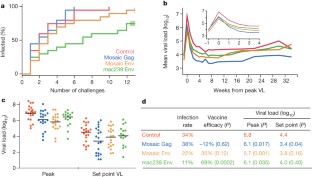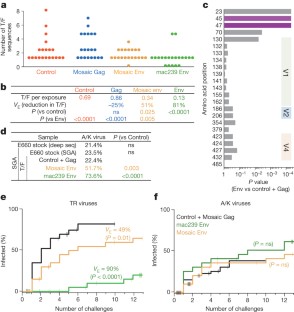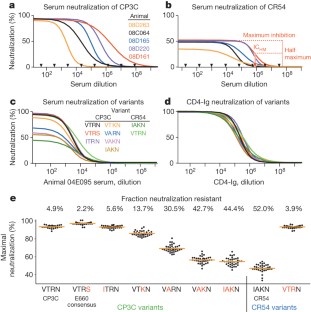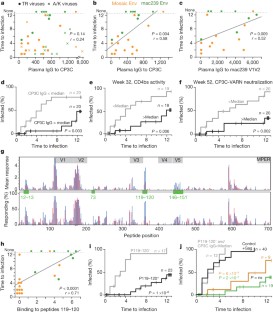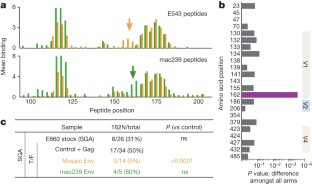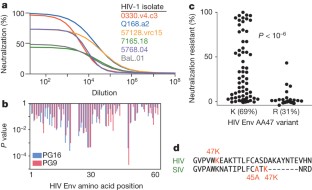 References
Rerks-Ngarm, S. et al. Vaccination with ALVAC and AIDSVAX to prevent HIV-1 infection in Thailand. N. Engl. J. Med. 361, 2209–2220 (2009)

Haynes, B. F. et al. Immune-correlates analysis of an HIV-1 vaccine efficacy trial. N. Engl. J. Med. 366, 1275–1286 (2012)

Tomaras, G. D. et al. Vaccine-induced plasma IgA specific for the C1 region of the HIV-1 envelope blocks binding and effector function of IgG. Proc. Natl Acad. Sci. USA 110, 9019–9024 (2013)

Rolland, M. et al. Increased HIV-1 vaccine efficacy against viruses with genetic signatures in Env V2. Nature 490, 417–420 (2012)

Liao, H. X. et al. Vaccine induction of antibodies against a structurally heterogeneous site of immune pressure within HIV-1 envelope protein variable regions 1 and 2. Immunity 38, 176–186 (2013)

Hammer, S. M. et al. Efficacy Trial of a DNA/rAd5 HIV-1 Preventive Vaccine. N. Engl. J. Med. 369, 2083–2092 (2013)

Keele, B. F. et al. Low-dose rectal inoculation of rhesus macaques by SIVsmE660 or SIVmac251 recapitulates human mucosal infection by HIV-1. J. Exp. Med. 206, 1117–1134 (2009)

Hidajat, R. et al. Correlation of vaccine-elicited systemic and mucosal nonneutralizing antibody activities with reduced acute viremia following intrarectal simian immunodeficiency virus SIVmac251 challenge of rhesus macaques. J. Virol. 83, 791–801 (2009)

Lai, L. et al. Prevention of infection by a granulocyte-macrophage colony-stimulating factor co-expressing DNA/modified vaccinia Ankara simian immunodeficiency virus vaccine. J. Infect. Dis. 204, 164–173 (2011)

Schell, J. B. et al. Significant protection against high-dose simian immunodeficiency virus challenge conferred by a new prime-boost vaccine regimen. J. Virol. 85, 5764–5772 (2011)

Barouch, D. H. et al. Vaccine protection against acquisition of neutralization-resistant SIV challenges in rhesus monkeys. Nature 482, 89–93 (2012)

Flatz, L. et al. Gene-based vaccination with a mismatched envelope protects against simian immunodeficiency virus infection in nonhuman primates. J. Virol. 86, 7760–7770 (2012)

Lai, L. et al. SIVmac239 MVA vaccine with and without a DNA prime, similar prevention of infection by a repeated dose SIVsmE660 challenge despite different immune responses. Vaccine 30, 1737–1745 (2012)

Letvin, N. L. et al. Immune and genetic correlates of vaccine protection against mucosal infection by SIV in monkeys. Sci. Transl. Med. 3, 81ra36 (2011)

Lopker, M. et al. Heterogeneity in neutralization sensitivities of viruses comprising the simian immunodeficiency virus SIVsmE660 isolate and vaccine challenge stock. J. Virol. 87, 5477–5492 (2013)

Fischer, W. et al. Distinct evolutionary pressures underlie diversity in simian immunodeficiency virus and human immunodeficiency virus lineages. J. Virol. 86, 13217–13231 (2012)

Fischer, W. et al. Polyvalent vaccines for optimal coverage of potential T-cell epitopes in global HIV-1 variants. Nature Med. 13, 100–106 (2007)

Hudgens, M. G. & Gilbert, P. B. Assessing vaccine effects in repeated low-dose challenge experiments. Biometrics 65, 1223–1232 (2009)

Hudgens, M. G. et al. Power to detect the effects of HIV vaccination in repeated low-dose challenge experiments. J. Infect. Dis. 200, 609–613 (2009)

Gray, E. S. et al. Isolation of a monoclonal antibody that targets the alpha-2 helix of gp120 and represents the initial autologous neutralizing-antibody response in an HIV-1 subtype C-infected individual. J. Virol. 85, 7719–7729 (2011)

Moore, P. L. et al. Limited neutralizing antibody specificities drive neutralization escape in early HIV-1 subtype C infection. PLoS Pathog. 5, e1000598 (2009)

Del Prete, G. Q. et al. Derivation and characterization of a simian immunodeficiency virus SIVmac239 variant with tropism for CXCR4. J. Virol. 83, 9911–9922 (2009)

Gray, R. T. A class of K-sample tests for comparing the cumulative incidence of a competing risk. Ann. Stat. 16, 1141–1154 (1988)

Lim, S. Y. et al. Contributions of Mamu-A*01 status and TRIM5 allele expression, but not CCL3L copy number variation, to the control of SIVmac251 replication in Indian-origin rhesus monkeys. PLoS Genet. 6, e1000997 (2010)

Lim, S. Y. et al. TRIM5alpha modulates immunodeficiency virus control in rhesus monkeys. PLoS Pathog. 6, e1000738 (2010)

Fenimore, P. W. et al. Designing and testing broadly-protective filoviral vaccines optimized for cytotoxic T-lymphocyte epitope coverage. PLoS ONE 7, e44769 (2012)

Yusim, K. et al. Genotype 1 and global hepatitis C T-cell vaccines designed to optimize coverage of genetic diversity. J. Gen. Virol. 91, 1194–1206 (2010)

Donaldson, M. M. et al. Optimization and qualification of an 8-color intracellular cytokine staining assay for quantifying T cell responses in rhesus macaques for pre-clinical vaccine studies. J. Immunol. Methods 386, 10–21 (2012)

Santra, S. et al. Heterologous prime/boost immunizations of rhesus monkeys using chimpanzee adenovirus vectors. Vaccine 27, 5837–5845 (2009)

Imholte, G. C. et al. A computational framework for the analysis of peptide microarray antibody binding data with application to HIV vaccine profiling. J. Immunol. Methods 395, 1–13 (2013)

Bolton, D. L. et al. Comparison of systemic and mucosal vaccination: impact on intravenous and rectal SIV challenge. Mucosal Immunol. 5, 41–52 (2012)

Tomaras, G. D. et al. Initial B-cell responses to transmitted human immunodeficiency virus type 1: virion-binding immunoglobulin M (IgM) and IgG antibodies followed by plasma anti-gp41 antibodies with ineffective control of initial viremia. J. Virol. 82, 12449–12463 (2008)

Alam, S. M. et al. Human immunodeficiency virus type 1 gp41 antibodies that mask membrane proximal region epitopes: antibody binding kinetics, induction, and potential for regulation in acute infection. J. Virol. 82, 115–125 (2008)

Shu, Y. et al. Efficient protein boosting after plasmid DNA or recombinant adenovirus immunization with HIV-1 vaccine constructs. Vaccine 25, 1398–1408 (2007)

Wu, L. et al. Enhanced exposure of the CD4-binding site to neutralizing antibodies by structural design of a membrane-anchored human immunodeficiency virus type 1 gp120 domain. J. Virol. 83, 5077–5086 (2009)

Li, M. et al. Human immunodeficiency virus type 1 env clones from acute and early subtype B infections for standardized assessments of vaccine-elicited neutralizing antibodies. J. Virol. 79, 10108–10125 (2005)

Zhao, J. et al. Preclinical studies of human immunodeficiency virus/AIDS vaccines: inverse correlation between avidity of anti-Env antibodies and peak postchallenge viremia. J. Virol. 83, 4102–4111 (2009)

Qin, L., Gilbert, P. B., Corey, L., McElrath, M. J. & Self, S. G. A framework for assessing immunological correlates of protection in vaccine trials. J. Infect. Dis. 196, 1304–1312 (2007)

Plotkin, S. A. & Gilbert, P. B. Nomenclature for immune correlates of protection after vaccination. Clin. Infect. Dis. 54, 1615–1617 (2012)
Acknowledgements
We thank the following individuals: W. Shi, L. Wu, S.-Y. Ko, L. Wang and W.-P. Kong for immunogen construction; M. M. Donaldson, S.-F. Kao, D. Quinn, J. Owuor, K. Denison, H. Balachandran, C. Luedemann, W. T. Williams, G. Overman, A. Deal, C. Brinkley and L. Racz for technical assistance with immunology assays; A. Ault for assistance managing NHP studies; S. O'Connor for deep-sequencing data; M. Seaman for providing plasmids encoding E660 envelopes; F. McCutchan, J. Overbaugh and J. Kim for HIV-1 strains; and P. Gilbert for advice with using the Aalen and Johansen model. This work was supported by the Intramural Research Program of the Vaccine Research Center, NIAID, NIH; by NIH contracts HHSN261200800001E (B.F.K., W.G.) and HHSN27201100016C (D.C.M.); by NIH grant AI100645 (B.T.K., W.F.); and by the Bill and Melinda Gates Foundation grant OPP1032317.
Ethics declarations
Competing interests
The authors declare no competing financial interests.
Extended data figures and tables
Supplementary information
About this article
Cite this article
Roederer, M., Keele, B., Schmidt, S. et al. Immunological and virological mechanisms of vaccine-mediated protection against SIV and HIV. Nature 505, 502–508 (2014). https://doi.org/10.1038/nature12893
Received:

Accepted:

Published:

Issue Date:

DOI: https://doi.org/10.1038/nature12893
Comments
By submitting a comment you agree to abide by our Terms and Community Guidelines. If you find something abusive or that does not comply with our terms or guidelines please flag it as inappropriate.