Abstract
Cohesion between sister chromatids, mediated by the chromosomal cohesin complex, is a prerequisite for faithful chromosome segregation in mitosis. Cohesin also has vital roles in DNA repair and transcriptional regulation. The ring-shaped cohesin complex is thought to encircle sister DNA strands, but its molecular mechanism of action is poorly understood and the biochemical reconstitution of cohesin activity in vitro has remained an unattained goal. Here we reconstitute cohesin loading onto DNA using purified fission yeast cohesin and its loader complex, Mis4Scc2–Ssl3Scc4 (Schizosaccharomyces pombe gene names appear throughout with their more commonly known Saccharomyces cerevisiae counterparts added in superscript). Incubation of cohesin with DNA leads to spontaneous topological loading, but this remains inefficient. The loader contacts cohesin at multiple sites around the ring circumference, including the hitherto enigmatic Psc3Scc3 subunit, and stimulates cohesin's ATPase, resulting in efficient topological loading. The in vitro reconstitution of cohesin loading onto DNA provides mechanistic insight into the initial steps of the establishment of sister chromatid cohesion and other chromosomal processes mediated by cohesin.
Relevant articles
Open Access articles citing this article.
Marjon S. van Ruiten

,

Démi van Gent

…

Benjamin D. Rowland

Nature Structural & Molecular Biology Open Access 16 June 2022

Arkadiy K. Golov

,

Anastasia V. Golova

…

Sergey V. Razin

Epigenetics & Chromatin Open Access 28 July 2021

Patricia Garcia

,

Rita Fernandez-Hernandez

…

Ethel Queralt

Nature Communications Open Access 27 July 2021
Access options
Subscribe to Journal
Get full journal access for 1 year
$199.00
only $3.90 per issue
All prices are NET prices.
VAT will be added later in the checkout.
Tax calculation will be finalised during checkout.
Buy article
Get time limited or full article access on ReadCube.
$32.00
All prices are NET prices.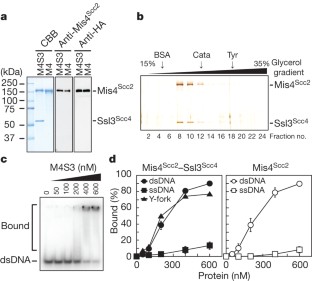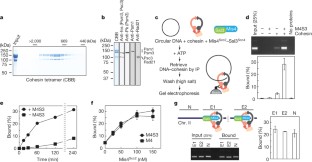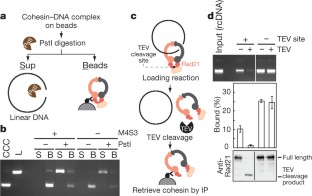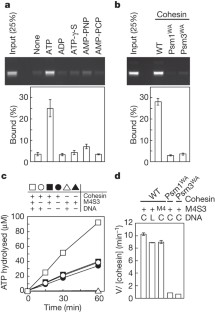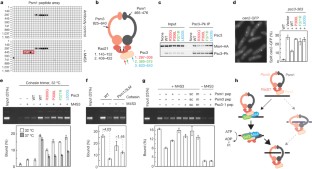 References
Michaelis, C., Ciosk, R. & Nasmyth, K. Cohesins: chromosomal proteins that prevent premature separation of sister chromatids. Cell 91, 35–45 (1997)

Guacci, V., Koshland, D. & Strunnikov, A. A direct link between sister chromatid cohesion and chromosome condensation revealed through analysis of MCD1 in S. cerevisiae. Cell 91, 47–57 (1997)

Losada, A., Hirano, M. & Hirano, T. Identification of Xenopus SMC protein complexes required for sister chromatid cohesion. Genes Dev. 12, 1986–1997 (1998)

Sjögren, C. & Nasmyth, K. Sister chromatid cohesion is required for postreplicative double-strand break repair in Saccharomyces cerevisiae. Curr. Biol. 11, 991–995 (2001)

Wendt, K. S. et al. Cohesin mediates transcriptional insulation by CCCTC-binding factor. Nature 451, 796–801 (2008)

Musio, A. et al. X-linked Cornelia de Lange syndrome owing to SMC1L1 mutations. Nature Genet. 38, 528–530 (2006)

Solomon, D. A. et al. Mutational inactivation of STAG2 causes aneuploidy in human cancer. Science 333, 1039–1043 (2011)

Losada, A. & Hirano, T. Intermolecular DNA interactions stimulated by the cohesin complex in vitro: implications for sister chromatid cohesion. Curr. Biol. 11, 268–272 (2001)

Onn, I. & Koshland, D. In vitro assembly of physiological cohesin/DNA complexes. Proc. Natl Acad. Sci. USA 108, 12198–12205 (2011)

Bermudez, V. P. et al. In vitro loading of human cohesin on DNA by the human Scc2-Scc4 loader complex. Proc. Natl Acad. Sci. USA 109, 9366–9371 (2012)

Anderson, D. E., Losada, A., Erickson, H. P. & Hirano, T. Condensin and cohesin display different arm conformations with characteristic hinge angles. J. Cell Biol. 156, 419–424 (2002)

Haering, C. H., Löwe, J., Hochwagen, A. & Nasmyth, K. Molecular architecture of SMC proteins and the yeast cohesin complex. Mol. Cell 9, 773–788 (2002)

Tóth, A. et al. Yeast Cohesin complex requires a conserved protein, Eco1p (Ctf7), to establish cohesion between sister chromatids during DNA replication. Genes Dev. 13, 320–333 (1999)

Tomonaga, T. et al. Characterization of fission yeast cohesin: essential anaphase proteolysis of Rad21 phosphorylated in the S phase. Genes Dev. 14, 2757–2770 (2000)

Losada, A., Yokochi, T., Kobayashi, R. & Hirano, T. Identification and characterization of SA/Scc3p subunits in the Xenopus and human cohesin complexes. J. Cell Biol. 150, 405–416 (2000)

Sumara, I., Vorlaufer, E., Gieffers, C., Peters, B. H. & Peters, J.-M. Characterization of vertebrate cohesin complexes and their regulation in prophase. J. Cell Biol. 151, 749–762 (2000)

Haering, C. H., Farcas, A. M., Arumugam, P., Metson, J. & Nasmyth, K. The cohesin ring concatenates sister DNA molecules. Nature 454, 297–301 (2008)

Ciosk, R. et al. Cohesin's binding to chromosomes depends on a separate complex consisting of Scc2 and Scc4 proteins. Mol. Cell 5, 243–254 (2000)

Weitzer, S., Lehane, C. & Uhlmann, F. A model for ATP hydrolysis-dependent binding of cohesin to DNA. Curr. Biol. 13, 1930–1940 (2003)

Arumugam, P. et al. ATP hydrolysis is required for cohesin's association with chromosomes. Curr. Biol. 13, 1941–1953 (2003)

Rolef Ben-Shahar, T. et al. Eco1-dependent cohesin acetylation during establishment of sister chromatid cohesion. Science 321, 563–566 (2008)

Ünal, E. et al. A molecular determinant for the establishment of sister chromatid cohesion. Science 321, 566–569 (2008)

Sakai, A., Hizume, K., Sutani, T., Takeyasu, K. & Yanagida, M. Condensin but not cohesin SMC heterodimer induces DNA reannealing through protein–protein assembly. EMBO J. 22, 2764–2775 (2003)

Lengronne, A. et al. Cohesin relocation from sites of chromosomal loading to places of convergent transcription. Nature 430, 573–578 (2004)

Schmidt, C. K., Brookes, N. & Uhlmann, F. Conserved features of cohesin binding along fission yeast chromosomes. Genome Biol. 10, R52 (2009)

Uhlmann, F., Wernic, D., Poupart, M.-A., Koonin, E. V. & Nasmyth, K. Cleavage of cohesin by the CD clan protease separin triggers anaphase in yeast. Cell 103, 375–386 (2000)

Pezzi, N. et al. STAG3, a novel gene encoding a protein involved in meiotic chromosome pairing and location of STAG3-related genes flanking the Williams-Beuren syndrome deletion. FASEB J. 14, 581–592 (2000)

Birkenbihl, R. P. & Subramani, S. Cloning and characterization of rad21 an essential gene of Schizosaccharomyces pombe involved in DNA double-strand-break repair. Nucleic Acids Res. 20, 6605–6611 (1992)

Cuylen, S., Metz, J. & Haering, C. H. Condensin structures chromosomal DNA through topological links. Nature Struct. Mol. Biol. 18, 894–901 (2011)

D'Ambrosio, C. et al. Identification of cis-acting sites for condensin loading onto budding yeast chromosomes. Genes Dev. 22, 2215–2227 (2008)

Furuya, K., Takahashi, K. & Yanagida, M. Faithful anaphase is ensured by Mis4, a sister chromatid cohesion molecule required in S phase and not destroyed in G1 phase. Genes Dev. 12, 3408–3418 (1998)

Gruber, S. & Errington, J. Recruitment of condensin to replication origin regions by ParB/SpoOJ promotes chromosome segregation in B. subtilis. Cell 137, 685–696 (2009)

Bernard, P. et al. A screen for cohesion mutants uncovers Ssl3, the fission yeast counterpart of the cohesin loading factor Scc4. Curr. Biol. 16, 875–881 (2006)

Takahashi, T. S., Basu, A., Bermudez, V., Hurwitz, J. & Walter, J. C. Cdc7–Drf1 kinase links chromosome cohesion to the initiation of DNA replication in Xenopus egg extracts. Genes Dev. 22, 1894–1905 (2008)

Lammens, K. et al. The Mre11:Rad50 structure shows an ATP-dependent molecular clamp in DNA double-strand break repair. Cell 145, 54–66 (2011)

Williams, G. J. et al. ABC ATPase signature helices in Rad50 link nucleotide state to Mre11 interface for DNA repair. Nature Struct. Mol. Biol. 18, 423–431 (2011)

Lim, H. S., Kim, J. S., Park, Y. B., Gwon, G. H. & Cho, Y. Crystal structure of the Mre11–Rad50–ATPγS complex: understanding the interplay between Mre11 and Rad50. Genes Dev. 25, 1091–1104 (2011)

Warren, J. J. et al. Structure of the human MutSα DNA lesion recognition complex. Mol. Cell 26, 579–592 (2007)

Nasmyth, K. Cohesin: a catenase with separate entry and exit gates? Nature Cell Biol. 13, 1170–1177 (2011)

Gietz, R. D. & Sugino, A. New yeast-Escherichia coli shuttle vectors constructed with in vitro mutagenized yeast genes lacking six-base pair restriction sites. Gene 74, 527–534 (1988)

Shibata, T., Cunningham, R. P. & Radding, C. M. Homologous pairing in genetic recombination. Purification and characterization of Escherichia coli recA protein. J. Biol. Chem. 256, 7557–7564 (1981)

Moreno, S., Klar, A. & Nurse, P. Molecular genetic analysis of fission yeast Schizosaccharomyces pombe. Methods Enzymol. 194, 795–823 (1991)

Matsuyama, A., Shirai, A. & Yoshida, M. A novel series of vectors for chromosomal integration in fission yeast. Biochem. Biophys. Res. Commun. 374, 315–319 (2008)

Yamamoto, A. & Hiraoka, Y. Monopolar spindle attachment of sister chromatids is ensured by two distinct mechanisms at the first meiotic division in fission yeast. EMBO J. 22, 2284–2296 (2003)

Siegel, L. M. & Monty, K. J. Determination of molecular weights and frictional ratios of proteins in impure systems by use of gel filtration and density gradient centrifugation. Application to crude preparations of sulfite and hydroxylamine reductases. Biochim. Biophys. Acta 112, 346–362 (1966)
Acknowledgements
We are grateful to N. O'Reilly for peptide synthesis, A. Alidoust and N. Patel for fermentation and J. Hurwitz, T. Toda and members of the Chromosome Segregation Laboratory for discussion and comments on the manuscript. This work was supported by the European Research Council. Y.M. was supported by the Japanese Society for the Promotion of Science (JSPS).
Ethics declarations
Competing interests
The authors declare no competing financial interests.
Extended data figures and tables
Supplementary information
About this article
Cite this article
Murayama, Y., Uhlmann, F. Biochemical reconstitution of topological DNA binding by the cohesin ring. Nature 505, 367–371 (2014). https://doi.org/10.1038/nature12867
Received:

Accepted:

Published:

Issue Date:

DOI: https://doi.org/10.1038/nature12867
Comments
By submitting a comment you agree to abide by our Terms and Community Guidelines. If you find something abusive or that does not comply with our terms or guidelines please flag it as inappropriate.