Abstract
Macroautophagy (hereafter referred to as autophagy) is a process in which organelles termed autophagosomes deliver cytoplasmic constituents to lysosomes for degradation1. Autophagy has a major role in cellular homeostasis and has been implicated in various forms of human disease2,3,4. The role of autophagy in cancer seems to be complex, with reports indicating both pro-tumorigenic and tumour-suppressive roles3,5,6,7,8,9,10,11,12. Here we show, in a humanized genetically-modified mouse model of pancreatic ductal adenocarcinoma (PDAC), that autophagy's role in tumour development is intrinsically connected to the status of the tumour suppressor p53. Mice with pancreases containing an activated oncogenic allele of Kras (also called Ki-Ras)—the most common mutational event in PDAC13—develop a small number of pre-cancerous lesions that stochastically develop into PDAC over time. However, mice also lacking the essential autophagy genes Atg5 or Atg7 accumulate low-grade, pre-malignant pancreatic intraepithelial neoplasia lesions, but progression to high-grade pancreatic intraepithelial neoplasias and PDAC is blocked. In marked contrast, in mice containing oncogenic Kras and lacking p53, loss of autophagy no longer blocks tumour progression, but actually accelerates tumour onset, with metabolic analysis revealing enhanced glucose uptake and enrichment of anabolic pathways, which can fuel tumour growth. These findings provide considerable insight into the role of autophagy in cancer and have important implications for autophagy inhibition in cancer therapy. In this regard, we also show that treatment of mice with the autophagy inhibitor hydroxychloroquine, which is currently being used in several clinical trials14, significantly accelerates tumour formation in mice containing oncogenic Kras but lacking p53.
Relevant articles
Open Access articles citing this article.
Jian Yang

,

Ying Liu

&

Shi Liu

Cell Death & Disease Open Access 07 August 2023

Da Eun Hong

,

Ji Eun Yu

…

Jin Tae Hong

Scientific Reports Open Access 20 June 2023

Cefan Zhou

,

Xiaoting Zhu

…

Jingfeng Tang

Signal Transduction and Targeted Therapy Open Access 17 February 2023
Access options
Subscribe to this journal
Receive 51 print issues and online access
$199.00 per year
only $3.90 per issue
Rent or buy this article
Prices vary by article type
from$1.95
to$39.95
Prices may be subject to local taxes which are calculated during checkout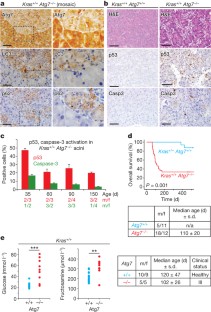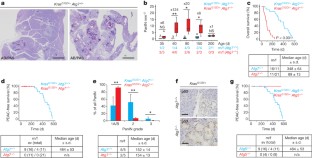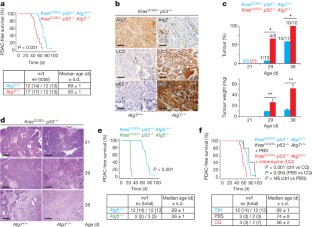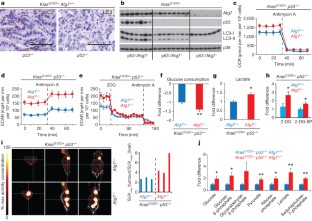 References
Yang, Z. & Klionsky, D. J. Mammalian autophagy: core molecular machinery and signaling regulation. Curr. Opin. Cell Biol. 22, 124–131 (2010)

Mizushima, N., Levine, B., Cuervo, A. M. & Klionsky, D. J. Autophagy fights disease through cellular self-digestion. Nature 451, 1069–1075 (2008)

Levine, B. & Kroemer, G. Autophagy in the pathogenesis of disease. Cell 132, 27–42 (2008)

Kundu, M. & Thompson, C. B. Autophagy: basic principles and relevance to disease. Annu. Rev. Pathol. 3, 427–455 (2008)

Mah, L. Y. & Ryan, K. M. Autophagy and cancer. Cold Spring Harb. Perspect. Biol. 4, a008821 (2012)

Yue, Z., Jin, S., Yang, C., Levine, A. J. & Heintz, N. Beclin 1, an autophagy gene essential for early embryonic development, is a haploinsufficient tumor suppressor. Proc. Natl Acad. Sci. USA 100, 15077–15082 (2003)

Liang, X. H. et al. Induction of autophagy and inhibition of tumorigenesis by beclin 1. Nature 402, 672–676 (1999)

Guo, J. Y. et al. Activated Ras requires autophagy to maintain oxidative metabolism and tumorigenesis. Genes Dev. 25, 460–470 (2011)

Yang, S. et al. Pancreatic cancers require autophagy for tumor growth. Genes Dev. 25, 717–729 (2011)

Wei, H. et al. Suppression of autophagy by FIP200 deletion inhibits mammary tumorigenesis. Genes Dev. 25, 1510–1527 (2011)

Takamura, A. et al. Autophagy-deficient mice develop multiple liver tumors. Genes Dev. 25, 795–800 (2011)

Guo, J. Y. et al. Autophagy suppresses progression of K-ras-induced lung tumors to oncocytomas and maintains lipid homeostasis. Genes Dev. 27, 1447–1461 (2013)

Hezel, A. F., Kimmelman, A. C., Stanger, B. Z., Bardeesy, N. & Depinho, R. A. Genetics and biology of pancreatic ductal adenocarcinoma. Genes Dev. 20, 1218–1249 (2006)

Amaravadi, R. K. et al. Principles and current strategies for targeting autophagy for cancer treatment. Clin. Cancer Res. 17, 654–666 (2011)

Hingorani, S. R. et al. Preinvasive and invasive ductal pancreatic cancer and its early detection in the mouse. Cancer Cell 4, 437–450 (2003)

Komatsu, M. et al. Impairment of starvation-induced and constitutive autophagy in Atg7-deficient mice. J. Cell Biol. 169, 425–434 (2005)

Kabeya, Y. et al. LC3, a mammalian homologue of yeast Apg8p, is localized in autophagosome membranes after processing. EMBO J. 19, 5720–5728 (2000)

Rosenfeldt, M., Nixon, C., Liu, E., Mah, L. Y. & Ryan, K. M. Analysis of macroautophagy by immunohistochemistry. Autophagy 8, 963–969 (2012)

Bjorkoy, G. et al. p62/SQSTM1 forms protein aggregates degraded by autophagy and has a protective effect on huntingtin-induced cell death. J. Cell Biol. 171, 603–614 (2005)

Crighton, D. & Ryan, K. M. Splicing DNA-damage responses to tumour cell death. Biochim. Biophys. Acta 1705, 3–15 (2004)

Desai, B. M. et al. Preexisting pancreatic acinar cells contribute to acinar cell, but not islet beta cell, regeneration. J. Clin. Invest. 117, 971–977 (2007)

Morton, J. P. et al. Mutant p53 drives metastasis and overcomes growth arrest/senescence in pancreatic cancer. Proc. Natl Acad. Sci. USA 107, 246–251 (2010)

Caldwell, M. E. et al. Cellular features of senescence during the evolution of human and murine ductal pancreatic cancer. Oncogene 31, 1599–1608 (2012)

Young, A. R. et al. Autophagy mediates the mitotic senescence transition. Genes Dev. 23, 798–803 (2009)

Lee, I. H. et al. Atg7 modulates p53 activity to regulate cell cycle and survival during metabolic stress. Science 336, 225–228 (2012)

Hara, T. et al. Suppression of basal autophagy in neural cells causes neurodegenerative disease in mice. Nature 441, 885–889 (2006)

Vander Heiden, M. G., Cantley, L. C. & Thompson, C. B. Understanding the Warburg effect: the metabolic requirements of cell proliferation. Science 324, 1029–1033 (2009)

Mathew, R. et al. Autophagy suppresses tumor progression by limiting chromosomal instability. Genes Dev. 21, 1367–1381 (2007)

Karantza-Wadsworth, V. et al. Autophagy mitigates metabolic stress and genome damage in mammary tumorigenesis. Genes Dev. 21, 1621–1635 (2007)

Frezza, C. et al. Haem oxygenase is synthetically lethal with the tumour suppressor fumarate hydratase. Nature 477, 225–228 (2011)

Jonkers, J. et al. Synergistic tumor suppressor activity of BRCA2 and p53 in a conditional mouse model for breast cancer. Nature Genet. 29, 418–425 (2001)

Schreiber, F. S. et al. Successful growth and characterization of mouse pancreatic ductal cells: functional properties of the Ki-RASG12V oncogene. Gastroenterology 127, 250–260 (2004)

Zenker, M. et al. Deficiency of UBR1, a ubiquitin ligase of the N-end rule pathway, causes pancreatic dysfunction, malformations and mental retardation (Johanson-Blizzard syndrome). Nature Genet. 37, 1345–1350 (2005)
Acknowledgements
We are grateful to M. Komatsu for providing the Atg7 floxed mice that were used in this study, and we thank M. O'Prey for help with fluorescent microscopy; G. Gillen for help with PET; T. McBryan for help with statistics; C. Frezza for help with metabolic studies; and A. Rosenwald for help and advice on pathology. This work was supported by Cancer Research UK and the Pancreatic Cancer Research Fund.
Ethics declarations
Competing interests
The authors declare no competing financial interests.
Extended data figures and tables
About this article
Cite this article
Rosenfeldt, M., O'Prey, J., Morton, J. et al. p53 status determines the role of autophagy in pancreatic tumour development. Nature 504, 296–300 (2013). https://doi.org/10.1038/nature12865
Received:

Accepted:

Published:

Issue Date:

DOI: https://doi.org/10.1038/nature12865
Comments
By submitting a comment you agree to abide by our Terms and Community Guidelines. If you find something abusive or that does not comply with our terms or guidelines please flag it as inappropriate.