Abstract
The protozoan parasites Trypanosoma brucei spp. cause important human and livestock diseases in sub-Saharan Africa. In mammalian blood, two developmental forms of the parasite exist: proliferative 'slender' forms and arrested 'stumpy' forms that are responsible for transmission to tsetse flies. The slender to stumpy differentiation is a density-dependent response that resembles quorum sensing in microbial systems and is crucial for the parasite life cycle, ensuring both infection chronicity and disease transmission1. This response is triggered by an elusive 'stumpy induction factor' (SIF) whose intracellular signalling pathway is also uncharacterized. Laboratory-adapted (monomorphic) trypanosome strains respond inefficiently to SIF but can generate forms with stumpy characteristics when exposed to cell-permeable cAMP and AMP analogues. Exploiting this, we have used a genome-wide RNA interference library screen to identify the signalling components driving stumpy formation. In separate screens, monomorphic parasites were exposed to 8-(4-chlorophenylthio)-cAMP (pCPT-cAMP) or 8-pCPT-2′-O-methyl-5′-AMP to select cells that were unresponsive to these signals and hence remained proliferative. Genome-wide Ion Torrent based RNAi target sequencing identified cohorts of genes implicated in each step of the signalling pathway, from purine metabolism, through signal transducers (kinases, phosphatases) to gene expression regulators. Genes at each step were independently validated in cells naturally capable of stumpy formation, confirming their role in density sensing in vivo. The putative RNA-binding protein, RBP7, was required for normal quorum sensing and promoted cell-cycle arrest and transmission competence when overexpressed. This study reveals that quorum sensing signalling in trypanosomes shares similarities to fundamental quiescence pathways in eukaryotic cells, its components providing targets for quorum-sensing interference-based therapeutics.
Relevant articles
Open Access articles citing this article.
Eva Horáková

,

Laurence Lecordier

…

Julius Lukeš

Nature Communications Open Access 18 November 2022

Juan F. Quintana

,

Praveena Chandrasegaran

…

Annette MacLeod

Nature Communications Open Access 30 September 2022

Mabel Deladem Tettey

,

Federico Rojas

&

Keith R. Matthews

Nature Communications Open Access 09 June 2022
Access options
Subscribe to Journal
Get full journal access for 1 year
$199.00
only $3.90 per issue
All prices are NET prices.
VAT will be added later in the checkout.
Tax calculation will be finalised during checkout.
Buy article
Get time limited or full article access on ReadCube.
$32.00
All prices are NET prices.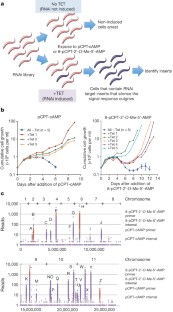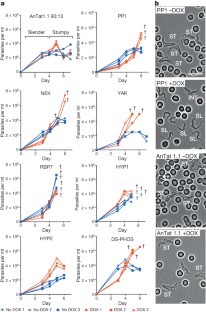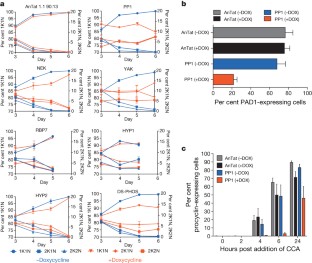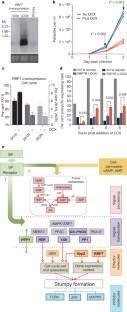 References
MacGregor, P., Szoor, B., Savill, N. J. & Matthews, K. R. Trypanosomal immune evasion, chronicity and transmission: an elegant balancing act. Nature Rev. Microbiol. 10, 431–438 (2012)

Goldenberg, S. & Avila, A. R. Aspects of Trypanosoma cruzi stage differentiation. Adv. Parasitol. 75, 285–305 (2011)

Aly, A. S., Vaughan, A. M. & Kappe, S. H. Malaria parasite development in the mosquito and infection of the mammalian host. Annu. Rev. Microbiol. 63, 195–221 (2009)

Matthews, K. R. Controlling and coordinating development in vector-transmitted parasites. Science 331, 1149–1153 (2011)

Baker, D. A. Malaria gametocytogenesis. Mol. Biochem. Parasitol. 172, 57–65 (2010)

Frank, S. A. Models of parasite virulence. Q. Rev. Biol. 71, 37–78 (1996)

Gjini, E., Haydon, D. T., Barry, J. D. & Cobbold, C. A. Critical interplay between parasite differentiation, host immunity, and antigenic variation in trypanosome infections. Am. Nat. 176, 424–439 (2010)

Mackinnon, M. J. & Read, A. F. Virulence in malaria: an evolutionary viewpoint. Phil. Trans. R. Soc. B 359, 965–986 (2004)

Barrett, M. P. & Croft, S. L. Management of trypanosomiasis and leishmaniasis. Br. Med. Bull. 104, 175–196 (2012)

Robertson, M. Notes on the polymorphism of Trypanosoma gambiense in the blood and its relation to the exogenous cycle in Glossina palpalis. Proc. R. Soc. Lond. B 85, 241–248 (1912)

Vickerman, K. Developmental cycles and biology of pathogenic trypanosomes. Br. Med. Bull. 41, 105–114 (1985)

Vassella, E., Reuner, B., Yutzy, B. & Boshart, M. Differentiation of African trypanosomes is controlled by a density sensing mechanism which signals cell cycle arrest via the cAMP pathway. J. Cell Sci. 110, 2661–2671 (1997)

Waters, C. M. & Bassler, B. L. Quorum sensing: cell-to-cell communication in bacteria. Annu. Rev. Cell Dev. Biol. 21, 319–346 (2005)

Vassella, E. et al. Deletion of a novel protein kinase with PX and FYVE-related domains increases the rate of differentiation of Trypanosoma brucei. Mol. Microbiol. 41, 33–46 (2001)

Domenicali Pfister, D. et al. A mitogen-activated protein kinase controls differentiation of bloodstream forms of Trypanosoma brucei. Eukaryot. Cell 5, 1126–1135 (2006)

Barquilla, A. et al. Third target of rapamycin complex negatively regulates development of quiescence in Trypanosoma brucei. Proc. Natl Acad. Sci. USA 109, 14399–14404 (2012)

Laxman, S., Riechers, A., Sadilek, M., Schwede, F. & Beavo, J. A. Hydrolysis products of cAMP analogs cause transformation of Trypanosoma brucei from slender to stumpy-like forms. Proc. Natl Acad. Sci. USA 103, 19194–19199 (2006)

MacGregor, P. & Matthews, K. R. Identification of the regulatory elements controlling the transmission stage-specific gene expression of PAD1 in Trypanosoma brucei. Nucleic Acids Res. 40, 7705–7717 (2012)

Gould, M. K. et al. Cyclic AMP effectors in African trypanosomes revealed by genome-scale RNA interference library screening for resistance to the phosphodiesterase inhibitor CpdA. Antimicrob. Agents Chemother. 57, 4882–4893 (2013)

Alsford, S. et al. High-throughput phenotyping using parallel sequencing of RNA interference targets in the African trypanosome. Genome Res. (2011)

Rothberg, J. M. et al. An integrated semiconductor device enabling non-optical genome sequencing. Nature 475, 348–352 (2011)

Vodnala, M. et al. Adenosine kinase mediates high affinity adenosine salvage in Trypanosoma brucei. J. Biol. Chem. 283, 5380–5388 (2008)

Garrett, S., Menold, M. M. & Broach, J. R. The Saccharomyces cerevisiae YAK1 gene encodes a protein kinase that is induced by arrest early in the cell cycle. Mol. Cell. Biol. 11, 4045–4052 (1991)

Souza, G. M., Lu, S. & Kuspa, A. YakA, a protein kinase required for the transition from growth to development in Dictyostelium. Development 125, 2291–2302 (1998)

Li, Z., Tu, X. & Wang, C. C. Okadaic acid overcomes the blocked cell cycle caused by depleting Cdc2-related kinases in Trypanosoma brucei. Exp. Cell Res. 312, 3504–3516 (2006)

Dean, S., Marchetti, R., Kirk, K. & Matthews, K. A surface transporter family conveys the trypanosome differentiation signal. Nature 459, 213–217 (2009)

Kolev, N. G., Ramey-Butler, K., Cross, G. A., Ullu, E. & Tschudi, C. Developmental progression to infectivity in Trypanosoma brucei triggered by an RNA-binding protein. Science 338, 1352–1353 (2012)

Pietras, E. M., Warr, M. R. & Passegue, E. Cell cycle regulation in hematopoietic stem cells. J. Cell Biol. 195, 709–720 (2011)

Zaman, S., Lippman, S. I., Zhao, X. & Broach, J. R. How Saccharomyces responds to nutrients. Annu. Rev. Genet. 42, 27–81 (2008)

Rasko, D. A. & Sperandio, V. Anti-virulence strategies to combat bacteria-mediated disease. Nature Rev. Drug Discov. 9, 117–128 (2010)

Redmond, S., Vadivelu, J. & Field, M. C. RNAit: an automated web-based tool for the selection of RNAi targets in Trypanosoma brucei. Mol. Biochem. Parasitol. 128, 115–118 (2003)

Engstler, M. & Boshart, M. Cold shock and regulation of surface protein trafficking convey sensitization to inducers of stage differentiation in Trypanosoma brucei. Genes Dev. 18, 2798–2811 (2004)

Pusnik, M., Small, I., Read, L. K., Fabbro, T. & Schneider, A. Pentatricopeptide repeat proteins in Trypanosoma brucei function in mitochondrial ribosomes. Mol. Cell. Biol. 27, 6876–6888 (2007)

MacGregor, P., Rojas, F., Dean, S. & Matthews, K. R. Stable transformation of pleomorphic bloodstream form Trypanosoma brucei. Mol. Biochem. Parasitol. (2013)

Alsford, S., Kawahara, T., Glover, L. & Horn, D. Tagging a T. brucei RRNA locus improves stable transfection efficiency and circumvents inducible expression position effects. Mol. Biochem. Parasitol. 144, 142–148 (2005)

Kelly, S. et al. Functional genomics in Trypanosoma brucei: a collection of vectors for the expression of tagged proteins from endogenous and ectopic gene loci. Mol. Biochem. Parasitol. 154, 103–109 (2007)

Smyth, G. K. Linear models and empirical Bayes methods for assessing differential expression in microarray experiments. Stat. Appl. Genet. Mol. Biol. 3, Article3 (2004)

Tasker, M., Wilson, J., Sarkar, M., Hendriks, E. & Matthews, K. A novel selection regime for differentiation defects demonstrates an essential role for the stumpy form in the life cycle of the African trypanosome. Mol. Biol. Cell 11, 1905–1917 (2000)

Vassella, E., Straesser, K. & Boshart, M. A mitochondrion-specific dye for multicolour fluorescent imaging of Trypanosoma brucei. Mol. Biochem. Parasitol. 90, 381–385 (1997)

Matthews, K. R., Sherwin, T. & Gull, K. Mitochondrial genome repositioning during the differentiation of the African trypanosome between life cycle forms is microtubule mediated. J. Cell Sci. 108, 2231–2239 (1995)

Alsford, S. et al. High-throughput phenotyping using parallel sequencing of RNA interference targets in the African trypanosome. Genome Res. 21, 915–924 (2011)
Acknowledgements
This work was funded by a Wellcome Trust Programme grant (088293MA) to K.M. and by a Wellcome Trust strategic award (095831MA) to the Centre for Immunity, Infection and Evolution. D.H. is supported by a Wellcome Trust senior investigator award (100320/Z/12/Z). We thank M. Chase-Topping for statistical support.
Ethics declarations
Competing interests
The authors declare no competing financial interests.
Extended data figures and tables
Supplementary information
This file contains Supplementary Tables 1-3. (PDF 319 kb)
This zipped file contains Supplementary Data Files 1-4, which are as follows: (1) Genomic location of Ion TorrentTM reads derived from PCR amplicons analysed from selection with either 100µM pCPTcAMP or 10M 8-pCPT-2'-O-Me-5'-AMP. Those with Lib2F or Lib2R primers were at the boundaries of each amplicon, whereas internal primers represent fragments internal to the amplicon boundaries. File format: Microsoft excel: 'supplementary datafile 1.xls'. The dataset is deposited at: http://www.ncbi.nlm.nih.gov/geo/query/acc.cgi?token=drwzvqawmowsgdu&acc=GSE46501; (2) Pictograms representing the ion torrent read density for individual genes analysed or described in this study. 8-pCPT-2'-O-Me-5'-AMP selections are presented in the upper panel (pink), pCPTcAMP selections (pale blue) in the lower panel. The Lib2F and Lib2R primers are highlighted in a distinct colour (deep blue and deep red) to the internal reads. File format: png; (3) Interproscan (http://www.ebi.ac.uk/Tools/pfa/iprscan/) profiles of identified components from the screen for drivers of stumpy formation. Hits targeting purine metabolism are not shown. File: 'supplementary datafile 3.pdf'; (4) Expression comparisons between parasites induced to deplete or overexpress RBP7. The comparison shows cells induced to deplete RBP7 by RNAi or overexpress RBP7 as an ectopic copy. File format: Microsoft excel. Files: 'RBP7 OE plus vs minus dox.xls'; 'RBP7 RNAi vs. OE.xls';' RBP7 RNAi±dox vs AnTat±dox.xls'.This analysis, plus transcriptome analyses of samples comparing RNAi lines ±doxycycline versus AnTat1.1 90:13 cells ±dox, and RBP7 overexpressing lines 'plus dox' versus 'minus dox' are deposited at: http://www.ncbi.nlm.nih.gov/geo/query/acc.cgi?token=drwzvqawmowsgdu&acc=GSE46501. (ZIP 9530 kb)
About this article
Cite this article
Mony, B., MacGregor, P., Ivens, A. et al. Genome-wide dissection of the quorum sensing signalling pathway in Trypanosoma brucei . Nature 505, 681–685 (2014). https://doi.org/10.1038/nature12864
Received:

Accepted:

Published:

Issue Date:

DOI: https://doi.org/10.1038/nature12864
Comments
By submitting a comment you agree to abide by our Terms and Community Guidelines. If you find something abusive or that does not comply with our terms or guidelines please flag it as inappropriate.