Abstract
Genetically identical cells sharing an environment can display markedly different phenotypes. It is often unclear how much of this variation derives from chance, external signals, or attempts by individual cells to exert autonomous phenotypic programs. By observing thousands of cells for hundreds of consecutive generations under constant conditions, we dissect the stochastic decision between a solitary, motile state and a chained, sessile state in Bacillus subtilis. We show that the motile state is 'memoryless', exhibiting no autonomous control over the time spent in the state. In contrast, the time spent as connected chains of cells is tightly controlled, enforcing coordination among related cells in the multicellular state. We show that the three-protein regulatory circuit governing the decision is modular, as initiation and maintenance of chaining are genetically separable functions. As stimulation of the same initiating pathway triggers biofilm formation, we argue that autonomous timing allows a trial commitment to multicellularity that external signals could extend.
Relevant articles
Open Access articles citing this article.
Ankit Gupta

&

Mustafa Khammash

Nature Communications Open Access 25 July 2022

Eugene Nadezhdin

,

Niall Murphy

…

James C. W. Locke

Nature Communications Open Access 19 February 2020

Yusuf Ilker Yaman

,

Esin Demir

…

Askin Kocabas

Nature Communications Open Access 23 May 2019
Access options
Subscribe to Journal
Get full journal access for 1 year
$199.00
only $3.90 per issue
All prices are NET prices.
VAT will be added later in the checkout.
Tax calculation will be finalised during checkout.
Buy article
Get time limited or full article access on ReadCube.
$32.00
All prices are NET prices.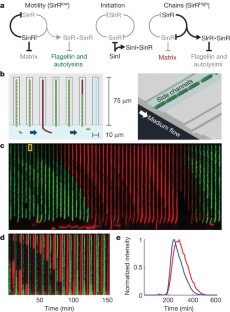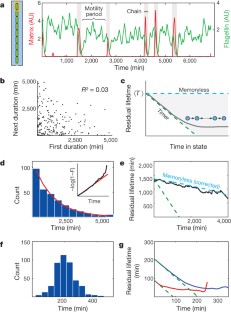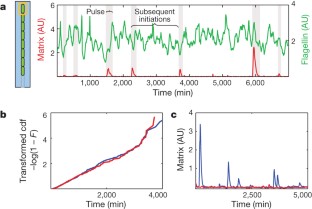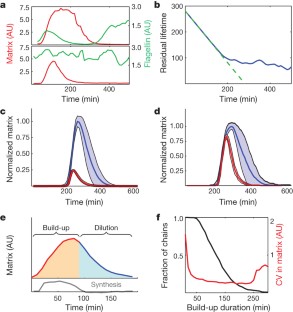 References
Ferrell, J. E., Jr & Machleder, E. M. The biochemical basis of an all-or-none cell fate switch in Xenopus oocytes. Science 280, 895–898 (1998)

Wehrli, M. & Tomlinson, A. Epithelial planar polarity in the developing Drosophila eye. Development 121, 2451–2459 (1995)

Long, T. et al. Quantifying the integration of quorum-sensing signals with single-cell resolution. PLoS Biol. 7, e68 (2009)

Paulsson, J. Summing up the noise in gene networks. Nature 427, 415–418 (2004)

Ozbudak, E. M., Thattai, M., Kurtser, I., Grossman, A. D. & van Oudenaarden, A. Regulation of noise in the expression of a single gene. Nature Genet. 31, 69–73 (2002)

Newman, J. R. et al. Single-cell proteomic analysis of S. cerevisiae reveals the architecture of biological noise. Nature 441, 840–846 (2006)

Rosenfeld, N., Young, J. W., Alon, U., Swain, P. S. & Elowitz, M. B. Gene regulation at the single-cell level. Science 307, 1962–1965 (2005)

Bar-Even, A. et al. Noise in protein expression scales with natural protein abundance. Nature Genet. 38, 636–643 (2006)

Taniguchi, Y. et al. Quantifying E. coli proteome and transcriptome with single-molecule sensitivity in single cells. Science 329, 533–538 (2010)

Elowitz, M. B., Levine, A. J., Siggia, E. D. & Swain, P. S. Stochastic gene expression in a single cell. Science 297, 1183–1186 (2002)

Eldar, A. & Elowitz, M. B. Functional roles for noise in genetic circuits. Nature 467, 167–173 (2010)

Raj, A. & van Oudenaarden, A. Nature, nurture, or chance: stochastic gene expression and its consequences. Cell 135, 216–226 (2008)

Acar, M., Becskei, A. & van Oudenaarden, A. Enhancement of cellular memory by reducing stochastic transitions. Nature 435, 228–232 (2005)

Balaban, N. Q., Merrin, J., Chait, R., Kowalik, L. & Leibler, S. Bacterial persistence as a phenotypic switch. Science 305, 1622–1625 (2004)

Huang, G. et al. Bistable expression of WOR1, a master regulator of white-opaque switching in Candida albicans. Proc. Natl Acad. Sci. USA 103, 12813–12818 (2006)

Süel, G. M., Garcia-Ojalvo, J., Liberman, L. M. & Elowitz, M. B. An excitable gene regulatory circuit induces transient cellular differentiation. Nature 440, 545–550 (2006)

Süel, G. M., Kulkarni, R. P., Dworkin, J., Garcia-Ojalvo, J. & Elowitz, M. B. Tunability and noise dependence in differentiation dynamics. Science 315, 1716–1719 (2007)

Greenwald, I. LIN-12/Notch signaling: lessons from worms and flies. Genes Dev. 12, 1751–1762 (1998)

Lewis, K. Persister cells, dormancy and infectious disease. Nature Rev. Microbiol. 5, 48–56 (2007)

Pedraza, J. M. & van Oudenaarden, A. Noise propagation in gene networks. Science 307, 1965–1969 (2005)

Blake, W. J., KÆrn, M., Cantor, C. R. & Collins, J. J. Noise in eukaryotic gene expression. Nature 422, 633–637 (2003)

Vlamakis, H., Chai, Y., Beauregard, P., Losick, R. & Kolter, R. Sticking together: building a biofilm the Bacillus subtilis way. Nature Rev. Microbiol. 11, 157–168 (2013)

Hall-Stoodley, L., Costerton, J. W. & Stoodley, P. Bacterial biofilms: from the natural environment to infectious diseases. Nature Rev. Microbiol. 2, 95–108 (2004)

Rubinstein, S. M. et al. Osmotic pressure can regulate matrix gene expression in Bacillus subtilis. Mol. Microbiol. 86, 426–436 (2012)

Davies, D. G. et al. The involvement of cell-to-cell signals in the development of a bacterial biofilm. Science 280, 295–298 (1998)

Kolodkin-Gal, I. et al. Respiration control of multicellularity in Bacillus subtilis by a complex of the cytochrome chain with a membrane-embedded histidine kinase. Genes Dev. 27, 887–899 (2013)

Kearns, D. B. & Losick, R. Cell population heterogeneity during growth of Bacillus subtilis. Genes Dev. 19, 3083–3094 (2005)

Acar, M., Mettetal, J. T. & van Oudenaarden, A. Stochastic switching as a survival strategy in fluctuating environments. Nature Genet. 40, 471–475 (2008)

Dubnau, D. & Losick, R. Bistability in bacteria. Mol. Microbiol. 61, 564–572 (2006)

Veening, J. W. et al. Bet-hedging and epigenetic inheritance in bacterial cell development. Proc. Natl Acad. Sci. USA 105, 4393–4398 (2008)

Chai, Y., Norman, T., Kolter, R. & Losick, R. An epigenetic switch governing daughter cell separation in Bacillus subtilis. Genes Dev. 24, 754–765 (2010)

Chai, Y., Kolter, R. & Losick, R. Reversal of an epigenetic switch governing cell chaining in Bacillus subtilis by protein instability. Mol. Microbiol. 78, 218–229 (2010)

Chen, R., Guttenplan, S. B., Blair, K. M. & Kearns, D. B. Role of the σD-dependent autolysins in Bacillus subtilis population heterogeneity. J. Bacteriol. 191, 5775–5784 (2009)

Kearns, D. B., Chu, F., Branda, S. S., Kolter, R. & Losick, R. A master regulator for biofilm formation by Bacillus subtilis. Mol. Microbiol. 55, 739–749 (2005)

Bai, U., Mandic-Mulec, I. & Smith, I. SinI modulates the activity of SinR, a developmental switch protein of Bacillus subtilis, by protein-protein interaction. Genes Dev. 7, 139–148 (1993)

Teng, S. W., Mukherji, S., Moffitt, J. R., de Buyl, S. & O'Shea, E. K. Robust circadian oscillations in growing cyanobacteria require transcriptional feedback. Science 340, 737–740 (2013)

Wang, P. et al. Robust growth of Escherichia coli. Curr. Biol. 20, 1099–1103 (2010)

Moffitt, J. R., Lee, J. B. & Cluzel, P. The single-cell chemostat: an agarose-based, microfluidic device for high-throughput, single-cell studies of bacteria and bacterial communities. Lab Chip 12, 1487–1494 (2012)

Ullman, G. et al. High-throughput gene expression analysis at the level of single proteins using a microfluidic turbidostat and automated cell tracking. Phil. Trans. R. Soc. Lond. B 368, 20120025 (2012)

Robert, L. et al. Pre-dispositions and epigenetic inheritance in the Escherichia coli lactose operon bistable switch. Mol. Syst. Biol. 6, 357 (2010)

Mather, W., Mondragon-Palomino, O., Danino, T., Hasty, J. & Tsimring, L. S. Streaming instability in growing cell populations. Phys. Rev. Lett. 104, 208101 (2010)

DeLange, R. J., Chang, J., Shaper, J. & Glazer, A. Amino acid sequence of flagellin of Bacillus subtilis 168. III. Tryptic peptides, N-bromosuccinimide peptides, and the complete amino acid sequence. J. Biol. Chem. 251, 705–711 (1976)

Muth, E. J. Memory as a property of probability distributions. IEEE Trans. Reliab. R-29, 160–165 (1980)

Aldous, D. in Probability Approximations via the Poisson Clumping Heuristic (Springer, New York, 1989)

Hartwell, L. H., Hopfield, J. J., Leibler, S. & Murray, A. W. From molecular to modular cell biology. Nature 402 (suppl.). C47–C52 (1999)

Huh, D. & Paulsson, J. Non-genetic heterogeneity from stochastic partitioning at cell division. Nature Genet. 43, 95–100 (2011)

Beauregard, P. B., Chai, Y., Vlamakis, H., Losick, R. & Kolter, R. Bacillus subtilis biofilm induction by plant polysaccharides. Proc. Natl Acad. Sci. USA 110, E1621–E1630 (2013)

Newman, J. A., Rodrigues, C. & Lewis, R. J. Molecular basis of the activity of SinR protein, the master regulator of biofilm formation in Bacillus subtilis. J. Biol. Chem. 288, 10766–10778 (2013)

Tolkamp, B. J., Haskell, M. J., Langford, F. M., Roberts, D. J. & Morgan, C. A. Are cows more likely to lie down the longer they stand? Appl. Anim. Behav. Sci. 124, 1–10 (2010)

Diard, M. et al. Stabilization of cooperative virulence by the expression of an avirulent phenotype. Nature 494, 353–356 (2013)

Edelstein, A., Amodaj, N., Hoover, K., Vale, R. & Stuurman, N. Computer control of microscopes using microManager. Curr. Protoc. Mol. Biol. Ch. 14,. Unit14.20 (2010)
Acknowledgements
We thank A. Lindner for sharing an early version of the microfluidic mother machine with our groups. We thank Y. Chai for discussions and C. Saenz, V. Lien, S. Hickman, J. Tresback and J. Deng for technical help with microfluidic fabrication. This work was performed in part at the Harvard Medical School Microfluidics Facility and in part at the Center for Nanoscale Systems (CNS), a member of the National Nanotechnology Infrastructure Network (NNIN), which is supported by the National Science Foundation under NSF award no. ECS-0335765. CNS is part of Harvard University. This work was supported by grants from the NIH to R.L. (GM18568) and J.P (GM081563).
Ethics declarations
Competing interests
The authors declare no competing financial interests.
Extended data figures and tables
Supplementary information
About this article
Cite this article
Norman, T., Lord, N., Paulsson, J. et al. Memory and modularity in cell-fate decision making. Nature 503, 481–486 (2013). https://doi.org/10.1038/nature12804
Received:

Accepted:

Published:

Issue Date:

DOI: https://doi.org/10.1038/nature12804
Comments
By submitting a comment you agree to abide by our Terms and Community Guidelines. If you find something abusive or that does not comply with our terms or guidelines please flag it as inappropriate.