Abstract
Non-small-cell lung cancer (NSCLC) is the most prevalent histological cancer subtype worldwide1. As the majority of patients present with invasive, metastatic disease2, it is vital to understand the basis for lung cancer progression. Hmga2 is highly expressed in metastatic lung adenocarcinoma, in which it contributes to cancer progression and metastasis3,4,5,6. Here we show that Hmga2 promotes lung cancer progression in mouse and human cells by operating as a competing endogenous RNA (ceRNA)7,8,9,10,11 for the let-7 microRNA (miRNA) family. Hmga2 can promote the transformation of lung cancer cells independent of protein-coding function but dependent upon the presence of let-7 sites; this occurs without changes in the levels of let-7 isoforms, suggesting that Hmga2 affects let-7 activity by altering miRNA targeting. These effects are also observed in vivo, where Hmga2 ceRNA activity drives lung cancer growth, invasion and dissemination. Integrated analysis of miRNA target prediction algorithms and metastatic lung cancer gene expression data reveals the TGF-β co-receptor Tgfbr3 (ref. 12) as a putative target of Hmga2 ceRNA function. Tgfbr3 expression is regulated by the Hmga2 ceRNA through differential recruitment to Argonaute 2 (Ago2), and TGF-β signalling driven by Tgfbr3 is important for Hmga2 to promote lung cancer progression. Finally, analysis of NSCLC-patient gene-expression data reveals that HMGA2 and TGFBR3 are coordinately regulated in NSCLC-patient material, a vital corollary to ceRNA function. Taken together, these results suggest that Hmga2 promotes lung carcinogenesis both as a protein-coding gene and as a non-coding RNA; such dual-function regulation of gene-expression networks reflects a novel means by which oncogenes promote disease progression.
Access options
Subscribe to Journal
Get full journal access for 1 year
$199.00
only $3.90 per issue
All prices are NET prices.
VAT will be added later in the checkout.
Tax calculation will be finalised during checkout.
Rent or Buy article
Get time limited or full article access on ReadCube.
from$8.99
All prices are NET prices.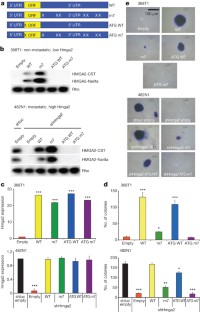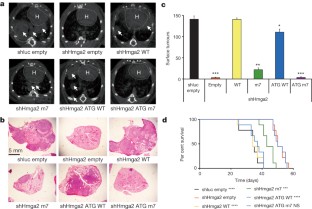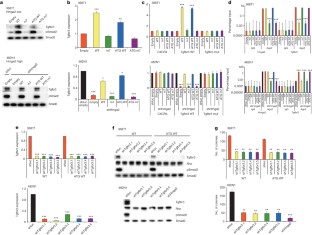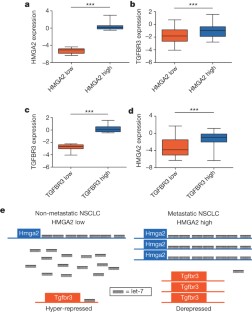 References
1

Ferlay, J. et al. Estimates of worldwide burden of cancer in 2008: GLOBOCAN 2008. Int. J. Cancer 127, 2893–2917 (2010)

2

Herbst, R. S., Heymach, J. V. & Lippman, S. M. Lung cancer. N. Engl. J. Med. 359, 1367–1380 (2008)

3

Di Cello, F. et al. HMGA2 participates in transformation in human lung cancer. Mol. Cancer Res. 6, 743–750 (2008)

4

Meyer, B. et al. HMGA2 overexpression in non-small cell lung cancer. Mol. Carcinog. 46, 503–511 (2007)

5

Sarhadi, V. K. et al. Increased expression of high mobility group A proteins in lung cancer. J. Pathol. 209, 206–212 (2006)

6

Winslow, M. M. et al. Suppression of lung adenocarcinoma progression by Nkx2-1. Nature 473, 101–104 (2011)

7

Ebert, M. S., Neilson, J. R. & Sharp, P. A. MicroRNA sponges: competitive inhibitors of small RNAs in mammalian cells. Nature Methods 4, 721–726 (2007)

8

Karreth, F. A. et al. In vivo identification of tumor- suppressive PTEN ceRNAs in an oncogenic BRAF-induced mouse model of melanoma. Cell 147, 382–395 (2011)

9

Poliseno, L. et al. A coding-independent function of gene and pseudogene mRNAs regulates tumour biology. Nature 465, 1033–1038 (2010)

10

Salmena, L., Poliseno, L., Tay, Y., Kats, L. & Pandolfi, P. P. A ceRNA hypothesis: the Rosetta Stone of a hidden RNA language? Cell 146, 353–358 (2011)

11

Tay, Y. et al. Coding-independent regulation of the tumor suppressor PTEN by competing endogenous mRNAs. Cell 147, 344–357 (2011)

12

Wang, X. F. et al. Expression cloning and characterization of the TGF-β type III receptor. Cell 67, 797–805 (1991)

13

Mayr, C., Hemann, M. T. & Bartel, D. P. Disrupting the pairing between let-7 and Hmga2 enhances oncogenic transformation. Science 315, 1576–1579 (2007)

14

Friedman, R. C., Farh, K. K., Burge, C. B. & Bartel, D. P. Most mammalian mRNAs are conserved targets of microRNAs. Genome Res. 19, 92–105 (2009)

15

Johnson, S. M. et al. RAS is regulated by the let-7 microRNA family. Cell 120, 635–647 (2005)

16

Brants, J. R. et al. Differential regulation of the insulin-like growth factor II mRNA-binding protein genes by architectural transcription factor HMGA2. FEBS Lett. 569, 277–283 (2004)

17

van Dongen, S., Abreu-Goodger, C. & Enright, A. J. Detecting microRNA binding and siRNA off-target effects from expression data. Nature Methods 5, 1023–1025 (2008)

18

Xie, J. et al. Long-term, efficient inhibition of microRNA function in mice using rAAV vectors. Nature Methods 9, 403–409 (2012)

19

Massagué, J. TGFβ signalling in context. Nature Rev. Mol. Cell Biol. 13, 616–630 (2012)

20

Guo, H., Ingolia, N. T., Weissman, J. S. & Bartel, D. P. Mammalian microRNAs predominantly act to decrease target mRNA levels. Nature 466, 835–840 (2010)

21

Oida, T. & Weiner, H. L. Depletion of TGF-β from fetal bovine serum. J. Immunol. Methods 362, 195–198 (2010)

22

Dennler, S. et al. Direct binding of Smad3 and Smad4 to critical TGF β-inducible elements in the promoter of human plasminogen activator inhibitor-type 1 gene. EMBO J. 17, 3091–3100 (1998)

23

Thuault, S. et al. HMGA2 and Smads co-regulate SNAIL1 expression during induction of epithelial-to-mesenchymal transition. J. Biol. Chem. 283, 33437–33446 (2008)

24

Ravi, A. et al. Proliferation and tumorigenesis of a murine sarcoma cell line in the absence of DICER1. Cancer Cell 21, 848–855 (2012)

25

Inman, G. J. et al. SB-431542 is a potent and specific inhibitor of transforming growth factor-beta superfamily type I activin receptor-like kinase (ALK) receptors ALK4, ALK5, and ALK7. Mol. Pharmacol. 62, 65–74 (2002)

26

Shedden, K. et al. Gene expression-based survival prediction in lung adenocarcinoma: a multi-site, blinded validation study. Nature Med. 14, 822–827 (2008)

27

Park, S. M. et al. Let-7 prevents early cancer progression by suppressing expression of the embryonic gene HMGA2. Cell Cycle 6, 2585–2590 (2007)

28

Kaelin, W. G., Jr Molecular biology. Use and abuse of RNAi to study mammalian gene function. Science 337, 421–422 (2012)

29

Kumar, M. S. et al. The GATA2 transcriptional network is requisite for RAS oncogene-driven non-small cell lung cancer. Cell 149, 642–655 (2012)

30

Doench, J. G., Petersen, C. P. & Sharp, P. A. siRNAs can function as miRNAs. Genes Dev. 17, 438–442 (2003)

31

Liau, S. S., Jazag, A., Ito, K. & Whang, E. E. Overexpression of HMGA1 promotes anoikis resistance and constitutive Akt activation in pancreatic adenocarcinoma cells. Br. J. Cancer 96, 993–1000 (2007)

32

Kim, D. et al. TopHat2: accurate alignment of transcriptomes in the presence of insertions, deletions and gene fusions. Genome Biol. 14, R36 (2013)

33

Robinson, M. D., McCarthy, D. J. & Smyth, G. K. edgeR: a Bioconductor package for differential expression analysis of digital gene expression data. Bioinformatics 26, 139–140 (2010)

34

Trapnell, C. et al. Differential analysis of gene regulation at transcript resolution with RNA-seq. Nature Biotechnol. 31, 46–53 (2013)
Acknowledgements
We thank the laboratory of T. Jacks for providing the 482N1 and 368T1 lung cancer cell lines and the laboratories of P.A. Sharp and P. Chambon for providing the KPD sarcoma cell lines. We thank the LRI FACS Facility for the BrdU analyses and the LRI Biological Resources Unit for assistance with the animal studies. We thank M.S. Ebert and E. De Bruin for critical review of the manuscript. M.S.K. is a Long-Term Fellow of the Human Frontier Science Program and the European Molecular Biology Organization. This work was funded by Cancer Research UK and by the European Commission's Seventh Framework Programme (FP7/2007-2013) under the grant agreement Lungtarget (project no. 259770).
Ethics declarations
Competing interests
The authors declare no competing financial interests.
Extended data figures and tables
Supplementary information
About this article
Cite this article
Kumar, M., Armenteros-Monterroso, E., East, P. et al. HMGA2 functions as a competing endogenous RNA to promote lung cancer progression. Nature 505, 212–217 (2014). https://doi.org/10.1038/nature12785
Received:

Accepted:

Published:

Issue Date:
Comments
By submitting a comment you agree to abide by our Terms and Community Guidelines. If you find something abusive or that does not comply with our terms or guidelines please flag it as inappropriate.