Abstract
An increasing body of evidence points to mitochondrial dysfunction as a contributor to the molecular pathogenesis of neurodegenerative diseases such as Parkinson's disease1. Recent studies of the Parkinson's disease associated genes PINK1 (ref. 2) and parkin (PARK2, ref. 3) indicate that they may act in a quality control pathway preventing the accumulation of dysfunctional mitochondria4,5,6,7,8. Here we elucidate regulators that have an impact on parkin translocation to damaged mitochondria with genome-wide small interfering RNA (siRNA) screens coupled to high-content microscopy. Screening yielded gene candidates involved in diverse cellular processes that were subsequently validated in low-throughput assays. This led to characterization of TOMM7 as essential for stabilizing PINK1 on the outer mitochondrial membrane following mitochondrial damage. We also discovered that HSPA1L (HSP70 family member) and BAG4 have mutually opposing roles in the regulation of parkin translocation. The screens revealed that SIAH3, found to localize to mitochondria, inhibits PINK1 accumulation after mitochondrial insult, reducing parkin translocation. Overall, our screens provide a rich resource to understand mitochondrial quality control.
Access options
Subscribe to Journal
Get full journal access for 1 year
$199.00
only $3.90 per issue
All prices are NET prices.
VAT will be added later in the checkout.
Rent or Buy article
Get time limited or full article access on ReadCube.
from$8.99
All prices are NET prices.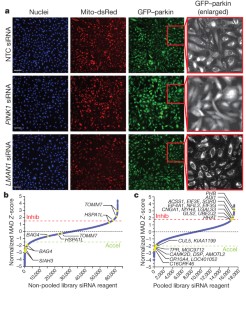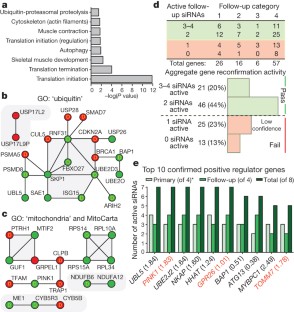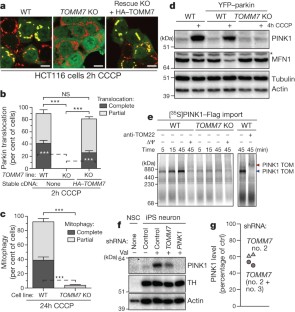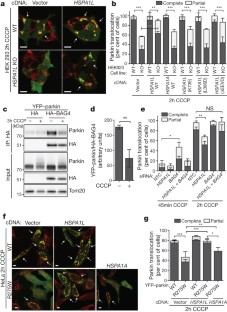 References
1

Schapira, A. H. & Tolosa, E. Molecular and clinical prodrome of Parkinson disease: implications for treatment. Nature Rev. Neurol. 6, 309–317 (2010)

2

Valente, E. M. et al. Hereditary early-onset Parkinson's disease caused by mutations in PINK1. Science 304, 1158–1160 (2004)

3

Kitada, T. et al. Mutations in the parkin gene cause autosomal recessive juvenile parkinsonism. Nature 392, 605–608 (1998)

4

Vincow, E. S. et al. The PINK1–Parkin pathway promotes both mitophagy and selective respiratory chain turnover in vivo. Proc. Natl Acad. Sci. USA 110, 6400–6405 (2013)

5

Narendra, D., Tanaka, A., Suen, D. F. & Youle, R. J. Parkin is recruited selectively to impaired mitochondria and promotes their autophagy. J. Cell Biol. 183, 795–803 (2008)

6

Narendra, D. P. et al. PINK1 is selectively stabilized on impaired mitochondria to activate Parkin. PLoS Biol. 8, e1000298 (2010)

7

Vives-Bauza, C. et al. PINK1-dependent recruitment of Parkin to mitochondria in mitophagy. Proc. Natl Acad. Sci. USA 107, 378–383 (2010)

8

Geisler, S. et al. PINK1/Parkin-mediated mitophagy is dependent on VDAC1 and p62/SQSTM1. Nature Cell Biol. 12, 119–131 (2010)

9

Sarraf, S. A. et al. Landscape of the PARKIN-dependent ubiquitylome in response to mitochondrial depolarization. Nature 496, 372–376 (2013)

10

Chan, N. C. et al. Broad activation of the ubiquitin-proteasome system by Parkin is critical for mitophagy. Hum. Mol. Genet. 20, 1726–1737 (2011)

11

Gautier, C. A., Kitada, T. & Shen, J. Loss of PINK1 causes mitochondrial functional defects and increased sensitivity to oxidative stress. Proc. Natl Acad. Sci. USA 105, 11364–11369 (2008)

12

Pimenta de Castro, I. et al. Genetic analysis of mitochondrial protein misfolding in Drosophila melanogaster. Cell Death Differ. 19, 1308–1316 (2012)

13

Suen, D. F., Narendra, D. P., Tanaka, A., Manfredi, G. & Youle, R. J. Parkin overexpression selects against a deleterious mtDNA mutation in heteroplasmic cybrid cells. Proc. Natl Acad. Sci. USA 107, 11835–11840 (2010)

14

Burman, J. L., Yu, S., Poole, A. C., Decal, R. B. & Pallanck, L. Analysis of neural subtypes reveals selective mitochondrial dysfunction in dopaminergic neurons from parkin mutants. Proc. Natl Acad. Sci. USA 109, 10438–10443 (2012)

15

Sigoillot, F. D. & King, R. W. Vigilance and validation: keys to success in RNAi screening. ACS Chem. Biol. 6, 47–60 (2011)

16

Bushman, F. D. et al. Host cell factors in HIV replication: meta-analysis of genome-wide studies. PLoS Pathog. 5, e1000437 (2009)

17

Simpson, J. C. et al. Genome-wide RNAi screening identifies human proteins with a regulatory function in the early secretory pathway. Nature Cell Biol. 14, 764–774 (2012)

18

Schultz, N. et al. Off-target effects dominate a large-scale RNAi screen for modulators of the TGF-β pathway and reveal microRNA regulation of TGFBR2. Silence 2, 3 (2011)

19

Sudbery, I., Enright, A. J., Fraser, A. G. & Dunham, I. Systematic analysis of off-target effects in an RNAi screen reveals microRNAs affecting sensitivity to TRAIL-induced apoptosis. BMC Genomics 11, 175 (2010)

20

Jackson, A. L. et al. Widespread siRNA "off-target" transcript silencing mediated by seed region sequence complementarity. RNA 12, 1179–1187 (2006)

21

Birmingham, A. et al. 3′ UTR seed matches, but not overall identity, are associated with RNAi off-targets. Nature Methods 3, 199–204 (2006)

22

Buehler, E. et al. siRNA off-target effects in genome-wide screens identify signaling pathway members. Sci. Reports 2, 428 (2012)

23

Marine, S., Bahl, A., Ferrer, M. & Buehler, E. Common seed analysis to identify off-target effects in siRNA screens. J. Biomol. Screen. 17, 370–378 (2012)

24

Buehler, E., Chen, Y. C. & Martin, S. C911: A bench-level control for sequence specific siRNA off-target effects. PLoS ONE 7, e51942 (2012)

25

Kato, H. & Mihara, K. Identification of Tom5 and Tom6 in the preprotein translocase complex of human mitochondrial outer membrane. Biochem. Biophys. Res. Commun. 369, 958–963 (2008)

26

Jin, S. M. et al. Mitochondrial membrane potential regulates PINK1 import and proteolytic destabilization by PARL. J. Cell Biol. 191, 933–942 (2010)

27

Lazarou, M., Jin, S. M., Kane, L. A. & Youle, R. J. Role of PINK1 binding to the TOM complex and alternate intracellular membranes in recruitment and activation of the E3 ligase Parkin. Dev. Cell 22, 320–333 (2012)

28

Moore, D. J., West, A. B., Dikeman, D. A., Dawson, V. L. & Dawson, T. M. Parkin mediates the degradation-independent ubiquitination of Hsp70. J. Neurochem. 105, 1806–1819 (2008)

29

Kalia, S. K. et al. BAG5 inhibits parkin and enhances dopaminergic neuron degeneration. Neuron 44, 931–945 (2004)

30

Hageman, J. & Kampinga, H. H. Computational analysis of the human HSPH/HSPA/DNAJ family and cloning of a human HSPH/HSPA/DNAJ expression library. Cell Stress Chaperones 14, 1–21 (2009)
Acknowledgements
We thank P. Tuzmen for qRT–PCR assistance; C. Klumpp for automation; D. Maric for FACS sorting; C. Smith for microscopy assistance; H. Jaffe for mass spectrometry analyses; R. Fields (NINDS) for lentivirus assistance; N. Malik for iPS-derived neurons; the NINDS DNA Sequencing Facility; K. Mihara for the TOMM7 antibody and A. Koretsky and N. Caplen for support. Research was supported by the Japan Society for Promotion of Science Postdoctoral Fellowship for Research Abroad (K.Y.), the NIGMS Research Associate Program, the Intramural Research Program of the NIH, NINDS and the Trans-NIH RNAi initiative.
Ethics declarations
Competing interests
The authors declare no competing financial interests.
Extended data figures and tables
Supplementary information
This file contains Supplementary Methods which contain screening methodology and siRNA library details, information on all reagents used in the screen and follow up studies, complete explanation of how candidate genes were selected for various follow up analyses and a guide to interpreting Supplementary Table 10. (PDF 1063 kb)
This zipped file contains Supplementary Tables 1-9 and a Supplementary Table Guide. (ZIP 2626 kb)
This file contains Supplementary Table 10 – see the Supplementary Information document for a guide to interpreting this. (XLS 32889 kb)
About this article
Cite this article
Hasson, S., Kane, L., Yamano, K. et al. High-content genome-wide RNAi screens identify regulators of parkin upstream of mitophagy. Nature 504, 291–295 (2013) doi:10.1038/nature12748
Received

Accepted

Published

Issue Date
Comments
By submitting a comment you agree to abide by our Terms and Community Guidelines. If you find something abusive or that does not comply with our terms or guidelines please flag it as inappropriate.