Abstract
Prefrontal cortex is thought to have a fundamental role in flexible, context-dependent behaviour, but the exact nature of the computations underlying this role remains largely unknown. In particular, individual prefrontal neurons often generate remarkably complex responses that defy deep understanding of their contribution to behaviour. Here we study prefrontal cortex activity in macaque monkeys trained to flexibly select and integrate noisy sensory inputs towards a choice. We find that the observed complexity and functional roles of single neurons are readily understood in the framework of a dynamical process unfolding at the level of the population. The population dynamics can be reproduced by a trained recurrent neural network, which suggests a previously unknown mechanism for selection and integration of task-relevant inputs. This mechanism indicates that selection and integration are two aspects of a single dynamical process unfolding within the same prefrontal circuits, and potentially provides a novel, general framework for understanding context-dependent computations.
Relevant articles
Open Access articles citing this article.
Weiguo Yang

,

Sri Laasya Tipparaju

…

Nuo Li

Nature Neuroscience Open Access 28 September 2022

Ivan Voitov

&

Thomas D. Mrsic-Flogel

Nature Open Access 27 July 2022

Maya Zhe Wang

,

Benjamin Y. Hayden

&

Sarah R. Heilbronner

Nature Communications Open Access 24 June 2022
Access options
Subscribe to Journal
Get full journal access for 1 year
$199.00
only $3.90 per issue
All prices are NET prices.
VAT will be added later in the checkout.
Tax calculation will be finalised during checkout.
Buy article
Get time limited or full article access on ReadCube.
$32.00
All prices are NET prices.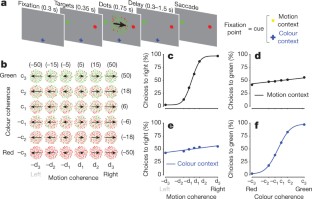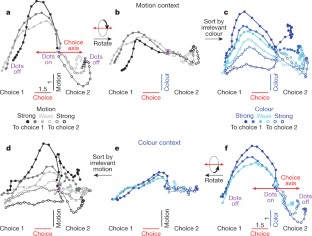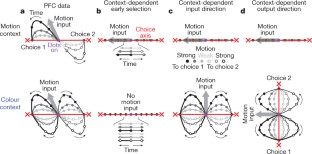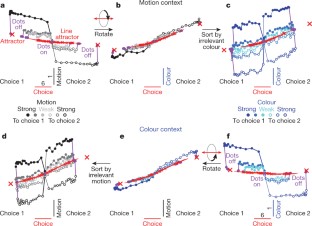 References
Fuster, J. M. The Prefrontal Cortex 4th edn (Academic, 2008)

Miller, E. K. & Cohen, J. D. An integrative theory of prefrontal cortex function. Annu. Rev. Neurosci. 24, 167–202 (2001)

Desimone, R. & Duncan, J. Neural mechanisms of selective visual attention. Annu. Rev. Neurosci. 18, 193–222 (1995)

Schroeder, C. E. & Lakatos, P. Low-frequency neuronal oscillations as instruments of sensory selection. Trends Neurosci. 32, 9–18 (2009)

Noudoost, B., Chang, M. H., Steinmetz, N. A. & Moore, T. Top-down control of visual attention. Curr. Opin. Neurobiol. 20, 183–190 (2010)

Reynolds, J. H. & Chelazzi, L. Attentional modulation of visual processing. Annu. Rev. Neurosci. 27, 611–647 (2004)

Maunsell, J. H. & Treue, S. Feature-based attention in visual cortex. Trends Neurosci. 29, 317–322 (2006)

Fries, P. Neuronal gamma-band synchronization as a fundamental process in cortical computation. Annu. Rev. Neurosci. 32, 209–224 (2009)

Mansouri, F. A., Tanaka, K. & Buckley, M. J. Conflict-induced behavioural adjustment: a clue to the executive functions of the prefrontal cortex. Nature Rev. Neurosci. 10, 141–152 (2009)

Tanji, J. & Hoshi, E. Role of the lateral prefrontal cortex in executive behavioral control. Physiol. Rev. 88, 37–57 (2008)

Bruce, C. J. & Goldberg, M. E. Primate frontal eye fields. I. Single neurons discharging before saccades. J. Neurophysiol. 53, 603–635 (1985)

Schall, J. D. The neural selection and control of saccades by the frontal eye field. Phil. Trans. R. Soc. Lond. B 357, 1073–1082 (2002)

Moore, T. The neurobiology of visual attention: finding sources. Curr. Opin. Neurobiol. 16, 159–165 (2006)

Kim, J. N. & Shadlen, M. N. Neural correlates of a decision in the dorsolateral prefrontal cortex of the macaque. Nature Neurosci. 2, 176–185 (1999)

Machens, C. K., Romo, R. & Brody, C. D. Functional, but not anatomical, separation of "what" and "when" in prefrontal cortex. J. Neurosci. 30, 350–360 (2010)

Rigotti, M. et al. The importance of mixed selectivity in complex cognitive tasks. Nature 497, 585–590 (2013)

Stokes, M. G. et al. Dynamic coding for cognitive control in prefrontal cortex. Neuron 78, 364–375 (2013)

Hernández, A. et al. Decoding a perceptual decision process across cortex. Neuron 66, 300–314 (2010)

Churchland, M. M. et al. Neural population dynamics during reaching. Nature 487, 51–56 (2012)

Shenoy, K. V., Sahani, M. & Churchland, M. M. Cortical control of arm movements: a dynamical systems perspective. Annu. Rev. Neurosci. 36, 337–359 (2013)

Stopfer, M., Jayaraman, V. & Laurent, G. Intensity versus identity coding in an olfactory system. Neuron 39, 991–1004 (2003)

Briggman, K. L., Abarbanel, H. D. & Kristan, W. B., Jr Optical imaging of neuronal populations during decision-making. Science 307, 896–901 (2005)

Harvey, C. D., Coen, P. & Tank, D. W. Choice-specific sequences in parietal cortex during a virtual-navigation decision task. Nature 484, 62–68 (2012)

Afshar, A. et al. Single-trial neural correlates of arm movement preparation. Neuron 71, 555–564 (2011)

Sigala, N., Kusunoki, M., Nimmo-Smith, I., Gaffan, D. & Duncan, J. Hierarchical coding for sequential task events in the monkey prefrontal cortex. Proc. Natl Acad. Sci. USA 105, 11969–11974 (2008)

Machens, C. K. Demixing population activity in higher cortical areas. Front. Comput. Neurosci. 4, 126 (2010)

Shadlen, M. N. & Newsome, W. T. Neural basis of a perceptual decision in the parietal cortex (area LIP) of the rhesus monkey. J. Neurophysiol. 86, 1916–1936 (2001)

Mazurek, M. E., Roitman, J. D., Ditterich, J. & Shadlen, M. N. A role for neural integrators in perceptual decision making. Cereb. Cortex 13, 1257–1269 (2003)

Wang, X. J. Probabilistic decision making by slow reverberation in cortical circuits. Neuron 36, 955–968 (2002)

Cohen, J. D., Dunbar, K. & McClelland, J. L. On the control of automatic processes: a parallel distributed processing account of the Stroop effect. Psychol. Rev. 97, 332–361 (1990)

Deco, G. & Rolls, E. T. Attention and working memory: a dynamical model of neuronal activity in the prefrontal cortex. Eur. J. Neurosci. 18, 2374–2390 (2003)

Sussillo, D. & Abbott, L. F. Generating coherent patterns of activity from chaotic neural networks. Neuron 63, 544–557 (2009)

Sussillo, D. & Barak, O. Opening the black box: low-dimensional dynamics in high-dimensional recurrent neural networks. Neural Comput. 25, 626–649 (2013)

Zipser, D. & Andersen, R. A. A back-propagation programmed network that simulates response properties of a subset of posterior parietal neurons. Nature 331, 679–684 (1988)

Martens, J. & Sutskever, I. Learning recurrent neural networks with hessian-free optimization. Proc. 28th Int. Conf. Machine Learn. (ICML, 2011)

Churchland, A. K., Kiani, R. & Shadlen, M. N. Decision-making with multiple alternatives. Nature Neurosci. 11, 693–702 (2008)

Reddi, B. A. & Carpenter, R. H. The influence of urgency on decision time. Nature Neurosci. 3, 827–830 (2000)

Brunton, B. W., Botvinick, M. M. & Brody, C. D. Rats and humans can optimally accumulate evidence for decision-making. Science 340, 95–98 (2013)

Seung, H. S. How the brain keeps the eyes still. Proc. Natl Acad. Sci. USA 93, 13339–13344 (1996)

Goldman, M. S. Memory without feedback in a neural network. Neuron 61, 621–634 (2009)

Sejnowski, T. J. On the stochastic dynamics of neuronal interaction. Biol. Cybern. 22, 203–211 (1976)

Murphy, B. K. & Miller, K. D. Balanced amplification: a new mechanism of selective amplification of neural activity patterns. Neuron 61, 635–648 (2009)

Ganguli, S., Huh, D. & Sompolinsky, H. Memory traces in dynamical systems. Proc. Natl Acad. Sci. USA 105, 18970–18975 (2008)

Salinas, E. Context-dependent selection of visuomotor maps. BMC Neurosci. 5, 47 (2004)

Zénon, A. & Krauzlis, R. J. Attention deficits without cortical neuronal deficits. Nature 489, 434–437 (2012)

Roy, J. E., Riesenhuber, M., Poggio, T. & Miller, E. K. Prefrontal cortex activity during flexible categorization. J. Neurosci. 30, 8519–8528 (2010)

Sasaki, R. & Uka, T. Dynamic readout of behaviorally relevant signals from area MT during task switching. Neuron 62, 147–157 (2009)

Katzner, S., Busse, L. & Treue, S. Attention to the color of a moving stimulus modulates motion-signal processing in macaque area MT: evidence for a unified attentional system. Front. Syst. Neurosci. 3, 12 (2009)

Machens, C. K., Romo, R. & Brody, C. D. Flexible control of mutual inhibition: a neural model of two-interval discrimination. Science 307, 1121–1124 (2005)

Huk, A. C. & Meister, M. L. Neural correlates and neural computations in posterior parietal cortex during perceptual decision-making. Front. Integr. Neurosci. 6, 86 (2012)
Acknowledgements
We thank J. Powell, S. Fong and J. Brown for technical assistance, L. Abbott, for conversations on non-normal dynamics, and L. Stryer, S. Hohl, S. Ganguli, M. Sahani, R. Kiani, C. Moore and T. Bhattacharya for discussions. V.M. and W.T.N. were supported by HHMI and the Air Force Research Laboratory (FA9550-07-1-0537); D.S. and K.V.S. by an NIH Director's Pioneer Award (1DP1OD006409) and DARPA REPAIR (N66001-10-C-2010).
Ethics declarations
Competing interests
The authors declare no competing financial interests.
Extended data figures and tables
Supplementary information
This file contains Supplementary Text and Data sections 1-10 and Supplementary References. (PDF 2518 kb)
About this article
Cite this article
Mante, V., Sussillo, D., Shenoy, K. et al. Context-dependent computation by recurrent dynamics in prefrontal cortex. Nature 503, 78–84 (2013). https://doi.org/10.1038/nature12742
Received:

Accepted:

Published:

Issue Date:

DOI: https://doi.org/10.1038/nature12742
Comments
By submitting a comment you agree to abide by our Terms and Community Guidelines. If you find something abusive or that does not comply with our terms or guidelines please flag it as inappropriate.