Abstract
In nuclear pre-messenger RNA splicing, introns are excised by the spliceosome, a dynamic machine composed of both proteins and small nuclear RNAs (snRNAs). Over thirty years ago, after the discovery of self-splicing group II intron RNAs, the snRNAs were proposed to catalyse splicing. However, no definitive evidence for a role of either RNA or protein in catalysis by the spliceosome has been reported so far. By using metal rescue strategies in spliceosomes from budding yeast, here we show that the U6 snRNA catalyses both of the two splicing reactions by positioning divalent metals that stabilize the leaving groups during each reaction. Notably, all of the U6 catalytic metal ligands we identified correspond to the ligands observed to position catalytic, divalent metals in crystal structures of a group II intron RNA. These findings indicate that group II introns and the spliceosome share common catalytic mechanisms and probably common evolutionary origins. Our results demonstrate that RNA mediates catalysis within the spliceosome.
Relevant articles
Open Access articles citing this article.
Seisuke Yamashita

&

Kozo Tomita

Nature Communications Open Access 10 August 2023

Shanshan Ding

,

Xiaohan Dong

&

Xingguo Song

Cancer Cell International Open Access 11 May 2023

Yanyan Chen

,

Mengxi Huang

…

Xiaoyuan Chu

Cell Death & Disease Open Access 30 July 2021
Access options
Subscribe to this journal
Receive 51 print issues and online access
$199.00 per year
only $3.90 per issue
Rent or buy this article
Prices vary by article type
from$1.95
to$39.95
Prices may be subject to local taxes which are calculated during checkout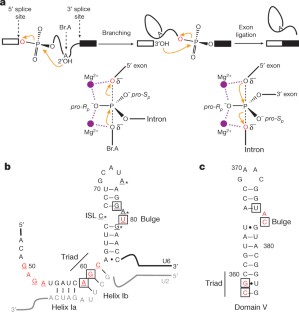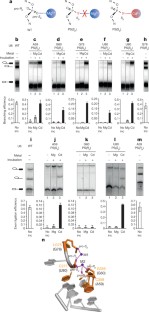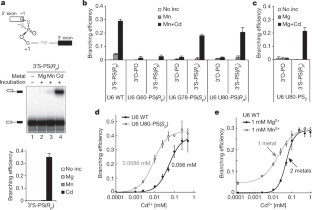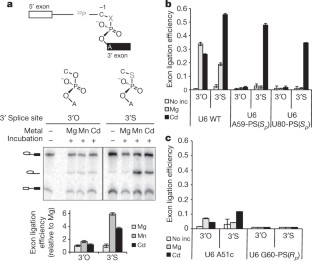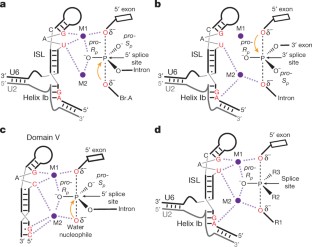 References
Nilsen, T. W. & Graveley, B. R. Expansion of the eukaryotic proteome by alternative splicing. Nature 463, 457–463 (2010)

Wahl, M. C., Will, C. L. & Lührmann, R. The spliceosome: design principles of a dynamic RNP machine. Cell 136, 701–718 (2009)

Sharp, P. A. On the origin of RNA splicing and introns. Cell 42, 397–400 (1985)

Cech, T. R. The generality of self-splicing RNA: relationship to nuclear mRNA splicing. Cell 44, 207–210 (1986)

Madhani, H. D. & Guthrie, C. A novel base-pairing interaction between U2 and U6 snRNAs suggests a mechanism for the catalytic activation of the spliceosome. Cell 71, 803–817 (1992)

Shukla, G. C. & Padgett, R. A. A catalytically active group II intron domain 5 can function in the U12-dependent spliceosome. Mol. Cell 9, 1145–1150 (2002)

Hilliker, A. K. & Staley, J. P. Multiple functions for the invariant AGC triad of U6 snRNA. RNA 10, 921–928 (2004)

Mefford, M. A. & Staley, J. P. Evidence that U2/U6 helix I promotes both catalytic steps of pre-mRNA splicing and rearranges in between these steps. RNA 15, 1386–1397 (2009)

Burke, J. E., Sashital, D. G., Zuo, X., Wang, Y.-X. & Butcher, S. E. Structure of the yeast U2/U6 snRNA complex. RNA 18, 673–683 (2012)

Sun, J. S. & Manley, J. L. A novel U2–U6 snRNA structure is necessary for mammalian mRNA splicing. Genes Dev. 9, 843–854 (1995)

Chanfreau, G. & Jacquier, A. Catalytic site components common to both splicing steps of a group II intron. Science 266, 1383–1387 (1994)

Fabrizio, P. & Abelson, J. Thiophosphates in yeast U6 snRNA specifically affect pre-mRNA splicing in vitro. Nucleic Acids Res. 20, 3659–3664 (1992)

Yu, Y. T., Maroney, P. A., Darzynkiwicz, E. & Nilsen, T. W. U6 snRNA function in nuclear pre-mRNA splicing: a phosphorothioate interference analysis of the U6 phosphate backbone. RNA 1, 46–54 (1995)

Yean, S. L., Wuenschell, G., Termini, J. & Lin, R.-J. Metal–ion coordination by U6 small nuclear RNA contributes to catalysis in the spliceosome. Nature 408, 881–884 (2000)

Gordon, P. M. & Piccirilli, J. A. Metal ion coordination by the AGC triad in domain 5 contributes to group II intron catalysis. Nature Struct. Biol. 8, 893–898 (2001)

Boudvillain, M. & Pyle, A. M. Defining functional groups, core structural features and inter-domain tertiary contacts essential for group II intron self-splicing: a NAIM analysis. EMBO J. 17, 7091–7104 (1998)

Galej, W. P., Oubridge, C., Newman, A. J. & Nagai, K. Crystal structure of Prp8 reveals active site cavity of the spliceosome. Nature 493, 638–643 (2013)

Valadkhan, S. & Manley, J. L. Splicing-related catalysis by protein-free snRNAs. Nature 413, 701–707 (2001)

Jaladat, Y., Zhang, B., Mohammadi, A. & Valadkhan, S. Splicing of an intervening sequence by protein-free human snRNAs. RNA Biol. 8, 372–377 (2011)

Smith, D. J. & Konarska, M. M. A critical assessment of the utility of protein-free splicing systems. RNA 15, 1–3 (2009)

Valadkhan, S. & Manley, J. L. The use of simple model systems to study spliceosomal catalysis. RNA 15, 4–7 (2009)

Steitz, T. A. & Steitz, J. A. A general two-metal-ion mechanism for catalytic RNA. Proc. Natl Acad. Sci. USA 90, 6498–6502 (1993)

Sontheimer, E. J., Gordon, P. M. & Piccirilli, J. A. Metal ion catalysis during group II intron self-splicing: parallels with the spliceosome. Genes Dev. 13, 1729–1741 (1999)

Sontheimer, E. J., Sun, S. & Piccirilli, J. A. Metal ion catalysis during splicing of premessenger RNA. Nature 388, 801–805 (1997)

Gordon, P. M., Sontheimer, E. J. & Piccirilli, J. A. Metal ion catalysis during the exon-ligation step of nuclear pre-mRNA splicing: extending the parallels between the spliceosome and group II introns. RNA 6, 199–205 (2000)

Toor, N., Keating, K. S., Taylor, S. D. & Pyle, A. M. Crystal structure of a self-spliced group II intron. Science 320, 77–82 (2008)

Marcia, M. & Pyle, A. M. Visualizing group II intron catalysis through the stages of splicing. Cell 151, 497–507 (2012)

Koodathingal, P., Novak, T., Piccirilli, J. A. & Staley, J. P. The DEAH box ATPases Prp16 and Prp43 cooperate to proofread 5′ splice site cleavage during pre-mRNA splicing. Mol. Cell 39, 385–395 (2010)

Shan, S., Yoshida, A., Sun, S., Piccirilli, J. A. & Herschlag, D. Three metal ions at the active site of the Tetrahymena group I ribozyme. Proc. Natl Acad. Sci. USA 96, 12299–12304 (1999)

Forconi, M., Lee, J., Lee, J. K., Piccirilli, J. A. & Herschlag, D. Functional identification of ligands for a catalytic metal ion in group I introns. Biochemistry 47, 6883–6894 (2008)

Frederiksen, J. K. & Piccirilli, J. A. Identification of catalytic metal ion ligands in ribozymes. Methods 49, 148–166 (2009)

Guo, F., Gooding, A. R. & Cech, T. R. Structure of the Tetrahymena ribozyme: base triple sandwich and metal ion at the active site. Mol. Cell 16, 351–362 (2004)

Burgess, S. M. & Guthrie, C. A mechanism to enhance mRNA splicing fidelity: the RNA-dependent ATPase Prp16 governs usage of a discard pathway for aberrant lariat intermediates. Cell 73, 1377–1391 (1993)

Mayas, R. M., Maita, H. & Staley, J. P. Exon ligation is proofread by the DExD/H-box ATPase Prp22p. Nature Struct. Mol. Biol. 13, 482–490 (2006)

Semlow, D. R. & Staley, J. P. Staying on message: ensuring fidelity in pre-mRNA splicing. Trends Biochem. Sci. 37, 263–273 (2012)

Chan, S.-P., Kao, D.-I., Tsai, W.-Y. & Cheng, S.-C. The Prp19p-associated complex in spliceosome activation. Science 302, 279–282 (2003)

Moore, M. J. & Sharp, P. A. Evidence for two active sites in the spliceosome provided by stereochemistry of pre-mRNA splicing. Nature 365, 364–368 (1993)

Pecoraro, V. L., Hermes, J. D. & Cleland, W. W. Stability constants of Mg2+ and Cd2+ complexes of adenine nucleotides and thionucleotides and rate constants for formation and dissociation of MgATP and MgADP. Biochemistry 23, 5262–5271 (1984)

Fabrizio, P. & Abelson, J. J. Two domains of yeast U6 small nuclear RNA required for both steps of nuclear precursor messenger RNA splicing. Science 250, 404–409 (1990)

Anokhina, M. et al. RNA structure analysis of human spliceosomes reveals a compact 3D arrangement of snRNAs at the catalytic core. EMBO J. 32, 2804–2818 (2013)

Cech, T. R. The chemistry of self-splicing RNA and RNA enzymes. Science 236, 1532–1539 (1987)

Schellenberg, M. J. et al. A conformational switch in PRP8 mediates metal ion coordination that promotes pre-mRNA exon ligation. Nature Struct. Mol. Biol. 20, 728–734 (2013)

Bonnal, S. & Valcárcel, J. RNAtomy of the spliceosome's heart. EMBO J. 32, 2785–2787 (2013)

Nissen, P., Hansen, J., Ban, N., Moore, P. B. & Steitz, T. A. The structural basis of ribosome activity in peptide bond synthesis. Science 289, 920–930 (2000)

Beringer, M. & Rodnina, M. V. The ribosomal peptidyl transferase. Mol. Cell 26, 311–321 (2007)

Sharp, P. A. Five easy pieces. Science 254, 663 (1991)

Martin, W. & Koonin, E. V. Introns and the origin of nucleus–cytosol compartmentalization. Nature 440, 41–45 (2006)

Joyce, G. F. The antiquity of RNA-based evolution. Nature 418, 214–221 (2002)

Moore, M. J. & Sharp, P. Site-specific modification of pre-mRNA: the 2′-hydroxyl groups at the splice sites. Science 256, 992–997 (1992)

Yoshida, A., Sun, S. & Piccirilli, J. A. A new metal ion interaction in the Tetrahymena ribozyme reaction revealed by double sulfur substitution. Nature Struct. Biol. 6, 318–321 (1999)

Tagwerker, C. et al. HB tag modules for PCR-based gene tagging and tandem affinity purification in Saccharomyces cerevisiae. Yeast 23, 623–632 (2006)

Umen, J. G. & Guthrie, C. A novel role for a U5 snRNP protein in 3′ splice site selection. Genes Dev. 9, 855–868 (1995)

Abelson, J., Hadjivassiliou, H. & Guthrie, C. Preparation of fluorescent pre-mRNA substrates for an smFRET study of pre-mRNA splicing in yeast. Methods Enzymol. 472, 31–40 (2010)

Frederiksen, J. K. & Piccirilli, J. A. Separation of RNA phosphorothioate oligonucleotides by HPLC. Methods Enzymol. 468, 289–309 (2009)

Loverix, S., Winqvist, A., Strömberg, R. & Steyaert, J. Mechanism of RNase T1: concerted triester-like phosphoryl transfer via a catalytic three-centered hydrogen bond. Chem. Biol. 7, 651–658 (2000)

Schürer, H., Lang, K., Schuster, J. & Mörl, M. A universal method to produce in vitro transcripts with homogeneous 3′ ends. Nucleic Acids Res. 30, e56 (2002)

Dery, K. J., Yean, S.-L. & Lin, R.-J. Assembly and glycerol gradient isolation of yeast spliceosomes containing transcribed or synthetic U6 snRNA. Methods Mol. Biol. 488, 41–63 (2008)

Fabrizio, P., McPheeters, D. S. & Abelson, J. In vitro assembly of yeast U6 snRNP: a functional assay. Genes Dev. 3, 2137–2150 (1989)

Chiu, Y.-F. et al. Cwc25 is a novel splicing factor required after Prp2 and Yju2 to facilitate the first catalytic reaction. Mol. Cell. Biol. 29, 5671–5678 (2009)

Warkocki, Z. et al. Reconstitution of both steps of Saccharomyces cerevisiae splicing with purified spliceosomal components. Nature Struct. Mol. Biol. 16, 1237–1243 (2009)

Sigel, R. K. O., Song, B. & Sigel, H. Stabilities and structures of metal ion complexes of adenosine 5′-O-thiomonophosphate (AMPS2−) in comparison with those of its parent nucleotide (AMP2−) in aqueous solution. J. Am. Chem. Soc. 119, 744–755 (1997)
Acknowledgements
We thank C. Guthrie for plasmids; S. -C. Cheng for anti-Cwc25p serum; D. Semlow for strains; J. Olvera for reagents and experimental assistance; R. -J. Lin for sharing unpublished data; members of the Staley and Piccirilli laboratories for discussions; and D. Herschlag, A. Macmillan and T. Nilsen for comments on the manuscript. N.T. was supported by an NSF Graduate Research Fellowship and by a CBI Training Grant (5T32GM008720). This work was funded by a grant from the Chicago Biomedical Consortium, with support from The Searle Funds at the Chicago Community Trust, to J.P.S, A. S. Mankin and E. J. Sontheimer, and by a grant from the National Institutes of Health (R01GM088656) to J.P.S. and J.A.P.
Ethics declarations
Competing interests
The authors declare no competing financial interests.
Extended data figures and tables
Supplementary information
This file contains Supplementary Text and Supplementary References. (PDF 461 kb)
About this article
Cite this article
Fica, S., Tuttle, N., Novak, T. et al. RNA catalyses nuclear pre-mRNA splicing. Nature 503, 229–234 (2013). https://doi.org/10.1038/nature12734
Received:

Accepted:

Published:

Issue Date:

DOI: https://doi.org/10.1038/nature12734
Comments
By submitting a comment you agree to abide by our Terms and Community Guidelines. If you find something abusive or that does not comply with our terms or guidelines please flag it as inappropriate.