Abstract
Malignant melanomas harbouring point mutations (Val600Glu) in the serine/threonine-protein kinase BRAF (BRAF(V600E)) depend on RAF–MEK–ERK signalling for tumour cell growth1. RAF and MEK inhibitors show remarkable clinical efficacy in BRAF(V600E) melanoma2,3; however, resistance to these agents remains a formidable challenge2,4. Global characterization of resistance mechanisms may inform the development of more effective therapeutic combinations. Here we carried out systematic gain-of-function resistance studies by expressing more than 15,500 genes individually in a BRAF(V600E) melanoma cell line treated with RAF, MEK, ERK or combined RAF–MEK inhibitors. These studies revealed a cyclic-AMP-dependent melanocytic signalling network not previously associated with drug resistance, including G-protein-coupled receptors, adenyl cyclase, protein kinase A and cAMP response element binding protein (CREB). Preliminary analysis of biopsies from BRAF(V600E) melanoma patients revealed that phosphorylated (active) CREB was suppressed by RAF–MEK inhibition but restored in relapsing tumours. Expression of transcription factors activated downstream of MAP kinase and cAMP pathways also conferred resistance, including c-FOS, NR4A1, NR4A2 and MITF. Combined treatment with MAPK-pathway and histone-deacetylase inhibitors suppressed MITF expression and cAMP-mediated resistance. Collectively, these data suggest that oncogenic dysregulation of a melanocyte lineage dependency can cause resistance to RAF–MEK–ERK inhibition, which may be overcome by combining signalling- and chromatin-directed therapeutics.
Your institute does not have access to this article
Relevant articles
Open Access articles citing this article.
Miles C. Andrews

,

Junna Oba

…

Scott E. Woodman

Nature Communications Open Access 09 July 2022

Tom Kaufman

,

Erez Nitzan

…

Ravid Straussman

Nature Communications Open Access 18 May 2022

Carolyn R. Maskin

,

Renuka Raman

&

Yariv Houvras

Scientific Reports Open Access 02 April 2022
Access options
Subscribe to Journal
Get full journal access for 1 year
$199.00
only $3.90 per issue
All prices are NET prices.
VAT will be added later in the checkout.
Tax calculation will be finalised during checkout.
Buy article
Get time limited or full article access on ReadCube.
$32.00
All prices are NET prices.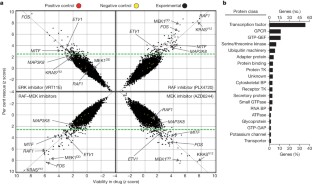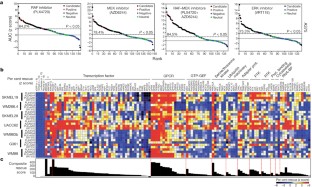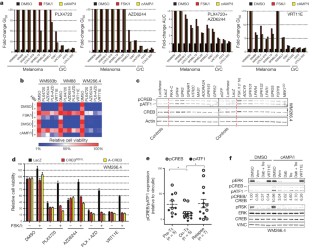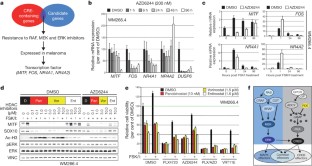 References
Solit, D. B. et al. BRAF mutation predicts sensitivity to MEK inhibition. Nature 439, 358–362 (2006)

Chapman, P. B. et al. Improved survival with vemurafenib in melanoma with BRAF V600E mutation. N. Engl. J. Med. 364, 2507–2516 (2011)

Flaherty, K. T. et al. Combined BRAF and MEK inhibition in melanoma with BRAF V600 mutations. N. Engl. J. Med. 367, 1694–1703 (2012)

Flaherty, K. T. et al. Improved survival with MEK inhibition in BRAF-mutated melanoma. N. Engl. J. Med. 367, 107–114 (2012)

Yang, X. et al. A public genome-scale lentiviral expression library of human ORFs. Nature Methods 8, 659–661 (2011)

Johannessen, C. M. et al. COT drives resistance to RAF inhibition through MAP kinase pathway reactivation. Nature 468, 968–972 (2010)

Wood, K. C. et al. MicroSCALE screening reveals genetic modifiers of therapeutic response in melanoma. Sci. Signal. 5, rs4 (2012)

Aronov, A. M. et al. Structure-guided design of potent and selective pyrimidylpyrrole inhibitors of extracellular signal-regulated kinase (ERK) using conformational control. J. Med. Chem. 52, 6362–6368 (2009)

Crews, C. M., Alessandrini, A. & Erikson, R. L. The primary structure of MEK, a protein kinase that phosphorylates the ERK gene product. Science 258, 478–480 (1992)

Girotti, M. R. et al. Inhibiting EGF receptor or SRC family kinase signaling overcomes BRAF inhibitor resistance in melanoma. Cancer Discov. 3, 158–167 (2012)

Kyriakis, J. M. et al. Raf-1 activates MAP kinase-kinase. Nature 358, 417–421 (1992)

Patriotis, C., Makris, A., Chernoff, J. & Tsichlis, P. N. Tpl-2 acts in concert with Ras and Raf-1 to activate mitogen-activated protein kinase. Proc. Natl Acad. Sci. USA 91, 9755–9759 (1994)

Pham, C. D., Arlinghaus, R. B., Zheng, C. F., Guan, K. L. & Singh, B. Characterization of MEK1 phosphorylation by the v-Mos protein. Oncogene 10, 1683–1688 (1995)

Pierce, K. L., Premont, R. T. & Lefkowitz, R. J. Seven-transmembrane receptors. Nature Rev. Mol. Cell Biol. 3, 639–650 (2002)

Hayward, N. K. Genetics of melanoma predisposition. Oncogene 22, 3053–3062 (2003)

Walton, K. M., Rehfuss, R. P., Chrivia, J. C., Lochner, J. E. & Goodman, R. H. A dominant repressor of cyclic adenosine 3′,5′-monophosphate (cAMP)-regulated enhancer-binding protein activity inhibits the cAMP-mediated induction of the somatostatin promoter in vivo. Mol. Endocrinol. 6, 647–655 (1992)

Ahn, S. et al. A dominant-negative inhibitor of CREB reveals that it is a general mediator of stimulus-dependent transcription of c-fos. Mol. Cell. Biol. 18, 967–977 (1998)

Dumaz, N. et al. In melanoma, RAS mutations are accompanied by switching signaling from BRAF to CRAF and disrupted cyclic AMP signaling. Cancer Res. 66, 9483–9491 (2006)

Garraway, L. A. et al. Integrative genomic analyses identify MITF as a lineage survival oncogene amplified in malignant melanoma. Nature 436, 117–122 (2005)

Jané-Valbuena, J. et al. An oncogenic role for ETV1 in melanoma. Cancer Res. 70, 2075–2084 (2010)

Hemesath, T. J., Price, E. R., Takemoto, C., Badalian, T. & Fisher, D. E. MAP kinase links the transcription factor Microphthalmia to c-Kit signalling in melanocytes. Nature 391, 298–301 (1998)

Wu, M. et al. c-Kit triggers dual phosphorylations, which couple activation and degradation of the essential melanocyte factor Mi. Genes Dev. 14, 301–312 (2000)

Hodgkinson, C. A. et al. Mutations at the mouse microphthalmia locus are associated with defects in a gene encoding a novel basic-helix-loop-helix-zipper protein. Cell 74, 395–404 (1993)

Yokoyama, S. et al. Pharmacologic suppression of MITF expression via HDadenyl cyclase inhibitors in the melanocyte lineage. Pigment Cell Melanoma Res. 21, 457–463 (2008)

Haq, R. et al. BCL2A1 is a lineage-specific antiapoptotic melanoma oncogene that confers resistance to BRAF inhibition. Proc. Natl Acad. Sci. USA 110, 4321–4326 (2013)

Smith, M. P. et al. Effect of SMURF2 targeting on susceptibility to MEK inhibitors in melanoma. J. Natl. Cancer Inst. 105, 33–46 (2013)

Frederick, D. T. et al. BRAF inhibition is associated with enhanced melanoma antigen expression and a more favorable tumor microenvironment in patients with metastatic melanoma. Clinical Cancer Res. 19, 1225–1231 (2013)
Acknowledgements
This work was supported by the National Institutes of Health (NIH) Director's New Innovator Award (DP2 OD002750, L.A.G.), Melanoma Research Alliance (L.A.G.), Starr Cancer Consortium (L.A.G.), Dr. Miriam and Sheldon G. Adelson Medical Research Foundation (L.A.G.), the NCI Skin Cancer SPORE (P50CA93683, L.A.G.) and the LINCS Program (U54 HG006093).
Ethics declarations
Competing interests
L.A.G. is a consultant for Foundation Medicine, Novartis, Boehringer Ingelheim, Millennium (Takeda) and Onyx Pharmaceuticals; L.A.G. receives research support from Novartis; L.A.G. is an equity holder in Foundation Medicine. J.A.W. receives research support from Roche-Genentech. K.T.F. is a consultant for GlaxoSmithKline.
Extended data figures and tables
About this article
Cite this article
Johannessen, C., Johnson, L., Piccioni, F. et al. A melanocyte lineage program confers resistance to MAP kinase pathway inhibition. Nature 504, 138–142 (2013). https://doi.org/10.1038/nature12688
Received:

Accepted:

Published:

Issue Date:

DOI: https://doi.org/10.1038/nature12688
Comments
By submitting a comment you agree to abide by our Terms and Community Guidelines. If you find something abusive or that does not comply with our terms or guidelines please flag it as inappropriate.