Abstract
Progressive phases of multiple sclerosis are associated with inhibited differentiation of the progenitor cell population that generates the mature oligodendrocytes required for remyelination and disease remission. To identify selective inducers of oligodendrocyte differentiation, we performed an image-based screen for myelin basic protein (MBP) expression using primary rat optic-nerve-derived progenitor cells. Here we show that among the most effective compounds identifed was benztropine, which significantly decreases clinical severity in the experimental autoimmune encephalomyelitis (EAE) model of relapsing-remitting multiple sclerosis when administered alone or in combination with approved immunosuppressive treatments for multiple sclerosis. Evidence from a cuprizone-induced model of demyelination, in vitro and in vivo T-cell assays and EAE adoptive transfer experiments indicated that the observed efficacy of this drug results directly from an enhancement of remyelination rather than immune suppression. Pharmacological studies indicate that benztropine functions by a mechanism that involves direct antagonism of M1 and/or M3 muscarinic receptors. These studies should facilitate the development of effective new therapies for the treatment of multiple sclerosis that complement established immunosuppressive approaches.
Access options
Subscribe to Journal
Get full journal access for 1 year
$199.00
only $3.90 per issue
All prices are NET prices.
VAT will be added later in the checkout.
Rent or Buy article
Get time limited or full article access on ReadCube.
from$8.99
All prices are NET prices.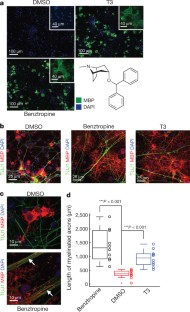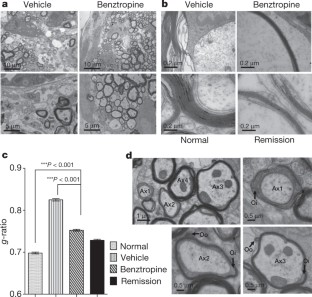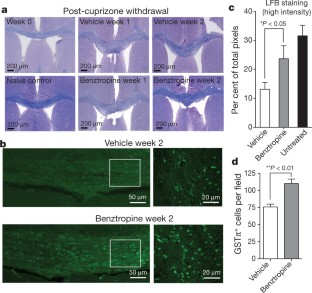 References
1

Franklin, R. J. & Ffrench-Constant, C. Remyelination in the CNS: from biology to therapy. Nature Rev. Neurosci. 9, 839–855 (2008)

2

Franklin, R. J. Why does remyelination fail in multiple sclerosis? Nature Rev. Neurosci. 3, 705–714 (2002)

3

Nunes, M. C. et al. Identification and isolation of multipotential neural progenitor cells from the subcortical white matter of the adult human brain. Nature Med. 9, 439–447 (2003)

4

Belachew, S. et al. Postnatal NG2 proteoglycan-expressing progenitor cells are intrinsically multipotent and generate functional neurons. J. Cell Biol. 161, 169–186 (2003)

5

Huang, J. K. et al. Retinoid X receptor gamma signaling accelerates CNS remyelination. Nature Neurosci. 14, 45–53 (2011)

6

Gensert, J. M. & Goldman, J. E. Endogenous progenitors remyelinate demyelinated axons in the adult CNS. Neuron 19, 197–203 (1997)

7

Horner, P. J. et al. Proliferation and differentiation of progenitor cells throughout the intact adult rat spinal cord. J. Neurosci. 20, 2218–2228 (2000)

8

Kremer, D., Aktas, O., Hartung, H. P. & Kury, P. The complex world of oligodendroglial differentiation inhibitors. Ann. Neurol. 69, 602–618 (2011)

9

Patel, J. R. & Klein, R. S. Mediators of oligodendrocyte differentiation during remyelination. FEBS Lett. 585, 3730–3737 (2011)

10

Chang, A., Tourtellotte, W. W., Rudick, R. & Trapp, B. D. Premyelinating oligodendrocytes in chronic lesions of multiple sclerosis. N. Engl. J. Med. 346, 165–173 (2002)

11

Chari, D. M., Huang, W. L. & Blakemore, W. F. Dysfunctional oligodendrocyte progenitor cell (OPC) populations may inhibit repopulation of OPC depleted tissue. J. Neurosci. Res. 73, 787–793 (2003)

12

Wolswijk, G. Chronic stage multiple sclerosis lesions contain a relatively quiescent population of oligodendrocyte precursor cells. J. Neurosci. 18, 601–609 (1998)

13

Kuhlmann, T. et al. Differentiation block of oligodendroglial progenitor cells as a cause for remyelination failure in chronic multiple sclerosis. Brain 131, 1749–1758 (2008)

14

Hart, I. K., Richardson, W. D., Bolsover, S. R. & Raff, M. C. PDGF and intracellular signaling in the timing of oligodendrocyte differentiation. J. Cell Biol. 109, 3411–3417 (1989)

15

Billon, N., Tokumoto, Y., Forrest, D. & Raff, M. Role of thyroid hormone receptors in timing oligodendrocyte differentiation. Dev. Biol. 235, 110–120 (2001)

16

Tokumoto, Y. M., Tang, D. G. & Raff, M. C. Two molecularly distinct intracellular pathways to oligodendrocyte differentiation: role of a p53 family protein. EMBO J. 20, 5261–5268 (2001)

17

Fernandez, M. et al. Thyroid hormone administration enhances remyelination in chronic demyelinating inflammatory disease. Proc. Natl Acad. Sci. USA 101, 16363–16368 (2004)

18

Calzà, L., Fernandez, M. & Giardino, L. Cellular approaches to central nervous system remyelination stimulation: thyroid hormone to promote myelin repair via endogenous stem and precursor cells. J. Mol. Endocrinol. 44, 13–23 (2010)

19

Barres, B. A., Lazar, M. A. & Raff, M. C. A novel role for thyroid hormone, glucocorticoids and retinoic acid in timing oligodendrocyte development. Development 120, 1097–1108 (1994)

20

Buckley, C. E. et al. Drug reprofiling using zebrafish identifies novel compounds with potential pro-myelination effects. Neuropharmacology 59, 149–159 (2010)

21

Ibanez, C. et al. Steroids and the reversal of age-associated changes in myelination and remyelination. Prog. Neurobiol. 71, 49–56 (2003)

22

Baer, A. S. et al. Myelin-mediated inhibition of oligodendrocyte precursor differentiation can be overcome by pharmacological modulation of Fyn-RhoA and protein kinase C signalling. Brain 132, 465–481 (2009)

23

Joubert, L. et al. Chemical inducers and transcriptional markers of oligodendrocyte differentiation. J. Neurosci. Res. 88, 2546–2557 (2010)

24

Gard, A. L. & Pfeiffer, S. E. Two proliferative stages of the oligodendrocyte lineage (A2B5+O4−and O4+GalC−) under different mitogenic control. Neuron 5, 615–625 (1990)

25

Pfeiffer, S. E., Warrington, A. E. & Bansal, R. The oligodendrocyte and its many cellular processes. Trends Cell Biol. 3, 191–197 (1993)

26

Gaspard, N. et al. Generation of cortical neurons from mouse embryonic stem cells. Nature Protocols 4, 1454–1463 (2009)

27

Barres, B. A. et al. Cell death and control of cell survival in the oligodendrocyte lineage. Cell 70, 31–46 (1992)

28

Eshleman, A. J., Henningsen, R. A., Neve, K. A. & Janowsky, A. Release of dopamine via the human transporter. Mol. Pharmacol. 45, 312–316 (1994)

29

McKearney, J. W. Stimulant actions of histamine H1 antagonists on operant behavior in the squirrel monkey. Psychopharmacol. 77, 156–158 (1982)

30

Agoston, G. E. et al. Novel N-substituted 3α-[bis(4'-fluorophenyl)methoxy]tropane analogues: selective ligands for the dopamine transporter. J. Med. Chem. 40, 4329–4339 (1997)

31

De Angelis, F., Bernardo, A., Magnaghi, V., Minghetti, L. & Tata, A. M. Muscarinic receptor subtypes as potential targets to modulate oligodendrocyte progenitor survival, proliferation and differentiation. Dev. Neurobiol. 72, 713–728 (2012)

32

Stidworthy, M. F. et al. Notch1 and Jagged1 are expressed after CNS demyelination, but are not a major rate-determining factor during remyelination. Brain 127, 1928–1941 (2004)

33

Taveggia, C., Feltri, M. L. & Wrabetz, L. Signals to promote myelin formation and repair. Nature Rev. Neurol. 6, 276–287 (2010)

34

Ragheb, F. et al. Pharmacological and functional characterization of muscarinic receptor subtypes in developing oligodendrocytes. J. Neurochem. 77, 1396–1406 (2001)

35

Felder, C. C. Muscarinic acetylcholine receptors: signal transduction through multiple effectors. FASEB J. 9, 619–625 (1995)

36

Owens, T. & Sriram, S. The immunology of multiple sclerosis and its animal model, experimental allergic encephalomyelitis. Neurol. Clin. 13, 51–73 (1995)

37

Lawson, B. R. et al. Inhibition of transmethylation down-regulates CD4 T cell activation and curtails development of autoimmunity in a model system. J. Immunol. 178, 5366–5374 (2007)

38

Mix, E., Meyer-Rienecker, H. & Zettl, U. K. Animal models of multiple sclerosis for the development and validation of novel therapies—potential and limitations. J. Neurol. 255 (Suppl 6). 7–14 (2008)

39

Steinman, L. & Zamvil, S. S. Virtues and pitfalls of EAE for the development of therapies for multiple sclerosis. Trends Immunol. 26, 565–571 (2005)

40

Aharoni, R. et al. Distinct pathological patterns in relapsing-remitting and chronic models of experimental autoimmune enchephalomyelitis and the neuroprotective effect of glatiramer acetate. J. Autoimmun. 37, 228–241 (2011)

41

Liu, L. et al. Myelin repair is accelerated by inactivating CXCR2 on nonhematopoietic cells. J. Neurosci. 30, 9074–9083 (2010)

42

Mi, S. et al. LINGO-1 antagonist promotes spinal cord remyelination and axonal integrity in MOG-induced experimental autoimmune encephalomyelitis. Nature Med. 13, 1228–1233 (2007)

43

Kawashima, K. & Fujii, T. Basic and clinical aspects of non-neuronal acetylcholine: overview of non-neuronal cholinergic systems and their biological significance. J. Pharmacol. Sci. 106, 167–173 (2008)

44

Stern, J. N. et al. Promoting tolerance to proteolipid protein-induced experimental autoimmune encephalomyelitis through targeting dendritic cells. Proc. Natl Acad. Sci. USA 107, 17280–17285 (2010)

45

Steelman, A. J., Thompson, J. P. & Li, J. Demyelination and remyelination in anatomically distinct regions of the corpus callosum following cuprizone intoxication. Neurosci. Res. 72, 32–42 (2012)

46

Matsushima, G. K. & Morell, P. The neurotoxicant, cuprizone, as a model to study demyelination and remyelination in the central nervous system. Brain Pathol. 11, 107–116 (2001)

47

Kappos, L. et al. Oral fingolimod (FTY720) for relapsing multiple sclerosis. N. Engl. J. Med. 355, 1124–1140 (2006)

48

Durelli, L. et al. Every-other-day interferon beta-1b versus once-weekly interferon beta-1a for multiple sclerosis: results of a 2-year prospective randomised multicentre study (INCOMIN). Lancet 359, 1453–1460 (2002)

49

Noronha, A., Toscas, A. & Jensen, M. A. Interferon β decreases T cell activation and interferon γ production in multiple sclerosis. J. Neuroimmunol. 46, 145–153 (1993)

50

Brinkmann, V. et al. The immune modulator FTY720 targets sphingosine 1-phosphate receptors. J. Biol. Chem. 277, 21453–21457 (2002)

51

Kondo, T. & Raff, M. The Id4 HLH protein and the timing of oligodendrocyte differentiation. EMBO J. 19, 1998–2007 (2000)

52

Wang, S., Sdrulla, A., Johnson, J. E., Yokota, Y. & Barres, B. A. A role for the helix-loop-helix protein Id2 in the control of oligodendrocyte development. Neuron 29, 603–614 (2001)

53

Pang, Y. et al. Neuron-oligodendrocyte myelination co-culture derived from embryonic rat spinal cord and cerebral cortex. Brain Behav. 2, 53–67 (2012)

54

Izrael, M. et al. Human oligodendrocytes derived from embryonic stem cells: Effect of noggin on phenotypic differentiation in vitro and on myelination in vivo. Mol. Cell. Neurosci. 34, 310–323 (2007)
Acknowledgements
This work was supported by the Skaggs Institute for Chemical Biology and the California Institute for Regenerative Medicine grant TR3-05617 (to P.G.S), the California Institute for Regenerative Medicine (TG2-01165) and National Science Foundation pre-doctoral fellowships (to V.A.D and C.A.L, respectively). We are grateful to T. Hasnat, M. Chadwell, W. Kiosses and M. Wood for technical support. This is manuscript number 21786 of The Scripps Research Institute.
Ethics declarations
Competing interests
The authors declare no competing financial interests.
Extended data figures and tables
Supplementary information
About this article
Cite this article
Deshmukh, V., Tardif, V., Lyssiotis, C. et al. A regenerative approach to the treatment of multiple sclerosis. Nature 502, 327–332 (2013). https://doi.org/10.1038/nature12647
Received:

Accepted:

Published:

Issue Date:
Comments
By submitting a comment you agree to abide by our Terms and Community Guidelines. If you find something abusive or that does not comply with our terms or guidelines please flag it as inappropriate.