Abstract
Many organs with a high cell turnover (for example, skin, intestine and blood) are composed of short-lived cells that require continuous replenishment by somatic stem cells1,2. Ageing results in the inability of these tissues to maintain homeostasis and it is believed that somatic stem-cell ageing is one underlying cause of tissue attrition with age or age-related diseases. Ageing of haematopoietic stem cells (HSCs) is associated with impaired haematopoiesis in the elderly3,4,5,6. Despite a large amount of data describing the decline of HSC function on ageing, the molecular mechanisms of this process remain largely unknown, which precludes rational approaches to attenuate stem-cell ageing. Here we report an unexpected shift from canonical to non-canonical Wnt signalling in mice due to elevated expression of Wnt5a in aged HSCs, which causes stem-cell ageing. Wnt5a treatment of young HSCs induces ageing-associated stem-cell apolarity, reduction of regenerative capacity and an ageing-like myeloid–lymphoid differentiation skewing via activation of the small Rho GTPase Cdc42. Conversely, Wnt5a haploinsufficiency attenuates HSC ageing, whereas stem-cell-intrinsic reduction of Wnt5a expression results in functionally rejuvenated aged HSCs. Our data demonstrate a critical role for stem-cell-intrinsic non-canonical Wnt5a signalling in HSC ageing.
Access options
Subscribe to Journal
Get full journal access for 1 year
$199.00
only $3.90 per issue
All prices are NET prices.
VAT will be added later in the checkout.
Rent or Buy article
Get time limited or full article access on ReadCube.
from$8.99
All prices are NET prices.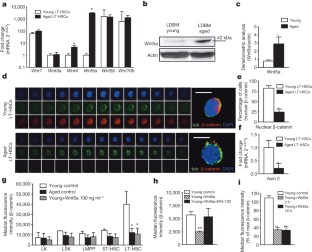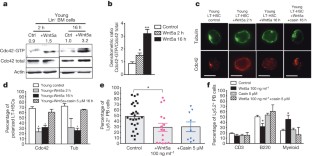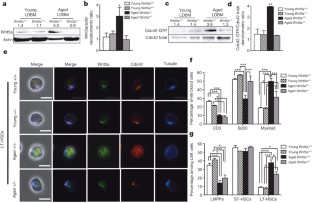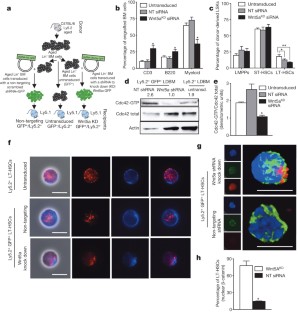 References
1

Morrison, S. J., Uchida, N. & Weissman, I. L. The biology of hematopoietic stem cells. Annu. Rev. Cell Dev. Biol. 11, 35–71 (1995)

2

Fuchs, E. & Segre, J. A. Stem cells: a new lease on life. Cell 100, 143–155 (2000)

3

Rossi, D. J. et al. Cell intrinsic alterations underlie hematopoietic stem cell aging. Proc. Natl Acad. Sci. USA 102, 9194–9199 (2005)

4

Rossi, D. J., Jamieson, C. H. & Weissman, I. L. Stems cells and the pathways to aging and cancer. Cell 132, 681–696 (2008)

5

Geiger, H. & Van Zant, G. The aging of lympho-hematopoietic stem cells. Nature Immunol. 3, 329–333 (2002)

6

Geiger, H. & Rudolph, K. L. Aging in the lympho-hematopoietic stem cell compartment. Trends Immunol. 30, 360–365 (2009)

7

Conboy, I. M., Conboy, M. J., Smythe, G. M. & Rando, T. A. Notch-mediated restoration of regenerative potential to aged muscle. Science 302, 1575–1577 (2003)

8

Conboy, I. M. et al. Rejuvenation of aged progenitor cells by exposure to a young systemic environment. Nature 433, 760–764 (2005)

9

Brack, A. S. et al. Increased Wnt signaling during aging alters muscle stem cell fate and increases fibrosis. Science 317, 807–810 (2007)

10

Liu, H. et al. Augmented Wnt signaling in a mammalian model of accelerated aging. Science 317, 803–806 (2007)

11

Malhotra, S. & Kincade, P. W. Wnt-related molecules and signaling pathway equilibrium in hematopoiesis. Cell Stem Cell 4, 27–36 (2009)

12

Nemeth, M. J., Topol, L., Anderson, S. M., Yang, Y. & Bodine, D. M. Wnt5a inhibits canonical Wnt signaling in hematopoietic stem cells and enhances repopulation. Proc. Natl Acad. Sci. USA 104, 15436–15441 (2007)

13

Duncan, A. W. et al. Integration of Notch and Wnt signaling in hematopoietic stem cell maintenance. Nature Immunol. 6, 314–322 (2005)

14

Luis, T. C., Naber, B. A., Fibbe, W. E., van Dongen, J. J. & Staal, F. J. Wnt3a nonredundantly controls hematopoietic stem cell function and its deficiency results in complete absence of canonical Wnt signaling. Blood 116, 496–497 (2010)

15

Luis, T. C. et al. Canonical Wnt signaling regulates hematopoiesis in a dosage-dependent fashion. Cell Stem Cell 9, 345–356 (2011)

16

Staal, F. J. & Luis, T. C. Wnt signaling in hematopoiesis: crucial factors for self-renewal, proliferation, and cell fate decisions. J. Cell. Biochem. 109, 844–849 (2010)

17

Schlessinger, K., Hall, A. & Tolwinski, N. Wnt signaling pathways meet Rho GTPases. Genes Dev. 23, 265–277 (2009)

18

Schlessinger, K., McManus, E. J. & Hall, A. Cdc42 and noncanonical Wnt signal transduction pathways cooperate to promote cell polarity. J. Cell Biol. 178, 355–361 (2007)

19

Sugimura, R. et al. Noncanonical Wnt signaling maintains hematopoietic stem cells in the niche. Cell 150, 351–365 (2012)

20

Florian, M. C. et al. Cdc42 activity regulates hematopoietic stem cell aging and rejuvenation. Cell Stem Cell 10, 520–530 (2012)

21

Geiger, H., de Haan, G. & Florian, M. C. The ageing haematopoietic stem cell compartment. Nature Rev. Immunol. 13, 376–389 (2013)

22

Peterson, J. R., Lebensohn, A. M., Pelish, H. E. & Kirschner, M. W. Biochemical suppression of small-molecule inhibitors: a strategy to identify inhibitor targets and signaling pathway components. Chem. Biol. 13, 443–452 (2006)

23

Liang, H. et al. Wnt5a inhibits B cell proliferation and functions as a tumor suppressor in hematopoietic tissue. Cancer Cell 4, 349–360 (2003)

24

Kuhl, M., Sheldahl, L. C., Park, M., Miller, J. R. & Moon, R. T. The Wnt/Ca2+ pathway: a new vertebrate Wnt signaling pathway takes shape. Trends Genet. 16, 279–283 (2000)

25

Zou, P. et al. p57Kip2 and p27Kip1 cooperate to maintain hematopoietic stem cell quiescence through interactions with Hsc70. Cell Stem Cell 9, 247–261 (2011)

26

Li, J. et al. WNT5A antagonizes WNT/β-catenin signaling and is frequently silenced by promoter CpG methylation in esophageal squamous cell carcinoma. Cancer Biol. Ther. 10, 617–624 (2010)

27

Kohler, A. et al. Altered cellular dynamics and endosteal location of aged early hematopoietic progenitor cells revealed by time-lapse intravital imaging in long bones. Blood 114, 290–298 (2009)

28

Adolfsson, J. et al. Identification of Flt3+ lympho-myeloid stem cells lacking erythro-megakaryocytic potential a revised road map for adult blood lineage commitment. Cell 121, 295–306 (2005)

29

Yang, L. et al. Cdc42 critically regulates the balance between myelopoiesis and erythropoiesis. Blood 110, 3853–3861 (2007)

30

Daria, D. et al. The retinoblastoma tumor suppressor is a critical intrinsic regulator for hematopoietic stem and progenitor cells under stress. Blood 111, 1894–1902 (2008)

31

Li, Z. et al. Predictable and efficient retroviral gene transfer into murine bone marrow repopulating cells using a defined vector dose. Exp. Hematol. 31, 1206–1214 (2003)
Acknowledgements
We thank G. Van Zant and J. A. Cancelas for advice and critical reading of the manuscript. We thank F. Kirchhoff and D. van der Merwe for cell sorting support, A. Rück and the Institut für Lasertechnologien in der Medizin und Meßtechnik of Ulm University for support with confocal microscopy, and the Mouse and Cancer Core in Cincinnati and the Tierforschungszentrum of the University of Ulm for supporting our animal work. The work in the laboratory of H.G. is supported by grants from the Deutsche Forschungsgemeinschaft KFO 142, GE2063/1 and SFB 1074, the German Federal Ministry of Education and Research within its joint research project SyStaR (also to H.A.K. and K.S.-K.), the Excellence program of the Baden-Württemberg Foundation, the National Institute of Health, HL076604, DK077762 and AG040118, the Edward P. Evans foundation and the European Commission (FP7 Marie Curie Initial Training Network MARRIAGE). M.C.F. is supported by a 'Bausteinprogramm' of the Department of Medicine of Ulm University.
Ethics declarations
Competing interests
The authors declare no competing financial interests.
Extended data figures and tables
Supplementary information
Confocal 3-D reconstruction of an aged LT-HSC stained for Wnt5a (green), Clathrin (red) and the nucleus (DAPI, blue). The cell was scanned along the z-axis to acquire a picture of the xy-plane every 0.6µm. (MP4 638 kb)
Confocal 3-D reconstruction of a young LT-HSC stained for β-catenin (red) and tubulin (green). The nucleus is stained with DAPI (blue). The cell was scanned along the z-axis to acquire a picture of the xy-plane every 0.6µm. (MP4 1288 kb)
Confocal 3-d reconstruction of an aged LT-HSC stained for β-catenin (red) and tubulin (green). The nucleus is stained with DAPI (blue). The cell was scanned along the z-axis to acquire a picture of the xy-plane every 0.6µm. (MP4 496 kb)
About this article
Cite this article
Florian, M., Nattamai, K., Dörr, K. et al. A canonical to non-canonical Wnt signalling switch in haematopoietic stem-cell ageing. Nature 503, 392–396 (2013). https://doi.org/10.1038/nature12631
Received:

Accepted:

Published:

Issue Date:
Comments
By submitting a comment you agree to abide by our Terms and Community Guidelines. If you find something abusive or that does not comply with our terms or guidelines please flag it as inappropriate.