Abstract
In systemic sclerosis (SSc), a common and aetiologically mysterious form of scleroderma (defined as pathological fibrosis of the skin), previously healthy adults acquire fibrosis of the skin and viscera in association with autoantibodies1. Familial recurrence is extremely rare and causal genes have not been identified. Although the onset of fibrosis in SSc typically correlates with the production of autoantibodies, whether they contribute to disease pathogenesis or simply serve as a marker of disease remains controversial and the mechanism for their induction is largely unknown2. The study of SSc is hindered by a lack of animal models that recapitulate the aetiology of this complex disease. To gain a foothold in the pathogenesis of pathological skin fibrosis, we studied stiff skin syndrome (SSS), a rare but tractable Mendelian disorder leading to childhood onset of diffuse skin fibrosis with autosomal dominant inheritance and complete penetrance. We showed previously that SSS is caused by heterozygous missense mutations in the gene (FBN1) encoding fibrillin-1, the main constituent of extracellular microfibrils3. SSS mutations all localize to the only domain in fibrillin-1 that harbours an Arg-Gly-Asp (RGD) motif needed to mediate cell–matrix interactions by binding to cell-surface integrins3. Here we show that mouse lines harbouring analogous amino acid substitutions in fibrillin-1 recapitulate aggressive skin fibrosis that is prevented by integrin-modulating therapies and reversed by antagonism of the pro-fibrotic cytokine transforming growth factor β (TGF-β). Mutant mice show skin infiltration of pro-inflammatory immune cells including plasmacytoid dendritic cells, T helper cells and plasma cells, and also autoantibody production; these findings are normalized by integrin-modulating therapies or TGF-β antagonism. These results show that alterations in cell–matrix interactions are sufficient to initiate and sustain inflammatory and pro-fibrotic programmes and highlight new therapeutic strategies.
Relevant articles
Open Access articles citing this article.
Dandan Peng

,

Minyang Fu

…

Xiawei Wei

Molecular Cancer Open Access 23 April 2022

C. James Block

,

Gregory Dyson

…

Guojun Wu

Scientific Reports Open Access 28 November 2019

Vu Huy Luong

,

Takenao Chino

…

Minoru Hasegawa

Arthritis Research & Therapy Open Access 15 March 2018
Access options
Subscribe to Journal
Get full journal access for 1 year
$199.00
only $3.90 per issue
All prices are NET prices.
VAT will be added later in the checkout.
Tax calculation will be finalised during checkout.
Buy article
Get time limited or full article access on ReadCube.
$32.00
All prices are NET prices.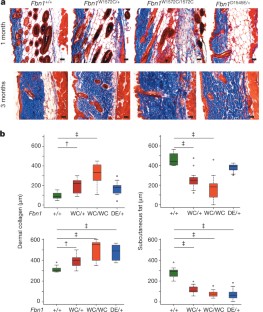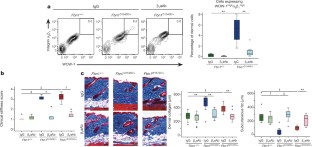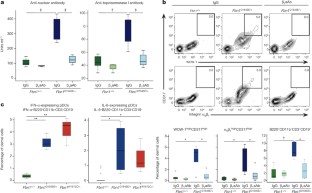 References
Mayes, M. D. et al. Prevalence, incidence, survival, and disease characteristics of systemic sclerosis in a large US population. Arthritis Rheum. 48, 2246–2255 (2003)

Harris, M. L. & Rosen, A. Autoimmunity in scleroderma: the origin, pathogenetic role, and clinical significance of autoantibodies. Curr. Opin. Rheumatol. 15, 778–784 (2003)

Loeys, B. L. et al. Mutations in fibrillin-1 cause congenital scleroderma: stiff skin syndrome. Sci. Transl. Med. 2, 23ra20 (2010)

Varga, J. & Pasche, B. Transforming growth factor β as a therapeutic target in systemic sclerosis. Nature Rev. Rheumatol. 5, 200–206 (2009)

Doyle, J. J., Gerber, E. E. & Dietz, H. C. Matrix-dependent perturbation of TGF-β signaling and disease. FEBS Lett. 586, 2003–2015 (2012)

Lindsay, M. E. & Dietz, H. C. Lessons on the pathogenesis of aneurysm from heritable conditions. Nature 473, 308–316 (2011)

Reynolds, L. E. et al. Accelerated re-epithelialization in β3-integrin-deficient mice is associated with enhanced TGF-β1 signaling. Nature Med. 11, 167–174 (2005)

Munger, J. S. & Sheppard, D. Cross talk among TGF-β signaling pathways, integrins, and the extracellular matrix. Cold Spring Harb. Perspect. Biol. 3, a005017 (2011)

Swiecki, M. & Colonna, M. Unraveling the functions of plasmacytoid dendritic cells during viral infections, autoimmunity, and tolerance. Immunol. Rev. 234, 142–162 (2010)

van Rooij, E. et al. Dysregulation of microRNAs after myocardial infarction reveals a role of miR-29 in cardiac fibrosis. Proc. Natl Acad. Sci. USA 105, 13027–13032 (2008)

Maurer, B. et al. MicroRNA-29, a key regulator of collagen expression in systemic sclerosis. Arthritis Rheum. 62, 1733–1743 (2010)

Hall, J. C. & Rosen, A. Type I interferons: crucial participants in disease amplification in autoimmunity. Nature Rev. Rheumatol. 6, 40–49 (2010)

Sakkas, L. I., Chikanza, I. C. & Platsoucas, C. D. Mechanisms of disease: the role of immune cells in the pathogenesis of systemic sclerosis. Nature Clin. Pract. Rheumatol. 2, 679–685 (2006)

Fujimoto, M. et al. CD19-dependent B lymphocyte signaling thresholds influence skin fibrosis and autoimmunity in the tight-skin mouse. J. Clin. Invest. 109, 1453–1462 (2002)

Bona, C. & Rothfield, N. Autoantibodies in scleroderma and tight skin mice. Curr. Opin. Immunol. 6, 931–937 (1994)

Brakebusch, C. et al. Skin and hair follicle integrity is crucially dependent on β1 integrin expression on keratinocytes. EMBO J. 19, 3990–4003 (2000)

Liu, S. et al. Loss of β1 integrin in mouse fibroblasts results in resistance to skin scleroderma in a mouse model. Arthritis Rheum. 60, 2817–2821 (2009)

van Helden, S. F. et al. A critical role for prostaglandin E2 in podosome dissolution and induction of high-speed migration during dendritic cell maturation. J. Immunol. 177, 1567–1574 (2006)

Zou, W. et al. Stromal-derived factor-1 in human tumors recruits and alters the function of plasmacytoid precursor dendritic cells. Nature Med. 7, 1339–1346 (2001)

Ding, C., Cai, Y., Marroquin, J., Ildstad, S. T. & Yan, J. Plasmacytoid dendritic cells regulate autoreactive B cell activation via soluble factors and in a cell-to-cell contact manner. J. Immunol. 183, 7140–7149 (2009)

Jego, G. et al. Plasmacytoid dendritic cells induce plasma cell differentiation through type I interferon and interleukin 6. Immunity 19, 225–234 (2003)

Fleming, J. N. et al. Capillary regeneration in scleroderma: stem cell therapy reverses phenotype. PLoS ONE 3, e1452 (2008)

Saas, P. & Perruche, S. Functions of TGF-β-exposed plasmacytoid dendritic cells. Crit. Rev. Immunol. 32, 529–553 (2012)

Bratke, K., Klein, C., Kuepper, M., Lommatzsch, M. & Virchow, J. C. Differential development of plasmacytoid dendritic cells in Th1- and Th2-like cytokine milieus. Allergy 66, 386–395 (2011)

Dardalhon, V. et al. IL-4 inhibits TGF-β-induced Foxp3+ T cells and, together with TGF-β, generates IL-9+ IL-10+ Foxp3− effector T cells. Nature Immunol. 9, 1347–1355 (2008)

Nakerakanti, S. S., Bujor, A. M. & Trojanowska, M. CCN2 is required for the TGF-β induced activation of Smad1–Erk1/2 signaling network. PLoS ONE 6, e21911 (2011)

Chen, Y. et al. Heparan sulfate-dependent ERK activation contributes to the overexpression of fibrotic proteins and enhanced contraction by scleroderma fibroblasts. Arthritis Rheum. 58, 577–585 (2008)

Asano, Y. et al. Increased expression of integrin αvβ3 contributes to the establishment of autocrine TGF-β signaling in scleroderma fibroblasts. J. Immunol. 175, 7708–7718 (2005)

Watarai, H. et al. PDC-TREM, a plasmacytoid dendritic cell-specific receptor, is responsible for augmented production of type I interferon. Proc. Natl Acad. Sci. USA 105, 2993–2998 (2008)

Kawai, T. & Akira, S. TLR signaling. Cell Death Differ. 13, 816–825 (2006)

Judge, D. P. et al. Evidence for a critical contribution of haploinsufficiency in the complex pathogenesis of Marfan syndrome. J. Clin. Invest. 114, 172–181 (2004)

Castelino, F. V. et al. Amelioration of dermal fibrosis by genetic deletion or pharmacologic antagonism of lysophosphatidic acid receptor 1 in a mouse model of scleroderma. Arthritis Rheum. 63, 1405–1415 (2011)

HogenEsch, H. et al. Expression of chitinase-like proteins in the skin of chronic proliferative dermatitis (cpdm/cpdm) mice. Exp. Dermatol. 15, 808–814 (2006)

Davis, E. C. et al. Remodeling of elastic fiber components in scleroderma skin. Connect. Tissue Res. 40, 113–121 (1999)

Garfield, A. S. Derivation of primary mouse embryonic fibroblast (PMEF) cultures. Methods Mol. Biol. 633, 19–27 (2010)

Lakos, G. et al. Animal models of scleroderma. Methods Mol. Med. 102, 377–393 (2004)

Gehrie, E. et al. Plasmacytoid dendritic cells in tolerance. Methods Mol. Biol. 677, 127–147 (2011)

Pampori, N. et al. Mechanisms and consequences of affinity modulation of integrin αVβ3 detected with a novel patch-engineered monovalent ligand. J. Biol. Chem. 274, 21609–21616 (1999)

Kiosses, W. B. et al. Rac recruits high-affinity integrin αvβ3 to lamellipodia in endothelial cell migration. Nature Cell Biol. 3, 316–320 (2001)
Acknowledgements
We thank those who contributed skin biopsies to this study and those who provided reagents for this study, including S. Shattil, K. Flanders, C. J. Thomas, S. Patnaik and J. J. Marugan. This work was supported by grants to H.C.D. from the Scleroderma Research Foundation, the National Institutes of Health (RO1-AR41135 and PO1-AR049698), the National Marfan Foundation, the Smilow Center for Marfan Syndrome Research, and the Howard Hughes Medical Institute.
Ethics declarations
Competing interests
The authors declare no competing financial interests.
Supplementary information
This file contains Supplementary Figures 1-16. This file was replaced on 6 November 2013. (PDF 15128 kb)
About this article
Cite this article
Gerber, E., Gallo, E., Fontana, S. et al. Integrin-modulating therapy prevents fibrosis and autoimmunity in mouse models of scleroderma. Nature 503, 126–130 (2013). https://doi.org/10.1038/nature12614
Received:

Accepted:

Published:

Issue Date:

DOI: https://doi.org/10.1038/nature12614
Comments
By submitting a comment you agree to abide by our Terms and Community Guidelines. If you find something abusive or that does not comply with our terms or guidelines please flag it as inappropriate.