Abstract
Neuronal dendrites are electrically excitable: they can generate regenerative events such as dendritic spikes in response to sufficiently strong synaptic input1,2,3. Although such events have been observed in many neuronal types4,5,6,7,8,9, it is not well understood how active dendrites contribute to the tuning of neuronal output in vivo. Here we show that dendritic spikes increase the selectivity of neuronal responses to the orientation of a visual stimulus (orientation tuning). We performed direct patch-clamp recordings from the dendrites of pyramidal neurons in the primary visual cortex of lightly anaesthetized and awake mice, during sensory processing. Visual stimulation triggered regenerative local dendritic spikes that were distinct from back-propagating action potentials. These events were orientation tuned and were suppressed by either hyperpolarization of membrane potential or intracellular blockade of NMDA (N-methyl-d-aspartate) receptors. Both of these manipulations also decreased the selectivity of subthreshold orientation tuning measured at the soma, thus linking dendritic regenerative events to somatic orientation tuning. Together, our results suggest that dendritic spikes that are triggered by visual input contribute to a fundamental cortical computation: enhancing orientation selectivity in the visual cortex. Thus, dendritic excitability is an essential component of behaviourally relevant computations in neurons.
Your institute does not have access to this article
Relevant articles
Open Access articles citing this article.
Michael D. Adoff

,

Jason R. Climer

…

Daniel A. Dombeck

Nature Communications Open Access 11 June 2021

Balázs B. Ujfalussy

&

Judit K. Makara

Nature Communications Open Access 16 March 2020

Niansheng Ju

,

Yang Li

…

Shiming Tang

Nature Communications Open Access 04 February 2020
Access options
Subscribe to Journal
Get full journal access for 1 year
$199.00
only $3.90 per issue
All prices are NET prices.
VAT will be added later in the checkout.
Tax calculation will be finalised during checkout.
Buy article
Get time limited or full article access on ReadCube.
$32.00
All prices are NET prices.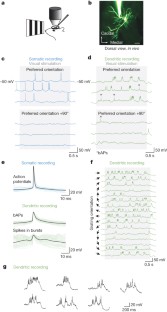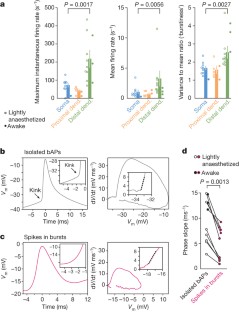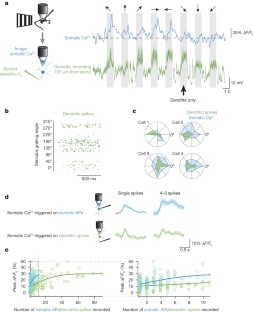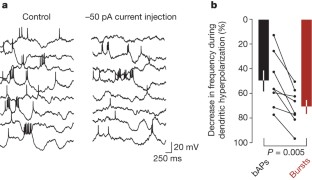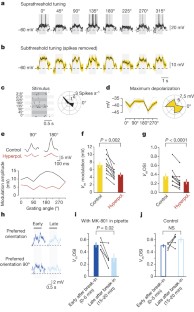 References
Johnston, D. & Narayanan, R. Active dendrites: colorful wings of the mysterious butterflies. Trends Neurosci. 31, 309–316 (2008)

London, M. & Häusser, M. Dendritic computation. Annu. Rev. Neurosci. 28, 503–532 (2005)

Spruston, N. Pyramidal neurons: dendritic structure and synaptic integration. Nature Rev. Neurosci. 9, 206–221 (2008)

Larkum, M. E., Zhu, J. J. & Sakmann, B. A new cellular mechanism for coupling inputs arriving at different cortical layers. Nature 398, 338–341 (1999)

Schiller, J., Major, G., Koester, H. J. & Schiller, Y. NMDA spikes in basal dendrites of cortical pyramidal neurons. Nature 404, 285–289 (2000)

Helmchen, F., Svoboda, K., Denk, W. & Tank, D. W. In vivo dendritic calcium dynamics in deep-layer cortical pyramidal neurons. Nature Neurosci. 2, 989–996 (1999)

Llinas, R., Nicholson, C., Freeman, J. A. & Hillman, D. E. Dendritic spikes and their inhibition in alligator Purkinje cells. Science 160, 1132–1135 (1968)

Kamondi, A., Acsady, L. & Buzsaki, G. Dendritic spikes are enhanced by cooperative network activity in the intact hippocampus. J. Neurosci. 18, 3919–3928 (1998)

Yuste, R., Gutnick, M. J., Saar, D., Delaney, K. R. & Tank, D. W. Ca2+ accumulations in dendrites of neocortical pyramidal neurons: an apical band and evidence for two functional compartments. Neuron 13, 23–43 (1994)

Branco, T., Clark, B. A. & Häusser, M. Dendritic discrimination of temporal input sequences in cortical neurons. Science 329, 1671–1675 (2010)

Ferster, D. & Jagadeesh, B. EPSP-IPSP interactions in cat visual cortex studied with in vivo whole-cell patch recording. J. Neurosci. 12, 1262–1274 (1992)

Volgushev, M., Pei, X., Vidyasagar, T. R. & Creutzfeldt, O. D. Postsynaptic potentials in cat visual cortex: dependence on polarization. Neuroreport 3, 679–682 (1992)

Hirsch, J. A., Alonso, J. M. & Reid, R. A. Visually evoked calcium action potentials in cat striate cortex. Nature 378, 612–616 (1995)

Hubel, D. H. & Wiesel, T. N. Receptive fields of single neurones in the cat's striate cortex. J. Physiol. (Lond.) 148, 574–591 (1959)

Larkum, M. E., Waters, J., Sakmann, B. & Helmchen, F. Dendritic spikes in apical dendrites of neocortical layer 2/3 pyramidal neurons. J. Neurosci. 27, 8999–9008 (2007)

Waters, J. & Helmchen, F. Background synaptic activity is sparse in neocortex. J. Neurosci. 26, 8267–8277 (2006)

Niell, C. M. & Stryker, M. P. Highly selective receptive fields in mouse visual cortex. J. Neurosci. 28, 7520–7536 (2008)

Yu, Y., Shu, Y. & McCormick, D. A. Cortical action potential backpropagation explains spike threshold variability and rapid-onset kinetics. J. Neurosci. 28, 7260–7272 (2008)

Svoboda, K., Helmchen, F., Denk, W. & Tank, D. W. Spread of dendritic excitation in layer 2/3 pyramidal neurons in rat barrel cortex in vivo. Nature Neurosci. 2, 65–73 (1999)

Tan, A. Y., Brown, B. D., Scholl, B., Mohanty, D. & Priebe, N. J. Orientation selectivity of synaptic input to neurons in mouse and cat primary visual cortex. J. Neurosci. 31, 12339–12350 (2011)

Jia, H., Rochefort, N. L., Chen, X. & Konnerth, A. Dendritic organization of sensory input to cortical neurons in vivo. Nature 464, 1307–1312 (2010)

Polsky, A., Mel, B. W. & Schiller, J. Computational subunits in thin dendrites of pyramidal cells. Nature Neurosci. 7, 621–627 (2004)

Lavzin, M., Rapoport, S., Polsky, A., Garion, L. & Schiller, J. Nonlinear dendritic processing determines angular tuning of barrel cortex neurons in vivo. Nature 490, 397–401 (2012)

Mel, B. W. Synaptic integration in an excitable dendritic tree. J. Neurophysiol. 70, 1086–1101 (1993)

Smith, S. L. & Häusser, M. Parallel processing of visual space by neighboring neurons in mouse visual cortex. Nature Neurosci. 13, 1144–1149 (2010)

Ohiorhenuan, I. E. et al. Sparse coding and high-order correlations in fine-scale cortical networks. Nature 466, 617–621 (2010)

London, M., Roth, A., Beeren, L., Häusser, M. & Latham, P. E. Sensitivity to perturbations in vivo implies high noise and suggests rate coding in cortex. Nature 466, 123–127 (2010)

Xu, N. L. et al. Nonlinear dendritic integration of sensory and motor input during an active sensing task. Nature 492, 247–251 (2012)

Gentet, L. J. et al. Unique functional properties of somatostatin-expressing GABAergic neurons in mouse barrel cortex. Nature Neurosci. 15, 607–612 (2012)

Jiang, X., Wang, G., Lee, A. J., Stornetta, R. L. & Zhu, J. J. The organization of two new cortical interneuronal circuits. Nature Neurosci. 16, 210–218 (2013)

Brainard, D. H. The psychophysics toolbox. Spat. Vis. 10, 433–436 (1997)

Pelli, D. G. The VideoToolbox software for visual psychophysics: transforming numbers into movies. Spat. Vis. 10, 437–442 (1997)

Kitamura, K., Judkewitz, B., Kano, M., Denk, W. & Häusser, M. Targeted patch-clamp recordings and single-cell electroporation of unlabeled neurons in vivo. Nature Methods 5, 61–67 (2008)

Jahr, C. E. & Stevens, C. F. Voltage dependence of NMDA-activated macroscopic conductances predicted by single-channel kinetics. J. Neurosci. 10, 3178–3182 (1990)

Nevian, T., Larkum, M. E., Polsky, A. & Schiller, J. Properties of basal dendrites of layer 5 pyramidal neurons: a direct patch-clamp recording study. Nature Neurosci. 10, 206–214 (2007)

Spruston, N., Jonas, P. & Sakmann, B. Dendritic glutamate receptor channels in rat hippocampal CA3 and CA1 pyramidal neurons. J. Physiol. (Lond.) 482, 325–352 (1995)

Pologruto, T. A., Sabatini, B. L. & Svoboda, K. ScanImage: flexible software for operating laser scanning microscopes. Biomed. Eng. Online 2, 13 (2003)

Fasano, G. & Franceschini, A. A multidimensional version of the Kolomogorov–Smirnov test. Mon. Not. R. Astron. Soc. 225, 155–170 (1987)
Acknowledgements
We are grateful to B. Clark, P. Latham, M. London, D. Ringach, A. Roth, C. Schmidt-Hieber and C. Wilms for discussions and comments on the manuscript. This work was supported by the following: a Long-Term Fellowship and a Career Development Award from the Human Frontier Science Program and a Klingenstein Fellowship (S.L.S.); a Helen Lyng White Fellowship (I.T.S.); a Wellcome Trust and Royal Society Fellowship and MRC Programme Leader Track (T.B.); and by grants from the Wellcome Trust, ERC and Gatsby Charitable Foundation (M.H.).
Ethics declarations
Competing interests
The authors declare no competing financial interests.
Extended data figures and tables
Supplementary information
About this article
Cite this article
Smith, S., Smith, I., Branco, T. et al. Dendritic spikes enhance stimulus selectivity in cortical neurons in vivo . Nature 503, 115–120 (2013). https://doi.org/10.1038/nature12600
Received:

Accepted:

Published:

Issue Date:

DOI: https://doi.org/10.1038/nature12600
Comments
By submitting a comment you agree to abide by our Terms and Community Guidelines. If you find something abusive or that does not comply with our terms or guidelines please flag it as inappropriate.