Abstract
During DNA repair by homologous recombination (HR), DNA synthesis copies information from a template DNA molecule. Multiple DNA polymerases have been implicated in repair-specific DNA synthesis1,2,3, but it has remained unclear whether a DNA helicase is involved in this reaction. A good candidate DNA helicase is Pif1, an evolutionarily conserved helicase in Saccharomyces cerevisiae important for break-induced replication (BIR)4 as well as HR-dependent telomere maintenance in the absence of telomerase5 found in 10–15% of all cancers6. Pif1 has a role in DNA synthesis across hard-to-replicate sites7,8 and in lagging-strand synthesis with polymerase δ (Polδ)9,10,11. Here we provide evidence that Pif1 stimulates DNA synthesis during BIR and crossover recombination. The initial steps of BIR occur normally in Pif1-deficient cells, but Polδ recruitment and DNA synthesis are decreased, resulting in premature resolution of DNA intermediates into half-crossovers. Purified Pif1 protein strongly stimulates Polδ-mediated DNA synthesis from a D-loop made by the Rad51 recombinase. Notably, Pif1 liberates the newly synthesized strand to prevent the accumulation of topological constraint and to facilitate extensive DNA synthesis via the establishment of a migrating D-loop structure. Our results uncover a novel function of Pif1 and provide insights into the mechanism of HR.
Relevant articles
Open Access articles citing this article.
Thomas Cahill

,

Willian Abraham da Silveira

…

Gary Hardiman

Scientific Reports Open Access 17 January 2023

Corella S. Casas-Delucchi

,

Manuel Daza-Martin

…

Gideon Coster

Nature Communications Open Access 19 July 2022

Yi-Li Feng

,

Meng Wang

&

An-Yong Xie

Genome Instability & Disease Open Access 23 March 2022
Access options
Subscribe to this journal
Receive 51 print issues and online access
$199.00 per year
only $3.90 per issue
Rent or buy this article
Prices vary by article type
from$1.95
to$39.95
Prices may be subject to local taxes which are calculated during checkout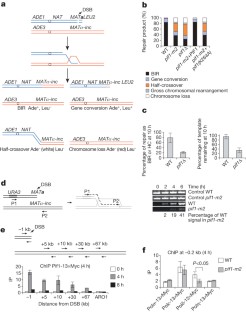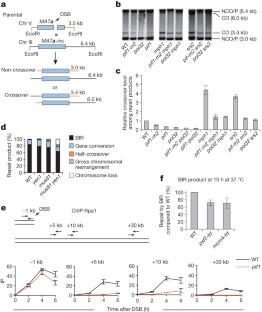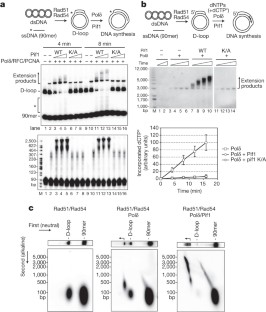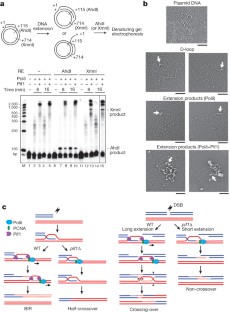 References
Maloisel, L., Fabre, F. & Gangloff, S. DNA polymerase δ is preferentially recruited during homologous recombination to promote heteroduplex DNA extension. Mol. Cell. Biol. 28, 1373–1382 (2008)

Wang, X. et al. Role of DNA replication proteins in double-strand break-induced recombination in Saccharomyces cerevisiae. Mol. Cell. Biol. 24, 6891–6899 (2004)

Li, X., Stith, C. M., Burgers, P. M. & Heyer, W. D. PCNA is required for initiation of recombination-associated DNA synthesis by DNA polymerase δ. Mol. Cell 36, 704–713 (2009)

Chung, W. H., Zhu, Z., Papusha, A., Malkova, A. & Ira, G. Defective resection at DNA double-strand breaks leads to de novo telomere formation and enhances gene targeting. PLoS Genet. 6, e1000948 (2010)

Dewar, J. M. & Lydall, D. Pif1- and Exo1-dependent nucleases coordinate checkpoint activation following telomere uncapping. EMBO J. 29, 4020–4034 (2010)

Cesare, A. J. & Reddel, R. R. Alternative lengthening of telomeres: models, mechanisms and implications. Nature Rev. Genet. 11, 319–330 (2010)

Paeschke, K., Capra, J. A. & Zakian, V. A. DNA replication through G-Quadruplex motifs is promoted by the Saccharomyces cerevisiae Pif1 DNA helicase. Cell 145, 678–691 (2011)

Sabouri, N., McDonald, K. R., Webb, C. J., Cristea, I. M. & Zakian, V. A. DNA replication through hard-to-replicate sites, including both highly transcribed RNA Pol II and Pol III genes, requires the S. pombe Pfh1 helicase. Genes Dev. 26, 581–593 (2012)

Budd, M. E., Reis, C. C., Smith, S., Myung, K. & Campbell, J. L. Evidence suggesting that Pif1 helicase functions in DNA replication with the Dna2 helicase/nuclease and DNA polymerase δ. Mol. Cell. Biol. 26, 2490–2500 (2006)

Pike, J. E., Burgers, P. M., Campbell, J. L. & Bambara, R. A. Pif1 helicase lengthens some Okazaki fragment flaps necessitating Dna2 nuclease/helicase action in the two-nuclease processing pathway. J. Biol. Chem. 284, 25170–25180 (2009)

Rossi, M. L. et al. Pif1 helicase directs eukaryotic Okazaki fragments toward the two-nuclease cleavage pathway for primer removal. J. Biol. Chem. 283, 27483–27493 (2008)

Deem, A. et al. Defective break-induced replication leads to half-crossovers in Saccharomyces cerevisiae. Genetics 179, 1845–1860 (2008)

Schulz, V. P. & Zakian, V. A. The saccharomyces PIF1 DNA helicase inhibits telomere elongation and de novo telomere formation. Cell 76, 145–155 (1994)

Lydeard, J. R., Jain, S., Yamaguchi, M. & Haber, J. E. Break-induced replication and telomerase-independent telomere maintenance require Pol32. Nature 448, 820–823 (2007)

Ho, C. K., Mazon, G., Lam, A. F. & Symington, L. S. Mus81 and Yen1 promote reciprocal exchange during mitotic recombination to maintain genome integrity in budding yeast. Mol. Cell 40, 988–1000 (2010)

Ira, G., Malkova, A., Liberi, G., Foiani, M. & Haber, J. E. Srs2 and Sgs1-Top3 suppress crossovers during double-strand break repair in yeast. Cell 115, 401–411 (2003)

Prakash, R. et al. Yeast Mph1 helicase dissociates Rad51-made D-loops: implications for crossover control in mitotic recombination. Genes Dev. 23, 67–79 (2009)

Petukhova, G., Stratton, S. & Sung, P. Catalysis of homologous DNA pairing by yeast Rad51 and Rad54 proteins. Nature 393, 91–94 (1998)

Van Komen, S., Petukhova, G., Sigurdsson, S. & Sung, P. Functional cross-talk among Rad51, Rad54, and replication protein A in heteroduplex DNA joint formation. J. Biol. Chem. 277, 43578–43587 (2002)

Bochman, M. L., Sabouri, N. & Zakian, V. A. Unwinding the functions of the Pif1 family helicases. DNA Repair 9, 237–249 (2010)

Sugiyama, T., Zaitseva, E. M. & Kowalczykowski, S. C. A single-stranded DNA-binding protein is needed for efficient presynaptic complex formation by the Saccharomyces cerevisiae Rad51 protein. J. Biol. Chem. 272, 7940–7945 (1997)

Boule, J. B. & Zakian, V. A. The yeast Pif1p DNA helicase preferentially unwinds RNA DNA substrates. Nucleic Acids Res. 35, 5809–5818 (2007)

Sebesta, M., Burkovics, P., Haracska, L. & Krejci, L. Reconstitution of DNA repair synthesis in vitro and the role of polymerase and helicase activities. DNA Repair 10, 567–576 (2011)

Smith, C. E., Lam, A. F. & Symington, L. S. Aberrant double-strand break repair resulting in half crossovers in mutants defective for Rad51 or the DNA polymerase δ complex. Mol. Cell. Biol. 29, 1432–1441 (2009)

Burgers, P. M. & Gerik, K. J. Structure and processivity of two forms of Saccharomyces cerevisiae DNA polymerase δ. J. Biol. Chem. 273, 19756–19762 (1998)

Formosa, T. & Alberts, B. M. DNA synthesis dependent on genetic recombination: characterization of a reaction catalyzed by purified bacteriophage T4 proteins. Cell 47, 793–806 (1986)

Griffith, J. D. & Christiansen, G. Electron microscope visualization of chromatin and other DNA-protein complexes. Annu. Rev. Biophys. Bioeng. 7, 19–35 (1978)

Ferguson, D. O. & Holloman, W. K. Recombinational repair of gaps in DNA is asymmetric in Ustilago maydis and can be explained by a migrating D-loop model. Proc. Natl Acad. Sci. USA 93, 5419–5424 (1996)

Hastings, P. J., Lupski, J. R., Rosenberg, S. M. & Ira, G. Mechanisms of change in gene copy number. Nature Rev. Genet. 10, 551–564 (2009)

Malkova, A. & Ira, G. Break-induced replication: functions and molecular mechanism. Curr. Opin. Genet. Dev. 23, 271–279 (2013)

Sugawara, N., Wang, X. & Haber, J. E. In vivo roles of Rad52, Rad54, and Rad55 proteins in Rad51-mediated recombination. Mol. Cell 12, 209–219 (2003)

Janke, R. et al. A truncated DNA-damage-signaling response is activated after DSB formation in the G1 phase of Saccharomyces cerevisiae. Nucleic Acids Res. 38, 2302–2313 (2010)

Busygina, V. et al. Hed1 regulates Rad51-mediated recombination via a novel mechanism. Genes Dev. 22, 786–795 (2008)

Zierhut, C. & Diffley, J. F. Break dosage, cell cycle stage and DNA replication influence DNA double strand break response. EMBO J. 27, 1875–1885 (2008)

Malkova, A., Klein, F., Leung, W. Y. & Haber, J. E. HO endonuclease-induced recombination in yeast meiosis resembles Spo11-induced events. Proc. Natl Acad. Sci. USA 97, 14500–14505 (2000)

Acharya, N., Klassen, R., Johnson, R. E., Prakash, L. & Prakash, S. PCNA binding domains in all three subunits of yeast DNA polymerase delta modulate its function in DNA replication. Proc. Natl Acad. Sci. USA 108, 17927–17932 (2011)

Van Komen, S., Macris, M., Sehorn, M. G. & Sung, P. Purification and assays of Saccharomyces cerevisiae homologous recombination proteins. Methods Enzymol. 408, 445–463 (2006)

Raschle, M., Van Komen, S., Chi, P., Ellenberger, T. & Sung, P. Multiple interactions with the Rad51 recombinase govern the homologous recombination function of Rad54. J. Biol. Chem. 279, 51973–51980 (2004)
Acknowledgements
We thank V. Zakian, K. Labib, W.-D. Heyer, J. Haber, C. Wittenberg, R. Johnson and L. Prakash for the gift of antibodies, strains or plasmids, and D. Camerini-Otero for providing DinG. We are grateful to J. Griffith and S. Wilcox for training in metal shadowing electron microscopy. This work was funded by grants from the US National Institutes of Health (GM080600 to G.I.; ES007061, GM057814, ES015632 to P.S., GM084242 to A.M., T32 GM07526-34 to M.A.W.), National Research Foundation of Korea (NRF-2012R1A1A1009917). Academia Sinica, National Taiwan University, and the National Science Council of Taiwan.
Ethics declarations
Competing interests
The authors declare no competing financial interests.
Extended data figures and tables
About this article
Cite this article
Wilson, M., Kwon, Y., Xu, Y. et al. Pif1 helicase and Polδ promote recombination-coupled DNA synthesis via bubble migration. Nature 502, 393–396 (2013). https://doi.org/10.1038/nature12585
Received:

Accepted:

Published:

Issue Date:

DOI: https://doi.org/10.1038/nature12585
Comments
By submitting a comment you agree to abide by our Terms and Community Guidelines. If you find something abusive or that does not comply with our terms or guidelines please flag it as inappropriate.