Abstract
Animals display a repertoire of different social behaviours. Appropriate behavioural responses depend on sensory input received during social interactions. In mice, social behaviour is driven by pheromones, chemical signals that encode information related to age, sex and physiological state1. However, although mice show different social behaviours towards adults, juveniles and neonates, sensory cues that enable specific recognition of juvenile mice are unknown. Here we describe a juvenile pheromone produced by young mice before puberty, termed exocrine-gland secreting peptide 22 (ESP22). ESP22 is secreted from the lacrimal gland and released into tears of 2- to 3-week-old mice. Upon detection, ESP22 activates high-affinity sensory neurons in the vomeronasal organ, and downstream limbic neurons in the medial amygdala. Recombinant ESP22, painted on mice, exerts a powerful inhibitory effect on adult male mating behaviour, which is abolished in knockout mice lacking TRPC2, a key signalling component of the vomeronasal organ2,3. Furthermore, knockout of TRPC2 or loss of ESP22 production results in increased sexual behaviour of adult males towards juveniles, and sexual responses towards ESP22-deficient juveniles are suppressed by ESP22 painting. Thus, we describe a pheromone of sexually immature mice that controls an innate social behaviour, a response pathway through the accessory olfactory system and a new role for vomeronasal organ signalling in inhibiting sexual behaviour towards young. These findings provide a molecular framework for understanding how a sensory system can regulate behaviour.
Relevant articles
Open Access articles citing this article.
Takuya Osakada

,

Takayuki Abe

…

Kazushige Touhara

Nature Communications Open Access 03 February 2022

Madlaina Boillat

,

Alan Carleton

&

Ivan Rodriguez

Cell and Tissue Research Open Access 16 January 2021

Thiago S. Nakahara

,

Antonio P. Camargo

…

Fabio Papes

Scientific Reports Open Access 17 November 2020
Access options
Subscribe to Journal
Get full journal access for 1 year
$199.00
only $3.90 per issue
All prices are NET prices.
VAT will be added later in the checkout.
Tax calculation will be finalised during checkout.
Buy article
Get time limited or full article access on ReadCube.
$32.00
All prices are NET prices.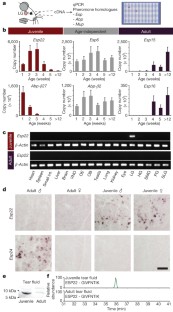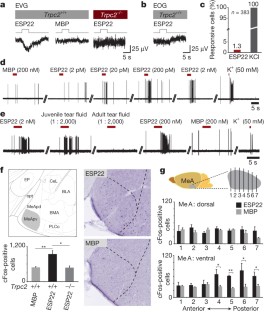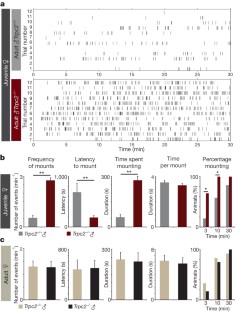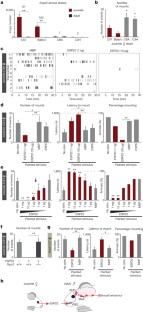 References
Tirindelli, R., Dibattista, M., Pifferi, S. & Menini, A. From pheromones to behavior. Physiol. Rev. 89, 921–956 (2009)

Leypold, B. G. et al. Altered sexual and social behaviors in trp2 mutant mice. Proc. Natl Acad. Sci. USA 99, 6376–6381 (2002)

Stowers, L., Holy, T. E., Meister, M., Dulac, C. & Koentges, G. Loss of sex discrimination and male-male aggression in mice deficient for TRP2. Science 295, 1493–1500 (2002)

Ferrero, D. M. & Liberles, S. D. The secret codes of mammalian scents. Wiley Interdiscip. Rev. Syst. Biol. Med. 2, 23–33 (2010)

Nodari, F. et al. Sulfated steroids as natural ligands of mouse pheromone-sensing neurons. J. Neurosci. 28, 6407–6418 (2008)

Novotny, M. V. Pheromones, binding proteins and receptor responses in rodents. Biochem. Soc. Trans. 31, 117–122 (2003)

Touhara, K. Sexual communication via peptide and protein pheromones. Curr. Opin. Pharmacol. 8, 759–764 (2008)

Karn, R. C. & Laukaitis, C. M. The roles of gene duplication, gene conversion and positive selection in rodent esp and mup pheromone gene families with comparison to the abp family. PLoS ONE 7, e47697 (2012)

Kimoto, H., Haga, S., Sato, K. & Touhara, K. Sex-specific peptides from exocrine glands stimulate mouse vomeronasal sensory neurons. Nature 437, 898–901 (2005)

Logan, D. W., Marton, T. F. & Stowers, L. Species specificity in major urinary proteins by parallel evolution. PLoS ONE 3, e3280 (2008)

Chamero, P. et al. G protein Gαo is essential for vomeronasal function and aggressive behavior in mice. Proc. Natl Acad. Sci. USA 108, 12898–12903 (2011)

Papes, F., Logan, D. W. & Stowers, L. The vomeronasal organ mediates interspecies defensive behaviors through detection of protein pheromone homologs. Cell 141, 692–703 (2010)

Haga, S. et al. The male mouse pheromone ESP1 enhances female sexual receptive behaviour through a specific vomeronasal receptor. Nature 466, 118–122 (2010)

Kimoto, H. et al. Sex- and strain-specific expression and vomeronasal activity of mouse ESP family peptides. Curr. Biol. 17, 1879–1884 (2007)

Li, Q. et al. Synchronous evolution of an odor biosynthesis pathway and behavioral response. Curr. Biol. 23, 11–20 (2013)

Mandiyan, V. S., Coats, J. K. & Shah, N. M. Deficits in sexual and aggressive behaviors in Cnga2 mutant mice. Nature Neurosci. 8, 1660–1662 (2005)

Wang, Z. et al. Pheromone detection in male mice depends on signaling through the type 3 adenylyl cyclase in the main olfactory epithelium. J. Neurosci. 26, 7375–7379 (2006)

He, J. et al. Distinct signals conveyed by pheromone concentrations to the mouse vomeronasal organ. J. Neurosci. 30, 7473–7483 (2010)

Dulac, C. & Wagner, S. Genetic analysis of brain circuits underlying pheromone signaling. Annu. Rev. Genet. 40, 449–467 (2006)

Choi, G. B. et al. Lhx6 delineates a pathway mediating innate reproductive behaviors from the amygdala to the hypothalamus. Neuron 46, 647–660 (2005)

Yang, C. F. et al. Sexually dimorphic neurons in the ventromedial hypothalamus govern mating in both sexes and aggression in males. Cell 153, 896–909 (2013)

Chamero, P. et al. Identification of protein pheromones that promote aggressive behaviour. Nature 450, 899–902 (2007)

Novotny, M., Harvey, S., Jemiolo, B. & Alberts, J. Synthetic pheromones that promote inter-male aggression in mice. Proc. Natl Acad. Sci. USA 82, 2059–2061 (1985)

Liberles, S. D. & Buck, L. B. A second class of chemosensory receptors in the olfactory epithelium. Nature 442, 645–650 (2006)

Montmayeur, J. P., Liberles, S. D., Matsunami, H. & Buck, L. B. A candidate taste receptor gene near a sweet taste locus. Nature Neurosci. 4, 492–498 (2001)

Liberles, S. D. et al. Formyl peptide receptors are candidate chemosensory receptors in the vomeronasal organ. Proc. Natl Acad. Sci. USA 106, 9842–9847 (2009)

Shevchenko, A., Wilm, M., Vorm, O. & Mann, M. Mass spectrometric sequencing of proteins silver-stained polyacrylamide gels. Anal. Chem. 68, 850–858 (1996)

Peng, J. & Gygi, S. P. Proteomics: the move to mixtures. J. Mass Spectrom. 36, 1083–1091 (2001)

Eng, J. K., Mccormack, A. L. & Yates, J. R. An approach to correlate tandem mass-spectral data of peptides with amino-acid-sequences in a protein database. J. Am. Soc. Mass Spectrom. 5, 976–989 (1994)

Hagendorf, S., Fluegge, D., Engelhardt, C. & Spehr, M. Homeostatic control of sensory output in basal vomeronasal neurons: activity-dependent expression of ether-a-go-go-related gene potassium channels. J. Neurosci. 29, 206–221 (2009)

Spehr, J. et al. Ca2+-calmodulin feedback mediates sensory adaptation and inhibits pheromone-sensitive ion channels in the vomeronasal organ. J. Neurosci. 29, 2125–2135 (2009)

Franklin, K. & Paxinos, G. The Mouse Brain in Stereotaxic Coordinates Fig. 44 (Academic, 2008)
Acknowledgements
We thank M. Albers and S. R. Datta for reading the manuscript, J. Yang, C. Mark Fletcher and Y. Tachie-Baffour for experimental assistance, and the Taplin Mass Spectrometry Facility for mass spectrometry analysis. This work was supported by a grant from the National Institutes of Health (to S.D.L., award number R01 DC010155) and in part by a Grant-in-Aid for Young Scientists (S) from the Japan Society for the Promotion of Science, and by ERATO Touhara Chemosensory Signal Project from the Japan Science and Technology Agency (to K.T.). N.H. is supported by a Grant-in-Aid for JSPS Fellows, M.S. is a Lichtenberg-Professor of the Volkswagen Foundation and D.M.F. is supported by a Boehringer Ingelheim Fonds PhD Fellowship.
Ethics declarations
Competing interests
The authors declare no competing financial interests.
Extended data figures and tables
Supplementary information
Video showing a social interaction between a wild type adult male mouse and a juvenile female mouse (C57BL/6, p17). Animals in the video display active social investigation but not sexual behavior. (MOV 4084 kb)
Video showing a social interaction between a Trpc2-/- adult male mouse and a juvenile female mouse (C57BL/6, p17). Frequent mounting displays characteristic of mouse sexual behavior are observed. (MOV 3320 kb)
About this article
Cite this article
Ferrero, D., Moeller, L., Osakada, T. et al. A juvenile mouse pheromone inhibits sexual behaviour through the vomeronasal system. Nature 502, 368–371 (2013). https://doi.org/10.1038/nature12579
Received:

Accepted:

Published:

Issue Date:

DOI: https://doi.org/10.1038/nature12579
Comments
By submitting a comment you agree to abide by our Terms and Community Guidelines. If you find something abusive or that does not comply with our terms or guidelines please flag it as inappropriate.