Abstract
Down's syndrome results from full or partial trisomy of chromosome 21. However, the consequences of the underlying gene–dosage imbalance on adult tissues remain poorly understood. Here we show that in Ts65Dn mice, which are trisomic for 132 genes homologous to genes on human chromosome 21, triplication of Usp16 reduces the self-renewal of haematopoietic stem cells and the expansion of mammary epithelial cells, neural progenitors and fibroblasts. In addition, Usp16 is associated with decreased ubiquitination of Cdkn2a and accelerated senescence in Ts65Dn fibroblasts. Usp16 can remove ubiquitin from histone H2A on lysine 119, a critical mark for the maintenance of multiple somatic tissues. Downregulation of Usp16, either by mutation of a single normal Usp16 allele or by short interfering RNAs, largely rescues all of these defects. Furthermore, in human tissues overexpression of USP16 reduces the expansion of normal fibroblasts and postnatal neural progenitors, whereas downregulation of USP16 partially rescues the proliferation defects of Down's syndrome fibroblasts. Taken together, these results suggest that USP16 has an important role in antagonizing the self-renewal and/or senescence pathways in Down's syndrome and could serve as an attractive target to ameliorate some of the associated pathologies.
Your institute does not have access to this article
Relevant articles
Open Access articles citing this article.
Akiko Tanuma-Takahashi

,

Momoko Inoue

…

Akihiro Umezawa

Stem Cell Research & Therapy Open Access 25 August 2021

Fatima Amer-Sarsour

,

Alina Kordonsky

…

Avraham Ashkenazi

Cell Death & Disease Open Access 22 January 2021

Tong Niu

,

Weiwei Zhang

&

Wei Xiao

Cancer Cell International Open Access 07 January 2021
Access options
Subscribe to Journal
Get full journal access for 1 year
$199.00
only $3.90 per issue
All prices are NET prices.
VAT will be added later in the checkout.
Tax calculation will be finalised during checkout.
Buy article
Get time limited or full article access on ReadCube.
$32.00
All prices are NET prices.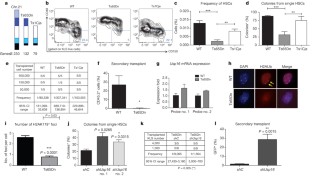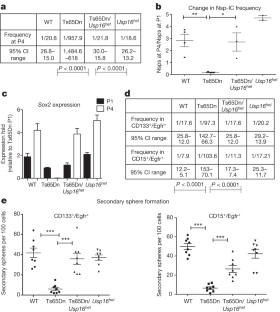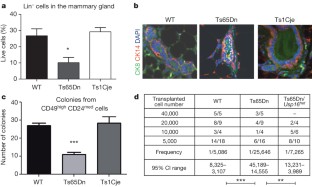 References
Antonarakis, S. E., Lyle, R., Dermitzakis, E. T., Reymond, A. & Deutsch, S. Chromosome 21 and Down syndrome: from genomics to pathophysiology. Nature Rev. Genet. 5, 725–738 (2004)

Yang, Q., Rasmussen, S. A. & Friedman, J. M. Mortality associated with Down's syndrome in the USA from 1983 to 1997: a population-based study. Lancet 359, 1019–1025 (2002)

Roth, G. M., Sun, B., Greensite, F. S., Lott, I. T. & Dietrich, R. B. Premature aging in persons with Down syndrome: MR findings. Am. J. Neuroradiol. 17, 1283–1289 (1996)

Zigman, W. B. & Lott, I. T. Alzheimer's disease in Down syndrome: neurobiology and risk. Ment. Retard. Dev. Disabil. Res. Rev. 13, 237–246 (2007)

Liu, L. & Rando, T. A. Manifestations and mechanisms of stem cell aging. J. Cell Biol. 193, 257–266 (2011)

Reeves, R. H. et al. A mouse model for Down syndrome exhibits learning and behaviour deficits. Nature Genet. 11, 177–184 (1995)

Sago, H. et al. Genetic dissection of region associated with behavioral abnormalities in mouse models for Down syndrome. Pediatr. Res. 48, 606–613 (2000)

Sago, H. et al. Ts1Cje, a partial trisomy 16 mouse model for Down syndrome, exhibits learning and behavioral abnormalities. Proc. Natl Acad. Sci. USA 95, 6256–6261 (1998)

Joo, H.-Y. et al. Regulation of cell cycle progression and gene expression by H2A deubiquitination. Nature 449, 1068–1072 (2007)

Lorenzo, L. P. E. et al. Defective hematopoietic stem cell and lymphoid progenitor development in the Ts65Dn mouse model of Down syndrome: potential role of oxidative stress. Antioxid. Redox Signal. 15, 2083–2094 (2011)

Chao, M. P., Seita, J. & Weissman, I. L. Establishment of a normal hematopoietic and leukemia stem cell hierarchy. Cold Spring Harb. Symp. Quant. Biol. 73, 439–449 (2008)

Akala, O. O. et al. Long-term haematopoietic reconstitution by Trp53−/−p16Ink4a−/−p19Arf−/− multipotent progenitors. Nature 453, 228–232 (2008)

Park, I.-K. et al. Bmi-1 is required for maintenance of adult self-renewing haematopoietic stem cells. Nature 423, 302–305 (2003)

Pietersen, A. M. et al. Bmi1 regulates stem cells and proliferation and differentiation of committed cells in mammary epithelium. Curr. Biol. 18, 1094–1099 (2008)

Molofsky, A. V. et al. Bmi-1 dependence distinguishes neural stem cell self-renewal from progenitor proliferation. Nature 425, 962–967 (2003)

Cao, G. et al. Bmi-1 absence causes premature brain degeneration. PLoS ONE 7, e32015 (2012)

Lorenzi, H. A. & Reeves, R. H. Hippocampal hypocellularity in the Ts65Dn mouse originates early in development. Brain Res. 1104, 153–159 (2006)

Ellis, P. et al. SOX2, a persistent marker for multipotential neural stem cells derived from embryonic stem cells, the embryo or the adult. Dev. Neurosci. 26, 148–165 (2004)

Fischer, J. et al. Prospective isolation of adult neural stem cells from the mouse subependymal zone. Nature Protocols 6, 1981–1989 (2011)

Pastrana, E., Cheng, L.-C. & Doetsch, F. Simultaneous prospective purification of adult subventricular zone neural stem cells and their progeny. Proc. Natl Acad. Sci. USA 106, 6387–6392 (2009)

Stingl, J. et al. Purification and unique properties of mammary epithelial stem cells. Nature 439, 993–997 (2006)

Shackleton, M. et al. Generation of a functional mammary gland from a single stem cell. Nature 439, 84–88 (2006)

Jacobs, J. J., Kieboom, K., Marino, S., DePinho, R. A. & van Lohuizen, M. The oncogene and Polycomb-group gene bmi-1 regulates cell proliferation and senescence through the ink4a locus. Nature 397, 164–168 (1999)

Liu, Y. et al. Expression of p16 INK4a in peripheral blood T-cells is a biomarker of human aging. Aging Cell 8, 439–448 (2009)

Krishnamurthy, J. et al. Ink4a/Arf expression is a biomarker of aging. J. Clin. Invest. 114, 1299–1307 (2004)

Janzen, V. et al. Stem-cell ageing modified by the cyclin-dependent kinase inhibitor p16INK4a. Nature 443, 421–426 (2006)

Kimura, M. et al. Proliferation dynamics in cultured skin fibroblasts from Down syndrome subjects. Free Radic. Biol. Med. 39, 374–380 (2005)

Carmeliet, G., David, G. & Cassiman, J. J. Cellular ageing of Alzheimer's disease and Down syndrome cells in culture. Mutat. Res. 256, 221–231 (1991)

Arron, J. R. et al. NFAT dysregulation by increased dosage of DSCR1 and DYRK1A on chromosome 21. Nature 441, 595–600 (2006)

Roy, A. et al. Perturbation of fetal liver hematopoietic stem and progenitor cell development by trisomy 21. Proc. Natl Acad. Sci. USA 109, 17579–17584 (2012)

Reinholdt, L. G. et al. Molecular characterization of the translocation breakpoints in the Down syndrome mouse model Ts65Dn. Mamm. Genome 22, 685–691 (2011)

Hu, Y. & Smyth, G. K. ELDA: extreme limiting dilution analysis for comparing depleted and enriched populations in stem cell and other assays. J. Immunol. Methods 347, 70–78 (2009)

Dalerba, P. et al. Single-cell dissection of transcriptional heterogeneity in human colon tumors. Nature Biotechnol. 29, 1120–1127 (2011)

Zeng, Y. A. & Nusse, R. Wnt proteins are self-renewal factors for mammary stem cells and promote their long-term expansion in culture. Cell Stem Cell 6, 568–577 (2010)

Negishi, M. et al. A novel zinc finger protein Zfp277 mediates transcriptional repression of the Ink4a/arf locus through polycomb repressive complex 1. PLoS ONE 5, e12373 (2010)

Ventura, A. et al. Cre-lox-regulated conditional RNA interference from transgenes. Proc. Natl Acad. Sci. USA 101, 10380–10385 (2004)

Shimono, Y. et al. Downregulation of miRNA-200c links breast cancer stem cells with normal stem cells. Cell 138, 592–603 (2009)

Tiscornia, G., Singer, O. & Verma, I. M. Production and purification of lentiviral vectors. Nature Protocols 1, 241–245 (2006)

Majeti, R., Park, C. Y. & Weissman, I. L. Identification of a hierarchy of multipotent hematopoietic progenitors in human cord blood. Cell Stem Cell. 1, 635–645 (2007)
Acknowledgements
We thank S. Marro for help in establishing MEF and TTF lines; I. L. Weissman for sharing C57BL/6 CD45.1 mice; the animal core facility of SIM1, in particular A. Valledifiera and M. Alvarez. This study was supported in part by a California Institute for Regenerative Medicine (CIRM) basic biology award III, National Institutes of Health grant numbers CA100225 and CA154209, CIRM bridges fellowship (V.H.-A.), Fondazione Umberto Veronesi (B.N.d.R.), Breast Cancer Research Program sponsored by Department of Defense (S.S.), The Breast Cancer Research Foundation (BCRF), Stanford Graduate Fellowship (Y.O.) and the Down Syndrome Research and Treatment Foundation and the Fidelity Foundation (C.C.G.).
Ethics declarations
Competing interests
The authors declare no competing financial interests.
Extended data figures and tables
About this article
Cite this article
Adorno, M., Sikandar, S., Mitra, S. et al. Usp16 contributes to somatic stem-cell defects in Down's syndrome. Nature 501, 380–384 (2013). https://doi.org/10.1038/nature12530
Received:

Accepted:

Published:

Issue Date:

DOI: https://doi.org/10.1038/nature12530
Comments
By submitting a comment you agree to abide by our Terms and Community Guidelines. If you find something abusive or that does not comply with our terms or guidelines please flag it as inappropriate.