Abstract
The discovery of quasicrystals1—crystalline structures that show order while lacking periodicity—forced a paradigm shift in crystallography. Initially limited to intermetallic systems1,2,3,4, the observation of quasicrystalline structures has recently expanded to include 'soft' quasicrystals in the fields of colloidal and supermolecular chemistry5,6,7,8,9. Here we report an aperiodic oxide that grows as a two-dimensional quasicrystal on a periodic single-element substrate. On a Pt(111) substrate with 3-fold symmetry, the perovskite barium titanate BaTiO3 forms a high-temperature interface-driven structure with 12-fold symmetry. The building blocks of this dodecagonal structure assemble with the theoretically predicted Stampfli–Gähler tiling10,11 having a fundamental length-scale of 0.69 nm. This example of interface-driven formation of ultrathin quasicrystals from a typical periodic perovskite oxide potentially extends the quasicrystal concept to a broader range of materials. In addition, it demonstrates that frustration at the interface between two periodic materials can drive a thin film into an aperiodic quasicrystalline phase, as proposed previously12. Such structures might also find use as ultrathin buffer layers for the accommodation of large lattice mismatches in conventional epitaxy13.
Relevant articles
Open Access articles citing this article.
Sebastian Schenk

,

Oliver Krahn

…

Wolf Widdra

Nature Communications Open Access 07 December 2022

Yi Ding

,

Karim R. Gadelrab

…

Alfredo Alexander-Katz

Nature Communications Open Access 05 July 2019

Wolfgang Hornfeck

,

Raphael Kobold

…

Dieter Herlach

Nature Communications Open Access 03 October 2018
Access options
Subscribe to this journal
Receive 51 print issues and online access
$199.00 per year
only $3.90 per issue
Rent or buy this article
Get just this article for as long as you need it
$39.95
Prices may be subject to local taxes which are calculated during checkout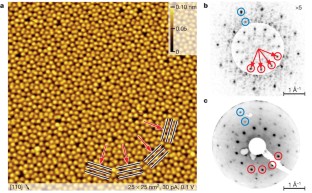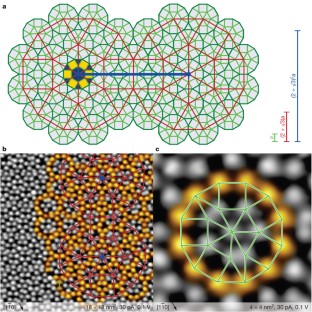 Notes
The print version states incorrectly that this paper was published online before print; however, the online PDF and HTML versions are correct.
References
Shechtman, D., Blech, I., Gratias, D. & Cahn, J. Metallic phase with long-range orientational order and no translational symmetry. Phys. Rev. Lett. 53, 1951–1953 (1984)

Wang, N., Chen, H. & Kuo, K. H. Two-dimensional quasi-crystal with eightfold rotational symmetry. Phys. Rev. Lett. 59, 1010–1013 (1987)

Bendersky, L. Quasicrystal with one-dimensional translational symmetry and a tenfold rotation axis. Phys. Rev. Lett. 55, 1461–1463 (1985)

Ishimasa, T., Nissen, H. U. & Fukano, Y. New ordered state between crystalline and amorphous in Ni-Cr particles. Phys. Rev. Lett. 55, 511–513 (1985)

Dotera, T. Quasicrystals in soft matter. Isr. J. Chem. 51, 1197–1205 (2011)

Zeng, X. B. et al. Supramolecular dendritic liquid quasicrystals. Nature 428, 157–160 (2004)

Hayashida, K., Dotera, T., Takano, A. & Matsushita, Y. Polymeric quasicrystal: mesoscopic quasicrystalline tiling in ABC star polymers. Phys. Rev. Lett. 98, 195502 (2007)

Talapin, D. V. et al. Quasicrystalline order in self-assembled binary nanoparticle superlattices. Nature 461, 964–967 (2009)

Mikhael, J., Roth, J., Helden, L. & Bechinger, C. Archimedean-like tiling on decagonal quasicrystalline surfaces. Nature 454, 501–504 (2008)

Stampfli, P. A dodecagonal quasi-periodic lattice in two dimensions. Helv. Phys. Acta 59, 1260–1263 (1986)

Gähler, F. in Quasicrystalline Materials (eds Janot, D. & Dubois, J. M. ) 272–284 (World Scientific, 1988)

Smith, A. R., Chao, K.-J., Niu, Q. & Shih, C.-K. Formation of atomically flat silver films on GaAs with a 'silver mean' quasi periodicity. Science 273, 226–228 (1996)

Franke, K. J., Gille, P., Rieder, K.-H. & Theis, W. Achieving epitaxy between incommensurate materials by quasicrystalline interlayers. Phys. Rev. Lett. 99, 036103 (2007)

Franke, K. J. et al. Quasicrystalline epitaxial single element monolayers on icosahedral Al-Pd-Mn and decagonal Al-Ni-Co quasicrystal surfaces. Phys. Rev. Lett. 89, 156104 (2002)

Li, G. H., Zhang, D., Jiang, H., Lai, W. & Liu, W. Fully oriented decagonal quasicrystalline thin films on crystalline substrates. Appl. Phys. Lett. 71, 897–899 (1997)

Förster, S. & Widdra, W. Growth, structure, and thermal stability of epitaxial BaTiO3 films on Pt(111). Surf. Sci. 604, 2163–2169 (2010)

Förster, S., Huth, M., Schindler, K.-M. & Widdra, W. Epitaxial BaTiO3 (100) films on Pt(100): a low-energy electron diffraction, scanning tunneling microscopy, and x-ray photoelectron spectroscopy study. J. Chem. Phys. 135, 104701 (2011)

Förster, S., Meinel, K., Schindler, K.-M. & Widdra, W. Oxygen-deficient ordered phases of ultrathin BaTiO3 films on Pt(111). Surf. Interface Anal. 44, 628–634 (2012)

Niizeki, N. & Mitani, H. Two-dimensional dodecagonal quasi-lattices. J. Phys. Math. Gen. 20, L405–L410 (1987)

Seah, M. P. & Dench, W. A. Quantitative electron spectroscopy of surfaces: a standard data base for electron inelastic mean free paths in solids. Surf. Interface Anal. 1, 2–11 (1979)
Acknowledgements
We thank P. A. Thiel for discussions, R. Kulla for technical support, and E. M. Zollner for assisting in sample preparation. Financial support was provided by Deutsche Forschungsgemeinschaft Sonderforschungsbereich 762 'Functionality of Oxidic Interfaces'.
Ethics declarations
Competing interests
The authors declare no competing financial interests.
Extended data figures and tables
About this article
Cite this article
Förster, S., Meinel, K., Hammer, R. et al. Quasicrystalline structure formation in a classical crystalline thin-film system. Nature 502, 215–218 (2013). https://doi.org/10.1038/nature12514
Received:

Accepted:

Published:

Issue Date:

DOI: https://doi.org/10.1038/nature12514
Comments
By submitting a comment you agree to abide by our Terms and Community Guidelines. If you find something abusive or that does not comply with our terms or guidelines please flag it as inappropriate.