Abstract
The planarian Dugesia japonica can regenerate a complete individual from a head, trunk or tail fragment via activation of somatic pluripotent stem cells1,2. About a century ago, Thomas Hunt Morgan attempted to explain the extraordinary regenerative ability of planarians by positing two opposing morphogenetic gradients of formative "head stuff" and "tail stuff" along the anterior–posterior axis3,4. However, Morgan's hypothesis remains open to debate. Here we show that extracellular signal-related kinase (ERK) and Wnt/β-catenin signalling pathways establish a solid framework for planarian regeneration. Our data suggest that ERK signalling forms a spatial gradient in the anterior region during regeneration. The fibroblast growth factor receptor-like gene nou-darake5 (which serves as an output of ERK signalling in the differentiating head) and posteriorly biased β-catenin activity6,7,8 negatively regulate ERK signalling along the anterior–posterior axis in distinct manners, and thereby posteriorize regenerating tissues outside the head region to reconstruct a complete head-to-tail axis. On the basis of this knowledge about D. japonica, we proposed that β-catenin signalling is responsible for the lack of head-regenerative ability of tail fragments in the planarian Phagocata kawakatsui, and our confirmation thereof supports the notion that posterior β-catenin signalling negatively modulates the ERK signalling involved in anteriorization across planarian species. These findings suggest that ERK signalling has a pivotal role in triggering globally dynamic differentiation of stem cells in a head-to-tail sequence through a default program that promotes head tissue specification in the absence of posteriorizing signals. Thus, we have confirmed the broad outline of Morgan's hypothesis, and refined it on the basis of our proposed default property of planarian stem cells.
Your institute does not have access to this article
Relevant articles
Open Access articles citing this article.
V. Jaenen

,

S. Fraguas

…

F. Cebrià

Scientific Reports Open Access 13 January 2021

Yi Liu

,

Zhengrong Wang

…

Zhenzhen Li

Parasites & Vectors Open Access 05 August 2019

Gregory A. Cary

,

Andrew Wolff

…

Veronica F. Hinman

BMC Biology Open Access 22 February 2019
Access options
Subscribe to Journal
Get full journal access for 1 year
$199.00
only $3.90 per issue
All prices are NET prices.
VAT will be added later in the checkout.
Tax calculation will be finalised during checkout.
Buy article
Get time limited or full article access on ReadCube.
$32.00
All prices are NET prices.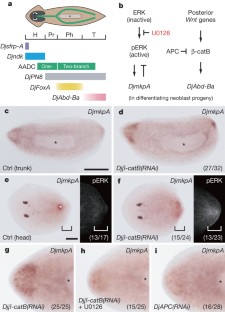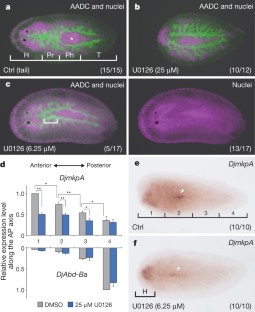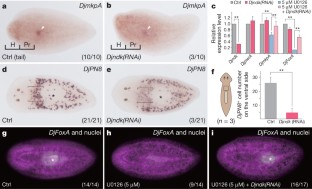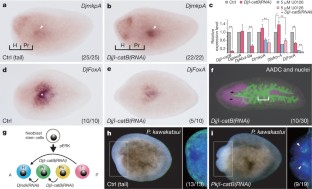 References
Shibata, N., Rouhana, L. & Agata, K. Cellular and molecular dissection of pluripotent adult somatic stem cells in planarians. Dev. Growth Differ. 52, 27–41 (2010)

Wagner, D. E., Wang, I. E. & Reddien, P. W. Clonogenic neoblasts are pluripotent adult stem cells that underlie planarian regeneration. Science 332, 811–816 (2011)

Morgan, T. H. "Polarity" considered as a phenomenon of gradation of materials. J. Exp. Zool. 2, 495–506 (1905)

Lawrence, P. A. Background to bicoid. Cell 54, 1–2 (1988)

Cebrià, F. et al. FGFR-related gene nou-darake restricts brain tissues to the head region of planarians. Nature 419, 620–624 (2002)

Gurley, K. A., Rink, J. C. & Sánchez Alvarado, A. β-Catenin defines head versus tail identity during planarian regeneration and homeostasis. Science 319, 323–327 (2008)

Petersen, C. P. & Reddien, P. W. Smed-βcatenin-1 is required for anteroposterior blastema polarity in planarian regeneration. Science 319, 327–330 (2008)

Petersen, C. P. & Reddien, P. W. A wound-induced Wnt expression program controls planarian regeneration polarity. Proc. Natl Acad. Sci. USA 106, 17061–17066 (2009)

Kobayashi, C., Nogi, T., Watanabe, K. & Agata, K. Ectopic pharynxes arise by regional reorganization after anterior/posterior chimera in planarians. Mech. Dev. 89, 25–34 (1999)

Koinuma, S., Umesono, Y., Watanabe, K. & Agata, K. Planaria FoxA (HNF3) homologue is specifically expressed in the pharynx-forming cells. Gene 259, 171–176 (2000)

Nogi, T. & Watanabe, K. Position-specific and non-colinear expression of the planarian posterior (Abdominal-B-like) gene. Dev. Growth Differ. 43, 177–184 (2001)

Nishimura, K. et al. Reconstruction of dopaminergic neural network and locomotion function in planarian regenerates. Dev. Neurobiol. 67, 1059–1078 (2007)

Agata, K. & Umesono, Y. Brain regeneration from pluripotent stem cells in planarian. Phil. Trans. R. Soc. Lond. B 363, 2071–2078 (2008)

Umesono, Y. & Agata, K. Evolution and regeneration of the planarian central nervous system. Dev. Growth Differ. 51, 185–195 (2009)

Agata, K., Saito, Y. & Nakajima, E. Unifying principles of regeneration I: epimorphosis versus morphallaxis. Dev. Growth Differ. 49, 73–78 (2007)

Agata, K., Tanaka, T., Kobayashi, C., Kato, K. & Saitoh, Y. Intercalary regeneration in planarians. Dev. Dyn. 226, 308–316 (2003)

Sánchez Alvarado, A. & Newmark, P. A. Double-stranded RNA specifically disrupts gene expression during planarian regeneration. Proc. Natl Acad. Sci. USA 96, 5049–5054 (1999)

Rouhana, L. et al. RNA interference by feeding in vitro-synthesized double-stranded RNA to planarians: methodology and dynamics. Dev. Dyn. 242, 718–730 (2013)

Yazawa, S., Umesono, Y., Hayashi, T., Tarui, H. & Agata, K. Planarian Hedgehog/Patched establishes anterior-posterior polarity by regulating Wnt signaling. Proc. Natl Acad. Sci. USA 106, 22329–22334 (2009)

Tasaki, J. et al. ERK signaling controls blastema cell differentiation during planarian regeneration. Development 138, 2417–2427 (2011)

Morgan, T. H. The control of heteromorphosis in Planaria maculata. Arch. Entw. Mech. Org. 17, 683–695 (1904)

Agata, K. & Inoue, T. Survey of the differences between regenerative and non-regenerative animals. Dev. Growth Differ. 54, 143–152 (2012)

Inoue, T. et al. Morphological and functional recovery of the planarian photosensing system during head regeneration. Zoolog. Sci. 21, 275–283 (2004)

Takano, T. et al. Regeneration-dependent conditional gene knockdown (Readyknock) in planarian: demonstration of requirement for Djsnap-25 expression in the brain for negative phototactic behavior. Dev. Growth Differ. 49, 383–394 (2007)

Umesono, Y., Watanabe, K. & Agata, K. A planarian orthopedia homolog is specifically expressed in the branch region of both the mature and regenerating brain. Dev. Growth Differ. 39, 723–727 (1997)
Acknowledgements
We thank C. Hashimoto for discussions and comments. We also thank E. Nakajima and A. Alié for critical reading of the manuscript, Y. Saito for illustrations, and all of our other laboratory members for their help and encouragement. This work was supported by a Grant-in-Aid for Scientific Research on Innovative Areas to Y.U. (22124004), a Grant-in-Aid for Scientific Research on Innovative Areas to K.A. (22124001), a Grant-in-Aid for Creative Scientific Research to K.A. (17GS0318), Global COE Program A06 of Kyoto University, the Naito Foundation, a Sasakawa Scientific Research Grant, and a JSPS Research Fellowship to J.T.
Ethics declarations
Competing interests
The authors declare no competing financial interests.
Supplementary information
About this article
Cite this article
Umesono, Y., Tasaki, J., Nishimura, Y. et al. The molecular logic for planarian regeneration along the anterior–posterior axis. Nature 500, 73–76 (2013). https://doi.org/10.1038/nature12359
Received:

Accepted:

Published:

Issue Date:

DOI: https://doi.org/10.1038/nature12359
Comments
By submitting a comment you agree to abide by our Terms and Community Guidelines. If you find something abusive or that does not comply with our terms or guidelines please flag it as inappropriate.