Abstract
A major unsolved problem in mammalian evolution is the origin of Allotheria, including Multituberculata and Haramiyida1,2,3,4,5. Multituberculates are the most diverse and best known Mesozoic era mammals and ecologically resemble rodents, but haramiyids are known mainly from isolated teeth, hampering our search for their phylogenetic relationships. Here we report a new haramiyid from the Jurassic period of China, which is, to our knowledge the largest reported so far. It has a novel dentition, a mandible resembling advanced multituberculates and postcranial features adapted for arboreal life. Our phylogenetic analysis places Haramiyida within crown Mammalia, suggesting the origin of crown Mammalia in the Late Triassic period and diversification in the Jurassic, which contrasts other estimated divergence times of crown Mammalia6,7,8. The new haramiyid reveals additional mammalian features of the group, helps to identify other haramiyids represented by isolated teeth, and shows again that, regardless of various phylogenetic scenarios, a complex pattern of evolution involving many convergences and/or reversals existed in Mesozoic mammals.
Access options
Subscribe to Journal
Get full journal access for 1 year
$199.00
only $3.90 per issue
All prices are NET prices.
VAT will be added later in the checkout.
Rent or Buy article
Get time limited or full article access on ReadCube.
from$8.99
All prices are NET prices.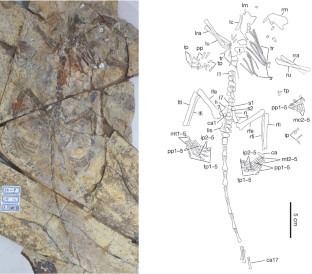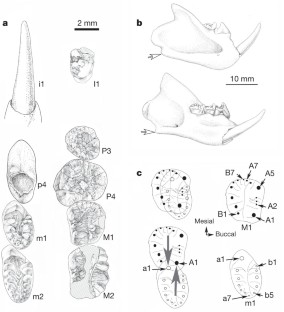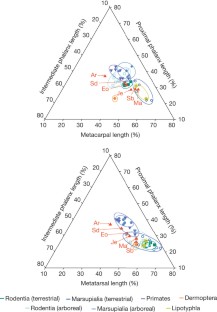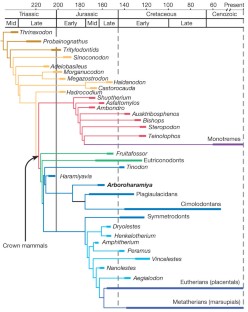 References
1

Sigogneau-Russell, D. Haramiyidae (Mammalia, Allotheria) en provenance du Trias supérieur de Lorraine (France). Palaeontographica A 206, 137–198 (1989)

2

Butler, P. M. Review of the early allotherian mammals. Acta Palaeontol. Pol. 45, 317–342 (2000)

3

Kielan-Jaworowska, Z., Cifelli, R. & Luo, Z.-X. Mammals from the Age of Dinosaurs: Origins, Evolution, and Structure (Columbia Univ. Press, 2004)

4

Butler, P. M. & Hooker, J. J. New teeth of allotherian mammals from the English Bathonian, including the earliest multituberculates. Acta Palaeontol. Pol. 50, 185–207 (2005)

5

Hahn, G. & Hahn, R. Evolutionary tendencies and systematic arrangement in the Haramiyida (Mammalia). Geol. Palaeontol. 40, 173–193 (2006)

6

Bininda-Emonds, O. R. et al. The delayed rise of present-day mammals. Nature 446, 507–512 (2007)

7

Meredith, R. W. et al. Impacts of the Cretaceous Terrestrial Revolution and KPg extinction on mammal diversification. Science 334, 521–524 (2011)

8

O'Leary, M. A. et al. The placental mammal ancestor and the post-KPg radiation of placentals. Science 339, 662–667 (2013)

9

Sullivan, C. et al. The Vertebrates of the Jurassic Daohugou Biota of Northeastern China. J. Vertebr. Paleontol (in the press)

10

Jenkins, F. A., Gatesy, S. M., Shubin, N. H. & Amaral, W. W. Haramiyids and Triassic mammalian evolution. Nature 385, 715–718 (1997)

11

Averianov, A. O., Lopatin, A. & Krasnolutskii, S. The First Haramiyid (Mammalia, Allotheria) from the Jurassic of Russia. Dokl. Biol. Sci. 437, 103–106 (2011)

12

Kermack, K. A., Kermack, D. M., Lees, P. M. & Mills, J. R. New multituberculate-like teeth from the Middle Jurassic of England. Acta Palaeontol. Pol. 43, 581–606 (1998)

13

Martin, T., Averianov, A. O. & Pfretzschner, H. U. Mammals from the Late Jurassic Qigu Formation in the southern Junggar Basin, Xinjiang, Northwest China. Palaeobiodivers. Palaeoenviron. 90, 295–319 (2010)

14

Crompton, A. & Thomason, J. in Functional Morphology in Vertebrate Paleontology (ed. Thomason, J. J. ) 55–75 (Cambridge Univ. Press, 1995)

15

Dagosto, M. & Schmid, P. Proximal femoral anatomy of omomyiform primates. J. Hum. Evol. 30, 29–56 (1996)

16

Lemelin, P. Morphological correlates of substrate use in didelphid marsupials: implications for primate origins. J. Zool. 247, 165–175 (1999)

17

Napier, J. Hands Ch. 2 26 (Princeton Univ. Press, 1993)

18

Kirk, E. C., Lemelin, P., Hamrick, M. W., Boyer, D. M. & Bloch, J. I. Intrinsic hand proportions of euarchontans and other mammals: implications for the locomotor behavior of plesiadapiforms. J. Hum. Evol. 55, 278–299 (2008)

19

Schmitt, D., Rose, M. D., Turnquist, J. E. & Lemelin, P. Role of the prehensile tail during ateline locomotion: experimental and osteological evidence. Am. J. Phys. Anthropol. 126, 435–446 (2005)

20

Youlatos, D. Osteological correlates of tail prehensility in carnivorans. J. Zool. 259, 423–430 (2003)

21

Hahn, G., Sigogneau-Russell, D. & Wouters, G. New data on Theroteinidae: their relations with Paulchoffatiidae and Haramiyidae. Geol. Palaeontol. 23, 205–215 (1989)

22

Simpson, G. G. The principles of classification and a classification of mammals. Bull. Am. Mus. Nat. Hist. 85, 1–350 (1945)

23

Luo, Z.-X., Chen, P.-J., Li, G. & Chen, M. A new eutriconodont mammal and evolutionary development in early mammals. Nature 446, 288–293 (2007)

24

Rowe, T., Rich, T. H., Vickers-Rich, P., Springer, M. & Woodburne, M. O. The oldest platypus and its bearing on divergence timing of the platypus and echidna clades. Proc. Natl Acad. Sci. USA 105, 1238–1242 (2008)

25

Ogg, J. G. in A Geological Time Scale 2012 (eds Gradstein, F. M., Ogg, J. G., Schmitz, M. D. & Ogg, G. M. ) 681–730 (Elsevier, 2012)

26

Luo, Z.-X. Transformation and diversification in early mammal evolution. Nature 450, 1011–1019 (2007)

27

Hunt, T. et al. A comprehensive phylogeny of beetles reveals the evolutionary origins of a superradiation. Science 318, 1913–1916 (2007)

28

Wiegmann, B. M. et al. Episodic radiations in the fly tree of life. Proc. Natl Acad. Sci. USA 108, 5690–5695 (2011)

29

Magallóan, S. A. & Sanderson, M. J. Angiosperm divergence times: the effect of genes, codon positions, and time constraints. Evolution 59, 1653–1670 (2005)

30

Smith, S. A., Beaulieu, J. M. & Donoghue, M. J. An uncorrelated relaxed-clock analysis suggests an earlier origin for flowering plants. Proc. Natl Acad. Sci. USA 107, 5897–5902 (2010)
Acknowledgements
We thank C. Zhao for illustrations, J. R. Wible for access to comparative specimens, W. Zhang for scanning electron microscope photography and T. Qiao for help with PAUP analyses. This work was supported by the National Basic Research Program of China 973 Program 2012CB821906, National Natural Science Foundation of China 41172016 and 41128002, and the Hundred Talents Programs of the Chinese Academy of Sciences.
Ethics declarations
Competing interests
The authors declare no competing financial interests.
Additional information
This published work and related nomenclatural acts have been registered at the ZooBank, the proposed online registration system for the International Code of Zoological Nomenclature. The Life Science Identifiers (LSIDs) for this publication include: urn:lsid:zoobank.org:pub:9DF31F78-FBDC-4C1C-9E5F-B0D28FCB3FCA, urn:lsid:zoobank.org:act:83079D68-7FF5-4AA6-B4EB-4BE518F31B7B (family), urn:lsid:zoobank.org:act:9F912251-A221-4946-9CAC-D35932B45685( genus) and urn:lsid:zoobank.org:act:CDA99CD4-D79D-4FED-8AF3-C5313BC986F0 (species).
Supplementary information
This file contains Supplementary Information parts A-K, including Supplementary Text, Supplementary Figures 1-11, Supplementary Tables 1-3, Supplementary Data and additional references – see contents pages for details. (PDF 9034 kb)
About this article
Cite this article
Zheng, X., Bi, S., Wang, X. et al. A new arboreal haramiyid shows the diversity of crown mammals in the Jurassic period. Nature 500, 199–202 (2013). https://doi.org/10.1038/nature12353
Received:

Accepted:

Published:

Issue Date:
Comments
By submitting a comment you agree to abide by our Terms and Community Guidelines. If you find something abusive or that does not comply with our terms or guidelines please flag it as inappropriate.