Abstract
Although the cheetah is recognised as the fastest land animal, little is known about other aspects of its notable athleticism, particularly when hunting in the wild. Here we describe and use a new tracking collar of our own design, containing a combination of Global Positioning System (GPS) and inertial measurement units, to capture the locomotor dynamics and outcome of 367 predominantly hunting runs of five wild cheetahs in Botswana. A remarkable top speed of 25.9 m s−1 (58 m.p.h. or 93 km h−1) was recorded, but most cheetah hunts involved only moderate speeds. We recorded some of the highest measured values for lateral and forward acceleration, deceleration and body-mass-specific power for any terrestrial mammal. To our knowledge, this is the first detailed locomotor information on the hunting dynamics of a large cursorial predator in its natural habitat.
Relevant articles
Open Access articles citing this article.
Daijiro Abe

,

Kiyotaka Motoyama

…

Masahiro Horiuchi

Journal of Physiological Anthropology Open Access 08 June 2022

Samuel R. Matchette

,

Emily G. Mitchell

&

James E. Herbert-Read

Marine Biology Open Access 10 May 2022

Pawel Kudzia

,

Stephen N. Robinovich

&

J. Maxwell Donelan

Scientific Reports Open Access 23 March 2022
Access options
Subscribe to Journal
Get full journal access for 1 year
$199.00
only $3.90 per issue
All prices are NET prices.
VAT will be added later in the checkout.
Tax calculation will be finalised during checkout.
Buy article
Get time limited or full article access on ReadCube.
$32.00
All prices are NET prices.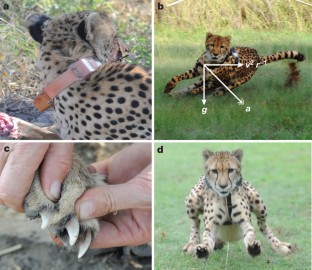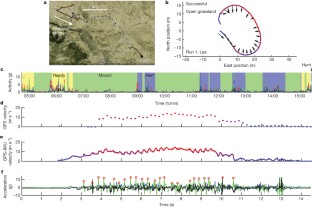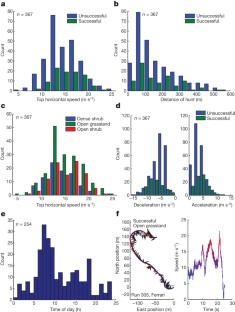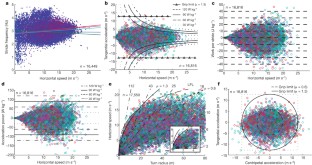 References
Spence, A. J., Thurman, A. S., Maher, M. J. & Wilson, A. M. Speed, pacing strategy and aerodynamic drafting in Thoroughbred horse racing. Biol. Lett. 8, 678–681 (2012)

Usherwood, J. R. & Wilson, A. M. Biomechanics: no force limit on greyhound sprint speed. Nature 438, 753–754 (2005)

Tan, H. & Wilson, A. M. Grip and force limits to turning performance in competition horses. Proc. R. Soc. Lond. B 278, 2105–2111 (2011)

Self, Z. T., Spence, A. J. & Wilson, A. M. Speed and incline during Thoroughbred horse racing: racehorse speed supports a metabolic power constraint to incline running but not to decline running. J. Appl. Physiol. 113, 602–607 (2012)

Sharp, N. C. C. Timed running speed of the cheetah (Acinonyx jubatus). J. Zool. 241, 493–494 (1997)

Hildebrand, M. Further studies on locomotion of the cheetah. J. Mamm. 42, 84–91 (1961)

Hudson, P. E., Corr, S. A. & Wilson, A. M. High speed galloping in the cheetah (Acinonyx jubatus) and the racing greyhound (Canis familiaris): Spatio-temporal and kinetic characteristics. J. Exp. Biol. 215, 2425–2434 (2012)

Bissett, C. & Bernard, R. T. F. Habitat selection and feeding ecology of the cheetah (Acinonyx jubatus) in thicket vegetation: is the cheetah a savanna specialist? J. Zool. 271, 310–317 (2006)

Eaton, R. L. The Cheetah: The Biology, Ecology, and Behviour of an Endangered Species Ch.3 (Van Nostrand Reinhold, 1973)

Cagnacci, F., Boitani, L., Powell, R. A. & Boyce, M. S. Animal ecology meets GPS-based radiotelemetry: a perfect storm of opportunities and challenges. Phil. Trans. R. Soc. B. 365, 2157–2162 (2010)

Tomkiewicz, S. M., Fuller, M. R., Kie, J. G. & Bates, K. K. Global positioning system and associated technologies in animal behaviour and ecological research. Phil. Trans. R. Soc. B. 365, 2163–2176 (2010)

Tan, H., Wilson, A. M. & Lowe, J. Measurement of stride parameters using a wearable GPS and inertial measurement unit. J. Biomech. 41, 1398–1406 (2008)

Grünewälder, S. et al. Movement activity based classification of animal behaviour with an application to data from cheetah (Acinonyx jubatus). PLoS ONE 7, e49120 (2012)

Caro, T. M. Cheetahs of the Serengeti Plains (Univ. Chicago Press, 1994)

Mills, M. G. L., Broomhall, L. S. & du Toit, J. T. Cheetah Acinonyx jubatus feeding ecology in the Kruger National Park and a comparison across African savanna habitats: is the cheetah only a successful hunter on open grassland plains? Wildl. Biol. 10, 177–186 (2004)

Durant, S. M. Competition refuges and coexistence: an example from Serengeti carnivores. J. Anim. Ecol. 67, 370–386 (1998)

Broekhuis, F., Cozzi, G., Valeix, M., McNutt, J. W. & Macdonald, D. W. Risk avoidance in sympatric large carnivores: reactive or predictive? J. Anim. Ecol.. http://dx.doi.org/10.1111/1365-2656.12077 (20 May 2013)

Williams, S. B., Tan, H., Usherwood, J. R. & Wilson, A. M. Pitch then power: limitations to acceleration in quadrupeds. Biol. Lett. 5, 610–613 (2009)

Cavagna, G. A., Komarek, L. & Mazzoleni, S. The mechanics of sprint running. J. Physiol. 217, 709–721 (1971)

Hudson, P. E. et al. Functional anatomy of the cheetah (Acinonyx jubatus) hindlimb. J. Anat. 218, 363–374 (2011)

Hudson, P. E. et al. Functional anatomy of the cheetah (Acinonyx jubatus) forelimb. J. Anat. 218, 375–385 (2011)

Curtin, N. A., Woledge, R. C. & Aerts, P. Muscle directly meets the vast power demands in agile lizards. Proc. R. Soc. Lond. B 272, 581–584 (2005)

West, T. G. et al. Power output of skinned skeletal muscle fibres from the cheetah (Acinonyx jubatus). J. Exp. Biol. http://dx.doi.org/10.1242/jeb.083667 (11 April 2013)

Russell, A. P. & Bryant, H. N. Claw retraction and protraction in the carnivore: the cheetah (Acinonyx jubatus) an atypical felid. J. Zool. 254, 67–76 (2001)

Usherwood, J. R. & Wilson, A. M. Accounting for elite indoor 200 m sprint results. Biol. Lett. 2, 47–50 (2006)

Chang, Y. H. & Kram, R. Limitations to maximum running speed on flat curves. J. Exp. Biol. 210, 971–982 (2007)

Greene, P. R. Running on flat turns: experiments, theory, and applications. J. Biomech. Eng. 107, 96–103 (1985)

Schaller, G. B. Hunting behaviour of the cheetah in the Serengeti National Park, Tanzania. Afr. J. Ecol. 6, 95–100 (1968)

Howland, H. C. Optimal stratagies for predator avoidance: the relative importance of speed and manoeuvrability. J. Theor. Biol. 47, 333–350 (1974)

Kalman, R. E. A new approach to linear filtering and prediction problem. Trans. ASME J. Basic Engineering 82D, 34–45 (1960)

Titterton, D. H. & Weston, J. L. Strapdown Inertial Navigation Technology 2nd edn, Vol. 207, Chs 3 and 11 (AIAA, 2004)

Rauch, H. E., Tung, F. & Striebel, C. T. Maximum likelihood estimates of linear dynamic systems. AIAA J. 3, 1445–1450 (1965)
Acknowledgements
We thank S. Amos and M. Dickson for fabricating collars, and F. Broekhuis, R. Furrer and N. Jordan for working with us in the study area; P. Apps for many discussions; T. Hubel and A. Wills for helping to collect and analyse validation data; P. Apps, J. Usherwood and A. Wilson for comments on the manuscript; and the EPSRC (EP/H013016/1), BBSRC (BB/J018007/1) and DARPA M3 Program (W91CRB-11-C-0048, with Boston Dynamics) for funding. This work was approved by RVC Ethics & Welfare Committee and was carried out under a Botswana Government Research Permit held by J.W.M. and Botswana Veterinary Registration held by A.M.W.
Ethics declarations
Competing interests
The authors declare no competing financial interests.
Supplementary information
About this article
Cite this article
Wilson, A., Lowe, J., Roskilly, K. et al. Locomotion dynamics of hunting in wild cheetahs. Nature 498, 185–189 (2013). https://doi.org/10.1038/nature12295
Received:

Accepted:

Published:

Issue Date:

DOI: https://doi.org/10.1038/nature12295
Comments
By submitting a comment you agree to abide by our Terms and Community Guidelines. If you find something abusive or that does not comply with our terms or guidelines please flag it as inappropriate.