Abstract
Stem cells and progenitors in many lineages undergo self-renewing divisions, but the extracellular and intracellular proteins that regulate this process are largely unknown. Glucocorticoids stimulate red blood cell formation by promoting self-renewal of early burst-forming unit–erythroid (BFU–E) progenitors1,2,3,4. Here we show that the RNA-binding protein ZFP36L2 is a transcriptional target of the glucocorticoid receptor (GR) in BFU–Es and is required for BFU–E self-renewal. ZFP36L2 is normally downregulated during erythroid differentiation from the BFU–E stage, but its expression is maintained by all tested GR agonists that stimulate BFU–E self-renewal, and the GR binds to several potential enhancer regions of ZFP36L2. Knockdown of ZFP36L2 in cultured BFU–E cells did not affect the rate of cell division but disrupted glucocorticoid-induced BFU–E self-renewal, and knockdown of ZFP36L2 in transplanted erythroid progenitors prevented expansion of erythroid lineage progenitors normally seen following induction of anaemia by phenylhydrazine treatment. ZFP36L2 preferentially binds to messenger RNAs that are induced or maintained at high expression levels during terminal erythroid differentiation and negatively regulates their expression levels. ZFP36L2 therefore functions as part of a molecular switch promoting BFU–E self-renewal and a subsequent increase in the total numbers of colony-forming unit–erythroid (CFU–E) progenitors and erythroid cells that are generated.
Relevant articles
Open Access articles citing this article.
Chen C. Li

,

Guangyu Zhang

…

Aibin He

Nature Communications Open Access 17 January 2022

Patrick S. Stumpf

,

Xin Du

…

Ben D. MacArthur

Communications Biology Open Access 04 December 2020

Adeline Crinier

,

Pierre-Yves Dumas

…

Éric Vivier

Cellular & Molecular Immunology Open Access 25 November 2020
Access options
Subscribe to Journal
Get full journal access for 1 year
$199.00
only $3.90 per issue
All prices are NET prices.
VAT will be added later in the checkout.
Tax calculation will be finalised during checkout.
Buy article
Get time limited or full article access on ReadCube.
$32.00
All prices are NET prices.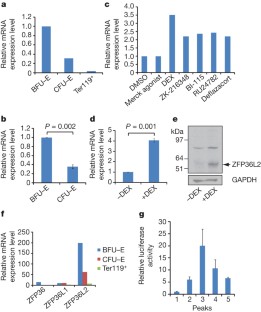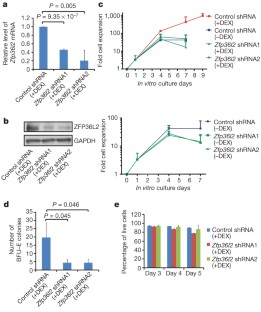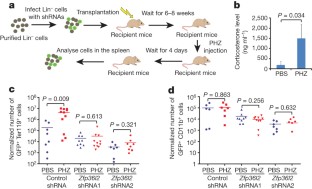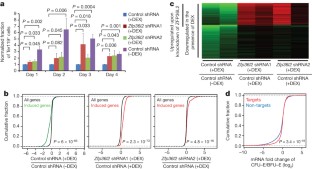 References
Flygare, J., Rayon Estrada, V., Shin, C., Gupta, S. & Lodish, H. F. HIF1α synergizes with glucocorticoids to promote BFU-E progenitor self-renewal. Blood 117, 3435–3444 (2011)

Bauer, A. et al. The glucocorticoid receptor is required for stress erythropoiesis. Genes Dev. 13, 2996–3002 (1999)

Wessely, O., Deiner, E. M., Beug, H. & von Lindern, M. The glucocorticoid receptor is a key regulator of the decision between self-renewal and differentiation in erythroid progenitors. EMBO J. 16, 267–280 (1997)

Reichardt, H. M. et al. DNA binding of the glucocorticoid receptor is not essential for survival. Cell 93, 531–541 (1998)

Richmond, T. D., Chohan, M. & Barber, D. L. Turning cells red: signal transduction mediated by erythropoietin. Trends Cell Biol. 15, 146–155 (2005)

Wu, H., Liu, X., Jaenisch, R. & Lodish, H. F. Generation of committed erythroid BFU-E and CFU-E progenitors does not require erythropoietin or the erythropoietin receptor. Cell 83, 59–67 (1995)

Hattangadi, S. M., Wong, P., Zhang, L., Flygare, J. & Lodish, H. F. From stem cell to red cell: regulation of erythropoiesis at multiple levels by multiple proteins, RNAs, and chromatin modifications. Blood 118, 6258–6268 (2011)

Narla, A. et al. Dexamethasone and lenalidomide have distinct functional effects on erythropoiesis. Blood 118, 2296–2304 (2011)

Blackshear, P. J. Tristetraprolin and other CCCH tandem zinc-finger proteins in the regulation of mRNA turnover. Biochem. Soc. Trans. 30, 945–952 (2002)

Stumpo, D. J. et al. Targeted disruption of Zfp36l2, encoding a CCCH tandem zinc finger RNA-binding protein, results in defective hematopoiesis. Blood 114, 2401–2410 (2009)

Hudson, B. P., Martinez-Yamout, M. A., Dyson, H. J. & Wright, P. E. Recognition of the mRNA AU-rich element by the zinc finger domain of TIS11d. Nature Struct. Mol. Biol. 11, 257–264 (2004)

Schoenberg, D. R. & Maquat, L. E. Regulation of cytoplasmic mRNA decay. Nature Rev. Genet. 13, 246–259 (2012)

Novershtern, N. et al. Densely interconnected transcriptional circuits control cell states in human hematopoiesis. Cell 144, 296–309 (2011)

Brand, M. et al. Dynamic changes in transcription factor complexes during erythroid differentiation revealed by quantitative proteomics. Nature Struct. Mol. Biol. 11, 73–80 (2004)

Caterina, J. J., Donze, D., Sun, C. W., Ciavatta, D. J. & Townes, T. M. Cloning and functional characterization of LCR-F1: a bZIP transcription factor that activates erythroid-specific, human globin gene expression. Nucleic Acids Res. 22, 2383–2391 (1994)

Teittinen, K. J. et al. SAP30L (Sin3A-associated protein 30-like) is involved in regulation of cardiac development and hematopoiesis in zebrafish embryos. J. Cell. Biochem. 113, 3843–3852 (2012)

Shi, Z. T. et al. Protein 4.1R-deficient mice are viable but have erythroid membrane skeleton abnormalities. J. Clin. Invest. 103, 331–340 (1999)

Wang, Q., Khillan, J., Gadue, P. & Nishikura, K. Requirement of the RNA editing deaminase ADAR1 gene for embryonic erythropoiesis. Science 290, 1765–1768 (2000)

Tibbetts, A. S. & Appling, D. R. Compartmentalization of mammalian folate-mediated one-carbon metabolism. Annu. Rev. Nutr. 30, 57–81 (2010)

Kumkhaek, C. et al. MASL1 induces erythroid differentiation in human erythropoietin-dependent CD34+ cells through the Raf/MEK/ERK pathway. Blood 121, 3216–3227 (2013)

Zhang, L., Flygare, J., Wong, P., Lim, B. & Lodish, H. F. miR-191 regulates mouse erythroblast enucleation by down-regulating Riok3 and Mxi1. Genes Dev. 25, 119–124 (2011)

Zhang, Y. et al. Model-based analysis of ChIP-Seq (MACS). Genome Biol. 9, R137 (2008)
Acknowledgements
This work is supported by NIH grant P01 HL 32262 to H.F.L.; L.Z. is supported by a graduate fellowship from Singapore-Massachusetts Institute of Technology Alliance. We thank C. Sieff, J. Zhang, and P. Ji for providing reagents, T. Chavarria and F. Reinhardt for assisting with mouse transplantation experiments, J. Shih for helping with the making of constructs, M. Bousquet and C. Patterson for discussion and assistance with mouse transplantation experiment and antibody testing, S. Gupta, J. Kwon and I. Barrasa for processing raw RNA-seq data, processing microarray and discussion of bioinformatics analyses, and Sanofi Aventis for providing many GR agonists.
Ethics declarations
Competing interests
The authors declare no competing financial interests.
Supplementary information
About this article
Cite this article
Zhang, L., Prak, L., Rayon-Estrada, V. et al. ZFP36L2 is required for self-renewal of early burst-forming unit erythroid progenitors. Nature 499, 92–96 (2013). https://doi.org/10.1038/nature12215
Received:

Accepted:

Published:

Issue Date:

DOI: https://doi.org/10.1038/nature12215
Comments
By submitting a comment you agree to abide by our Terms and Community Guidelines. If you find something abusive or that does not comply with our terms or guidelines please flag it as inappropriate.