Abstract
An ambitious goal in biology is to understand the behaviour of cells during development by imaging—in vivo and with subcellular resolution—changes of the embryonic structure. Important morphogenetic movements occur throughout embryogenesis, but in particular during gastrulation when a series of dramatic, coordinated cell movements drives the reorganization of a simple ball or sheet of cells into a complex multi-layered organism1. In Xenopus laevis, the South African clawed frog and also in zebrafish, cell and tissue movements have been studied in explants2,3, in fixed embryos4, in vivo using fluorescence microscopy5,6 or microscopic magnetic resonance imaging7. None of these methods allows cell behaviours to be observed with micrometre-scale resolution throughout the optically opaque, living embryo over developmental time. Here we use non-invasive in vivo, time-lapse X-ray microtomography, based on single-distance phase contrast and combined with motion analysis, to examine the course of embryonic development. We demonstrate that this powerful four-dimensional imaging technique provides high-resolution views of gastrulation processes in wild-type X. laevis embryos, including vegetal endoderm rotation, archenteron formation, changes in the volumes of cavities within the porous interstitial tissue between archenteron and blastocoel, migration/confrontation of mesendoderm and closure of the blastopore. Differential flow analysis separates collective from relative cell motion to assign propulsion mechanisms. Moreover, digitally determined volume balances confirm that early archenteron inflation occurs through the uptake of external water. A transient ectodermal ridge, formed in association with the confrontation of ventral and head mesendoderm on the blastocoel roof, is identified. When combined with perturbation experiments to investigate molecular and biomechanical underpinnings of morphogenesis, our technique should help to advance our understanding of the fundamentals of development.
Relevant articles
Open Access articles citing this article.
Venera Weinhardt

,

Roman Shkarin

…

Felix Loosli

Scientific Reports Open Access 08 November 2018

Md. Imran H. Khan

,

Troy Farrell

…

M. A. Karim

Scientific Reports Open Access 12 October 2018

F. Trost

,

S. Hahn

…

T. Baumbach

Scientific Reports Open Access 18 December 2017
Access options
Subscribe to this journal
Receive 51 print issues and online access
$199.00 per year
only $3.90 per issue
Rent or buy this article
Prices vary by article type
from$1.95
to$39.95
Prices may be subject to local taxes which are calculated during checkout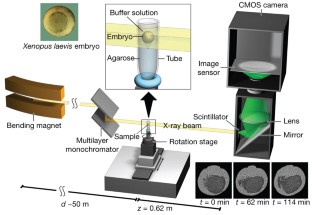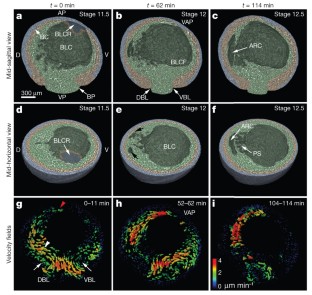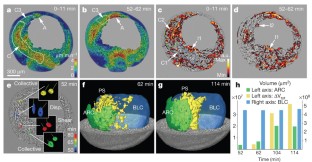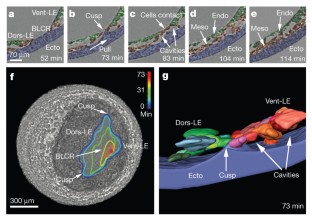 References
Keller, R., Davidson, L. A. & Shook, D. R. How are we shaped: The biomechanics of gastrulation. Differentiation 71, 171–205 (2003)

Keller, R. & Danilchik, M. Regional expression, pattern and timing of convergence and extension during gastrulation of Xenopus laevis. Development 103, 193–209 (1988)

Damm, E. W. & Winklbauer, R. PDGF-A controls mesoderm cell orientation and radial intercalation during Xenopus gastrulation. Development 138, 565–575 (2011)

Ewald, A. J., Peyrot, S. M., Tyska, J. M., Fraser, S. E. & Wallingford, J. B. Regional requirements for dishevelled signaling during Xenopus gastrulation: separable effects on blastopore closure, mesendoderm internalization, and archenteron formation. Development 131, 6195–6209 (2004)

Huisken, J. & Stanier, D. Y. R. Selective plane illumination microscopy techniques in developmental biology. Development 136, 1963–1975 (2009)

Keller, Ph. J., Schmidt, A. D., Wittbrodt, J. & Stelzer, E. H. K. Reconstruction of zebrafish early embryonic development by scanned light sheet microscopy. Science 322, 1065–1069 (2008)

Papan, C., Velan, S. S., Fraser, S. E. & Jacobs, R. E. 3D time-lapse analysis of Xenopus gastrulation movements using µMRI. Dev. Biol. 235, 189 (2001)

Wallingford, J. B., Fraser, S. E. & Harland, R. M. Convergent extension: The molecular control of polarized cell movement during embryonic development. Dev. Cell 2, 695–706 (2002)

Hardin, J. & Keller, R. The behaviour and function of bottle cells during gastrulation of Xenopus laevis. Development 103, 211–230 (1988)

Weisz, P. B. The normal stages in the development of the South African clawed toad, Xenopus laevis. Anat. Rec. 93, 161–169 (1945)

Ewald, A. J., McBride, H., Reddington, M., Fraser, S. E. & Kerschmann, R. Surface imaging microscopy, an automated method for visualizing whole embryo samples in three dimensions at high resolution. Dev. Dyn. 225, 369–375 (2002)

Winklbauer, R. & Schürfeld, M. Vegetal rotation, a new gastrulation movement involved in the internalization of the mesoderm and endoderm in Xenopus. Development 126, 3703–3713 (1999)

Keller, R., Shook, D. & Skoglund, P. The forces that shape embryos: physical aspects of convergent extension by cell intercalation. Phys. Biol. 5, 015007 (2008)

Blanchard, G. B. & Adams, R. Measuring the multi-scale integration of mechanical forces during morphogenesis. Curr. Opin. Genet. Dev. 21, 653–663 (2011)

Ruffins, S. W., Russells, E. J. & Fraser, S. E. Towards a Tralfamadorian view of the embryo: multidimensional imaging of development. Curr. Opin. Neurobiol. 12, 580–586 (2002)

Greger, K., Swoger, J. & Stelzer, E. H. K. Basic building units and properties of a fluorescence single plane illumination microscope. Rev. Sci. Instrum. 78, 023705 (2007)

Dubertret, B. et al. In vivo imaging of quantum dots encapsulated in phospholipid micelles. Science 298, 1759–1762 (2002)

Cheng, K. C., Xin, X., Clark, D. P. & La Riviere, P. Whole-animal imaging, gene function and the Zebrafish phenome project. Curr. Opin. Genet. Dev. 21, 620–629 (2011)

Snigirev, A., Snigireva, I., Kohn, V., Kuznetsov, S. & Schelokov, I. On the possibilities of X-ray phase contrast microimaging by coherent high-energy synchrotron radiation. Rev. Sci. Instrum. 66, 5486–5492 (1995)

Wilkins, S. W., Gureyev, T. E., Gao, D., Pogany, A. & Stevenson, A. W. Phase-contrast imaging using polychromatic hard X-rays. Nature 384, 335–338 (1996)

Nugent, K. A., Gureyev, T. E., Cookson, D. F., Paganin, D. M. & Barnea, Z. Quantitative phase imaging using hard X rays. Phys. Rev. Lett. 77, 2961–2964 (1996)

Paganin, D. & Nugent, K. A. Noninterferometric phase imaging with partially coherent light. Phys. Rev. Lett. 80, 2586–2589 (1998)

Cloetens, P. et al. Hard X-ray phase imaging using simple propagation of a coherent synchrotron radiation beam. J. Phys. D Appl. Phys. 32, A145–A151 (1999)

Hofmann, R., Moosmann, J. & Baumbach, T. Criticality in single-distance phase retrieval. Opt. Express 19, 25881–25890 (2011)

Brox, T., Bruhn, A., Papenberg, N. & Weickert, J. High accuracy optical flow estimation based on a theory for warping. Lecture Notes in Computer Science 3024 Part IV 25–36 (Springer, 2004)

Keller, R. E. An experimental analysis of the role of bottle cells and the deep marginal zone in gastrulation of Xenopus laevis. J. Exp. Zool. 216, 81–101 (1981)

Rohani, N., Canty, L., Luu, O., Fagotto, F. & Winklbauer, R. EphrinB/EphB signaling controls embryonic germ layer separation by contact-induced cell detachment. PLoS Biol. 9, e1000597 (2011)

Tuft, P. H. The uptake and distribution of water in the embryo of Xenopus laevis (Daudin). J. Exp. Biol. 39, 1–19 (1962)

Deans, S. R. The Radon Transform and Some of Its Applications Ch. 6 (Wiley, 1983)

Kashef, J. et al. Cadherin-11 regulates protrusive activity in Xenopus cranial neural crest cells upstream of Trio and the small GTPases. Genes Dev. 23, 1393–1398 (2009)

Schneider, C. A., Rasband, W. S. & Eliceiri, K. W. NIH Image to ImageJ: 25 years of image analysis. Nature Methods 9, 671–675 (2012)

Schindelin, J. et al. Fiji: an open-source platform for biological-image analysis. Nature Methods 9, 676–682 (2012)

Horn, B. K. P. . & Schunck, G. Determining optical flow. Artif. Intell. 17, 185–203 (1981)

Baker, S. et al. A database and evaluation methodology for optical flow. Int. J. Comput. Vis. 92, 1–31 (2011)
Acknowledgements
We would like to acknowledge discussions with J. Wittbrodt, H. Steinbeisser, R. Winklbauer and D. Moss. R. Keller and D. Shook helped us with interpreting the data. D. Wedlich and M. Köhl commented on the manuscript. Discussions with M. Köhl on data analysis are gratefully acknowledged. We also would like to thank T. van de Kamp and D. Karpov for their help visualising the set-up, as well as F. de Carlo and K. Fezza for allocating beamtime at 2-BM-B station and at 32-ID, respectively, of Advanced Photon Source, Argonne National Laboratory. Use of the Advanced Photon Source, an Office of Science User Facility operated for the US Department of Energy (DOE) Office of Science by Argonne National Laboratory, was supported by the US DOE under Contract No. DE-AC02-06CH11357. E. Becker, C. Huang, A. Merks and R. Langhe helped analysing blastopore radii. J.K.'s Young Investigator Group received financial support from the 'Concept for the Future' programme of Karlsruhe Institute of Technology within the framework of the German Excellence Initiative. This research partially was funded by the German Federal Ministry of Education and Research under grant numbers 05K12CK2 and 05K12VH1.
Ethics declarations
Competing interests
The authors declare no competing financial interests.
Supplementary information
About this article
Cite this article
Moosmann, J., Ershov, A., Altapova, V. et al. X-ray phase-contrast in vivo microtomography probes new aspects of Xenopus gastrulation. Nature 497, 374–377 (2013). https://doi.org/10.1038/nature12116
Received:

Accepted:

Published:

Issue Date:

DOI: https://doi.org/10.1038/nature12116
Comments
By submitting a comment you agree to abide by our Terms and Community Guidelines. If you find something abusive or that does not comply with our terms or guidelines please flag it as inappropriate.