Abstract
Effective navigation requires planning extended routes to remembered goal locations. Hippocampal place cells have been proposed to have a role in navigational planning, but direct evidence has been lacking. Here we show that before goal-directed navigation in an open arena, the rat hippocampus generates brief sequences encoding spatial trajectories strongly biased to progress from the subject's current location to a known goal location. These sequences predict immediate future behaviour, even in cases in which the specific combination of start and goal locations is novel. These results indicate that hippocampal sequence events characterized previously in linearly constrained environments as 'replay' are also capable of supporting a goal-directed, trajectory-finding mechanism, which identifies important places and relevant behavioural paths, at specific times when memory retrieval is required, and in a manner that could be used to control subsequent navigational behaviour.
Relevant articles
Open Access articles citing this article.
Jordan Crivelli-Decker

,

Alex Clarke

…

Charan Ranganath

Nature Communications Open Access 23 May 2023

Noah Zarr

&

Joshua W. Brown

Scientific Reports Open Access 27 January 2023

Zheng-Dong Zhao

,

Li Zhang

…

Wei L. Shen

Neuroscience Bulletin Open Access 27 January 2023
Access options
Subscribe to this journal
Receive 51 print issues and online access
$199.00 per year
only $3.90 per issue
Rent or buy this article
Get just this article for as long as you need it
$39.95
Prices may be subject to local taxes which are calculated during checkout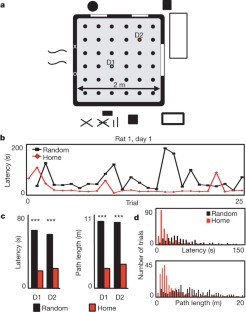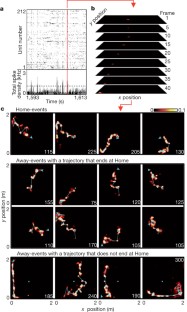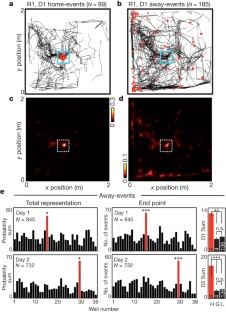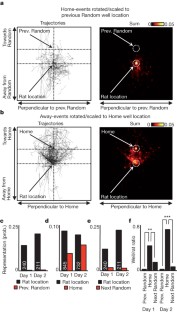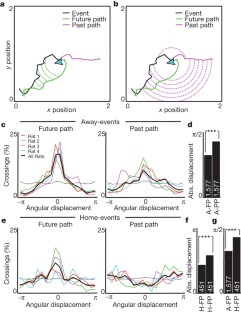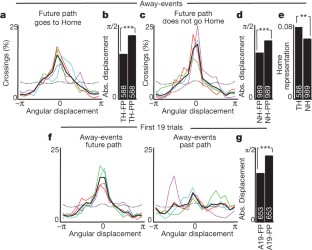 References
O'Keefe, J. & Nadel, L. The Hippocampus As A Cognitive Map. (Clarendon, 1978)

Morris, R. G., Garrud, P., Rawlins, J. N. & O'Keefe, J. Place navigation impaired in rats with hippocampal lesions. Nature 297, 681–683 (1982)

Scoville, W. B. & Milner, B. Loss of recent memory after bilateral hippocampal lesions. J. Neurol. Neurosurg. Psychiatry 20, 11–21 (1957)

Olton, D. S. & Samuelson, R. J. Remembrance of places past: spatial memory in rats. J. Exp. Psychol. Anim. Behav. Process. 2, 97–116 (1976)

Levy, W. B. A sequence predicting CA3 is a flexible associator that learns and uses context to solve hippocampal-like tasks. Hippocampus 6, 579–590 (1996)

Redish, A. D. & Touretzky, D. S. The role of the hippocampus in solving the Morris water maze. Neural Comput. 10, 73–111 (1998)

Koene, R. A., Gorchetchnikov, A., Cannon, R. C. & Hasselmo, M. E. Modeling goal-directed spatial navigation in the rat based on physiological data from the hippocampal formation. Neural Netw. 16, 577–584 (2003)

Foster, D. J. & Knierim, J. J. Sequence learning and the role of the hippocampus in rodent navigation. Curr. Opin. Neurobiol. 22, 294–300 (2012)

Hok, V. et al. Goal-related activity in hippocampal place cells. J. Neurosci. 27, 472–482 (2007)

Wood, E. R., Dudchenko, P. A., Robitsek, R. J. & Eichenbaum, H. Hippocampal neurons encode information about different types of memory episodes occurring in the same location. Neuron 27, 623–633 (2000)

Ferbinteanu, J. & Shapiro, M. L. Prospective and retrospective memory coding in the hippocampus. Neuron 40, 1227–1239 (2003)

Wilson, M. A. & McNaughton, B. L. Dynamics of the hippocampal ensemble code for space. Science 261, 1055–1058 (1993)

O'Keefe, J. & Recce, M. L. Phase relationship between hippocampal place units and the EEG theta rhythm. Hippocampus 3, 317–330 (1993)

Muller, R. U. & Kubie, J. L. The firing of hippocampal place cells predicts the future position of freely moving rats. J. Neurosci. 9, 4101–4110 (1989)

Skaggs, W. E., McNaughton, B. L., Wilson, M. A. & Barnes, C. A. Theta phase precession in hippocampal neuronal populations and the compression of temporal sequences. Hippocampus 6, 149–172 (1996)

Jensen, O. & Lisman, J. E. Hippocampal CA3 region predicts memory sequences: accounting for the phase precession of place cells. Learn. Mem. 3, 279–287 (1996)

Foster, D. J. & Wilson, M. A. Hippocampal theta sequences. Hippocampus 17, 1093–1099 (2007)

Johnson, A. & Redish, A. D. Neural ensembles in CA3 transiently encode paths forward of the animal at a decision point. J. Neurosci. 27, 12176–12189 (2007)

Johnson, A., van der Meer, M. A. & Redish, A. D. Integrating hippocampus and striatum in decision-making. Curr. Opin. Neurobiol. 17, 692–697 (2007)

Louie, K. & Wilson, M. A. Temporally structured replay of awake hippocampal ensemble activity during rapid eye movement sleep. Neuron 29, 145–156 (2001)

Lee, A. K. & Wilson, M. A. Memory of sequential experience in the hippocampus during slow wave sleep. Neuron 36, 1183–1194 (2002)

Foster, D. J. & Wilson, M. A. Reverse replay of behavioural sequences in hippocampal place cells during the awake state. Nature 440, 680–683 (2006)

Davidson, T. J., Kloosterman, F. & Wilson, M. A. Hippocampal replay of extended experience. Neuron 63, 497–507 (2009)

Diba, K. & Buzsaki, G. Forward and reverse hippocampal place-cell sequences during ripples. Nature Neurosci. 10, 1241–1242 (2007)

Karlsson, M. P. & Frank, L. M. Awake replay of remote experiences in the hippocampus. Nature Neurosci. 12, 913–918 (2009)

Gupta, A. S., van der Meer, M. A., Touretzky, D. S. & Redish, A. D. Hippocampal replay is not a simple function of experience. Neuron 65, 695–705 (2010)

Steele, R. J. & Morris, R. G. Delay-dependent impairment of a matching-to-place task with chronic and intrahippocampal infusion of the NMDA-antagonist D-AP5. Hippocampus 9, 118–136 (1999)

Olypher, A. V., Lansky, P. & Fenton, A. A. Properties of the extra-positional signal in hippocampal place cell discharge derived from the overdispersion in location-specific firing. Neuroscience 111, 553–566 (2002)

Kentros, C. G., Agnihotri, N. T., Streater, S., Hawkins, R. D. & Kandel, E. R. Increased attention to spatial context increases both place field stability and spatial memory. Neuron 42, 283–295 (2004)

Eichenbaum, H., Otto, T. & Cohen, N. J. The hippocampus–what does it do? Behav. Neural Biol. 57, 2–36 (1992)

Foster, D. J., Morris, R. G. & Dayan, P. A model of hippocampally dependent navigation, using the temporal difference learning rule. Hippocampus 10, 1–16 (2000)

Schmitzer-Torbert, N., Jackson, J., Henze, D., Harris, K. & Redish, A. D. Quantitative measures of cluster quality for use in extracellular recordings. Neuroscience 131, 1–11 (2005)

Csicsvari, J., O'Neill, J., Allen, K. & Senior, T. Place-selective firing contributes to the reverse-order reactivation of CA1 pyramidal cells during sharp waves in open-field exploration. Eur. J. Neurosci. 26, 704–716 (2007)

Girardeau, G., Benchenane, K., Wiener, S. I., Buzsaki, G. & Zugaro, M. B. Selective suppression of hippocampal ripples impairs spatial memory. Nature Neurosci. 12, 1222–1223 (2009)

Ego-Stengel, V. & Wilson, M. A. Disruption of ripple-associated hippocampal activity during rest impairs spatial learning in the rat. Hippocampus 20, 1–10 (2010)

Jadhav, S. P., Kemere, C., German, P. W. & Frank, L. M. Awake hippocampal sharp-wave ripples support spatial memory. Science 336, 1454–1458 (2012)

Jackson, J. & Redish, A. D. Network dynamics of hippocampal cell-assemblies resemble multiple spatial maps within single tasks. Hippocampus 17, 1209–1229 (2007)

Buzsáki, G. Two-stage model of memory trace formation: a role for "noisy" brain states. Neuroscience 31, 551–570 (1989)

Mehta, M. R., Lee, A. K. & Wilson, M. A. Role of experience and oscillations in transforming a rate code into a temporal code. Nature 417, 741–746 (2002)

Gerstner, W. & Abbott, L. F. Learning navigational maps through potentiation and modulation of hippocampal place cells. J. Comput. Neurosci. 4, 79–94 (1997)

Poucet, B., Thinusblanc, C. & Chapuis, N. Route planning in cats, in relation to the visibility of the goal. Anim. Behav. 31, 594–599 (1983)

Foster, D. & Dayan, P. Structure in the space of value functions. Mach. Learn. 49, 325–346 (2002)

Sutton, R. S. in Neural Networks for Control (eds Miller, T., Sutton, R. S. & Werbos, P.) Ch. 8 (MIT Press, 1990)

Montague, P. R., Dayan, P. & Sejnowski, T. J. A framework for mesencephalic dopamine systems based on predictive Hebbian learning. J. Neurosci. 16, 1936–1947 (1996)

Lansink, C. S., Goltstein, P. M., Lankelma, J. V., McNaughton, B. L. & Pennartz, C. M. Hippocampus leads ventral striatum in replay of place-reward information. PLoS Biol. 7, e1000173 (2009)

van der Meer, M. A., Johnson, A., Schmitzer-Torbert, N. C. & Redish, A. D. Triple dissociation of information processing in dorsal striatum, ventral striatum, and hippocampus on a learned spatial decision task. Neuron 67, 25–32 (2010)

Tulving, E. Episodic memory: from mind to brain. Annu. Rev. Psychol. 53, 1–25 (2002)

Hassabis, D., Kumaran, D., Vann, S. D. & Maguire, E. A. Patients with hippocampal amnesia cannot imagine new experiences. Proc. Natl Acad. Sci. USA 104, 1726–1731 (2007)

Buckner, R. L. The role of the hippocampus in prediction and imagination. Annu. Rev. Psychol. 61, 27–48 (2010)

Tolman, E. C. Purposive Behavior in Animals and Men (The Century Co., 1932)
Acknowledgements
This work was supported by the Alfred P. Sloan Foundation, The Brain and Behavior Research Foundation (NARSAD Young Investigator Grant) and the National Institutes of Health grant MH085823.
Ethics declarations
Competing interests
The authors declare no competing financial interests.
Supplementary information
About this article
Cite this article
Pfeiffer, B., Foster, D. Hippocampal place-cell sequences depict future paths to remembered goals. Nature 497, 74–79 (2013). https://doi.org/10.1038/nature12112
Received:

Accepted:

Published:

Issue Date:

DOI: https://doi.org/10.1038/nature12112
Comments
By submitting a comment you agree to abide by our Terms and Community Guidelines. If you find something abusive or that does not comply with our terms or guidelines please flag it as inappropriate.