Abstract
Obtaining high-resolution information from a complex system, while maintaining the global perspective needed to understand system function, represents a key challenge in biology. Here we address this challenge with a method (termed CLARITY) for the transformation of intact tissue into a nanoporous hydrogel-hybridized form (crosslinked to a three-dimensional network of hydrophilic polymers) that is fully assembled but optically transparent and macromolecule-permeable. Using mouse brains, we show intact-tissue imaging of long-range projections, local circuit wiring, cellular relationships, subcellular structures, protein complexes, nucleic acids and neurotransmitters. CLARITY also enables intact-tissue in situ hybridization, immunohistochemistry with multiple rounds of staining and de-staining in non-sectioned tissue, and antibody labelling throughout the intact adult mouse brain. Finally, we show that CLARITY enables fine structural analysis of clinical samples, including non-sectioned human tissue from a neuropsychiatric-disease setting, establishing a path for the transmutation of human tissue into a stable, intact and accessible form suitable for probing structural and molecular underpinnings of physiological function and disease.
Relevant articles
Open Access articles citing this article.
Fabian F. Voigt

,

Anna Maria Reuss

…

Fritjof Helmchen

Nature Biotechnology Open Access 30 March 2023

Kurando Utagawa

,

Takaei Shin

…

Shingo Sato

Scientific Reports Open Access 22 March 2023

Anna Schueth

,

Sven Hildebrand

…

Alard Roebroeck

Communications Biology Open Access 13 February 2023
Access options
Subscribe to this journal
Receive 51 print issues and online access
$199.00 per year
only $3.90 per issue
Rent or buy this article
Get just this article for as long as you need it
$39.95
Prices may be subject to local taxes which are calculated during checkout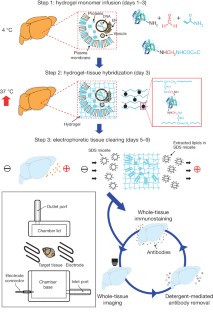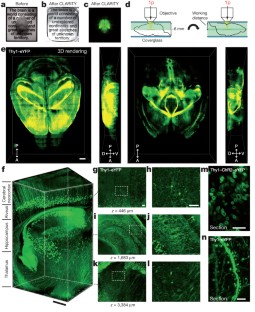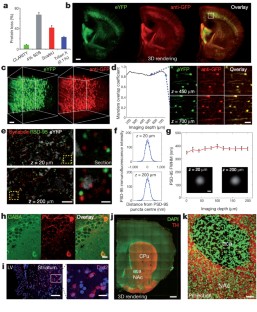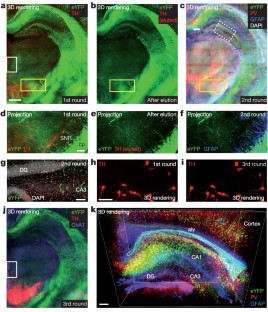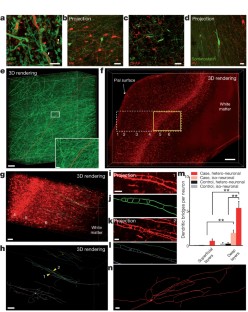 References
Denk, W., Strickler, J. H. & Webb, W. W. Two-photon laser scanning fluorescence microscopy. Science 248, 73–76 (1990)

Carmeliet, P. & Tessier-Lavigne, M. Common mechanisms of nerve and blood vessel wiring. Nature 436, 193–200 (2005)

Helmchen, F. & Denk, W. Deep tissue two-photon microscopy. Nature Methods 2, 932–940 (2005)

Denk, W. & Horstmann, H. Serial block-face scanning electron microscopy to reconstruct three-dimensional tissue nanostructure. PLoS Biol. 2, e329 (2004)

Micheva, K. D. & Smith, S. J. Array tomography: a new tool for imaging the molecular architecture and ultrastructure of neural circuits. Neuron 55, 25–36 (2007)

Livet, J. et al. Transgenic strategies for combinatorial expression of fluorescent proteins in the nervous system. Nature 450, 56–62 (2007)

Li, A. et al. Micro-optical sectioning tomography to obtain a high-resolution atlas of the mouse brain. Science 330, 1404–1408 (2010)

Botcherby, E. J. et al. Aberration-free three-dimensional multiphoton imaging of neuronal activity at kHz rates. Proc. Natl Acad. Sci. USA 109, 2919–2924 (2012)

DeFelipe, J. From the connectome to the synaptome: an epic love story. Science 330, 1198–1201 (2010)

Petersen, C. C. H. The functional organization of the barrel cortex. Neuron 56, 339–355 (2007)

Kasthuri, N. & Lichtman, J. W. The rise of the "projectome". Nature Methods 4, 307–308 (2007)

Lichtman, J. W., Livet, J. & Sanes, J. R. A technicolour approach to the connectome. Nature Rev. Neurosci. 9, 417–422 (2008)

Mombaerts, P. et al. Visualizing an olfactory sensory map. Cell 87, 675–686 (1996)

Insel, T. R. & Young, L. J. The neurobiology of attachment. Nature Rev. Neurosci. 2, 129–136 (2001)

Micheva, K. D., Busse, B., Weiler, N. C., O'Rourke, N. & Smith, S. J. Single-synapse analysis of a diverse synapse population: proteomic imaging methods and markers. Neuron 68, 639–653 (2010)

Bock, D. D. et al. Network anatomy and in vivo physiology of visual cortical neurons. Nature 471, 177–182 (2011)

Briggman, K. L., Helmstaedter, M. & Denk, W. Wiring specificity in the direction-selectivity circuit of the retina. Nature 471, 183–188 (2011)

Ragan, T. et al. Serial two-photon tomography for automated ex vivo mouse brain imaging. Nature Methods 9, 255–258 (2012)

Dodt, H. U., Leischner, U. & Schierloh, A. Ultramicroscopy: three-dimensional visualization of neuronal networks in the whole mouse brain. Nature Methods 4, 331–336 (2007)

Ertürk, A., Mauch, C., Hellal, F. & Förstner, F. Three-dimensional imaging of the unsectioned adult spinal cord to assess axon regeneration and glial responses after injury. Nature Med. 18, 166–171 (2012)

Hama, H. et al. Scale: a chemical approach for fluorescence imaging and reconstruction of transparent mouse brain. Nature Neurosci. 14, 1481–1488 (2011)

Cheong, W., Prahl, S. & Welch, A. A review of the optical properties of biological tissues. IEEE J. Quant. Electron. 26, 2166–2185 (1990)

Sykova, E. & Nicholson, C. Diffusion in brain extracellular space. Physiol Rev. 88, 1277–1340 (2008)

Becker, K., Jährling, N., Saghafi, S., Weiler, R. & Dodt, H.-U. Chemical clearing and dehydration of GFP expressing mouse brains. PLoS ONE 7, e33916 (2012)

Porrero, C., Rubio-Garrido, P., Avendaño, C. & Clascá, F. Mapping of fluorescent protein-expressing neurons and axon pathways in adult and developing Thy1-eYFP-H transgenic mice. Brain Res. 1345, 59–72 (2010)

Feng, G. et al. Imaging neuronal subsets in transgenic mice expressing multiple spectral variants of GFP. Neuron 28, 41–51 (2000)

Shaner, N. C., Steinbach, P. A. & Tsien, R. Y. A guide to choosing fluorescent proteins. Nature Methods 2, 905–909 (2005)

Drobizhev, M., Makarov, N. S., Tillo, S. E., Hughes, T. E. & Rebane, A. Two-photon absorption properties of fluorescent proteins. Nature Methods 8, 393–399 (2011)

Goldenthal, K. L., Hedman, K., Chen, J. W., August, J. T. & Willingham, M. C. Postfixation detergent treatment for immunofluorescence suppresses localization of some integral membrane proteins. J. Histochem. Cytochem. 33, 813–820 (1985)

Tramu, G. An efficient method of antibody elution for the successive or simultaneous localization of two antigens by immunocytochemistry. J. Histochem. Cytochem. 26, 322–324 (1978)

Wählby, C., Erlandsson, F., Begntsson, E. & Zetterberg, A. Sequential immunofluorescence staining and image analysis for detection of large numbers of antigens in individual cell nuclei. Cytometry 71, 32–41 (2002)

Kolodziejczyk, E. & Baertschi, A. J. Multiple immunolabeling in histology: a new method using thermo-inactivation of immunoglobulins. J. Histochem. Cytochem. 34, 1725–1729 (1986)

Zhou, Q., Homma, K. J. & Poo, M. Shrinkage of dendritic spines associated with long-term depression of hippocampal synapses. Neuron 44, 749–757 (2004)

Harlow, M. L., Ress, D., Stoschek, A., Marshall, R. M. & McMahan, U. J. The architecture of active zone material at the frog's neuromuscular junction. Nature 409, 479–484 (2001)

Chen, X. et al. Organization of the core structure of the postsynaptic density. Proc. Natl Acad. Sci. USA 105, 4453–4458 (2008)

Macdonald, R. Zebrafish immunohistochemistry. Methods Mol. Biol. 127, 77–88 (1999)

Sporns, O., Tononi, G. & Kötter, R. The human connectome: a structural description of the human brain. PLOS Comput. Biol. 1, e42 (2005)

Wickersham, I. R., Finke, S., Conzelmann, K.-K. & Callaway, E. M. Retrograde neuronal tracing with a deletion-mutant rabies virus. Nature Methods 4, 47–49 (2007)

Miyamichi, K. et al. Cortical representations of olfactory input by trans-synaptic tracing. Nature 472, 191–196 (2011)

Matthews, B. J. et al. Dendrite self-avoidance is controlled by Dscam. Cell 129, 593–604 (2007)

Lefebvre, J. L., Kostadinov, D., Chen, W. V., Maniatis, T. & Sanes, J. R. Protocadherins mediate dendritic self-avoidance in the mammalian nervous system. Nature 488, 517–521 (2012)

Morrow, E. M. et al. Identifying autism loci and genes by tracing recent shared ancestry. Science 321, 218–223 (2008)

Dunn, K. W., Kamocka, M. M. & McDonald, J. H. A practical guide to evaluating colocalization in biological microscopy. Am. J. Physiol. Cell Physiol. 300, C723–C742 (2011)

Condé, F., Lund, J. S., Jacobowitz, D. M., Baimbridge, K. G. & Lewis, D. A. Local circuit neurons immunoreactive for calretinin, calbindin D-28k or parvalbumin in monkey prefrontal cortex: distribution and morphology. J. Comp. Neurol. 341, 95–116 (1994)

Cheng, C. M. et al. Biochemical and morphometric analyses show that myelination in the insulin-like growth factor 1 null brain is proportionate to its neuronal composition. J. Neurosci. 18, 5673–5681 (1998)

Grossfeld, R. M. & Shooter, E. M. A study of the changes in protein composition of mouse brain during ontogenetic development. J. Neurochem. 18, 2265–2277 (1971)
Acknowledgements
This work was funded by a National Institutes of Health (NIH) Director's Transformative Research Award (TR01) to K.D. from NIMH, as well as by NSF, the Simons Foundation, and the President and Provost of Stanford University. K.D. is also funded by NIDA, the DARPA REPAIR program, and the Wiegers, Snyder, Reeves, Gatsby, and Yu Foundations. K.C. is supported by the Burroughs Wellcome Fund Career Award at the Scientific Interface. S.-Y.K. is supported by a Samsung Scholarship, A.S.A. by the Helen Hay Whitney Foundation, K.A.Z. and A.K.D. by an NSF Graduate Research Fellowship and J.M. by the NIH MSTP. We acknowledge H. Vogel, L. Luo, L. Schwarz, M. Monje, S. Hestrin and D. Castaneda for advice, and the Autism Tissue Program for providing human brain tissue, as well as J. J. Perrino, J. Mulholland and the Cell Sciences Imaging Facility at Stanford for electron microscopy imaging and advice. We would also like to thank the entire Deisseroth laboratory for discussions and support. CLARITY resources and protocols are freely supported online (http://CLARITYresourcecenter.org).
Ethics declarations
Competing interests
K.C. and K.D. have disclosed these findings to the Stanford Office of Technology Licensing, which has filed a patent to ensure broad use of the methods in microscopy systems and for studying disease mechanisms and treatments. All protocols and methods remain freely available for academic and non-profit research in perpetuity, and supported by the authors, through the CLARITY website (http://CLARITYresourcecenter.org)
Supplementary information
About this article
Cite this article
Chung, K., Wallace, J., Kim, SY. et al. Structural and molecular interrogation of intact biological systems. Nature 497, 332–337 (2013). https://doi.org/10.1038/nature12107
Received:

Accepted:

Published:

Issue Date:

DOI: https://doi.org/10.1038/nature12107
Comments
By submitting a comment you agree to abide by our Terms and Community Guidelines. If you find something abusive or that does not comply with our terms or guidelines please flag it as inappropriate.