Abstract
Germinal centres support antibody affinity maturation and memory formation1. Follicular T-helper cells promote proliferation and differentiation of antigen-specific B cells inside the follicle2,3. A genetic deficiency in the inducible co-stimulator (ICOS), a classic CD28 family co-stimulatory molecule highly expressed by follicular T-helper cells, causes profound germinal centre defects4,5, leading to the view that ICOS specifically co-stimulates the follicular T-helper cell differentiation program2,6,7. Here we show that ICOS directly controls follicular recruitment of activated T-helper cells in mice. This effect is independent from ICOS ligand (ICOSL)-mediated co-stimulation provided by antigen-presenting dendritic cells or cognate B cells, and does not rely on Bcl6-mediated programming as an intermediate step. Instead, it requires ICOSL expression by follicular bystander B cells, which do not present cognate antigen to T-helper cells but collectively form an ICOS-engaging field. Dynamic imaging reveals ICOS engagement drives coordinated pseudopod formation and promotes persistent T-cell migration at the border between the T-cell zone and the B-cell follicle in vivo. When follicular bystander B cells cannot express ICOSL, otherwise competent T-helper cells fail to develop into follicular T-helper cells normally, and fail to promote optimal germinal centre responses. These results demonstrate a co-stimulation-independent function of ICOS, uncover a key role for bystander B cells in promoting the development of follicular T-helper cells, and reveal unsuspected sophistication in dynamic T-cell positioning in vivo.
Relevant articles
Open Access articles citing this article.
Fangming Zhu

,

Ryan J. McMonigle

…

Hui Hu

Nature Communications Open Access 17 June 2023

Liat Stoler-Barak

,

Ethan Harris

…

Ziv Shulman

Nature Communications Open Access 16 March 2023

Xinfang Huang

,

Shumeng Hao

…

Yichuan Xiao

Cellular & Molecular Immunology Open Access 11 March 2021
Access options
Subscribe to this journal
Receive 51 print issues and online access
$199.00 per year
only $3.90 per issue
Rent or buy this article
Prices vary by article type
from$1.95
to$39.95
Prices may be subject to local taxes which are calculated during checkout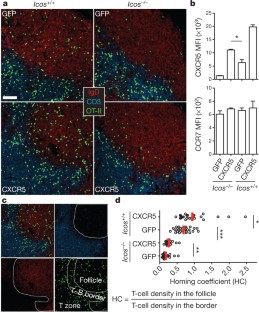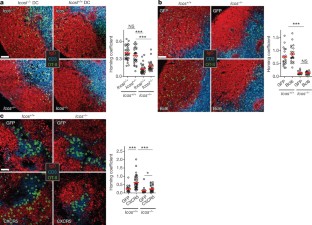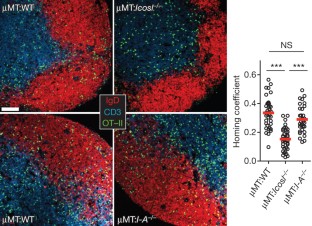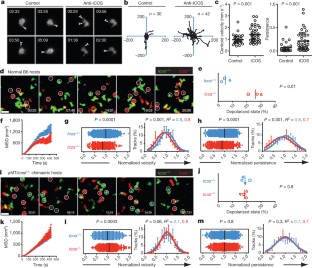 References
Victora, G. D. & Nussenzweig, M. C. Germinal centers. Annu. Rev. Immunol. 30, 429–457 (2012)

Crotty, S. Follicular helper CD4 T cells (TFH). Annu. Rev. Immunol. 29, 621–663 (2011)

Vinuesa, C. G. & Cyster, J. G. How T cells earn the follicular rite of passage. Immunity 35, 671–680 (2011)

Dong, C., Temann, U. A. & Flavell, R. A. Cutting edge: critical role of inducible costimulator in germinal center reactions. J. Immunol. 166, 3659–3662 (2001)

McAdam, A. J. et al. ICOS is critical for CD40-mediated antibody class switching. Nature 409, 102–105 (2001)

Gigoux, M. et al. Inducible costimulator promotes helper T-cell differentiation through phosphoinositide 3-kinase. Proc. Natl Acad. Sci. USA 106, 20371–20376 (2009)

Choi, Y. S. et al. ICOS receptor instructs T follicular helper cell versus effector cell differentiation via induction of the transcriptional repressor Bcl6. Immunity 34, 932–946 (2011)

Johnston, R. J. et al. Bcl6 and Blimp-1 are reciprocal and antagonistic regulators of T follicular helper cell differentiation. Science 325, 1006–1010 (2009)

Nurieva, R. I. et al. Bcl6 mediates the development of T follicular helper cells. Science 325, 1001–1005 (2009)

Yu, D. et al. The transcriptional repressor Bcl-6 directs T follicular helper cell lineage commitment. Immunity 31, 457–468 (2009)

Yoshinaga, S. K. et al. T-cell co-stimulation through B7RP-1 and ICOS. Nature 402, 827–832 (1999)

Haynes, N. M. et al. Role of CXCR5 and CCR7 in follicular Th cell positioning and appearance of a programmed cell death gene-1high germinal center-associated subpopulation. J. Immunol. 179, 5099–5108 (2007)

Van Haastert, P. J. & Devreotes, P. N. Chemotaxis: signalling the way forward. Nature Rev. Mol. Cell Biol. 5, 626–634 (2004)

Iglesias, P. A. & Devreotes, P. N. Biased excitable networks: how cells direct motion in response to gradients. Curr. Opin. Cell Biol. 24, 245–253 (2012)

Kay, R. R., Langridge, P., Traynor, D. & Hoeller, O. Changing directions in the study of chemotaxis. Nature Rev. Mol. Cell Biol. 9, 455–463 (2008)

Insall, R. H. Understanding eukaryotic chemotaxis: a pseudopod-centred view. Nature Rev. Mol. Cell Biol. 11, 453–458 (2010)

Okamoto, N. et al. AILIM/ICOS signaling induces T-cell migration/polarization of memory/effector T-cells. Int. Immunol. 16, 1515–1522 (2004)

Nukada, Y. et al. AILIM/ICOS-mediated elongation of activated T cells is regulated by both the PI3-kinase/Akt and Rho family cascade. Int. Immunol. 18, 1815–1824 (2006)

Riedl, J. et al. Lifeact: a versatile marker to visualize F-actin. Nature Methods 5, 605–607 (2008)

Parry, R. V., Rumbley, C. A., Vandenberghe, L. H., June, C. H. & Riley, J. L. CD28 and inducible costimulatory protein Src homology 2 binding domains show distinct regulation of phosphatidylinositol 3-kinase, Bcl-xL, and IL-2 expression in primary human CD4 T lymphocytes. J. Immunol. 171, 166–174 (2003)

Arai, Y. et al. Self-organization of the phosphatidylinositol lipids signaling system for random cell migration. Proc. Natl Acad. Sci. USA 107, 12399–12404 (2010)

Yoshinaga, S. K. et al. Characterization of a new human B7-related protein: B7RP-1 is the ligand to the co-stimulatory protein ICOS. Int. Immunol. 12, 1439–1447 (2000)

Swallow, M. M., Wallin, J. J. & Sha, W. C. B7h, a novel costimulatory homolog of B7.1 and B7.2, is induced by TNFα. Immunity 11, 423–432 (1999)

Simpson, T. R., Quezada, S. A. & Allison, J. P. Regulation of CD4 T cell activation and effector function by inducible costimulator (ICOS). Curr. Opin. Immunol. 22, 326–332 (2010)

Qi, H., Cannons, J. L., Klauschen, F., Schwartzberg, P. L. & Germain, R. N. SAP-controlled T–B cell interactions underlie germinal centre formation. Nature 455, 764–769 (2008)

Liu, W., Won Sohn, H., Tolar, P., Meckel, T. & Pierce, S. K. Antigen-induced oligomerization of the B cell receptor is an early target of FcγRIIB inhibition. J. Immunol. 184, 1977–1989 (2010)

Miller, M. J., Wei, S. H., Parker, I. & Cahalan, M. D. Two-photon imaging of lymphocyte motility and antigen response in intact lymph node. Science 296, 1869–1873 (2002)

Qi, H., Egen, J. G., Huang, A. Y. & Germain, R. N. Extrafollicular activation of lymph node B cells by antigen-bearing dendritic cells. Science 312, 1672–1676 (2006)

Norman, P. Selective PI3Kδ inhibitors, a review of the patent literature. Expert Opin. Ther. Pat. 21, 1773–1790 (2011)
Acknowledgements
H.Q. is indebted to his late mother J. Wang for inspiration, and thanks Y. Hong for support. H.Q. was a Tsinghua-Bayer Investigator and a Tsinghua-Janssen Investigator. This work was funded in part by the National Natural Science Foundation of China (grant no. 81072464 and 81161120405), the Program for New Century Excellent Talents in University (no. 20091042000), Tsinghua-Yu-Yuan Medical Sciences Fund (no. 20240000585), Tsinghua University Initiative Scientific Research Program (no. 2010Z02150), Institut Mérieux, and the Tsinghua-Peking Center for Life Sciences.
Ethics declarations
Competing interests
The authors declare no competing financial interests.
Supplementary information
About this article
Cite this article
Xu, H., Li, X., Liu, D. et al. Follicular T-helper cell recruitment governed by bystander B cells and ICOS-driven motility. Nature 496, 523–527 (2013). https://doi.org/10.1038/nature12058
Received:

Accepted:

Published:

Issue Date:

DOI: https://doi.org/10.1038/nature12058
Comments
By submitting a comment you agree to abide by our Terms and Community Guidelines. If you find something abusive or that does not comply with our terms or guidelines please flag it as inappropriate.