Abstract
In the deep, chemically reducing parts of Earth's mantle1, hydrous fluids contain significant amounts of molecular hydrogen (H2). Thermodynamic models of fluids in Earth's mantle so far have always assumed that molecular hydrogen and water are completely miscible. Here we show experimental evidence that water and hydrogen can coexist as two separate, immiscible phases. Immiscibility between water and hydrogen may be the cause of the formation of enigmatic, ultra-reducing domains in the mantle that contain moissanite (SiC) and other phases indicative of extremely reducing conditions2,3. Moreover, the immiscibility between water and hydrogen may provide a mechanism for the rapid oxidation of Earth's upper mantle immediately following core formation4.
Relevant articles
Open Access articles citing this article.
Miriam Peña-Alvarez

,

Alberto Vitale Brovarone

…

Eugene Gregoryanz

Nature Communications Open Access 04 November 2021

B. N. Moine

,

N. Bolfan-Casanova

…

J. Y. Cottin

Nature Communications Open Access 17 July 2020

Ravit Helled

,

Nadine Nettelmann

&

Tristan Guillot

Space Science Reviews Open Access 25 March 2020
Access options
Subscribe to Journal
Get full journal access for 1 year
$199.00
only $3.90 per issue
All prices are NET prices.
VAT will be added later in the checkout.
Tax calculation will be finalised during checkout.
Buy article
Get time limited or full article access on ReadCube.
$32.00
All prices are NET prices.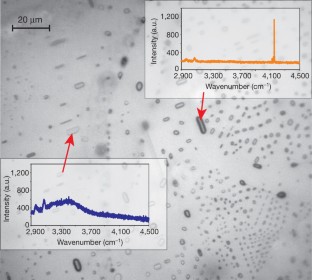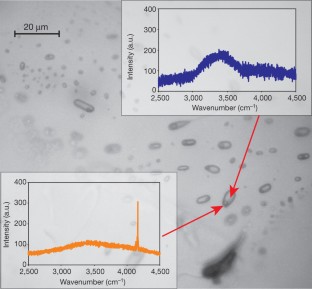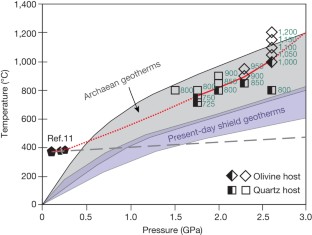 References
Frost, D. J. & McCammon, C. A. The redox state of Earth's mantle. Annu. Rev. Earth Planet. Sci. 36, 389–420 (2008)

Shiryaev, A. A., Griffin, W. L. & Stoyanov, E. Moissanite (SiC) from kimberlites: polytypes, trace elements, inclusions and speculations on origin. Lithos 122, 152–164 (2011)

Trumbull, R. B. et al. The carbon isotope composition of natural SiC (moissanite) from the Earth's mantle: new discoveries from ophiolites. Lithos 113, 612–620 (2009)

Trail, D., Watson, E. B. & Tailby, N. D. The oxidation state of Hadean magmas and implications for early Earth's atmosphere. Nature 480, 79–82 (2011)

Holland, H. D. Volcanic gases, black smokers, and the Great Oxidation Event. Geochim. Cosmochim. Acta 66, 3811–3826 (2002)

Gaillard, F., Scaillet, B. & Arndt, N. T. Atmospheric oxygenation caused by a change in volcanic degassing pressure. Nature 478, 229–232 (2011)

Wood, B. J., Bryndzia, L. T. & Johnson, K. E. Mantle oxidation-state and its relationship to tectonic environment and fluid speciation. Science 248, 337–345 (1990)

Kelley, K. A. & Cottrell, E. Water and the oxidation state of subduction zone magmas. Science 325, 605–607 (2009)

Ulmer, G. C. et al. The redox stability of moissanite (SiC) compared with metal – metal oxide buffers at 1773 K and at pressures up to 90 kbar. Neues Jb. Mineral. Abh. 172, 297–307 (1998)

Mathez, E. A., Fogel, R. A., Hutcheon, I. D. & Marshintsev, V. K. Carbon isotopic composition and origin of SiC from kimberlites of Yakutia, Russia. Geochim. Cosmochim. Acta 59, 781–791 (1995)

Seward, T. M. & Franck, E. U. The system hydrogen-water up to 440 °C and 2500 bar pressure. Ber. Bunsenges. Phys. Chem 85, 2–7 (1981)

Sterner, S. M. & Bodnar, R. J. Synthetic fluid inclusions in natural quartz. 1. Compositional types synthesized and applications to experimental geochemistry. Geochim. Cosmochim. Acta 48, 2659–2668 (1984)

Walther, J. V. & Orville, P. M. The extraction-quench technique for determination of the thermodynamic properties of solute complexes: application to quartz solubility in fluid mixtures. Am. Mineral. 68, 731–741 (1983)

Jaupart, C. & Mareschal, J. C. The thermal structure and thickness of continental roots. Lithos 48, 93–114 (1999)

Rudnick, R. L. & Nyblade, A. A. in Mantle Petrology: Field Observations and High-Pressure Experimentation: A Tribute to Francis R. (Joe) Boyd (eds Fei, Y.-W., Bertka, C. M. & Mysen, B. O. ) 3–12 (Spec. Publ. 6, Geochemical Soc., 1999)

Kawamoto, T. Hydrous phases and water transport in the subducting slab. Rev. Mineral. Geochem. 62, 273–289 (2006)

Rupke, L. H., Morgan, J. P., Hort, M. & Connolly, J. A. D. Serpentine and the subduction zone water cycle. Earth Planet. Sci. Lett. 223, 17–34 (2004)

Sillitoe, R. H. Characteristics and controls of the largest porphyry copper-gold and epithermal gold deposits in the circum-Pacific region. Aust. J. Earth Sci. 44, 373–388 (1997)

Dasgupta, R. & Hirschmann, M. M. The deep carbon cycle and melting in Earth's interior. Earth Planet. Sci. Lett. 298, 1–13 (2010)

Morizet, Y., Paris, M., Gaillard, F. & Scaillet, B. C-O-H fluid solubility in haplobasalt under reducing conditions: an experimental study. Chem. Geol. 279, 1–16 (2010)

Andersen, T. & Neumann, E. R. Fluid inclusions in mantle xenoliths. Lithos 55, 301–320 (2001)

Canil, D. Vanadium partitioning and the oxidation state of Archaean komatiite magmas. Nature 389, 842–845 (1997)

Berry, A. J., Danyushevsky, L. V., O'Neill, H. S. C., Newville, M. & Sutton, S. R. Oxidation state of iron in komatiitic melt inclusions indicates hot Archaean mantle. Nature 455, 960–963 (2008)

Li, Z. X. A. & Lee, C. T. A. The constancy of upper mantle fO2 through time inferred from V/Sc ratios in basalts. Earth Planet. Sci. Lett. 228, 483–493 (2004)

Williams, H. M., Wood, B. J., Wade, J., Frost, D. J. & Tuff, J. Isotopic evidence for internal oxidation of the Earth's mantle during accretion. Earth Planet. Sci. Lett. 321, 54–63 (2012)

Marty, B. The origins and concentrations of water, carbon, nitrogen and noble gases on Earth. Earth Planet. Sci. Lett. 313, 56–66 (2012)

Morbidelli, A. et al. Source regions and timescales for the delivery of water to the Earth. Meteorit. Planet. Sci. 35, 1309–1320 (2002)

Tian, F., Toon, O. B., Pavlov, A. A. & De Sterck, H. A hydrogen-rich early Earth atmosphere. Science 308, 1014–1017 (2005)

Audetat, A. & Bali, E. A new technique to seal volatile-rich samples into platinum capsules. Eur. J. Mineral. 22, 23–27 (2010)

Mareschal, J. C. & Jaupart, C. in Archean Geodynamics and Environments (eds Benn, K., Mareschal, J. & Condie, K. C. ) 61–73 (Geophys. Monograph Ser. 164, Am. Geophys. Union, 2006)
Acknowledgements
We thank H. Schulze for help in sample preparation. This Letter has been improved by comments from D. Walker.
Ethics declarations
Competing interests
The authors declare no competing financial interests.
Supplementary information
This file contains Supplementary Text and Data showing the model calculation on percolation of hydrogen-rich fluids through the mantle; Supplementary Figures 1-4, which are photographs of run products for the demonstration of immiscibility and complete miscibility between H2 and H2O as observed in our experimental run products and additional references. (PDF 4830 kb)
About this article
Cite this article
Bali, E., Audétat, A. & Keppler, H. Water and hydrogen are immiscible in Earth's mantle. Nature 495, 220–222 (2013). https://doi.org/10.1038/nature11908
Received:

Accepted:

Published:

Issue Date:

DOI: https://doi.org/10.1038/nature11908
Comments
By submitting a comment you agree to abide by our Terms and Community Guidelines. If you find something abusive or that does not comply with our terms or guidelines please flag it as inappropriate.