Abstract
Arising from R. Garrouste et al. Nature 488, 82–85 (2012)10.1038/nature11281
The origin of winged insects (Pterygota), one of the planet's most diverse lineages of organisms, is assumed to lie in the Devonian, but as an extremely sparse fossil record impedes our understanding of their early diversification, any well-preserved insect fossil from this time would be particularly valuable1. Garrouste et al.2 described an arthropod from Upper Devonian freshwater sediments from the Strud locality in Belgium (∼360 million years ago) as an insect, Strudiella devonica. However, based on a thorough re-investigation of the specimen, we conclude that this interpretation is untenable. Hence we believe that, like several other Devonian arthropod remains3,4,5,6,7, Strudiella is not an insect, and utmost diligence should be taken in interpreting poorly preserved Devonian arthropods.
This is a preview of subscription content
Access options
Subscribe to Journal
Get full journal access for 1 year
$199.00
only $3.90 per issue
All prices are NET prices.
VAT will be added later in the checkout.
Tax calculation will be finalised during checkout.
Buy article
Get time limited or full article access on ReadCube.
$32.00
All prices are NET prices.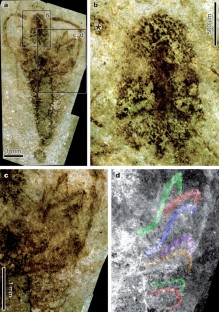 References
Shear, W. A. An insect to fill the gap. Nature 488, 34–35 (2012)

Garrouste, R. et al. A complete insect from the Late Devonian period. Nature 488, 82–85 (2012)

Willmann, R. Reinterpretation of an alleged marine hexapod stem-group representative. Org. Divers. Evol. 5, 199–202 (2005)

Kühl, G. & Rust, J. Devonohexapodus bocksbergensis is a synonym of Wingertshellicus backesi (Euarthropoda) – no evidence for marine hexapods living in the Devonian Hunsrück Sea. Org. Divers. Evol. 9, 215–231 (2009)

Hennig, W. Insect Phylogeny (Wiley, 1981)

Labandeira, C. C., Beall, B. S. & Hueber, F. M. Early insect diversification: Evidence from a Lower Devonian bristletail from Québec. Science 242, 913–916 (1988)

Jeram, A. J., Selden, P. A. & Edwards, D. Land animals in the Silurian: arachnids and myriapods from Shropshire, England. Science 250, 658–661 (1990)
Ethics declarations
Competing interests
Declared none.
About this article
Cite this article
Hörnschemeyer, T., Haug, J., Bethoux, O. et al. Is Strudiella a Devonian insect?. Nature 494, E3–E4 (2013). https://doi.org/10.1038/nature11887
Received:

Accepted:

Published:

Issue Date:

DOI: https://doi.org/10.1038/nature11887
Comments
By submitting a comment you agree to abide by our Terms and Community Guidelines. If you find something abusive or that does not comply with our terms or guidelines please flag it as inappropriate.