Abstract
The Wnt target gene Lgr5 (leucine-rich-repeat-containing G-protein-coupled receptor 5) marks actively dividing stem cells in Wnt-driven, self-renewing tissues such as small intestine and colon1, stomach2 and hair follicles3. A three-dimensional culture system allows long-term clonal expansion of single Lgr5+ stem cells into transplantable organoids (budding cysts) that retain many characteristics of the original epithelial architecture2,4,5. A crucial component of the culture medium is the Wnt agonist RSPO16, the recently discovered ligand of LGR57,8. Here we show that Lgr5-lacZ is not expressed in healthy adult liver, however, small Lgr5-LacZ+ cells appear near bile ducts upon damage, coinciding with robust activation of Wnt signalling. As shown by mouse lineage tracing using a new Lgr5-IRES-creERT2 knock-in allele, damage-induced Lgr5+ cells generate hepatocytes and bile ducts in vivo. Single Lgr5+ cells from damaged mouse liver can be clonally expanded as organoids in Rspo1-based culture medium over several months. Such clonal organoids can be induced to differentiate in vitro and to generate functional hepatocytes upon transplantation into Fah−/− mice. These findings indicate that previous observations concerning Lgr5+ stem cells in actively self-renewing tissues can also be extended to damage-induced stem cells in a tissue with a low rate of spontaneous proliferation.
Relevant articles
Open Access articles citing this article.
Jiayin Peng

,

Fei Li

…

Yun Zhao

Cell Discovery Open Access 01 November 2022

Ya-ya Yu

,

Yan-juan Zhu

…

Hai-bo Zhang

Biomarker Research Open Access 08 October 2022

Renshun Dong

,

Bixiang Zhang

&

Xuewu Zhang

Cell & Bioscience Open Access 09 September 2022
Access options
Subscribe to this journal
Receive 51 print issues and online access
$199.00 per year
only $3.90 per issue
Rent or buy this article
Get just this article for as long as you need it
$39.95
Prices may be subject to local taxes which are calculated during checkout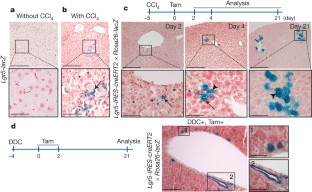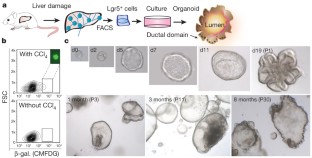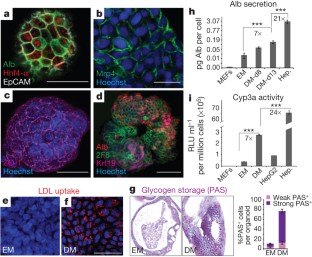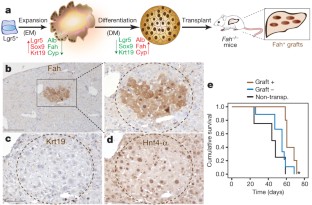 References
Barker, N. et al. Identification of stem cells in small intestine and colon by marker gene Lgr5. Nature 449, 1003–1007 (2007)

Barker, N. et al. Lgr5+ve stem cells drive self-renewal in the stomach and build long-lived gastric units in vitro. Cell Stem Cell 6, 25–36 (2010)

Jaks, V. et al. Lgr5 marks cycling, yet long-lived, hair follicle stem cells. Nature Genet. 40, 1291–1299 (2008)

Sato, T. et al. Single Lgr5 stem cells build crypt-villus structures in vitro without a mesenchymal niche. Nature 459, 262–265 (2009)

Yui, S. et al. Functional engraftment of colon epithelium expanded in vitro from a single adult Lgr5+ stem cell. Nature Med. 18, 618–623 (2012)

Kim, K. A. et al. Mitogenic influence of human R-spondin1 on the intestinal epithelium. Science 309, 1256–1259 (2005)

Carmon, K. S., Gong, X., Lin, Q., Thomas, A. & Liu, Q. R-spondins function as ligands of the orphan receptors LGR4 and LGR5 to regulate Wnt/β-catenin signaling. Proc. Natl Acad. Sci. USA 108, 11452–11457 (2011)

de Lau, W. et al. Lgr5 homologues associate with Wnt receptors and mediate R-spondin signalling. Nature 476, 293–297 (2011)

Duncan, A. W., Dorrell, C. & Grompe, M. Stem cells and liver regeneration. Gastroenterology 137, 466–481 (2009)

Dorrell, C. et al. Prospective isolation of a bipotential clonogenic liver progenitor cell in adult mice. Genes Dev. 25, 1193–1203 (2011)

Sackett, S. D. et al. Foxl1 is a marker of bipotential hepatic progenitor cells in mice. Hepatology 49, 920–929 (2009)

Furuyama, K. et al. Continuous cell supply from a Sox9-expressing progenitor zone in adult liver, exocrine pancreas and intestine. Nature Genet. 43, 34–41 (2011)

Shin, S. et al. Foxl1-Cre-marked adult hepatic progenitors have clonogenic and bilineage differentiation potential. Genes Dev. 25, 1185–1192 (2011)

Benhamouche, S. et al. Apc tumor suppressor gene is the 'zonation-keeper' of mouse liver. Dev. Cell 10, 759–770 (2006)

Hu, M. et al. Wnt/β-catenin signaling in murine hepatic transit amplifying progenitor cells. Gastroenterology 133, 1579–1591 (2007)

Lustig, B. et al. Negative feedback loop of Wnt signaling through upregulation of conductin/axin2 in colorectal and liver tumors. Mol. Cell. Biol. 22, 1184–1193 (2002)

Stowell, R. E. & Lee, C. S. Histochemical studies of mouse liver after single feeding of carbon tetrachloride. AMA Arch. Pathol. 50, 519–537 (1950)

Muñoz, J. et al. The Lgr5 intestinal stem cell signature: robust expression of proposed quiescent '+4' cell markers. EMBO J. 31, 3079–3091 (2012)

Soriano, P. Generalized lacZ expression with the ROSA26 Cre reporter strain. Nature Genet. 21, 70–71 (1999)

Akhurst, B. et al. A modified choline-deficient, ethionine-supplemented diet protocol effectively induces oval cells in mouse liver. Hepatology 34, 519–522 (2001)

Preisegger, K. H. et al. Atypical ductular proliferation and its inhibition by transforming growth factor beta1 in the 3,5-diethoxycarbonyl-1,4-dihydrocollidine mouse model for chronic alcoholic liver disease. Lab. Invest. 79, 103–109 (1999)

Michalopoulos, G. K., Bowen, W. C., Mulè, K. & Stolz, D. B. Histological organization in hepatocyte organoid cultures. Am. J. Pathol. 159, 1877–1887 (2001)

Schmelzer, E. et al. Human hepatic stem cells from fetal and postnatal donors. J. Exp. Med. 204, 1973–1987 (2007)

Kamiya, A., Kakinuma, S., Yamazaki, Y. & Nakauchi, H. Enrichment and clonal culture of progenitor cells during mouse postnatal liver development in mice. Gastroenterology 137, 1114–1126 (2009)

Duncan, A. W. et al. The ploidy conveyor of mature hepatocytes as a source of genetic variation. Nature 467, 707–710 (2010)

Tanimizu, N. & Miyajima, A. Notch signaling controls hepatoblast differentiation by altering the expression of liver-enriched transcription factors. J. Cell Sci. 117, 3165–3174 (2004)

Lemaigre, F. P. Mechanisms of liver development: concepts for understanding liver disorders and design of novel therapies. Gastroenterology 137, 62–79 (2009)

Zaret, K. S. Genetic programming of liver and pancreas progenitors: lessons for stem-cell differentiation. Nature Rev. Genet. 9, 329–340 (2008)

Si-Tayeb, K., Lemaigre, F. P. & Duncan, S. A. Organogenesis and development of the liver. Dev. Cell 18, 175–189 (2010)

Azuma, H. et al. Robust expansion of human hepatocytes in Fah−/−/Rag2−/−/Il2rg−/− mice. Nature Biotechnol. 25, 903–910 (2007)

Farin, H. F., Van Es, J. H. & Clevers, H. Redundant sources of Wnt regulate intestinal stem cells and promote formation of paneth cells. Gastroenterology 143, 1518–1529 (2012)

Huch, M., Gros A, José A, González J. R, Alemnay R & Fillat C Urokinase-type plasminogen activator receptor transcriptionally controlled adenoviruses eradicate pancreatic tumors and liver metastasis in mouse models. Neoplasia 11, 518–528 (2009)

Wang, X. et al. Cell fusion is the principal source of bone-marrow-derived hepatocytes. Nature 422, 897–901 (2003)
Acknowledgements
We thank H. Begthel, A. Buijs, W. Karthaus, C. Kroon-Veenboer, M. van den Born, S. van der Brink, and L. Zeinstra for technical assistance. This work was supported by grants to M.H. (EU/236954), S.F.B. (EU/232814), and V.S.W.L. and J.H.v.E. (Ti Pharma/T3-106).
Ethics declarations
Competing interests
M.H. and H.C. are inventors on a patent application related to this work.
Supplementary information
About this article
Cite this article
Huch, M., Dorrell, C., Boj, S. et al. In vitro expansion of single Lgr5+ liver stem cells induced by Wnt-driven regeneration. Nature 494, 247–250 (2013). https://doi.org/10.1038/nature11826
Received:

Accepted:

Published:

Issue Date:

DOI: https://doi.org/10.1038/nature11826
Comments
By submitting a comment you agree to abide by our Terms and Community Guidelines. If you find something abusive or that does not comply with our terms or guidelines please flag it as inappropriate.