Abstract
The formation of all-carbon quaternary stereocentres in acyclic systems is one of the most difficult contemporary challenges in modern synthetic organic chemistry1,2. Particularly challenging is the preparation of all-carbon quaternary stereocentres in aldol adducts3; this difficulty is problematic because the aldol reaction represents one of the most valuable chemical transformations in organic synthesis4. The main problem that limits the formation of these stereocentres is the absence of an efficient method of preparing stereodefined trisubstituted enolates in acyclic systems5,6,7,8. Here we describe a different approach that involves the formation of two new stereogenic centres—including the all-carbon quaternary one—via a combined carbometalation–oxidation reaction of an organocuprate to give a stereodefined trisubstituted enolate. We use this method to generate a series of aldol and Mannich products from ynamides with excellent diastereomeric and enantiomeric ratios and moderate yields.
Relevant articles
Open Access articles citing this article.
Lan-Gui Xie

,

Supaporn Niyomchon

…

Nuno Maulide

Nature Communications Open Access 15 March 2016
Access options
Subscribe to this journal
Receive 51 print issues and online access
$199.00 per year
only $3.90 per issue
Rent or buy this article
Prices vary by article type
from$1.95
to$39.95
Prices may be subject to local taxes which are calculated during checkout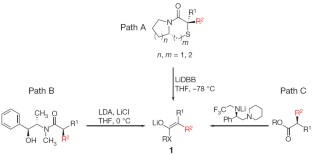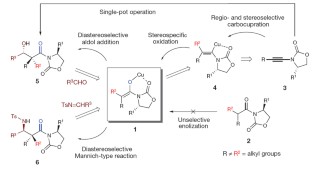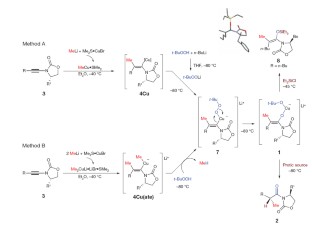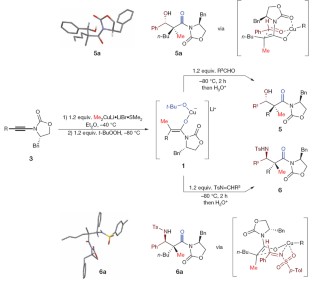 Accession codes
Data deposits
Crystallographic data have been deposited with the Cambridge Crystallographic Data Centre, accession numbers CCDC 881250 (8), CCDC 881248 (5a) and CCDC 881249 (6a).
References
Hawner, C. & Alexakis, A. Metal-catalyzed asymmetric conjugate addition reaction: formation of quaternary stereocenters. Chem. Commun. 46, 7295–7306 (2010)

Das, J. P. & Marek, I. Enantioselective synthesis of all-carbon quaternary stereogenic centers in acyclic systems. Chem. Commun. 47, 4593–4623 (2011)

Das, J. P., Chechik, H. & Marek, I. A unique approach to aldol products for the creation of all-carbon quaternary stereocentres. Nature Chem. 1, 128–132 (2009)

Carreira, E. M. in Modern Carbonyl Chemistry (ed. Otera, J. ) Ch. 8 227–248 (Wiley-VCH, 2001)

Manthorpe, J. M. & Gleason, J. L. Stereoselective generation of E- and Z-disubstituted amide enolates. Reductive enolate formation from bicyclic thioglycolate lactams. J. Am. Chem. Soc. 123, 2091–2092 (2001)

Kummer, D. A., Chain, W. J., Morales, M. R., Quiroga, O. & Myers, A. G. Stereocontrolled alkylative construction of quaternary carbon centers. J. Am. Chem. Soc. 130, 13231–13233 (2008)

Qin, Y.-C., Stivala, C. E. & Zakarian, A. Acyclic stereocontrol in the Ireland-Claisen rearrangement of α-branched esters. Angew. Chem. Int. Edn 46, 7466–7469 (2007)

Gu, Z., Herrmann, A. T., Stivala, C. E. & Zakarian, A. Stereoselective construction of adjacent quaternary chiral centers by the Ireland-Claisen rearrangement: stereoselection with esters of cyclic alcohols. Synlett 1717–1722 (2010)

Newhouse, T., Baran, P. S. & Hoffmann, R. W. The economies of synthesis. Chem. Soc. Rev. 38, 3010–3021 (2009)

Baran, P. S., Maimone, T. J. & Richter, J. M. Total synthesis of marine natural products without using protecting groups. Nature 446, 404–408 (2007)

Seebach, D. Organic synthesis — where now? Angew. Chem. Int. Edn Engl. 29, 1320–1367 (1990)

Wender, P. A. & Miller, B. L. Synthesis at the molecular frontier. Nature 460, 197–201 (2009)

Scott, H. K. &. Aggarwal, V. K. Highly enantioselective synthesis of tertiary boronic esters and their stereospecific conversion to other functional groups and quaternary stereocentres. Chem. Eur. J. 17, 13124–13132 (2011)

Marek, I. A shift in retrosynthetic paradigm. Chem. Eur. J. 14, 7460–7468 (2008)

Sklute, G. & Marek, I. Multicomponent approach for the creation of chiral quaternary centers in the carbonyl allylation reactions. J. Am. Chem. Soc. 128, 4642–4649 (2006)

Dutta, B., Gilboa, N. & Marek, I. Highly diastereoselective preparation of homoallylic alcohols containing two contiguous quaternary stereocenters in acyclic systems from simple terminal alkynes. J. Am. Chem. Soc. 132, 5588–5589 (2010)

Gilboa, N., Wang, H., Houk, K. N. & Marek, I. Axial preferences in allylation via the Zimmerman-Traxler transition state. Chem. Eur. J. 17, 8000–8004 (2011)

Yamago, S., Machii, D. & Nakamura, E. Simple diastereoselectivity of the aldol reaction of persubstituted enolates. Stereoselective construction of quaternary centers. J. Org. Chem. 56, 2098–2106 (1991)

Häner, R., Laube, T. & Seebach, D. Regio- and diastereoselective preparation of aldols from α-branched ketone enolates generated from BHT ester enolates and organolithium reagents: in-situ generation and trapping of ketenes from ester enolates. J. Am. Chem. Soc. 107, 5396–5403 (1985)

Mase, N., Tanaka, F. & Barbas, C. F., III Synthesis of β-hydroxyaldehydes with stereogenic quaternary carbon centers by direct organocatalytic asymmetric aldol reactions. Angew. Chem. Int. Edn 43, 2420–2423 (2004)

Denmark, S. E., Wilson, T. W., Burk, M. T. & Heemstra, J. R., Jr Enantioselective construction of quaternary stereogenic centers by the Lewis base catalyzed additions of silyl imines to aldehydes. J. Am. Chem. Soc. 129, 14864–14865 (2007)

Evans, D. A., Bartroli, J. & Shih, T. L. Enantioselective aldol condensations. Erythro-selective chiral aldol condensations via boron enolates. J. Am. Chem. Soc. 103, 2127–2129 (1981)

Chechik-Lankin, H. Livshin, S. & Marek, I. Regiocontrolled carbometalation reactions of ynamides. Synlett 2239–2241 (2005)

Evano, G., Coste, A. & Jouvin, K. Ynamides: versatile tools in organic synthesis. Angew. Chem. Int. Edn 49, 2840–2859 (2010)

Wendlandt, A. E., Suess, A. M. & Stahl, S. S. Copper-catalyzed aerobic oxidative C-H functionalizations: trends and mechanistic insights. Angew. Chem. Int. Edn 50, 11062–11087 (2011)

Panek, E. J., Kaiser, L. R. & Whitesides, G. M. Vinylic radicals are intermediates in the oxidation of vinylic lithium reagents to lithium enolates by dioxygen, but not by lithium tert-butyl peroxide. J. Am. Chem. Soc. 99, 3708–3713 (1977)

Zhang, D. & Ready, J. M. Tandem carbocupration/oxygenation of terminal alkynes. Org. Lett. 7, 5681–5683 (2005)

DeBergh, J. R., Spivey, K. M. & Ready, J. M. Preparation of substituted enol derivatives from terminal alkynes and their synthetic utility. J. Am. Chem. Soc. 130, 7828–7829 (2008)

Tiong, E. A. & Gleason, J. L. Stereoselective formation of α-quaternary stereocenters in Mannich reaction. Org. Lett. 11, 1725–1728 (2009)

Stivala, C. E. & Zakarian, A. Total synthesis of (+)-pinnatoxin A. J. Am. Chem. Soc. 130, 3774–3776 (2008)
Acknowledgements
This research was supported by the Israel Science Foundation administrated by the Israel Academy of Sciences and Humanities (140/12), and by the Fund for Promotion of Research at the Technion. L.L. thanks the Bayer-Stiftung for financial support. I.M. is holder of the Sir Michael and Lady Sobell Academic Chair.
Ethics declarations
Competing interests
The authors declare no competing financial interests.
Supplementary information
This file contains Supplementary Methods, Supplementary Text and Data and additional references – see Contents for details. (PDF 10000 kb)
About this article
Cite this article
Minko, Y., Pasco, M., Lercher, L. et al. Forming all-carbon quaternary stereogenic centres in acyclic systems from alkynes. Nature 490, 522–526 (2012). https://doi.org/10.1038/nature11569
Received:

Accepted:

Published:

Issue Date:

DOI: https://doi.org/10.1038/nature11569
Comments
By submitting a comment you agree to abide by our Terms and Community Guidelines. If you find something abusive or that does not comply with our terms or guidelines please flag it as inappropriate.