Abstract
The Mollusca is one of the most diverse, important and well-studied invertebrate phyla; however, relationships among major molluscan taxa have long been a subject of controversy1,2,3,4,5,6,7,8,9. In particular, the position of the shell-less vermiform Aplacophora and its relationship to the better-known Polyplacophora (chitons) have been problematic: Aplacophora has been treated as a paraphyletic or monophyletic group at the base of the Mollusca3,6,8, proximate to other derived clades such as Cephalopoda2,3,10, or as sister group to the Polyplacophora, forming the clade Aculifera1,5,7,11,12. Resolution of this debate is required to allow the evolutionary origins of Mollusca to be reconstructed with confidence. Recent fossil finds13,14,15,16 support the Aculifera hypothesis, demonstrating that the Palaeozoic-era palaeoloricate 'chitons' included taxa combining certain polyplacophoran and aplacophoran characteristics5. However, fossils combining an unambiguously aplacophoran-like body with chiton-like valves have remained elusive. Here we describe such a fossil, Kulindroplax perissokomos gen. et sp. nov., from the Herefordshire Lagerstätte17,18 (about 425 million years bp), a Silurian deposit preserving a marine biota18 in unusual three-dimensional detail. The specimen is reconstructed three-dimensionally through physical–optical tomography19. Phylogenetic analysis indicates that this and many other palaeoloricate chitons are crown-group aplacophorans.
Access options
Subscribe to Journal
Get full journal access for 1 year
$199.00
only $3.90 per issue
All prices are NET prices.
VAT will be added later in the checkout.
Rent or Buy article
Get time limited or full article access on ReadCube.
from$8.99
All prices are NET prices.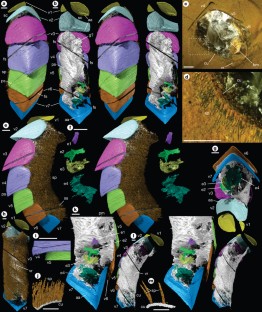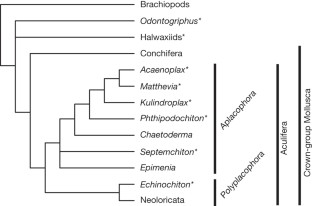 References
1

Kocot, K. M. et al. Phylogenomics reveals deep molluscan relationships. Nature 477, 452–456 (2011)

2

Wilson, N. G., Rouse, G. W. & Giribet, G. Assessing the molluscan hypothesis Serialia (Monoplacophora + Polyplacophora) using novel molecular data. Mol. Phylogenet. Evol. 54, 187–193 (2010)

3

Giribet, G. et al. Evidence for a clade composed of molluscs with serially repeated structures: monoplacophorans are related to chitons. Proc. Natl Acad. Sci. USA 103, 7723–7728 (2006)

4

Passamaneck, Y. J., Schander, C. & Halanych, K. M. Investigation of molluscan phylogeny using large-subunit and small-subunit nuclear rRNA sequences. Mol. Phylogenet. Evol. 32, 25–38 (2004)

5

Sigwart, J. D. & Sutton, M. D. Deep molluscan phylogeny: synthesis of palaeontological and neontological data. Proc. R. Soc. B 274, 2413–2419 (2007)

6

Salvini-Plawen, L. & Steiner, G. in Origin and Evolutionary Radiation of the Mollusca (ed. Taylor, J. D.), Ch. 2 29–51 (Oxford Univ. Press, 1996)

7

Scheltema, A. H. Aplacophora as progenetic aculiferans and the coelomate origin of mollusks as the sister taxon of Sipuncula. Biol. Bull. 184, 57–78 (1993)

8

Salvini-Plawen, L. On the phylogenetic significance of the aplacophoran Mollusca. Iberus 21, 67–97 (2003)

9

Telford, M. J. & Budd, G. E. Invertebrate evolution: bringing order to the molluscan chaos. Curr. Biol. 21, R964–R966 (2011)

10

Meyer, A., Witek, A. & Lieb, B. Selecting ribosomal protein genes for invertebrate phylogenetic inferences: how many genes to resolve the Mollusca? Methods Ecol. Evol. 2, 34–42 (2011)

11

Vinther, J., Sperling, E. A., Briggs, D. E. G. & Peterson, K. A molecular palaeobiological hypothesis for the origin of aplacophoran molluscs and their derivation from chiton-like ancestors. Proc. R. Soc. B 279, 1259–1268 (2012)

12

Smith, S. A. et al. Resolving the evolutionary relationships of molluscs with phylogenomic tools. Nature 480, 364–367 (2011)

13

Sutton, M. D., Briggs, D. E. G., Siveter, J. & Siveter, J. An exceptionally preserved vermiform mollusc from the Silurian of England. Nature 410, 461–463 (2001)

14

Sutton, M. D., Briggs, D. E. G., Siveter, J. & Siveter, J. Computer reconstruction and analysis of the vermiform mollusc Acaenoplax hayae from the Herefordshire Lagerstätte (Silurian, England), and implications for molluscan phylogeny. Palaeontology 47, 293–318 (2004)

15

Vendrasco, M. J., Wood, T. E. & Runnegar, B. N. Articulated Palaeozoic fossil with 17 plates greatly expands disparity of early chitons. Nature 429, 288–291 (2004)

16

Sutton, M. D. & Sigwart, J. D. A chiton without a foot. Palaeontology 55, 401–411 (2012)

17

Briggs, D. E. G., Siveter, J. & Siveter, J. Soft-bodied fossils from a Silurian volcaniclastic deposit. Nature 382, 248–250 (1996)

18

Briggs, D. E. G., Siveter, J., Siveter, J. & Sutton, M. D. Virtual fossils from a 425 million-year-old volcanic ash. Am. Sci. 96, 474–481 (2008)

19

Sutton, M. D. Tomographic techniques for the study of exceptionally preserved fossils. Proc. R. Soc. B 275, 1587–1593 (2008)

20

Steiner, G. & Salvini-Plawen, L. Acaenoplax — polychaete or mollusc? Nature 414, 601 (2001)

21

Sutton, M. D., Briggs, D. E. G., Siveter, J. & Siveter, J. Acaenoplax — polychaete or mollusc? (response to Steiner and Salvini-Plawen). Nature 414, 602 (2001)

22

Cherns, L. Chelodes and closely related Polyplacophora (Mollusca) from the Silurian of Gotland, Sweden. Palaeontology 41, 545–573 (1998)

23

Donovan, S. K., Sutton, M. D. & Sigwart, J. D. Crinoids for lunch? An unexpected biotic interaction from the Upper Ordovician of Scotland. Geology 38, 935–938 (2010)

24

Scheltema, A. H. & Ivanov, D. L. An aplacophoran postlarva with iterated dorsal groups of spicules and skeletal similarities to Paleozoic fossils. Invertebr. Biol. 121, 1–10 (2002)

25

Farris, J. S. A successive approximations approach to character weighting. Syst. Zool. 18, 374–385 (1969)

26

Goloboff, P. A. Estimating character weights during tree search. Cladistics 9, 83–91 (1993)

27

Conway Morris, S. & Caron, J.-B. Halwaxiids and the early evolution of the lophotrochozoans. Science 315, 1255–1258 (2007)

28

McAlester, A. L. Systematics, affinities, and the life habits of Babinka, a traditional Ordovician lucinoid bivalve. Palaeontology 8, 231–246 (1965)

29

Sutton, M. D., Garwood, R. J., Siveter, J. & Siveter, J. SPIERS and VAXML; a software toolkit for tomographic visualisation and a format for virtual specimen interchange. Palaeontologia Electronica 15, http://palaeo-electronica.org/content/94-issue-2-2012-technical-articles/226-virtual-palaeontology-toolkit (2012)
Acknowledgements
The Natural Environmental Research Council (NERC Grant NE/F018037/1) supported this research. K. Saunders, K. Davies, C. Dean, D. Legg and C. Lewis provided technical assistance, and the staff of Tarmac Western and the late R. Fenn facilitated the fieldwork.
Ethics declarations
Competing interests
The authors declare no competing financial interests.
Supplementary information
About this article
Cite this article
Sutton, M., Briggs, D., Siveter, D. et al. A Silurian armoured aplacophoran and implications for molluscan phylogeny. Nature 490, 94–97 (2012) doi:10.1038/nature11328
Received

Accepted

Published

Issue Date
Comments
By submitting a comment you agree to abide by our Terms and Community Guidelines. If you find something abusive or that does not comply with our terms or guidelines please flag it as inappropriate.