Abstract
Over the past 16 years, vast plantings of transgenic crops producing insecticidal proteins from the bacterium Bacillus thuringiensis (Bt) have helped to control several major insect pests1,2,3,4,5 and reduce the need for insecticide sprays1,5,6. Because broad-spectrum insecticides kill arthropod natural enemies that provide biological control of pests, the decrease in use of insecticide sprays associated with Bt crops could enhance biocontrol services7,8,9,10,11,12. However, this hypothesis has not been tested in terms of long-term landscape-level impacts10. On the basis of data from 1990 to 2010 at 36 sites in six provinces of northern China, we show here a marked increase in abundance of three types of generalist arthropod predators (ladybirds, lacewings and spiders) and a decreased abundance of aphid pests associated with widespread adoption of Bt cotton and reduced insecticide sprays in this crop. We also found evidence that the predators might provide additional biocontrol services spilling over from Bt cotton fields onto neighbouring crops (maize, peanut and soybean). Our work extends results from general studies evaluating ecological effects of Bt crops1,2,3,4,6,12,13 by demonstrating that such crops can promote biocontrol services in agricultural landscapes.
Relevant articles
Open Access articles citing this article.
Xiao Sun

,

Yumei Sun

…

Evan Siemann

Communications Biology Open Access 28 July 2022
Access options
Subscribe to Journal
Get full journal access for 1 year
$199.00
only $3.90 per issue
All prices are NET prices.
VAT will be added later in the checkout.
Tax calculation will be finalised during checkout.
Buy article
Get time limited or full article access on ReadCube.
$32.00
All prices are NET prices.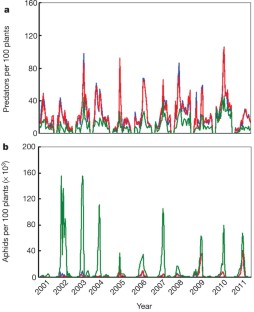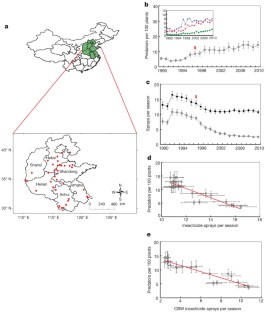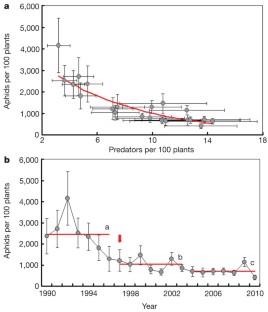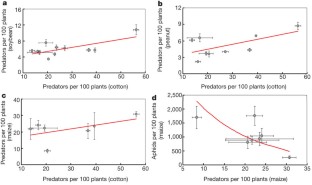 References
Shelton, A. M., Zhao, J. Z. & Roush, R. T. Economic, ecological, food safety, and social consequences of the deployment of Bt transgenic plants. Annu. Rev. Entomol. 47, 845–881 (2002)

Carriere, Y. et al. Long-term regional suppression of pink bollworm by Bacillus thuringiensis cotton. Proc. Natl Acad. Sci. USA 100, 1519–1523 (2006)

Wu, K. M., Lu, Y. H., Feng, H. Q., Jiang, Y. Y. & Zhao, J. Z. Suppression of cotton bollworm in multiple crops in China in areas with Bt toxin-containing cotton. Science 321, 1676–1678 (2008)

Hutchison, W. D. et al. Areawide suppression of European corn borer with Bt maize reaps savings to non-Bt maize growers. Science 330, 222–225 (2010)

Tabashnik, B. E. et al. Suppressing resistance to Bt cotton with sterile insect releases. Nature Biotechnol. 28, 1304–1307 (2010)

Cattaneo, M. G. et al. Farm-scale evaluation of the impacts of transgenic cotton on biodiversity, pesticide use, and yield. Proc. Natl Acad. Sci. USA 103, 7571–7576 (2006)

Landis, D. A., Wratten, S. D. & Gurr, G. M. Habitat management to conserve natural enemies of arthropod pests in agriculture. Annu. Rev. Entomol. 45, 175–201 (2000)

Crowder, D. W., Northfield, T. D., Strand, M. R. & Snyder, W. E. Organic agriculture promotes evenness and natural pest control. Nature 466, 109–112 (2010)

Winqvist, C. et al. Mixed effects of organic farming and landscape complexity on farmland biodiversity and biological control potential across Europe. J. Appl. Ecol. 48, 570–579 (2011)

Romeis, J. et al. Transgenic crops expressing Bacillus thuringiensis toxins and biological control. Nature Biotechnol. 24, 63–71 (2006)

Bale, J. S., van Lenteren, J. C. & Bigler, F. Biological control and sustainable food production. Phil. Trans. R. Soc. B 363, 761–776 (2008)

Gatehouse, A. M. R., Ferry, N., Edwards, M. G. & Bell, H. A. Insect-resistant biotech crops and their impacts on beneficial arthropods. Phil. Trans. R. Soc. B 366, 1438–1452 (2011)

Wolfenbarger, L. L., Naranjo, S. E., Lundgren, J. G., Bitzer, R. J. & Watrud, L. S. Bt crop effects on functional guilds of non-target arthropods: a meta-analysis. PLoS ONE 3, e2118 10.1371/journal.pone.0002118. (2008)

Bianchi, F. J. J. A., Booij, C. J. H. & Tscharntke, T. Sustainable pest regulation in agricultural landscapes: a review on landscape composition, biodiversity, and natural pest control. Proc. R. Soc. Lond. B 273, 1715–1727 (2006)

Losey, J. E. & Vaughan, M. The economic value of ecological services provided by insects. Bioscience 56, 311–323 (2006)

Chapin, F. S. et al. Consequences of changing biodiversity. Nature 405, 234–242 (2000)

Desneux, N., Decourtye, A. & Delpuech, J. M. The sublethal effecs of pesticides on beneficial arthropods. Annu. Rev. Entomol. 52, 81–106 (2007)

Landis, D. A., Gardiner, M. M., van der Werf, W. & Swinton, S. M. Increasing corn for biofuel production reduces biocontrol services in agricultural landscapes. Proc. Natl Acad. Sci. USA 105, 20552–20557 (2008)

James, C. Global Status of Commercialized Biotech/GM crops: 2011 (ISAAA brief no. 43, International Service for the Acquisition of Agri-Biotech Applications, 2011)

Wu, K. M. & Guo, Y. Y. The evolution of cotton pest management practices in China. Annu. Rev. Entomol. 50, 31–52 (2005)

Lu, Y. H. et al. Mirid bug outbreaks in multiple crops correlated with wide-scale adoption of Bt cotton in China. Science 328, 1151–1154 (2010)

Naranjo, S. E. Long-term assessment of the effects of transgenic Bt cotton on the abundance of nontarget arthropod natural enemies. Environ. Entomol. 34, 1193–1210 (2005)

Ragsdale, D. W., Landis, D. A., Brodeur, J., Heimpel, G. E. & Desneux, N. Ecology and management of the soybean aphid in North America. Annu. Rev. Entomol. 56, 375–399 (2011)

Hardin, M. R. et al. Arthropod pest resurgence: an overview of potential mechanisms. Crop Prot. 14, 3–18 (1995)

Wu, K. W. & Liu, Q. X. Study on the resurgence caused by insecticides for cotton aphid, Aphis gossypii. Acta Ecol. Sin. 12, 341–347 (1992)

Rao, C. N., Shivankar, V. J. & Singh, S. in Encyclopedia of Pest Management Vol 2 (ed. Pimentel, D.) 597–601 (CRC Press, 2007)

Symondson, W. O. C., Sunderland, K. D. & Greenstone, H. M. Can generalist predators be effective biocontrol agents? Annu. Rev. Entomol. 47, 561–594 (2002)

Tscharntke, T. et al. Conservation biological control and enemy diversity on a landscape scale. Biol. Control 43, 294–309 (2007)

Romeis, J., Shelton, A. M. & Kennedy, G. G. Integration of Insect-resistant Genetically Modified Crops within IPM Programs (Springer, 2008)

Qu, X. F. Cotton Pest Forecast in China: the Criterion, Zoning and Method (China Scien-tech Press, 1992)

Institute of Plant Protection, Chinese Academy of Agricultural Sciences. Crop Diseases and Pests in China (China Agricultural Press, 1995)

Xu, H. F., Mu, S. M., Xu, Y. Y., Mu, J. Y. & Dong, C. X. On the community structure of major insect pests and natural enemies in summer corn field inlaid in cotton area. Acta Phytophyl. Sin. 27, 199–204 (2000)

Yang, Q. M., Sun, M., Xu, Y. F., Shi, A. J. & Mu, J. Y. On the community structure of major insect pests and natural enemies in summer bean field. J. Shandong Agric. Univ. 35, 217–220 (2004)

Ding, Y. Q. & Cheng, S. L. Preliminary investigation and utilization of natural enemies of aphid in peanut field. J. Peanut Sci. 39, 45–47 (2010)

Wu, K. M. & Guo, Y. Y. Influences of Bacillus thuringiensis Berliner cotton planting on population dynamics of the cotton aphid, Aphis gossypii Glover, in northern China. Environ. Entomol. 32, 312–318 (2003)

Gardiner, M. M. et al. Landscape diversity enhances biological control of an introduced crop pest in the north-central USA. Ecol. Appl. 19, 143–154 (2009)

Miao, J., Wu, K. M., Hopper, K. R. & Li, G. X. Population dynamics of Aphis glycines (Homoptera: Aphididae) and impact of natural enemies in northern China. Environ. Entomol. 36, 840–848 (2007)

Lu, Y. H., Qi, F. J. & Zhang, Y. J. Integrated Management of Diseases and Insect Pests in Cotton (Golden Shield Press, 2010)
Acknowledgements
We thank the agricultural technicians of the 36 surveyed locations for providing data sets from cotton fields; W. Li and L. Wang for providing the predator exclusion cage data sets; Y. Zhang and C. Li for assistance in making the survey map; H. Yuan for help in preparing the list of insecticides in cotton; and R. Senoussi for advice on data analyses. This work was funded by the Key Project for Breeding Genetically Modified Organisms (grant no. 2011ZX08012-004) and the International Science and Technology Cooperation Project (grant no. 2010DFA32200).
Ethics declarations
Competing interests
The authors declare no competing financial interests.
Supplementary information
This file contains Supplementary Figures 1-4 and Supplementary Tables 1-4. (PDF 766 kb)
About this article
Cite this article
Lu, Y., Wu, K., Jiang, Y. et al. Widespread adoption of Bt cotton and insecticide decrease promotes biocontrol services. Nature 487, 362–365 (2012). https://doi.org/10.1038/nature11153
Received:

Accepted:

Published:

Issue Date:

DOI: https://doi.org/10.1038/nature11153
Comments
By submitting a comment you agree to abide by our Terms and Community Guidelines. If you find something abusive or that does not comply with our terms or guidelines please flag it as inappropriate.