Abstract
Allergies are generally thought to be a detrimental outcome of a mistargeted immune response that evolved to provide immunity to macroparasites. Here we present arguments to suggest that allergic immunity has an important role in host defence against noxious environmental substances, including venoms, haematophagous fluids, environmental xenobiotics and irritants. We argue that appropriately targeted allergic reactions are beneficial, although they can become detrimental when excessive. Furthermore, we suggest that allergic hypersensitivity evolved to elicit anticipatory responses and to promote avoidance of suboptimal environments.
Relevant articles
Open Access articles citing this article.
Yun Zhu

,

Yirong Teng

…

Jie Liu

BMC Cancer Open Access 29 December 2022

El-Bdaoui Haddad

,

Sonya L. Cyr

…

Frank O. Nestle

Dermatology and Therapy Open Access 21 May 2022

Prema S. Prakash

,

Michael H. W. Weber

…

Franco H. Falcone

Parasitology Research Open Access 12 November 2021
Access options
Subscribe to Journal
Get full journal access for 1 year
$199.00
only $3.90 per issue
All prices are NET prices.
VAT will be added later in the checkout.
Tax calculation will be finalised during checkout.
Buy article
Get time limited or full article access on ReadCube.
$32.00
All prices are NET prices.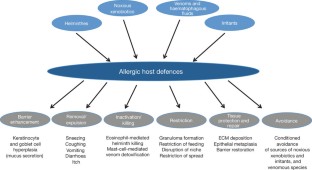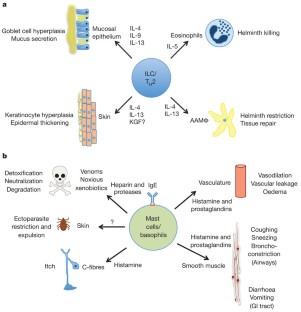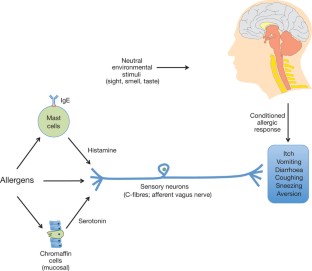 References
Allen, J. E. & Maizels, R. M. Diversity and dialogue in immunity to helminths. Nature Rev. Immunol. 11, 375–388 (2011)

Anthony, R. M., Rutitzky, L. I., Urban, J. F., Jr, Stadecker, M. J. & Gause, W. C. Protective immune mechanisms in helminth infection. Nature Rev. Immunol. 7, 975–987 (2007)

Spits, H. & Di Santo, J. P. The expanding family of innate lymphoid cells: regulators and effectors of immunity and tissue remodeling. Nature Immunol. 12, 21–27 (2011)

Galli, S. J., Tsai, M. & Piliponsky, A. M. The development of allergic inflammation. Nature 454, 445–454 (2008)

McKerrow, J. H., Caffrey, C., Kelly, B., Loke, P. & Sajid, M. Proteases in parasitic diseases. Annu. Rev. Pathol. 1, 497–536 (2006)

Profet, M. The function of allergy: immunological defense against toxins. Q. Rev. Biol. 66, 23–62 (1991)This review outlines the 'toxin hypothesis', which proposes that allergic responses provide a defence against environmental toxins and carcinogens.

Burton, O. T. & Oettgen, H. C. Beyond immediate hypersensitivity: evolving roles for IgE antibodies in immune homeostasis and allergic diseases. Immunol. Rev. 242, 128–143 (2011)

Harris, N. & Gause, W. C. To B or not to B: B cells and the Th2-type immune response to helminths. Trends Immunol. 32, 80–88 (2011)

Aalberse, R. C. Structural biology of allergens. J. Allergy Clin. Immunol. 106, 228–238 (2000)

Higginbotham, R. D. Mast cells and local resistance to Russell's viper venom. J. Immunol. 95, 867–875 (1965)This is the first demonstration of a beneficial role for mast cells in the detoxification of venoms and protection from the noxious effects of envenomation.

Higginbotham, R. D. & Karnella, S. The significance of the mast cell response to bee venom. J. Immunol. 106, 233–240 (1971)

Fry, B. G. et al. Early evolution of the venom system in lizards and snakes. Nature 439, 584–588 (2006)

Fry, B. G. et al. The toxicogenomic multiverse: convergent recruitment of proteins into animal venoms. Annu. Rev. Genomics Hum. Genet. 10, 483–511 (2009)

Müller, U. R. Insect venoms. Chem. Immunol. Allergy 95, 141–156 (2010)

Metz, M. et al. Mast cells can enhance resistance to snake and honeybee venoms. Science 313, 526–530 (2006)This paper provides definitive evidence that mast cells enhance resistance to envenomation by detoxifying venom components.

Matthews, K. R. Controlling and coordinating development in vector-transmitted parasites. Science 331, 1149–1153 (2011)

Müller-Doblies, U. U. et al. Feeding by the tick, Ixodes scapularis, causes CD4+ T cells responding to cognate antigen to develop the capacity to express IL-4. Parasite Immunol. 29, 485–499 (2007)

Wada, T. et al. Selective ablation of basophils in mice reveals their nonredundant role in acquired immunity against ticks. J. Clin. Invest. 120, 2867–2875 (2010)This paper demonstrates that basophils are critical for IgE-dependent acquired resistance to tick feeding.

Schuijt, T. J., Hovius, J. W., van der Poll, T., van Dam, A. P. & Fikrig, E. Lyme borreliosis vaccination: the facts, the challenge, the future. Trends Parasitol. 27, 40–47 (2011)

Loukas, A. et al. Vaccinomics for the major blood feeding helminths of humans. OMICS 15, 567–577 (2011)

Thorpe, S. C., Murdoch, R. D. & Kemeny, D. M. The effect of the castor bean toxin, ricin, on rat IgE and IgG responses. Immunology 68, 307–311 (1989)

Chawla, A., Repa, J. J., Evans, R. M. & Mangelsdorf, D. J. Nuclear receptors and lipid physiology: opening the X-files. Science 294, 1866–1870 (2001)

Li, J. & Uetrecht, J. P. The danger hypothesis applied to idiosyncratic drug reactions. Handb. Exp. Pharmacol. 196, 493–509 (2010)

Palm, N. W. & Medzhitov, R. Immunostimulatory activity of haptenated proteins. Proc. Natl Acad. Sci. USA 106, 4782–4787 (2009)

Sutterwala, F. S. et al. Critical role for NALP3/CIAS1/Cryopyrin in innate and adaptive immunity through its regulation of caspase-1. Immunity 24, 317–327 (2006)

Kalish, R. S. & Askenase, P. W. Molecular mechanisms of CD8+ T cell-mediated delayed hypersensitivity: implications for allergies, asthma, and autoimmunity. J. Allergy Clin. Immunol. 103, 192–199 (1999)

Kondo, H., Ichikawa, Y. & Imokawa, G. Percutaneous sensitization with allergens through barrier-disrupted skin elicits a Th2-dominant cytokine response. Eur. J. Immunol. 28, 769–779 (1998)

Bernstein, J. A. et al. Health effects of air pollution. J. Allergy Clin. Immunol. 114, 1116–1123 (2004)

Thomas, W. R., Hales, B. J. & Smith, W. A. Structural biology of allergens. Curr. Allergy Asthma Rep. 5, 388–393 (2005)

Karp, C. L. Guilt by intimate association: what makes an allergen an allergen? J. Allergy Clin. Immunol. 125, 955–960 (2010)

Trompette, A. et al. Allergenicity resulting from functional mimicry of a Toll-like receptor complex protein. Nature 457, 585–588 (2009)

Eisenbarth, S. C. et al. Lipopolysaccharide-enhanced, toll-like receptor 4-dependent T helper cell type 2 responses to inhaled antigen. J. Exp. Med. 196, 1645–1651 (2002)

Finkelman, F. D. et al. Interleukin-4- and interleukin-13-mediated host protection against intestinal nematode parasites. Immunol. Rev. 201, 139–155 (2004)

Moro, K. et al. Innate production of TH2 cytokines by adipose tissue-associated c-Kit+Sca-1+ lymphoid cells. Nature 463, 540–544 (2010)References 34–37 describe the discovery of novel classes of ILCs that produce type 2 cytokines in response to IL-25 and IL-33.

Neill, D. R. et al. Nuocytes represent a new innate effector leukocyte that mediates type-2 immunity. Nature 464, 1367–1370 (2010)

Price, A. E. et al. Systemically dispersed innate IL-13-expressing cells in type 2 immunity. Proc. Natl Acad. Sci. USA 107, 11489–11494 (2010)

Saenz, S. A. et al. IL25 elicits a multipotent progenitor cell population that promotes TH2 cytokine responses. Nature 464, 1362–1366 (2010)

Zhao, W. & Hu, Z. The enigmatic processing and secretion of interleukin-33. Cell. Mol. Immunol. 7, 260–262 (2010)

Hsu, C. L., Neilsen, C. V. & Bryce, P. J. IL-33 is produced by mast cells and regulates IgE-dependent inflammation. PLoS ONE 5, e11944 (2010)

Ziegler, S. F. & Artis, D. Sensing the outside world: TSLP regulates barrier immunity. Nature Immunol. 11, 289–293 (2010)

Soumelis, V. et al. Human epithelial cells trigger dendritic cell mediated allergic inflammation by producing TSLP. Nature Immunol. 3, 673–680 (2002)

Liu, Y. J. Thymic stromal lymphopoietin: master switch for allergic inflammation. J. Exp. Med. 203, 269–273 (2006)

Fahy, J. V. & Dickey, B. F. Airway mucus function and dysfunction. N. Engl. J. Med. 363, 2233–2247 (2010)

Knowles, M. R. & Boucher, R. C. Mucus clearance as a primary innate defense mechanism for mammalian airways. J. Clin. Invest. 109, 571–577 (2002)

Jeffry, J., Kim, S. & Chen, Z. F. Itch signaling in the nervous system. Physiology (Bethesda) 26, 286–292 (2011)

Raap, U., Stander, S. & Metz, M. Pathophysiology of itch and new treatments. Curr. Opin. Allergy Clin. Immunol. 11, 420–427 (2011)

Murray, P. J. & Wynn, T. A. Protective and pathogenic functions of macrophage subsets. Nature Rev. Immunol. 11, 723–737 (2011)

Monticelli, L. A. et al. Innate lymphoid cells promote lung-tissue homeostasis after infection with influenza virus. Nature Immunol. 12, 1045–1054 (2011)

Allen, J. E. & Wynn, T. A. Evolution of Th2 immunity: a rapid repair response to tissue destructive pathogens. PLoS Pathog. 7, e1002003 (2011)In this review, the authors propose that the T H 2 response evolved to function as a tissue repair response to damage caused by helminths.

Zenewicz, L. A. & Flavell, R. A. Recent advances in IL-22 biology. Int. Immunol. 23, 159–163 (2011)

Ikutani, M. et al. Identification of innate IL-5-producing cells and their role in lung eosinophil regulation and antitumor immunity. J. Immunol. 188, 703–713 (2012)

Bartemes, K. R. e. t. a. l. IL-33-responsive Lineage−CD25+CD44hi lymphoid cells mediate innate type 2 immunity and allergic inflammation in the lungs. J. Immunol. 188, 1503–1513 (2011)

Martinez, F. O., Helming, L. & Gordon, S. Alternative activation of macrophages: an immunologic functional perspective. Annu. Rev. Immunol. 27, 451–483 (2009)

Sokol, C. L., Barton, G. M., Farr, A. G. & Medzhitov, R. A mechanism for the initiation of allergen-induced T helper type 2 responses. Nature Immunol. 9, 310–318 (2008)

Reese, T. A. et al. Chitin induces accumulation in tissue of innate immune cells associated with allergy. Nature 447, 92–96 (2007)

Schmidt, M. et al. Crucial role for human Toll-like receptor 4 in the development of contact allergy to nickel. Nature Immunol. 11, 814–819 (2010)

Ritter, M. et al. Schistosoma mansoni triggers Dectin-2, which activates the Nlrp3 inflammasome and alters adaptive immune responses. Proc. Natl Acad. Sci. USA 107, 20459–20464 (2010)

Shreffler, W. G. et al. The major glycoprotein allergen from Arachis hypogaea, Ara h 1, is a ligand of dendritic cell-specific ICAM-grabbing nonintegrin and acts as a Th2 adjuvant in vitro . J. Immunol. 177, 3677–3685 (2006)

Phillips, C., Coward, W. R., Pritchard, D. I. & Hewitt, C. R. Basophils express a type 2 cytokine profile on exposure to proteases from helminths and house dust mites. J. Leukoc. Biol. 73, 165–171 (2003)

Dudler, T. et al. A link between catalytic activity, IgE-independent mast cell activation, and allergenicity of bee venom phospholipase A2. J. Immunol. 155, 2605–2613 (1995)

Steinfelder, S. et al. The major component in schistosome eggs responsible for conditioning dendritic cells for Th2 polarization is a T2 ribonuclease (omega-1). J. Exp. Med. 206, 1681–1690 (2009)

Idzko, M. et al. Extracellular ATP triggers and maintains asthmatic airway inflammation by activating dendritic cells. Nature Med. 13, 913–919 (2007)

Oyoshi, M. K., Larson, R. P., Ziegler, S. F. & Geha, R. S. Mechanical injury polarizes skin dendritic cells to elicit a TH2 response by inducing cutaneous thymic stromal lymphopoietin expression. J. Allergy Clin. Immunol. 126, 976–984 (2010)

Navarro-Zorraquino, M. et al. Determination of the immunoglobulin E postoperative variation as a measure of surgical injury. World J. Surg. 25, 585–591 (2001)

Strid, J., Sobolev, O., Zafirova, B., Polic, B. & Hayday, A. The intraepithelial T cell response to NKG2D-ligands links lymphoid stress surveillance to atopy. Science 334, 1293–1297 (2011)

Strowig, T., Henao-Mejia, J., Elinav, E. & Flavell, R. Inflammasomes in health and disease. Nature 481, 278–286 (2012)

Kavaliers, M., Choleris, E., Agmo, A. & Pfaff, D. W. Olfactory-mediated parasite recognition and avoidance: linking genes to behavior. Horm. Behav. 46, 272–283 (2004)

Tizzano, M. et al. Nasal chemosensory cells use bitter taste signaling to detect irritants and bacterial signals. Proc. Natl Acad. Sci. USA 107, 3210–3215 (2010)

Rivière, S., Challet, L., Fluegge, D., Spehr, M. & Rodriguez, I. Formyl peptide receptor-like proteins are a novel family of vomeronasal chemosensors. Nature 459, 574–577 (2009)

Basbaum, A. I., Bautista, D. M., Scherrer, G. & Julius, D. Cellular and molecular mechanisms of pain. Cell 139, 267–284 (2009)

Bessac, B. F. & Jordt, S. E. Breathtaking TRP channels: TRPA1 and TRPV1 in airway chemosensation and reflex control. Physiology (Bethesda) 23, 360–370 (2008)

Bertrand, P. P. & Bertrand, R. L. Serotonin release and uptake in the gastrointestinal tract. Auton. Neurosci. 153, 47–57 (2010)

Siegel, S. & Kreutzer, R. Pavlovian conditioning and multiple chemical sensitivity. Environ. Health Perspect. 105 (suppl. 2). 521–526 (1997)

Mackenzie, M. Rose cold. Historical document. Ann. Allergy 19, 298–304 (1961)

MacKenzie, J. N. The production of the so-called "rose cold" by means of an artificial rose. Am. J. Med. Sci. 91, 45–47 (1896)

Justesen, D. R., Braun, E. W., Garrison, R. G. & Pendleton, R. B. Pharmacological differentiation of allergic and classically conditioned asthma in the guinea pig. Science 170, 864–866 (1970)

MacQueen, G., Marshall, J., Perdue, M., Siegel, S. & Bienenstock, J. Pavlovian conditioning of rat mucosal mast cells to secrete rat mast cell protease II. Science 243, 83–85 (1989)This article reports classical conditioning of an allergic response to a neutral stimulus.

Cara, D. C., Conde, A. A. & Vaz, N. M. Immunological induction of flavor aversion in mice. Braz. J. Med. Biol. Res. 27, 1331–1341 (1994)

Cara, D. C., Conde, A. A. & Vaz, N. M. Immunological induction of flavour aversion in mice. II. Passive/adoptive transfer and pharmacological inhibition. Scand. J. Immunol. 45, 16–20 (1997)

Zarzana, E. C., Basso, A. S., Costa-Pinto, F. A. & Palermo-Neto, J. Pharmacological manipulation of immune-induced food aversion in rats. Neuroimmunomodulation 16, 19–27 (2009)

Lang, P. M., Moalem-Taylor, G., Tracey, D. J., Bostock, H. & Grafe, P. Activity-dependent modulation of axonal excitability in unmyelinated peripheral rat nerve fibers by the 5-HT(3) serotonin receptor. J. Neurophysiol. 96, 2963–2971 (2006)

Costa-Pinto, F. A., Basso, A. S. & Russo, M. Role of mast cell degranulation in the neural correlates of the immediate allergic reaction in a murine model of asthma. Brain Behav. Immun. 21, 783–790 (2007)

Costa-Pinto, F. A., Basso, A. S., Britto, L. R., Malucelli, B. E. & Russo, M. Avoidance behavior and neural correlates of allergen exposure in a murine model of asthma. Brain Behav. Immun. 19, 52–60 (2005)

Mirotti, L., Castro, J., Costa-Pinto, F. A. & Russo, M. Neural pathways in allergic inflammation. J. Allergy (Cairo) 2010, 491928 (2010)This review covers the literature describing allergy-mediated avoidance behaviours.

Irvine, A. D., McLean, W. H. & Leung, D. Y. Filaggrin mutations associated with skin and allergic diseases. N. Engl. J. Med. 365, 1315–1327 (2011)

Zacharia, B. E. & Sherman, P. Atopy, helminths, and cancer. Med. Hypotheses 60, 1–5 (2003)
Acknowledgements
The work in R.M.'s laboratory is supported by the Howard Hughes Medical Institute and grants from the National Institutes of Health.
Ethics declarations
Competing interests
The authors declare no competing financial interests.
About this article
Cite this article
Palm, N., Rosenstein, R. & Medzhitov, R. Allergic host defences. Nature 484, 465–472 (2012). https://doi.org/10.1038/nature11047
Published:

Issue Date:

DOI: https://doi.org/10.1038/nature11047
Comments
By submitting a comment you agree to abide by our Terms and Community Guidelines. If you find something abusive or that does not comply with our terms or guidelines please flag it as inappropriate.