Abstract
The posterior parietal cortex (PPC) has an important role in many cognitive behaviours; however, the neural circuit dynamics underlying PPC function are not well understood. Here we optically imaged the spatial and temporal activity patterns of neuronal populations in mice performing a PPC-dependent task that combined a perceptual decision and memory-guided navigation in a virtual environment. Individual neurons had transient activation staggered relative to one another in time, forming a sequence of neuronal activation spanning the entire length of a task trial. Distinct sequences of neurons were triggered on trials with opposite behavioural choices and defined divergent, choice-specific trajectories through a state space of neuronal population activity. Cells participating in the different sequences and at distinct time points in the task were anatomically intermixed over microcircuit length scales (<100 micrometres). During working memory decision tasks, the PPC may therefore perform computations through sequence-based circuit dynamics, rather than long-lived stable states, implemented using anatomically intermingled microcircuits.
Relevant articles
Open Access articles citing this article.
Ayelet Sarel

,

Shaked Palgi

…

Nachum Ulanovsky

Nature Open Access 24 August 2022

Felix Jung

,

Yevgenij Yanovsky

…

Andreas Draguhn

Pflügers Archiv - European Journal of Physiology Open Access 19 August 2022

Adeeti Aggarwal

,

Connor Brennan

…

Alex Proekt

Nature Communications Open Access 13 August 2022
Access options
Subscribe to Journal
Get full journal access for 1 year
$199.00
only $3.90 per issue
All prices are NET prices.
VAT will be added later in the checkout.
Tax calculation will be finalised during checkout.
Buy article
Get time limited or full article access on ReadCube.
$32.00
All prices are NET prices.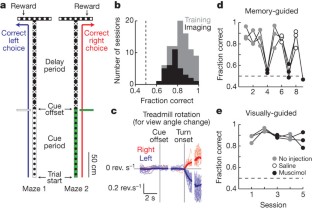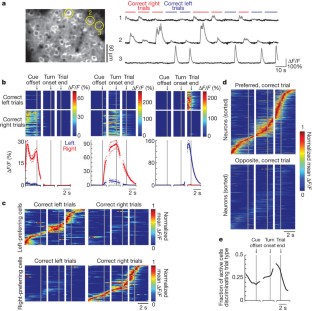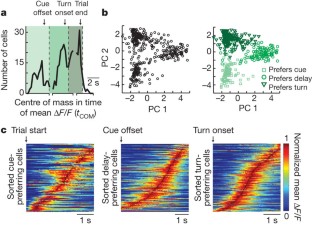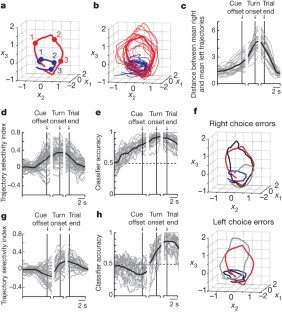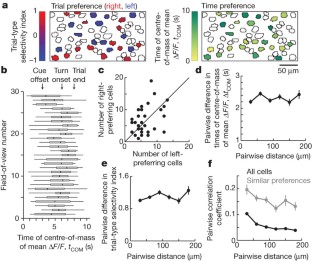 References
Shadlen, M. N. & Newsome, W. T. Neural basis of a perceptual decision in the parietal cortex (area LIP) of the rhesus monkey. J. Neurophysiol. 86, 1916–1936 (2001)

Gold, J. I. & Shadlen, M. N. The neural basis of decision making. Annu. Rev. Neurosci. 30, 535–574 (2007)

Freedman, D. J. & Assad, J. A. A proposed common neural mechanism for categorization and perceptual decisions. Nature Neurosci. 14, 143–146 (2011)

Andersen, R. A. & Cui, H. Intention, action planning, and decision making in parietal-frontal circuits. Neuron 63, 568–583 (2009)

Bisley, J. W. & Goldberg, M. E. Attention, intention, and priority in the parietal lobe. Annu. Rev. Neurosci. 33, 1–21 (2010)

McNaughton, B. L. et al. Cortical representation of motion during unrestrained spatial navigation in the rat. Cereb. Cortex 4, 27–39 (1994)

Nitz, D. A. Tracking route progression in the posterior parietal cortex. Neuron 49, 747–756 (2006)

Whitlock, J. R., Sutherland, R. J., Witter, M. P., Moser, M. B. & Moser, E. I. Navigating from hippocampus to parietal cortex. Proc. Natl Acad. Sci. USA 105, 14755–14762 (2008)

Calton, J. L. & Taube, J. S. Where am I and how will I get there from here? A role for posterior parietal cortex in the integration of spatial information and route planning. Neurobiol. Learn. Mem. 91, 186–196 (2009)

Harvey, C. D., Collman, F., Dombeck, D. A. & Tank, D. W. Intracellular dynamics of hippocampal place cells during virtual navigation. Nature 461, 941–946 (2009)

Dombeck, D. A., Khabbaz, A. N., Collman, F., Adelman, T. L. & Tank, D. W. Imaging large-scale neural activity with cellular resolution in awake, mobile mice. Neuron 56, 43–57 (2007)

Dombeck, D. A., Harvey, C. D., Tian, L., Looger, L. L. & Tank, D. W. Functional imaging of hippocampal place cells at cellular resolution during virtual navigation. Nature Neurosci. 13, 1433–1440 (2010)

Curtis, C. E. & Lee, D. Beyond working memory: the role of persistent activity in decision making. Trends Cogn. Sci. 14, 216–222 (2010)

Barash, S., Bracewell, R. M., Fogassi, L., Gnadt, J. W. & Andersen, R. A. Saccade-related activity in the lateral intraparietal area. I. Temporal properties; comparison with area 7a. J. Neurophysiol. 66, 1095–1108 (1991)

Chafee, M. V. & Goldman-Rakic, P. S. Matching patterns of activity in primate prefrontal area 8a and parietal area 7ip neurons during a spatial working memory task. J. Neurophysiol. 79, 2919–2940 (1998)

Wang, X. J. Decision making in recurrent neuronal circuits. Neuron 60, 215–234 (2008)

Wong, K. F. & Wang, X. J. A recurrent network mechanism of time integration in perceptual decisions. J. Neurosci. 26, 1314–1328 (2006)

Mazurek, M. E., Roitman, J. D., Ditterich, J. & Shadlen, M. N. A role for neural integrators in perceptual decision making. Cereb. Cortex 13, 1257–1269 (2003)

Ganguli, S. et al. One-dimensional dynamics of attention and decision making in LIP. Neuron 58, 15–25 (2008)

Miller, P., Brody, C. D., Romo, R. & Wang, X. J. A recurrent network model of somatosensory parametric working memory in the prefrontal cortex. Cereb. Cortex 13, 1208–1218 (2003)

Machens, C. K., Romo, R. & Brody, C. D. Flexible control of mutual inhibition: a neural model of two-interval discrimination. Science 307, 1121–1124 (2005)

Machens, C. K., Romo, R. & Brody, C. D. Functional, but not anatomical, separation of "what" and "when" in prefrontal cortex. J. Neurosci. 30, 350–360 (2010)

Jun, J. K. et al. Heterogenous population coding of a short-term memory and decision task. J. Neurosci. 30, 916–929 (2010)

Singh, R. & Eliasmith, C. Higher-dimensional neurons explain the tuning and dynamics of working memory cells. J. Neurosci. 26, 3667–3678 (2006)

Batuev, A. S. Two neuronal systems involved in short-term spatial memory in monkeys. Acta Neurobiol. Exp. (Warsz.) 54, 335–344 (1994)

Seidemann, E., Meilijson, I., Abeles, M., Bergman, H. & Vaadia, E. Simultaneously recorded single units in the frontal cortex go through sequences of discrete and stable states in monkeys performing a delayed localization task. J. Neurosci. 16, 752–768 (1996)

Baeg, E. H. et al. Dynamics of population code for working memory in the prefrontal cortex. Neuron 40, 177–188 (2003)

Fujisawa, S., Amarasingham, A., Harrison, M. T. & Buzsaki, G. Behavior-dependent short-term assembly dynamics in the medial prefrontal cortex. Nature Neurosci. 11, 823–833 (2008)

Pastalkova, E., Itskov, V., Amarasingham, A. & Buzsaki, G. Internally generated cell assembly sequences in the rat hippocampus. Science 321, 1322–1327 (2008)

Crowe, D. A., Averbeck, B. B. & Chafee, M. V. Rapid sequences of population activity patterns dynamically encode task-critical spatial information in parietal cortex. J. Neurosci. 30, 11640–11653 (2010)

Ohki, K., Chung, S., Ch'ng, Y. H., Kara, P. & Reid, R. C. Functional imaging with cellular resolution reveals precise micro-architecture in visual cortex. Nature 433, 597–603 (2005)

Komiyama, T. et al. Learning-related fine-scale specificity imaged in motor cortex circuits of behaving mice. Nature 464, 1182–1186 (2010)

Erlich, J. C., Bialek, M. & Brody, C. D. A cortical substrate for memory-guided orienting in the rat. Neuron 72, 330–343 (2011)

Corwin, J. V. & Reep, R. L. Rodent posterior parietal cortex as a component of a cortical network mediating directed spatial attention. Psychobiology 26, 87–102 (1998)

Tian, L. et al. Imaging neural activity in worms, flies and mice with improved GCaMP calcium indicators. Nature Methods 6, 875–881 (2009)

Mazor, O. & Laurent, G. Transient dynamics versus fixed points in odor representations by locust antennal lobe projection neurons. Neuron 48, 661–673 (2005)

Briggman, K. L., Abarbanel, H. D. & Kristan, W. B., Jr Optical imaging of neuronal populations during decision-making. Science 307, 896–901 (2005)

Churchland, M. M., Yu, B. M., Sahani, M. & Shenoy, K. V. Techniques for extracting single-trial activity patterns from large-scale neural recordings. Curr. Opin. Neurobiol. 17, 609–618 (2007)

Goldman, M. S. Memory without feedback in a neural network. Neuron 61, 621–634 (2009)

Ganguli, S., Huh, D. & Sompolinsky, H. Memory traces in dynamical systems. Proc. Natl Acad. Sci. USA 105, 18970–18975 (2008)

Maass, W., Joshi, P. & Sontag, E. D. Computational aspects of feedback in neural circuits. PLOS Comput. Biol. 3, e165 (2007)

Sussillo, D. & Abbott, L. F. Generating coherent patterns of activity from chaotic neural networks. Neuron 63, 544–557 (2009)

Leon, M. I. & Shadlen, M. N. Representation of time by neurons in the posterior parietal cortex of the macaque. Neuron 38, 317–327 (2003)

Wood, E. R., Dudchenko, P. A., Robitsek, R. J. & Eichenbaum, H. Hippocampal neurons encode information about different types of memory episodes occurring in the same location. Neuron 27, 623–633 (2000)

Burke, S. N. et al. Differential encoding of behavior and spatial context in deep and superficial layers of the neocortex. Neuron 45, 667–674 (2005)

Braitenberg, V. B. & Schuz, A. Anatomy of the Cortex: Statistics and Geometry (Springer, 1991)

Binzegger, T., Douglas, R. J. & Martin, K. A. A quantitative map of the circuit of cat primary visual cortex. J. Neurosci. 24, 8441–8453 (2004)

Yoshimura, Y., Dantzker, J. L. & Callaway, E. M. Excitatory cortical neurons form fine-scale functional networks. Nature 433, 868–873 (2005)

Song, S., Sjostrom, P. J., Reigl, M., Nelson, S. & Chklovskii, D. B. Highly nonrandom features of synaptic connectivity in local cortical circuits. PLoS Biol. 3, e68 (2005)

Ko, H. et al. Functional specificity of local synaptic connections in neocortical networks. Nature 473, 87–91 (2011)
Acknowledgements
We thank D. Dombeck for assistance with imaging methods and analysis; C. Domnisoru, M. de Bettencourt, C. Brody and A. Miri for discussions; and M. Goldman, J. Hopfield, D. Aronov, B. Scott and T. Hanks for comments on the manuscript. This work was supported by the NIH (R01-MH083686; RC1-NS068148), a fellowship from the Helen Hay Whitney Foundation (C.D.H.), and a Burroughs Wellcome Fund Career Award at the Scientific Interface (C.D.H.)
Ethics declarations
Competing interests
The authors declare no competing financial interests.
Supplementary information
This file contains Supplementary Methods, Supplementary References, Supplementary Figures 1-20 and Supplementary Table 1. (PDF 8863 kb)
About this article
Cite this article
Harvey, C., Coen, P. & Tank, D. Choice-specific sequences in parietal cortex during a virtual-navigation decision task. Nature 484, 62–68 (2012). https://doi.org/10.1038/nature10918
Received:

Accepted:

Published:

Issue Date:

DOI: https://doi.org/10.1038/nature10918
Comments
By submitting a comment you agree to abide by our Terms and Community Guidelines. If you find something abusive or that does not comply with our terms or guidelines please flag it as inappropriate.