Abstract
Most Sun-like stars in the Galaxy reside in gravitationally bound pairs of stars1,2 (binaries). Although long anticipated3,4,5,6,7,8, the existence of a 'circumbinary planet' orbiting such a pair of normal stars was not definitively established until the discovery9 of the planet transiting (that is, passing in front of) Kepler-16. Questions remained, however, about the prevalence of circumbinary planets and their range of orbital and physical properties. Here we report two additional transiting circumbinary planets: Kepler-34 (AB)b and Kepler-35 (AB)b, referred to here as Kepler-34 b and Kepler-35 b, respectively. Each is a low-density gas-giant planet on an orbit closely aligned with that of its parent stars. Kepler-34 b orbits two Sun-like stars every 289 days, whereas Kepler-35 b orbits a pair of smaller stars (89% and 81% of the Sun's mass) every 131 days. The planets experience large multi-periodic variations in incident stellar radiation arising from the orbital motion of the stars. The observed rate of circumbinary planets in our sample implies that more than ∼1% of close binary stars have giant planets in nearly coplanar orbits, yielding a Galactic population of at least several million.
Relevant articles
Open Access articles citing this article.
Akihiro Yamanaka

&

Takanori Sasaki

Earth, Planets and Space Open Access 30 July 2019
Access options
Subscribe to Journal
Get full journal access for 1 year
$199.00
only $3.90 per issue
All prices are NET prices.
VAT will be added later in the checkout.
Tax calculation will be finalised during checkout.
Buy article
Get time limited or full article access on ReadCube.
$32.00
All prices are NET prices.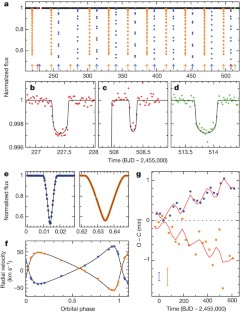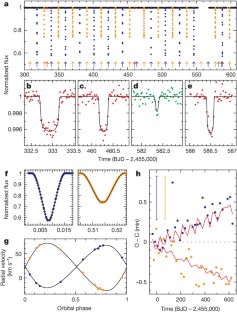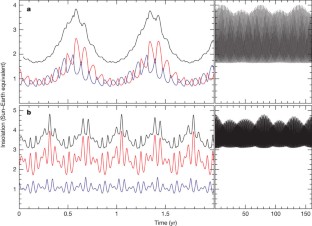 References
Binnendijk, L. Properties of Double Stars (Univ. Pennsylvania Press, 1960)

Raghavan, D. et al. A survey of stellar families: multiplicity of solar-type stars. Astrophys. J. 190 (Suppl.). 1–42 (2010)

Schneider, J. & Chevreton, M. The photometric search for Earth-sized extrasolar planets by occultation in binary systems. Astron. Astrophys. 232, 251–257 (1990)

Quintana, E. V. & Lissauer, J. J. Terrestrial planet formation surrounding close binary stars. Icarus 185, 1–20 (2006)

Deeg, H.-J. et al. Extrasolar planet detection by binary stellar eclipse timing: evidence for the third body around CM Draconis. Astron. Astrophys. 480, 563–571 (2008)

Haghighipour, N. Planets in Binary Star Systems (Astrophysics and Space Science Library, Vol. 366, Springer, 2010)

Sybilski, P., Konacki, M. & Kozlowski, S. Detecting circumbinary planets using eclipse timing of binary stars — numerical simulations. Mon. Not. R. Astron. Soc. 405, 657–665 (2011)

Schwarz, R. et al. Prospects of the detection of circumbinary planets with Kepler and CoRoT using the variations of eclipse timing. Mon. Not. R. Astron. Soc. 414, 2763–2770 (2011)

Doyle, L. R. et al. Kepler-16: a transiting circumbinary planet. Science 333, 1602–1606 (2011)

Koch, D. et al. Kepler mission design. Astrophys. J. 713, L79–L86 (2010)

Borucki, W. J. et al. Kepler planet-detection mission: introduction and first results. Science 327, 977–980 (2010)

Prša, A. et al. Kepler eclipsing binary stars. I. Catalog and principal characterization of 1879 eclipsing binaries in the first data release. Astron. J. 141, 83–98 (2011)

Slawson, R. W. et al. Kepler eclipsing binary stars. II. 2165 Eclipsing binaries in the second data release. Astron. J. 142, 160–173 (2011)

Brown, T. M. et al. Kepler input catalog: photometric calibration and stellar classification. Astron. J. 142, 112–129 (2011)

Carter, J. A. et al. KOI-126: a triply eclipsing hierarchical triple with two low-mass stars. Science 331, 562–565 (2011)

Yi, S. K. et al. Toward better age estimates for stellar populations: the Y2 isochrones for solar mixture. Astrophys. J. Suppl. Ser. 136, 417–437 (2001)

Holman, M. J. & Wiegert, P. A. Long-term stability of planets in binary systems. Astron. J. 117, 621–628 (1999)

Eggleton, P. & Kiseleva, L. An empirical condition for stability of hierarchical triple systems. Astrophys. J. 455, 640–645 (1995)

Doolin, S. & Blundell, K. M. The dynamics and stability of circumbinary orbits. Mon. Not. R. Astron. Soc. (in the press); preprint at http://arXiv.org/abs/1108.4144 (2011)

Kasting, J. F., Whitmire, D. P. & Reynolds, R. T. Habitable zones around main sequence stars. Icarus 101, 108–128 (1993)

Ragozzine, D. & Holman, M. J. The value of systems with multiple transiting planets. Astrophys. J. . (submitted); preprint at http://arXiv.org/abs/1006.3727 (2010)

Chabrier, G. Galactic stellar and substellar initial mass function. Publ. Astron. Soc. Pacif. 115, 763–795 (2003)
Acknowledgements
Kepler was selected as the tenth NASA Discovery mission with funding provided by NASA's Science Mission Directorate. We thank the many people who made the Kepler mission a reality. W.F.W., J.A.O., E.B.F., A.P., L.R.D., J.J.F., M.J.H., T.M. and J.H.S. were supported by the Kepler Participating Scientist Program. W.F.W., J.A.O., D.R.S. and G.W. were supported by the NSF. D.C.F. and J.A.C. acknowledge NASA support through Hubble Fellowship grants, awarded by STScI, operated by AURA. J.N.W. was supported by the NASA Origins programme. S.B. acknowledges funding from the European Research Council under the European Community's Seventh Framework Programme (PROSPERITY) and from the Research Council of KU Leuven. Some of the reported computations were run on the Odyssey cluster supported by the FAS Science Division Research Computing Group at Harvard University. This Letter is based in part on observations made with the Nordic Optical Telescope (operated on the island of La Palma jointly by Denmark, Finland, Iceland, Norway and Sweden, in the Spanish Observatorio del Roque de los Muchachos of the Instituto de Astrofisica de Canarias), the W. M. Keck Observatory (operated by the University of California and the California Institute of Technology) and the Hobby-Eberly Telescope (HET; a joint project of the University of Texas at Austin, the Pennsylvania State University, Stanford University, Ludwig-Maximillians-Universitat Munchen, and Georg-August-Universitat Goettingen).
Ethics declarations
Competing interests
The authors declare no competing financial interests.
Additional information
The Kepler light curves used in this work can be downloaded from the MAST (Multimission Archive at Space Telescope Science Institute) at http://archive.stsci.edu/kepler/.
Supplementary information
The file contains Supplementary Text and Data, Supplementary Figures 1-16 with legends, Supplementary Tables 1-7 and additional references. (PDF 0 kb)
About this article
Cite this article
Welsh, W., Orosz, J., Carter, J. et al. Transiting circumbinary planets Kepler-34 b and Kepler-35 b. Nature 481, 475–479 (2012). https://doi.org/10.1038/nature10768
Received:

Accepted:

Published:

Issue Date:

DOI: https://doi.org/10.1038/nature10768
Comments
By submitting a comment you agree to abide by our Terms and Community Guidelines. If you find something abusive or that does not comply with our terms or guidelines please flag it as inappropriate.