Abstract
Colour sidedness is a dominantly inherited phenotype of cattle characterized by the polarization of pigmented sectors on the flanks, snout and ear tips1. It is also referred to as 'lineback' or 'witrik' (which means white back), as colour-sided animals typically display a white band along their spine. Colour sidedness is documented at least since the Middle Ages and is presently segregating in several cattle breeds around the globe, including in Belgian blue and brown Swiss1,2. Here we report that colour sidedness is determined by a first allele on chromosome 29 (Cs29 ), which results from the translocation of a 492-kilobase chromosome 6 segment encompassing KIT to chromosome 29, and a second allele on chromosome 6 (Cs6 ), derived from the first by repatriation of fused 575-kilobase chromosome 6 and 29 sequences to the KIT locus. We provide evidence that both translocation events involved circular intermediates. This is the first example, to our knowledge, of a phenotype determined by homologous yet non-syntenic alleles that result from a novel copy-number-variant-generating mechanism.
Access options
Subscribe to Journal
Get full journal access for 1 year
$199.00
only $3.90 per issue
All prices are NET prices.
VAT will be added later in the checkout.
Tax calculation will be finalised during checkout.
Rent or Buy article
Get time limited or full article access on ReadCube.
from$8.99
All prices are NET prices.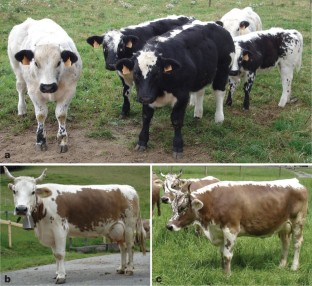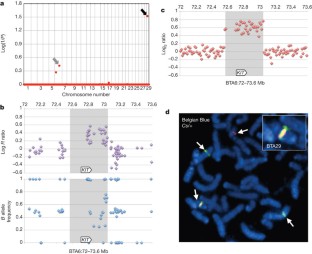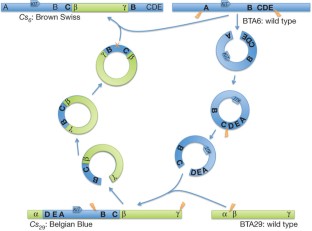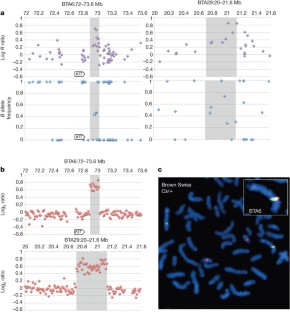 References
1

Olson, T. The Genetics of Cattle (CAB International, 1999)

2

Porter, V. & Mason, I. L. Mason's World Dictionary of Livestock Breeds, Types, and Varieties (CAB International, 2002)

3

Charlier, C. et al. Highly effective SNP-based association mapping and management of recessive defects in livestock. Nature Genet. 40, 449–454 (2008)

4

Charlier, C. et al. Microsatellite mapping of the bovine roan locus: a major determinant of white heifer disease. Mamm. Genome 7, 138–142 (1996)

5

Wang, K. et al. PennCNV: an integrated hidden Markov model designed for high-resolution copy number variation detection in whole-genome SNP genotyping data. Genome Res. 17, 1665–1674 (2007)

6

Yoshida, H. et al. Melanocyte migration and survival controlled by SCF/c-kit expression. J. Investig. Dermatol. Symp. Proc. 6, 1–5 (2001)

7

Brooks, S. A. et al. A chromosome inversion near the KIT gene and the Tobiano spotting pattern in horses. Cytogenet. Genome Res. 119, 225–230 (2007)

8

Marklund, S. et al. Molecular basis for the dominant white phenotype in the domestic pig. Genome Res. 8, 826–833 (1998)

9

Hastings, P. J., Lupski, J. R., Rosenberg, S. M. & Ira, G. Mechansisms of change in gene copy number. Nature Rev. Genet. 10, 551–564 (2009)

10

Ge, B. et al. Survey of allelic expression using EST mining. Genome Res. 15, 1584–1591 (2005)

11

Conrad, D. F. et al. Origins and functional impact of copy number variation in the human genome. Nature 464, 704–712 (2010)

12

Liu, G. E. et al. Analysis of copy number variations among diverse cattle breeds. Genome Res. 20, 693–703 (2010)

13

Liu, G. E. et al. Analysis of recent segmental duplications in the bovine genome. BMC Genomics 10, 571 (2009)

14

Borneman, A. R. et al. Whole-genome comparison reveals novel genetic elements that characterize the genome of industrial strains of Saccharomyces cerevisiae . PLoS Genet. 7, e1001287 (2011)

15

Graux, C. et al. Heterogeneous patterns of amplification of the NUP214-ABL1 fusion gene in T-cell acute lymphoblastic. Leukemia 23, 125–133 (2009)

16

Abecasis, G. et al. Merlin-rapid analysis of dense genetic maps using sparse gene flow trees. Nature Genet. 30, 97–101 (2002)

17

Drögemüller, C. et al. Genetic mapping of the belt pattern in Brown Swiss cattle to BTA3. Anim. Genet. 40, 225–229 (2009)

18

Selzer, R. et al. Analysis of chromosome breakpoints in neuroblastoma at sub-kilobase resolution using fine-tiling oligonucleotide array CGH. Genes Chromosom. Cancer 44, 305–319 (2005)

19

Workman, C. et al. A new non-linear normalization method for reducing variability in DNA microarray experiments. Genome Biol. 3, 0048 (2002)

20

Olshen, A. et al. Circular binary segmentation for the analysis of array-based DNA copy number data. Biostatistics 5, 557–572 (2004)

21

Li, H. & Durbin, R. Fast and accurate short read alignment with Burrows–Wheeler transform. Bioinformatics 25, 1754–1760 (2009)

22

James, T. et al. Integrative genomics viewer. Nature Biotechnol. 29, 24–26 (2011)
Acknowledgements
This work was funded by the Walloon Direction General Operationnelle Agriculture, Resources Naturelles et Environnement (grants D31-1206 and D31-1214) and the Swiss National Science Foundation (grant 31003A_133034 to T.L.). We are grateful for the support of the GIGA-R Genomics platform, to P. Melvin, to G. Mekuriaw and staff of the Andassa livestock research center, Viking Genetics, Swissgenetics and the Schweizer Braunviehzuchtverband for their assistance in sample collection, to J. Vermeesch and B. Nowakowska for their assistance with array CGH.
Ethics declarations
Competing interests
The authors declare no competing financial interests.
Supplementary information
This file contains Supplementary Figures 1-7 with legends, Supplementary Materials, Methods and Results, which include a table and a figure, Supplementary Tables 1-2 and additional references. (PDF 1583 kb)
About this article
Cite this article
Durkin, K., Coppieters, W., Drögemüller, C. et al. Serial translocation by means of circular intermediates underlies colour sidedness in cattle. Nature 482, 81–84 (2012). https://doi.org/10.1038/nature10757
Received:

Accepted:

Published:

Issue Date:
Comments
By submitting a comment you agree to abide by our Terms and Community Guidelines. If you find something abusive or that does not comply with our terms or guidelines please flag it as inappropriate.