Abstract
BCL6 is the product of a proto-oncogene implicated in the pathogenesis of human B-cell lymphomas1,2. By binding specific DNA sequences, BCL6 controls the transcription of a variety of genes involved in B-cell development, differentiation and activation. BCL6 is overexpressed in the majority of patients with aggressive diffuse large B-cell lymphoma (DLBCL), the most common lymphoma in adulthood, and transgenic mice constitutively expressing BCL6 in B cells develop DLBCLs similar to the human disease3,4. In many DLBCL patients, BCL6 overexpression is achieved through translocation (∼40%) or hypermutation of its promoter (∼15%). However, many other DLBCLs overexpress BCL6 through an unknown mechanism. Here we show that BCL6 is targeted for ubiquitylation and proteasomal degradation by a SKP1–CUL1–F-box protein (SCF) ubiquitin ligase complex that contains the orphan F-box protein FBXO11 (refs 5, 6). The gene encoding FBXO11 was found to be deleted or mutated in multiple DLBCL cell lines, and this inactivation of FBXO11 correlated with increased levels and stability of BCL6. Similarly, FBXO11 was either deleted or mutated in primary DLBCLs. Notably, tumour-derived FBXO11 mutants displayed an impaired ability to induce BCL6 degradation. Reconstitution of FBXO11 expression in FBXO11-deleted DLBCL cells promoted BCL6 ubiquitylation and degradation, inhibited cell proliferation, and induced cell death. FBXO11-deleted DLBCL cells generated tumours in immunodeficient mice, and the tumorigenicity was suppressed by FBXO11 reconstitution. We reveal a molecular mechanism controlling BCL6 stability and propose that mutations and deletions in FBXO11 contribute to lymphomagenesis through BCL6 stabilization. The deletions/mutations found in DLBCLs are largely monoallelic, indicating that FBXO11 is a haplo-insufficient tumour suppressor gene.
Relevant articles
Open Access articles citing this article.
Xuemei Bai

,

Chao Sui

…

Chengjiang Gao

Nature Communications Open Access 26 August 2022

Birgit Burkhardt

,

Ulf Michgehl

…

Georg Lenz

Nature Communications Open Access 06 July 2022

Lina Wang

,

Yongjun Piao

…

Guoguang Zheng

Stem Cell Research & Therapy Open Access 11 June 2022
Access options
Subscribe to Journal
Get full journal access for 1 year
$199.00
only $3.90 per issue
All prices are NET prices.
VAT will be added later in the checkout.
Tax calculation will be finalised during checkout.
Buy article
Get time limited or full article access on ReadCube.
$32.00
All prices are NET prices.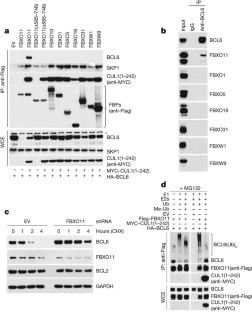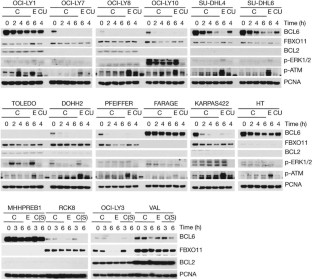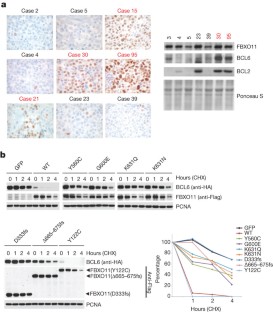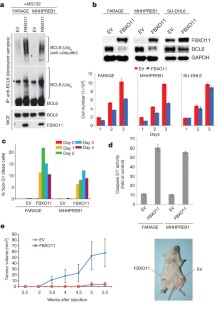 References
Ci, W., Polo, J. M. & Melnick, A. B-cell lymphoma 6 and the molecular pathogenesis of diffuse large B-cell lymphoma. Curr. Opin. Hematol. 15, 381–390 (2008)

Staudt, L. M. & Dave, S. The biology of human lymphoid malignancies revealed by gene expression profiling. Adv. Immunol. 87, 163–208 (2005)

Baron, B. W. et al. The human BCL6 transgene promotes the development of lymphomas in the mouse. Proc. Natl Acad. Sci. USA 101, 14198–14203 (2004)

Cattoretti, G. et al. Deregulated BCL6 expression recapitulates the pathogenesis of human diffuse large B cell lymphomas in mice. Cancer Cell 7, 445–455 (2005)

Cardozo, T. & Pagano, M. The SCF ubiquitin ligase: insights into a molecular machine. Nature Rev. Mol. Cell Biol. 5, 739–751 (2004)

Skaar, J. R., D'Angiolella, V., Pagan, J. K. & Pagano, M. SnapShot: F Box Proteins II. Cell 137, 1358 (2009)

Niu, H., Ye, B. H. & Dalla-Favera, R. Antigen receptor signaling induces MAP kinase-mediated phosphorylation and degradation of the BCL-6 transcription factor. Genes Dev. 12, 1953–1961 (1998)

Phan, R. T., Saito, M., Kitagawa, Y., Means, A. R. & Dalla-Favera, R. Genotoxic stress regulates expression of the proto-oncogene Bcl6 in germinal center B cells. Nature Immunol. 8, 1132–1139 (2007)

Benmaamar, R. & Pagano, M. Involvement of the SCF complex in the control of Cdh1 degradation in S-phase. Cell Cycle 4, 1230–1232 (2005)

Piva, R. et al. In vivo interference with Skp1 function leads to genetic instability and neoplastic transformation. Mol. Cell. Biol. 22, 8375–8387 (2002)

Yen, H. C. & Elledge, S. J. Identification of SCF ubiquitin ligase substrates by global protein stability profiling. Science 322, 923–929 (2008)

Skaar, J. R. & Pagano, M. Control of cell growth by the SCF and APC/C ubiquitin ligases. Curr. Opin. Cell Biol. 21, 816–824 (2009)

Jin, J. et al. Systematic analysis and nomenclature of mammalian F-box proteins. Genes Dev. 18, 2573–2580 (2004)

Edgar, R., Domrachev, M. & Lash, A. E. Gene Expression Omnibus: NCBI gene expression and hybridization array data repository. Nucleic Acids Res. 30, 207–210 (2002)

Kato, M. et al. Frequent inactivation of A20 in B-cell lymphomas. Nature 459, 712–716 (2009)

D'Angiolella, V. et al. SCF(Cyclin F) controls centrosome homeostasis and mitotic fidelity through CP110 degradation. Nature 466, 138–142 (2010)

Duan, S. et al. mTOR generates an auto-amplification loop by triggering the βTrCP- and CK1α-dependent degradation of DEPTOR. Mol. Cell 44, 317–324 (2011)

Bloom, J., Amador, V., Bartolini, F., DeMartino, G. & Pagano, M. Proteasome-mediated degradation of p21 via N-terminal ubiquitinylation. Cell 115, 71–82 (2003)

Latres, E. et al. Role of the F-box protein Skp2 in lymphomagenesis. Proc. Natl Acad. Sci. USA 98, 2515–2520 (2001)
Acknowledgements
We thank W. Carroll, S. Shaham and L. Staudt for sharing unpublished results; A. Melnick, Y. Sun and Y. Xiong for reagents; L. Cerchietti, Y. Cheng, E. Dehan, V. Donato, N. V. Dorello, S. N. Yang and Z. Yao for advice and/or contributions to this work. M.P. is grateful to T. M. Thor and K. E. Davidson, and L.C. to Zuzana S. for continuous support. This work was supported by grants from the National Institutes of Health to M.P. (R01-GM57587, R37-CA76584 and R21-CA161108) and M.S. (PO1-CA092625), a grant from Susan G. Komen for the Cure to S.D., a Lymphoma Research Foundation Fellowship to J.K.P. and grants from AIRC and ERC (ERC-2009-StG-Proposal No242965-LUNELY) to R.C. M.P. is an Investigator with the Howard Hughes Medical Institute.
Ethics declarations
Competing interests
The authors declare no competing financial interests.
Supplementary information
This file contains Supplementary Figures 1-14 with legends, Supplementary Tables 1-3 and additional references. (PDF 9357 kb)
About this article
Cite this article
Duan, S., Cermak, L., Pagan, J. et al. FBXO11 targets BCL6 for degradation and is inactivated in diffuse large B-cell lymphomas. Nature 481, 90–93 (2012). https://doi.org/10.1038/nature10688
Received:

Revised:

Accepted:

Published:

Issue Date:

DOI: https://doi.org/10.1038/nature10688
Comments
By submitting a comment you agree to abide by our Terms and Community Guidelines. If you find something abusive or that does not comply with our terms or guidelines please flag it as inappropriate.