Abstract
Long γ-ray bursts (GRBs) are the most dramatic examples of massive stellar deaths, often associated with supernovae1. They release ultra-relativistic jets, which produce non-thermal emission through synchrotron radiation as they interact with the surrounding medium2. Here we report observations of the unusual GRB 101225A. Its γ-ray emission was exceptionally long-lived and was followed by a bright X-ray transient with a hot thermal component and an unusual optical counterpart. During the first 10 days, the optical emission evolved as an expanding, cooling black body, after which an additional component, consistent with a faint supernova, emerged. We estimate its redshift to be z = 0.33 by fitting the spectral-energy distribution and light curve of the optical emission with a GRB-supernova template. Deep optical observations may have revealed a faint, unresolved host galaxy. Our proposed progenitor is a merger of a helium star with a neutron star that underwent a common envelope phase, expelling its hydrogen envelope. The resulting explosion created a GRB-like jet which became thermalized by interacting with the dense, previously ejected material, thus creating the observed black body, until finally the emission from the supernova dominated. An alternative explanation is a minor body falling onto a neutron star in the Galaxy3.
Relevant articles
Open Access articles citing this article.
Andrew Levan

,

Paul Crowther

…

Sung-Chul Yoon

Space Science Reviews Open Access 21 November 2016

N. Ivanova

,

S. Justham

…

R. F. Webbink

The Astronomy and Astrophysics Review Open Access 27 February 2013
Access options
Subscribe to Journal
Get full journal access for 1 year
$199.00
only $3.90 per issue
All prices are NET prices.
VAT will be added later in the checkout.
Tax calculation will be finalised during checkout.
Buy article
Get time limited or full article access on ReadCube.
$32.00
All prices are NET prices.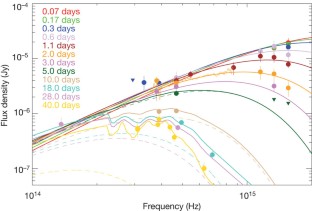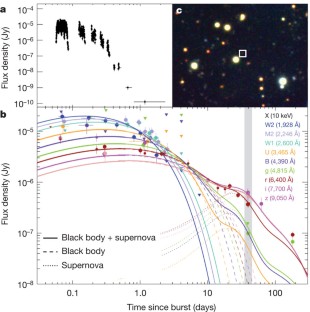 References
Woosley, S. E. & Bloom, J. S. The supernova gamma-ray burst connection. Annu. Rev. Astron. Astrophys. 44, 507–556 (2006)

Zhang, B. & Mészáros, P. Gamma-ray bursts: progress, problems and prospects. Int. J. Mod. Phys. A 19, 2385–2472 (2004)

Campana, S. et al. The unusual gamma-ray burst GRB 101225A explained as a minor body falling onto a neutron star. Nature doi:10.1038/nature10592 (this issue).

Sakamoto, T. et al. The second Swift Burst Alert Telescope gamma-ray burst catalog. Astrophys. J. Suppl. Ser. 195, 2 (2011)

Kouveliotou, C. et al. Identification of two classes of gamma-ray bursts. Astrophys. J. 413, L101–L104 (1993)

Frail, D. A. GRB 101225A. GCN Circ. 11550, (2011)

Zauderer, A., Berger, E. & Fong, W. Early EVLA observations of Christmas burst. GCN Circ. 11770, (2011)

Galama, T. J. et al. An unusual supernova in the error box of the γ-ray burst of 25 April 1998. Nature 395, 670–672 (1998)

Soderberg, A. et al. An HST study of the supernovae accompanying GRB 040924 and GRB 041006. Astrophys. J. 636, 391–399 (2006)

Wiersema, K. et al. Spectroscopy and multiband photometry of the afterglow of intermediate duration γ-ray burst GRB 040924 and its host galaxy. Astron. Astrophys. 481, 319–326 (2008)

Kann, D. A. et al. The afterglows of Swift-era gamma-ray bursts. I. Comparing pre-Swift and Swift-era long/soft (type II) GRB optical afterglows. Astrophys. J. 720, 1513–1558 (2010)

Wiersema, K. et al. The nature of the dwarf starforming galaxy associated with GRB 060218/SN 2006aj. Astron. Astrophys. 464, 529–539 (2007)

Campana, S. et al. The association of GRB 060218 with a supernova and the evolution of the shock wave. Nature 442, 1008–1010 (2006)

Starling, R. L. C. et al. Discovery of the nearby long, soft GRB 100316D with an associated supernova. Mon. Not. R. Astron. Soc. 411, 2792–2803 (2011)

Page, K. L. et al. GRB 090618: detection of thermal X-ray emission from a bright gamma-ray burst. Mon. Not. R. Astron. Soc. 416, 2078–2089 (2011)

Pian, E. et al. An optical supernova associated with the X-ray flash XRF 060218. Nature 442, 1011–1013 (2006)

Mazzali, P. et al. A neutron-star-driven X-ray flash associated with supernova SN 2006aj. Nature 442, 1018–1020 (2006)

Cano, Z. et al. A tale of two GRB-SNe at a common redshift of z = 0.54. Mon. Not. R. Astron. Soc. 413, 669–685 (2011)

Fryer, C. L. & Woosley, S. E. Helium star/black hole mergers: a new gamma-ray burst model. Astrophys. J. 502, L9–L12 (1998)

Zhang, W. & Fryer, C. L. The merger of a helium star and a black hole: gamma-ray bursts. Astrophys. J. 550, 357–367 (2001)

Barkov, M. V. & Komissarov, S. S. Recycling of neutron stars in common envelopes and hypernova explosions. Mon. Not. R. Astron. Soc. 415, 944–958 (2011)

Soderberg, A. et al. An extremely luminous X-ray outburst at the birth of a supernova. Nature 453, 469–474 (2008)
Acknowledgements
This Letter is based on observations collected at CAHA/Calar Alto, GTC/La Palma, the Liverpool Telescope at ORM/La Palma, the McDonald Observatory at the University of Texas at Austin, and Gemini-North and Keck on Hawaii. We thank J. S. Bloom for helping with the Keck observations. The Dark Cosmology Centre is funded by the DNRF. K.L.P., S.R.O. and M.D.P. acknowledge the support of the UK Space Agency. J.G., S.G. and P.K. are partially supported by MICINN. M.A.A. and P.M. are supported by an ERC starting grant. H.T.J. acknowledges support by a DFG grant. M.I., W.-K.P., C.C., J.L. and S.P. acknowledge support from CRI/NRF/MEST of Korea. A.M. acknowledges support from the Russian government. We thank A. J. Castro-Tirado for help in obtaining the data from the BTA 6-m telescope and comments on an early draft.
Ethics declarations
Competing interests
The authors declare no competing financial interests.
Supplementary information
This file contains Supplementary Text and Data 1 - 8, Supplementary Figures 1-19 with legends, Supplementary Tables 1- 7 and additional references. (PDF 3980 kb)
About this article
Cite this article
Thöne, C., de Ugarte Postigo, A., Fryer, C. et al. The unusual γ-ray burst GRB 101225A from a helium star/neutron star merger at redshift 0.33. Nature 480, 72–74 (2011). https://doi.org/10.1038/nature10611
Received:

Accepted:

Published:

Issue Date:

DOI: https://doi.org/10.1038/nature10611
Comments
By submitting a comment you agree to abide by our Terms and Community Guidelines. If you find something abusive or that does not comply with our terms or guidelines please flag it as inappropriate.