Abstract
Propelling single molecules in a controlled manner along an unmodified surface remains extremely challenging because it requires molecules that can use light, chemical or electrical energy to modulate their interaction with the surface in a way that generates motion. Nature's motor proteins1,2 have mastered the art of converting conformational changes into directed motion, and have inspired the design of artificial systems3 such as DNA walkers4,5 and light- and redox-driven molecular motors6,7,8,9,10,11. But although controlled movement of single molecules along a surface has been reported12,13,14,15,16, the molecules in these examples act as passive elements that either diffuse along a preferential direction with equal probability for forward and backward movement or are dragged by an STM tip. Here we present a molecule with four functional units—our previously reported rotary motors6,8,17—that undergo continuous and defined conformational changes upon sequential electronic and vibrational excitation. Scanning tunnelling microscopy confirms that activation of the conformational changes of the rotors through inelastic electron tunnelling propels the molecule unidirectionally across a Cu(111) surface. The system can be adapted to follow either linear or random surface trajectories or to remain stationary, by tuning the chirality of the individual motor units. Our design provides a starting point for the exploration of more sophisticated molecular mechanical systems with directionally controlled motion.
Relevant articles
Open Access articles citing this article.
Mehran Vaezi

&

Hossein Nejat Pishkenari

Scientific Reports Open Access 27 November 2023

Palas Roy

,

Wesley R. Browne

…

Stephen R. Meech

Nature Communications Open Access 06 March 2023

Long Zhang

,

Yunyan Qiu

…

J. Fraser Stoddart

Nature Open Access 11 January 2023
Access options
Subscribe to this journal
Receive 51 print issues and online access
$199.00 per year
only $3.90 per issue
Rent or buy this article
Prices vary by article type
from$1.95
to$39.95
Prices may be subject to local taxes which are calculated during checkout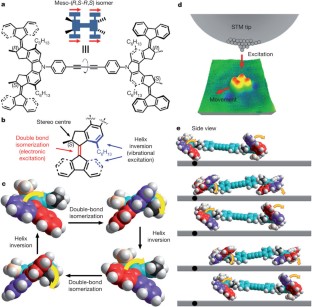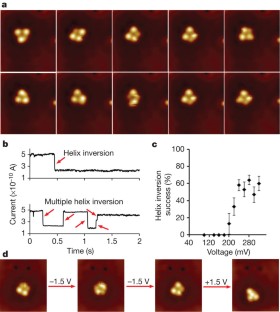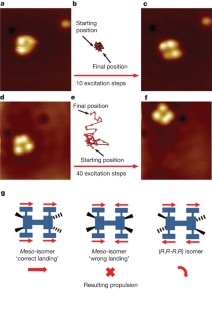 References
Schliwa, M. & Woehlke, G. Molecular motors. Nature 422, 759–765 (2003)

van den Heuvel, M. G. L. & Dekker, C. Motor proteins at work for nanotechnology. Science 317, 333–336 (2007)

Ismagilov, R. F., Schwartz, A., Bowden, N. & Whitesides, G. M. Autonomous movement and self-assembly. Angew. Chem. Int. Edn Engl. 41, 652–654 (2002)

Lund, K. et al. Molecular robots guided by prescriptive landscapes. Nature 465, 206–210 (2010)

Gu, H., Chao, J., Xiao, S.-J. & Seeman, N. C. A proximity-based programmable DNA nanoscale assembly line. Nature 465, 202–205 (2010)

Browne, W. R. & Feringa, B. L. Making molecular machines work. Nature Nanotechnol. 1, 25–35 (2006)

Kay, E. R., Leigh, D. A. & Zerbetto, F. Synthetic molecular motors and mechanical machines. Angew. Chem. Int. Edn Engl. 46, 72–191 (2007)

Koumura, N., Zijlstra, R. W. J., van Delden, R. A., Harada, N. & Feringa, B. L. Light-driven molecular rotor. Nature 401, 152–155 (1999)

Balzani, V., Credi, A., Raymo, F. M. & Stoddart, J. F. Artificial molecular machines. Angew. Chem. Int. Edn Engl. 39, 3348–3391 (2000)

van Delden, R. A. et al. Unidirectional molecular motor on a gold surface. Nature 437, 1337–1340 (2005)

Green, J. E. et al. A 160-kilobit molecular electronic memory patterned at 1011 bits per square centimeter. Nature 445, 414–417 (2007)

Shirai, Y., Osgood, A. J., Zhao, Y., Kelly, K. F. & Tour, J. M. Directional control in thermally driven single-molecule nanocars. Nano Lett. 5, 2330–2334 (2005)

Wong, K. L. et al. A molecule carrier. Science 315, 1391–1393 (2007)

Gimzewski, J. K. & Joachim, C. Nanoscale science of single molecules using local probes. Science 283, 1683–1688 (1999)

Grill, L. et al. Rolling a single molecular wheel at the atomic scale. Nature Nanotechnol. 2, 95–98 (2007)

Chiaravalloti, F. et al. A rack-and-pinion device at the molecular scale. Nature Mater. 6, 30–33 (2007)

Eelkema, R. et al. Nanomotor rotates microscale objects. Nature 440, 163 (2006)

Iancu, V., Deshpande, A. & Hla, S.-W. Manipulating Kondo temperature via single molecule switching. Nano Lett. 6, 820–823 (2006)

Qiu, X. H., Nazin, G. V. & Ho, W. Mechanisms of reversible conformational transitions in a single molecule. Phys. Rev. Lett. 93, 196806 (2004)

Lastapis, M. et al. Picometer-scale electronic control of molecular dynamics inside a single molecule. Science 308, 1000–1003 (2005)

Alemani, M. et al. Adsorption and switching properties of azobenzene derivatives on different noble metal surfaces: Au(111), Cu(111), and Au(100). J. Phys. Chem. C 112, 10509–10514 (2008)

Sainoo, Y., Kim, Y., Komeda, T., Kawai, M. & Shigekawa, H. Observation of cis-2-butene molecule on Pd(110) by cryogenic STM: site determination using tunneling-current-induced rotation. Surf. Sci. 536, L403–L407 (2003)

Henzl, J. & Morgenstern, K. An electron induced two-dimensional switch made of azobenzene derivatives anchored in supramolecular assemblies. Phys. Chem. Chem. Phys. 12, 6035–6044 (2010)

Lukas, S., Vollmer, S., Witte, G. & Wöll, C. Adsorption of acenes on flat and vicinal Cu(111) surfaces: step induced formation of lateral order. J. Chem. Phys. 114, 10123–10130 (2001)

Ueba, H. & Persson, B. N. Action spectroscopy for single-molecule motion induced by vibrational excitation with a scanning tunneling microscope. Phys. Rev. B 75, 041403 (2007)

Parschau, M., Passerone, D., Rieder, K.-H., Hug, H. J. & Ernst, K.-H. Switching the chirality of a single adsorbate. Angew. Chem. Int. Edn Engl. 48, 4065–4068 (2009)

Seideman, T. Current-driven dynamics in molecular-scale devices. J. Phys. Condens. Matter 15, R521,–doi:10.1088/0953-8984/15/14/201 (2003)

Eigler, D. M., Lutz, C. P. & Rudge, W. E. An atomic switch realized with the scanning tunnelling microscope. Nature 352, 600–603 (1991)

Parschau, M., Rieder, K.-H., Hug, H. J. & Ernst, K.-H. Single-molecule chemistry and analysis: mode-specific dehydrogenation of adsorbed propene by inelastic electron tunneling. J. Am. Chem. Soc. 133, 5689–5691 (2011)
Acknowledgements
This research was supported by the Netherlands Organization for Scientific Research (NWO-CW) (B.L.F. and T.K. through a VENI grant), the Swiss Secretary for Education and Research and the Swiss National Science Foundation (K.-H.E. and M.P.), and the European Research Council (ERC advanced grant 227897 to B.L.F.).
Ethics declarations
Competing interests
The authors declare no competing financial interests.
Supplementary information
About this article
Cite this article
Kudernac, T., Ruangsupapichat, N., Parschau, M. et al. Electrically driven directional motion of a four-wheeled molecule on a metal surface. Nature 479, 208–211 (2011). https://doi.org/10.1038/nature10587
Received:

Accepted:

Published:

Issue Date:

DOI: https://doi.org/10.1038/nature10587
Comments
By submitting a comment you agree to abide by our Terms and Community Guidelines. If you find something abusive or that does not comply with our terms or guidelines please flag it as inappropriate.