Abstract
Replying to F.-J. Müller & A. Schuppert Nature 478, 10.1038/nature10543 (2011)
Müller and Schuppert1 describe an exception to our finding2 that roughly 80% of the nodes must be controlled to gain full control over gene regulatory networks. Yet our result hides subtleties that reveal as much about controllability as about the limits of our current understanding of biological networks.
Access options
Subscribe to Journal
Get full journal access for 1 year
$199.00
only $3.90 per issue
All prices are NET prices.
VAT will be added later in the checkout.
Tax calculation will be finalised during checkout.
Rent or Buy article
Get time limited or full article access on ReadCube.
from$8.99
All prices are NET prices.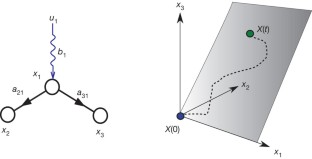 References
1

Müller, F.-J. & Schuppert, A. Few inputs can reprogram biological networks. Nature 478, 10.1038/nature10543 (this issue).

2

Liu, Y.-Y., Slotine, J.-J. & Barabási, A.-L. Controllability of complex networks. Nature 473, 167–173 (2011)

3

Li, F., Long, T., Lu, Y., Ouyang, Q. & Tang, C. The yeast cell-cycle network is robustly designed. Proc. Natl Acad. Sci. USA 101, 4781–4786 (2004)

4

Waddington, C. H. The Strategy of the Genes (Geo Allen & Unwin, 1957)

5

Huang, S., Eichler, G., Bar-Yam, Y. & Ingber, D. Cell fates as high-dimensional attractor states of a complex gene regulatory network. Phys. Rev. Lett. 94, 1–4 (2005)

6

Venkatesan, K. et al. An empirical framework for binary interactome mapping. Nature Methods 6, 83–90 (2009)

7

Barabási, A.-L., Gulbahce, N. & Loscalzo, J. Network medicine: a network-based approach to human disease. Nature Rev. Genet. 12, 56–68 (2011)

8

Slotine, J.-J. & Li, W. Applied Nonlinear Control (Prentice-Hall, 1991)

9

Isidori, A. Nonlinear Control Systems (Springer, 1995)
About this article
Cite this article
Liu, YY., Slotine, JJ. & Barabási, AL. Liu et al. reply. Nature 478, E4–E5 (2011). https://doi.org/10.1038/nature10544
Further reading
Isaac Klickstein

,

Afroza Shirin

&

Francesco Sorrentino

Nature Communications (2017)

Francesco Lo Iudice

,

Franco Garofalo

&

Francesco Sorrentino

Nature Communications (2015)
Comments
By submitting a comment you agree to abide by our Terms and Community Guidelines. If you find something abusive or that does not comply with our terms or guidelines please flag it as inappropriate.