Abstract
Arising from H. A. Tissenbaum & L. Guarente Nature 410, 227–230 (2001)10.1038/35065638
Tissenbaum and Guarente1 identified the first metazoan Sir2 homologue shown to affect lifespan, Caenorhabditis elegans sir-2.1. Independent transgenic lines harbouring extrachromosomal DNA arrays containing sir-2.1 and the dominant transgene marker rol-6(su1006) were reported to extend mean lifespan between 15% and 50%1. Similar extensions in mean lifespan were also found for lines in which the sir-2.1 transgenic arrays were integrated into the genome following γ-irradiation1. However, the extension of lifespan was overestimated in a high-copy sir-2.1 transgene-containing worm strain because of an unlinked mutation.
Relevant articles
Open Access articles citing this article.
Yuan Zhao

,

Hongyuan Wang

…

David Gems

Nature Communications Open Access 08 November 2019

Shin-ichiro Imai

&

Leonard Guarente

npj Aging and Mechanisms of Disease Open Access 18 August 2016

Masaharu Uno

&

Eisuke Nishida

npj Aging and Mechanisms of Disease Open Access 02 June 2016
Access options
Subscribe to Journal
Get full journal access for 1 year
$199.00
only $3.90 per issue
All prices are NET prices.
VAT will be added later in the checkout.
Tax calculation will be finalised during checkout.
Buy article
Get time limited or full article access on ReadCube.
$32.00
All prices are NET prices.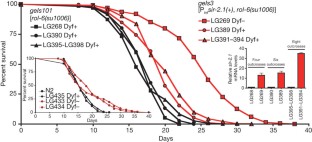 References
Tissenbaum, H. A. & Guarente, L. Increased dosage of a sir-2 gene extends lifespan in Caenorhabditis elegans. Nature 410, 227–230 (2001)

Apfeld, J. & Kenyon, C. Regulation of lifespan by sensory perception in Caenorhabditis elegans. Nature 402, 804–809 (1999)

Bamps, S., Wirtz, J., Savory, F. R., Lake, D. & Hope, I. A. The Caenorhabditis elegans sirtuin gene, sir-2. 1, is widely expressed and induced upon caloric restriction. Mech. Ageing Dev. 130, 762–770 (2009)

Viswanathan, M., Kim, S. K., Berdichevsky, A. & Guarente, L. A role for SIR-2.1 regulation of ER stress response genes in determining C. elegans life span. Dev. Cell 9, 605–615 (2005)

Berdichevsky, A., Viswanathan, M., Horvitz, H. R. & Guarente, L. C. elegans SIR-2.1 interacts with 14-3-3 proteins to activate DAF-16 and extend life span. Cell 125, 1165–1177 (2006)

Rizki, G. et al. The evolutionarily conserved longevity determinants HCF-1 and SIR-2.1/SIRT1 collaborate to regulate DAF-16/FOXO. PLoS Genet. 7, e1002235 (2011)
Ethics declarations
Competing interests
Competing financial interests: LG is co-chair of the SAB of Sirtris/GSK.
About this article
Cite this article
Viswanathan, M., Guarente, L. Regulation of Caenorhabditis elegans lifespan by sir-2.1 transgenes. Nature 477, E1–E2 (2011). https://doi.org/10.1038/nature10440
Received:

Accepted:

Published:

Issue Date:

DOI: https://doi.org/10.1038/nature10440
Comments
By submitting a comment you agree to abide by our Terms and Community Guidelines. If you find something abusive or that does not comply with our terms or guidelines please flag it as inappropriate.