Abstract
The architecture of mutualistic networks facilitates coexistence of individual participants by minimizing competition relative to facilitation1,2. However, it is not known whether this benefit is received by each participant node in proportion to its overall contribution to network persistence. This issue is critical to understanding the trade-offs faced by individual nodes in a network3,4,5. We address this question by applying a suite of structural and dynamic methods to an ensemble of flowering plant/insect pollinator networks. Here we report two main results. First, nodes contribute heterogeneously to the overall nested architecture of the network. From simulations, we confirm that the removal of a strong contributor tends to decrease overall network persistence more than the removal of a weak contributor. Second, strong contributors to collective persistence do not gain individual survival benefits but are in fact the nodes most vulnerable to extinction. We explore the generality of these results to other cooperative networks by analysing a 15-year time series of the interactions between designer and contractor firms in the New York City garment industry. As with the ecological networks, a firm's survival probability decreases as its individual nestedness contribution increases. Our results, therefore, introduce a new paradox into the study of the persistence of cooperative networks, and potentially address questions about the impact of invasive species in ecological systems and new competitors in economic systems.
Access options
Subscribe to Journal
Get full journal access for 1 year
$199.00
only $3.90 per issue
All prices are NET prices.
VAT will be added later in the checkout.
Tax calculation will be finalised during checkout.
Rent or Buy article
Get time limited or full article access on ReadCube.
from$8.99
All prices are NET prices.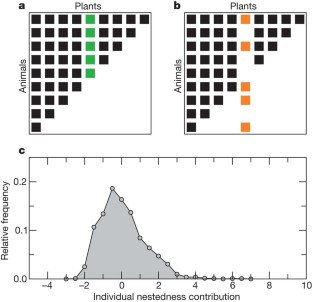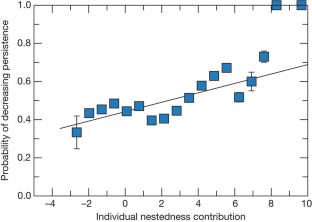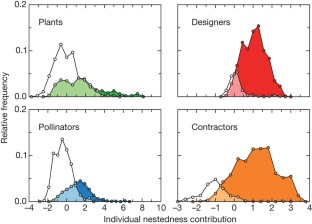 References
1

Bastolla, U. et al. The architecture of mutualistic networks minimizes competition and increases biodiversity. Nature 458, 1018–1020 (2009)

2

Sugihara, G. & Ye, H. Cooperative network dynamics. Nature 458, 979–980 (2009)

3

Rankin, D. J., Bargum, K. & Kokko, H. The tragedy of the commons in evolutionary biology. Trends Ecol. Evol. 22, 643–651 (2007)

4

Leigh, E. G. How does selection reconcile individual advantage with the good of the group? Proc. Natl Acad. Sci. USA 74, 4542–4546 (1977)

5

Falster, D. S. & Westoby, M. Plant height and evolutionary games. Trends Ecol. Evol. 18, 337–343 (2003)

6

Axelrod, R. & Hamilton, W. D. The evolution of cooperation. Science 211, 1390–1396 (1981)

7

Gintis, H., Bowles, S., Boyd, R. T., Fehr, E., eds. Moral Sentiments and Material Interests: The Foundations of Cooperation in Economic Life (MIT Press, 2005)

8

Bascompte, J. Disentangling the web of life. Science 325, 416–419 (2009)

9

May, R. M., Levin, S. A. & Sugihara, G. Complex systems: ecology for bankers. Nature 451, 893–895 (2009)

10

Haldane, A. G. & May, R. M. Systemic risk in banking ecosystems. Nature 469, 351–355 (2011)

11

Saavedra, S., Reed-Tsochas, F. & Uzzi, B. A simple model of bipartite cooperation for ecological and organisational networks. Nature 457, 463–466 (2009)

12

Saavedra, S., Powers, S., McCotter, T., Porter, M. A. & Mucha, P. J. Mutually-antagonistic interactions in baseball networks. Physica A 389, 1131–1141 (2010)

13

Fowler, J. H. & Christakis, N. Cooperative behavior cascades in human social networks. Proc. Natl Acad. Sci. USA 107, 5334–5338 (2010)

14

Weyl, E. G., Frederickson, M. E., Yu, D. W. & Pierce, N. E. Economic contract theory tests models of mutualism. Proc. Natl Acad. Sci. USA 107, 15712–15716 (2010)

15

Bascompte, J. & Jordano, P. The structure of plant-animal mutualistic networks: the architecture of biodiversity. Annu. Rev. Ecol. Evol. Syst. 38, 567–593 (2007)

16

Bascompte, J., Jordano, P., Melián, C. J. & Olesen, J. M. The nested assembly of plant-animal mutualistic networks. Proc. Natl Acad. Sci. USA 100, 9383–9387 (2003)

17

Rezende, E. L., Lavabre, J. E., Guimarães, P. R., Jordano, P. & Bascompte, J. Non-random coextinctions in phylogenetically structured mutualistic networks. Nature 448, 925–928 (2007)

18

Saavedra, S., Reed-Tsochas, F. & Uzzi, B. Asymmetric disassembly and robustness in declining networks. Proc. Natl Acad. Sci. USA 10, 16466–16471 (2009)

19

De Toni, A. & Nassimbeni, G. Supply networks: genesis, stability and logistics implications. A comparative analysis of two districts. Omega 23, 403–418 (1995)

20

Uzzi, B. The sources and consequences of embeddedness for the economic performance of organizations: the network effect. Am. Sociol. Rev. 61, 674–698 (1996)

21

Doeringer, J. & Crean, S. Can fast fashion save the US apparel industry? Socioecon. Rev. 4, 353–377 (1996)

22

Almeida-Neto, M., Guimarães, P., Guimarães, P. R., Jr, Loyola, R. D. & Urlich, W. A consistent metric for nestedness analysis in ecological systems: reconciling concept and measurement. Oikos 117, 1227–1239 (2008)
Acknowledgements
Funding was provided by the Kellogg School of Management, Northwestern University, the Northwestern University Institute on Complex Systems (NICO; to S.S. and B.U.), NUCATS grant UL1RR025741 (to S.S.), a CSIC-JAE postdoctoral fellowship (to D.B.S.), the Army Research Laboratory (under cooperative agreement W911NF-09-2-0053 to B.U.), and the European Research Council under the European Community's Seventh Framework Programme (FP7/2007-2013) through an Advanced Grant (grant agreement 268543 to J.B.). Figures were generated with PyGrace (http://pygrace.sourceforge.net).
Ethics declarations
Competing interests
The authors declare no competing financial interests.
Supplementary information
This file contains Supplementary Methods, Supplementary References and Supplementary Figures 1-7 with legends. (PDF 290 kb)
About this article
Cite this article
Saavedra, S., Stouffer, D., Uzzi, B. et al. Strong contributors to network persistence are the most vulnerable to extinction. Nature 478, 233–235 (2011). https://doi.org/10.1038/nature10433
Received:

Accepted:

Published:

Issue Date:
Comments
By submitting a comment you agree to abide by our Terms and Community Guidelines. If you find something abusive or that does not comply with our terms or guidelines please flag it as inappropriate.