Abstract
G protein-coupled receptors (GPCRs) are responsible for the majority of cellular responses to hormones and neurotransmitters as well as the senses of sight, olfaction and taste. The paradigm of GPCR signalling is the activation of a heterotrimeric GTP binding protein (G protein) by an agonist-occupied receptor. The β2 adrenergic receptor (β2AR) activation of Gs, the stimulatory G protein for adenylyl cyclase, has long been a model system for GPCR signalling. Here we present the crystal structure of the active state ternary complex composed of agonist-occupied monomeric β2AR and nucleotide-free Gs heterotrimer. The principal interactions between the β2AR and Gs involve the amino- and carboxy-terminal α-helices of Gs, with conformational changes propagating to the nucleotide-binding pocket. The largest conformational changes in the β2AR include a 14 Å outward movement at the cytoplasmic end of transmembrane segment 6 (TM6) and an α-helical extension of the cytoplasmic end of TM5. The most surprising observation is a major displacement of the α-helical domain of Gαs relative to the Ras-like GTPase domain. This crystal structure represents the first high-resolution view of transmembrane signalling by a GPCR.
Relevant articles
Open Access articles citing this article.
Wenjing Sun

,

Fan Yang

…

Changlin Tian

Cell Discovery Open Access 30 June 2023

Yosuke Toyoda

,

Angqi Zhu

…

Xiangyu Liu

Nature Communications Open Access 20 June 2023

Fabian Bumbak

,

James B. Bower

…

Joshua J. Ziarek

Nature Communications Open Access 07 June 2023
Access options
Subscribe to this journal
Receive 51 print issues and online access
$199.00 per year
only $3.90 per issue
Rent or buy this article
Prices vary by article type
from$1.95
to$39.95
Prices may be subject to local taxes which are calculated during checkout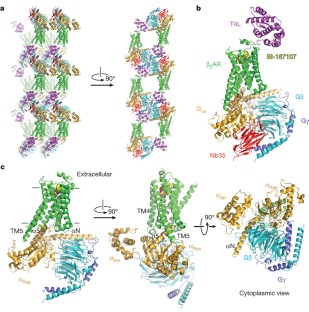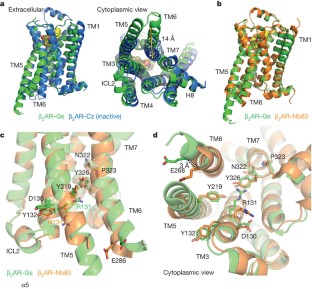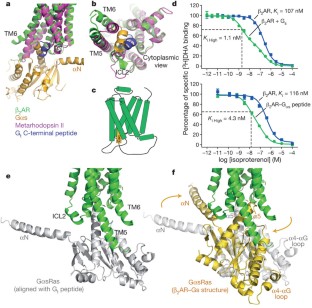 References
Dixon, R. A. et al. Cloning of the gene and cDNA for mammalian β-adrenergic receptor and homology with rhodopsin. Nature 321, 75–79 (1986)

Rasmussen, S. G. et al. Crystal structure of the human β2 adrenergic G-protein-coupled receptor. Nature 450, 383–387 (2007)

Rosenbaum, D. M. et al. GPCR engineering yields high-resolution structural insights into β2-adrenergic receptor function. Science 318, 1266–1273 (2007)

Lefkowitz, R. J. Seven transmembrane receptors: something old, something new. Acta Physiol. (Oxf.) 190, 9–19 (2007)

Brandt, D. R., Asano, T., Pedersen, S. E. & Ross, E. M. Reconstitution of catecholamine-stimulated guanosinetriphosphatase activity. Biochemistry 22, 4357–4362 (1983)

Cerione, R. A. et al. The mammalian β2-adrenergic receptor: reconstitution of functional interactions between pure receptor and pure stimulatory nucleotide binding protein of the adenylate cyclase system. Biochemistry 23, 4519–4525 (1984)

Ross, E. M., Maguire, M. E., Sturgill, T. W., Biltonen, R. L. & Gilman, A. G. Relationship between the β-adrenergic receptor and adenylate cyclase. Studies of ligand binding and enzyme activity in purified membranes of S49 lymphoma cells. J. Biol. Chem. 252, 5761–5775 (1977)

De Lean, A., Stadel, J. M. & Lefkowitz, R. J. A ternary complex model explains the agonist-specific binding properties of the adenylate cyclase-coupled β-adrenergic receptor. J. Biol. Chem. 255, 7108–7117 (1980)

Fredriksson, R., Lagerstrom, M. C., Lundin, L. G. & Schioth, H. B. The G-protein-coupled receptors in the human genome form five main families. Phylogenetic analysis, paralogon groups, and fingerprints. Mol. Pharmacol. 63, 1256–1272 (2003)

Azzi, M. et al. β-arrestin-mediated activation of MAPK by inverse agonists reveals distinct active conformations for G protein-coupled receptors. Proc. Natl Acad. Sci. USA 100, 11406–11411 (2003)

Lefkowitz, R. J. & Shenoy, S. K. Transduction of receptor signals by β-arrestins. Science 308, 512–517 (2005)

Rasmussen, S. G. et al. Structure of a nanobody-stabilized active state of the β2 adrenoceptor. Nature 469, 175–180 (2011)

Chae, P. S. et al. Maltose-neopentyl glycol (MNG) amphiphiles for solubilization, stabilization and crystallization of membrane proteins. Nature Methods 7, 1003–1008 (2010)

Sprang, S. R. G protein mechanisms: insights from structural analysis. Annu. Rev. Biochem. 66, 639–678 (1997)

Misquitta, L. V. et al. Membrane protein crystallization in lipidic mesophases with tailored bilayers. Structure 12, 2113–2124 (2004)

Domanska, K. et al. Atomic structure of a nanobody-trapped domain-swapped dimer of an amyloidogenic β2-microglobulin variant. Proc. Natl Acad. Sci. USA 108, 1314–1319 (2011)

Warne, T. et al. Structure of a β1-adrenergic G-protein-coupled receptor. Nature 454, 486–491 (2008)

Hofmann, K. P. et al. A G protein-coupled receptor at work: the rhodopsin model. Trends Biochem. Sci. 34, 540–552 (2009)

Moro, O., Lameh, J., Hogger, P. & Sadee, W. Hydrophobic amino acid in the i2 loop plays a key role in receptor-G protein coupling. J. Biol. Chem. 268, 22273–22276 (1993)

Baltensperger, K. et al. The β-adrenergic receptor is a substrate for the insulin receptor tyrosine kinase. J. Biol. Chem. 271, 1061–1064 (1996)

Jastrzebska, B., Tsybovsky, Y. & Palczewski, K. Complexes between photoactivated rhodopsin and transducin: progress and questions. Biochem. J. 428, 1–10 (2010)

Johnston, C. A. & Siderovski, D. P. Receptor-mediated activation of heterotrimeric G-proteins: current structural insights. Mol. Pharmacol. 72, 219–230 (2007)

Breitwieser, G. E. G protein-coupled receptor oligomerization: implications for G protein activation and cell signaling. Circ. Res. 94, 17–27 (2004)

Banères, J. L. & Parello, J. Structure-based analysis of GPCR function: evidence for a novel pentameric assembly between the dimeric leukotriene B4 receptor BLT1 and the G-protein. J. Mol. Biol. 329, 815–829 (2003)

Angers, S., Salahpour, A. & Bouvier, M. Dimerization: an emerging concept for G protein-coupled receptor ontogeny and function. Annu. Rev. Pharmacol. Toxicol. 42, 409–435 (2002)

Sunahara, R. K., Tesmer, J. J., Gilman, A. G. & Sprang, S. R. Crystal structure of the adenylyl cyclase activator Gsα . Science 278, 1943–1947 (1997)

Van Eps, N. et al. Interaction of a G protein with an activated receptor opens the interdomain interface in the α subunit. Proc. Natl Acad. Sci. USA 108, 9420–9424 (2011)

Markby, D. W., Onrust, R. & Bourne, H. R. Separate GTP binding and GTPase activating domains of a Gα subunit. Science 262, 1895–1901 (1993)

Conklin, B. R. & Bourne, H. R. Structural elements of Gα subunits that interact with Gβγ, receptors, and effectors. Cell 73, 631–641 (1993)

Oldham, W. M. & Hamm, H. E. Heterotrimeric G protein activation by G-protein-coupled receptors. Nature Rev. Mol. Cell Biol. 9, 60–71 (2008)

Wall, M. A. et al. The structure of the G protein heterotrimer Giα1 β 1 γ 2 . Cell 83, 1047–1058 (1995)

Choe, H. W. et al. Crystal structure of metarhodopsin II. Nature 471, 651–655 (2011)

Standfuss, J. et al. The structural basis of agonist-induced activation in constitutively active rhodopsin. Nature 471, 656–660 (2011)

Westfield, G. et al. Structurall flexibility of the Gαs α-helical domain in the β2-adrenoceptor Gs complex. Proc. Nati Acad. Sci. USA 10.1073/pnas.1113645108 (in the press)

Chung, K. Y. et al. β2 adrenergic receptor-induced conformational changes in the heterotrimeric G protein Gs. Nature 10.1038/nature10488 (this issue)

Kobilka, B. K. Amino and carboxyl terminal modifications to facilitate the production and purification of a G protein-coupled receptor. Anal. Biochem. 231, 269–271 (1995)

Whorton, M. R. et al. A monomeric G protein-coupled receptor isolated in a high-density lipoprotein particle efficiently activates its G protein. Proc. Natl Acad. Sci. USA 104, 7682–7687 (2007)

Caffrey, M. & Cherezov, V. Crystallizing membrane proteins using lipidic mesophases. Nature Protocols 4, 706–731 (2009)

Rosenbaum, D. M. et al. Structure and function of an irreversible agonist-β2 adrenoceptor complex. Nature 469, 236–240 (2011)

Otwinowski, Z. & Minor, W. Processing of X-ray diffraction data collected in oscillation mode. Methods Enzymol. 276, 307–326 (1997)

Strong, M. et al. Toward the structural genomics of complexes: crystal structure of a PE/PPE protein complex from Mycobacterium tuberculosis . Proc. Natl Acad. Sci. USA 103, 8060–8065 (2006)

McCoy, A. J. Solving structures of protein complexes by molecular replacement with Phaser . Acta Crystallogr. D 63, 32–41 (2007)

McCoy, A. J. et al. Phaser crystallographic software. J. Appl. Cryst. 40, 658–674 (2007)

Afonine, P. V., Grosse-Kunstleve, R. W. & Adams, P. D. A robust bulk-solvent correction and anisotropic scaling procedure. Acta Crystallogr. D 61, 850–855 (2005)

Blanc, E. et al. Refinement of severely incomplete structures with maximum likelihood in BUSTER-TNT . Acta Crystallogr. D 60, 2210–2221 (2004)

Emsley, P. & Cowtan, K. Coot: model-building tools for molecular graphics. Acta Crystallogr. D 60, 2126–2132 (2004)

Schröder, G. F., Levitt, M. & Brunger, A. T. Super-resolution biomolecular crystallography with low-resolution data. Nature 464, 1218–1222 (2010)

Chen, V. B. et al. MolProbity: all-atom structure validation for macromolecular crystallography. Acta Crystallogr. D 66, 12–21 (2010)

Swaminath, G., Steenhuis, J., Kobilka, B. & Lee, T. W. Allosteric modulation of β2-adrenergic receptor by Zn2+ . Mol. Pharmacol. 61, 65–72 (2002)
Acknowledgements
We acknowledge support from National Institutes of Health Grants NS028471 (B.K.K.) and GM083118 (B.K.K. and R.K.S.), GM56169 (W.I.W.), P01 GM75913 (S.H.G), T32-GM008270 and P60DK-20572 (R.K.S.), GM75915, P50GM073210 and U54GM094599 (M.C.), Science Foundation Ireland (07/IN.1/B1836) and FP7 COST Action CM0902 (M.C.),the Mathers Foundation (B.K.K. and W.I.W.), the Lundbeck Foundation (Junior Group Leader Fellowship, S.G.F.R.), the University of Michigan Biomedical Sciences Scholars Program (R.K.S.), the Fund for Scientific Research of Flanders (FWO-Vlaanderen) and the Institute for the encouragement of Scientific Research and Innovation of Brussels (ISRIB) (E.P. and J.S.), The Danish Council for Independent Research, Medical Sciences (J.M.M.). We thank D. Grayson and A. Coughlan for help with lipid synthesis.
Ethics declarations
Competing interests
The authors declare no competing financial interests.
Supplementary information
This file contains Supplementary Figures 1–12 with legends and Supplementary Tables 1–3. (PDF 7697 kb)
About this article
Cite this article
Rasmussen, S., DeVree, B., Zou, Y. et al. Crystal structure of the β2 adrenergic receptor–Gs protein complex. Nature 477, 549–555 (2011). https://doi.org/10.1038/nature10361
Received:

Accepted:

Published:

Issue Date:

DOI: https://doi.org/10.1038/nature10361
Comments
By submitting a comment you agree to abide by our Terms and Community Guidelines. If you find something abusive or that does not comply with our terms or guidelines please flag it as inappropriate.