Abstract
Marine and ice-core records show that the Earth has experienced a succession of glacials and interglacials during the Quaternary (last ∼2.6 million years), although it is often difficult to correlate fragmentary terrestrial records with specific cycles. Aminostratigraphy is a method potentially able to link terrestrial sequences to the marine isotope stages (MIS) of the deep-sea record1,2. We have used new methods of extraction and analysis of amino acids, preserved within the calcitic opercula of the freshwater gastropod Bithynia, to provide the most comprehensive data set for the British Pleistocene based on a single dating technique. A total of 470 opercula from 74 sites spanning the entire Quaternary are ranked in order of relative age based on the extent of protein degradation, using aspartic acid/asparagine (Asx), glutamic acid/glutamine (Glx), serine (Ser), alanine (Ala) and valine (Val). This new aminostratigraphy is consistent with the stratigraphical relationships of stratotypes, sites with independent geochronology, biostratigraphy and terrace stratigraphy3,4,5,6. The method corroborates the existence of four interglacial stages between the Anglian (MIS 12) and the Holocene in the terrestrial succession. It establishes human occupation of Britain in most interglacial stages after MIS 15, but supports the notion of human absence during the Last Interglacial (MIS 5e)7. Suspicions that the treeless 'optimum of the Upton Warren interstadial' at Isleworth pre-dates MIS 3 are confirmed. This new aminostratigraphy provides a robust framework against which climatic, biostratigraphical and archaeological models can be tested.
Access options
Subscribe to Journal
Get full journal access for 1 year
$199.00
only $3.83 per issue
All prices are NET prices.
VAT will be added later in the checkout.
Rent or Buy article
Get time limited or full article access on ReadCube.
from$8.99
All prices are NET prices.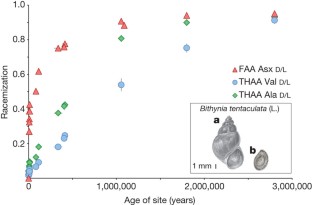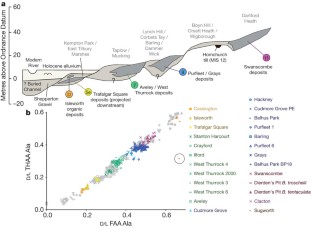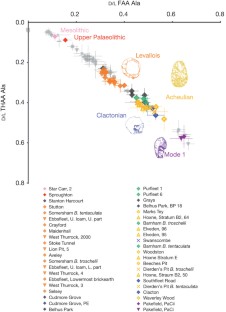 References
1

Miller, G. H., Hollin, J. T. & Andrews, J. T. Aminostratigraphy of UK Pleistocene deposits. Nature 281, 539–543 (1979)

2

Bowen, D. Q., Hughes, S., Sykes, G. A. & Miller, G. H. Land-sea correlations in the Pleistocene based on isoleucine epimerization in non-marine molluscs. Nature 340, 49–51 (1989)

3

von Koenigswald, W. & van Kolfschoten, T. in The early Middle Pleistocene in Europe. (ed. Turner, C. ) 211–226 (Balkema, 1996)

4

Schreve, D. C. Differentiation of the British late Middle Pleistocene interglacials: the evidence from mammalian biostratigraphy. Quat. Sci. Rev. 20, 1693–1705 (2001)

5

Keen, D. H. Towards a late Middle Pleistocene non-marine molluscan biostratigraphy for the British Isles. Quat. Sci. Rev. 20, 1657–1665 (2001)

6

Bridgland, D. R. The record from British Quaternary river systems within the context of global fluvial archives. J. Quaternary Sci. 25, 433–446 (2010)

7

Ashton, N. & Lewis, S. G. Deserted Britain: declining populations in the British late Middle Pleistocene. Antiquity 76, 388–396 (2002)

8

Bridgland, D. R., Maddy, D. & Bates, M. River terrace sequences: templates for Quaternary geochronology and marine-terrestrial correlation. J. Quaternary Sci. 19, 203–218 (2004)

9

Penkman, K. E. H., Kaufman, D. S., Maddy, D. & Collins, M. J. Closed-system behaviour of the intra-crystalline fraction of amino acids in mollusc shells. Quaternary Geochronol. 3, 2–25 (2008)

10

Penkman, K. E. H. et al. Testing the aminostratigraphy of fluvial archives: the evidence from intra-crystalline proteins within freshwater shells. Quat. Sci. Rev. 26, 2958–2969 (2007)

11

Penkman, K. E. H., Preece, R. C., Keen, D. H. & Collins, M. J. Amino acid geochronology of the type Cromerian of West Runton, Norfolk, UK. Quaternary Int. 228, 25–37 (2010)

12

Sykes, G. A., Collins, M. J. & Walton, D. I. The significance of a geochemically isolated intracrystalline fraction within biominerals. Org. Geochem. 23, 1059–1065 (1995)

13

Kaufman, D. S. & Manley, W. F. A new procedure for determining dl amino acid ratios in fossils using reverse phase liquid chromatography. Quat. Sci. Rev. 17, 987–1000 (1998)

14

Preece, R. C. & Penkman, K. E. H. New faunal analyses and amino acid dating of the Lower Palaeolithic site at East Farm, Barnham, Suffolk. Proc. Geol. Assoc. 116, 363–377 (2005)

15

Bowen, D. Q. A Revised Correlation of Quaternary Deposits in the British Isles (Geological Society of London, Special Report) (Geological Society, 1999)

16

Bridgland, D. R. River terrace systems in north-west Europe: an archive of environmental change, uplift and early human occupation. Quat. Sci. Rev. 19, 1293–1303 (2000)

17

Gibbard, P. The Pleistocene History of the Lower Thames Valley (Cambridge University Press, 1994)

18

Bridgland, D. R. Quaternary of the Thames (Chapman and Hall, 1994)

19

Bridgland, D. R. The Middle and Upper Pleistocene sequence in the Lower Thames: a record of Milankovitch climatic fluctuation and early human occupation of southern Britain: Henry Stopes Memorial Lecture. Proc. Geol. Assoc. 117, 281–305 (2006)

20

Bridgland, D. R. et al. The Palaeolithic occupation of Europe as revealed by evidence from the rivers: data from IGCP 449. J. Quaternary Sci. 21, 437–455 (2006)

21

Maddy, D., Keen, D. H., Bridgland, D. R. & Green, C. P. A revised model for the Pleistocene development of the River Avon, Warwickshire. J. Geol. Soc. Lond. 148, 473–484 (1991)

22

White, T. S., Bridgland, D. R. & Howard, A. J. in The Quaternary of the Trent Valley and Adjoining Regions: Field Guide (eds White, T. S., Bridgland, D. R., Howard, A. J., & White, M. J. ) 10–23 (Quaternary Research Association, 2007)

23

Boreham, S., White, T. S., Bridgland, D. R., Howard, A. J. & White, M. J. The Quaternary history of the Wash fluvial network. Proc. Geol. Assoc. 121, 393–409 (2010)

24

Coope, G. R. & Angus, R. B. An ecological study of a temperate interlude in the middle of the last glaciation, based on fossil Coleoptera from Isleworth, Middlesex. J. Anim. Ecol. 44, 365–391 (1975)

25

Maddy, D. et al. The Upper Pleistocene deposits at Cassington, near Oxford, England. J. Quaternary Sci. 13, 205–231 (1998)

26

Meijer, T. & Preece, R. C. A review of the occurrence of Corbicula in the Pleistocene of North-west Europe. Netherlands J. Geosci.79 241–255 (2000)

27

Preece, R. C. et al. Biostratigraphic and aminostratigraphic constraints on the age of the Middle Pleistocene glacial succession in North Norfolk, UK. J. Quaternary Sci. 24, 557–580 (2009)

28

White, M. J. & Ashton, N. Lower Palaeolithic core technology and the origins of the Levallois method in North-Western Europe. Curr. Anthropol. 44, 598–609 (2003)

29

Lewis, S. G., Ashton, N. & Jacobi, R. in The Ancient Human Occupation of Britain (eds N. Ashton, S.G. Lewis & C. Stringer ) 125–164 (Elsevier, 2010)

30

Jansen, E. et al. in Climate Change 2007: The Physical Science Basis. Contribution of Working Group I to the Fourth Assessment Report of the Intergovernmental Panel on Climate Change (eds Solomon, S. et al.) (Cambridge Univ. Press, 2007)
Acknowledgements
We thank D. Maddy, P. Allen, N. Ashton, D. Bain, M. Bates, S. Boreham, D. Bowen, R. Briant, C. Buckingham, J. Clayden, G. R. Coope, A. Cruickshanks, P. Dark, B. Demarchi, M. Greenwood, D. Kaufman, T. van Kolfschoten, H. Langford, S. Lewis, R. Markham, D. Mayhew, H. Roe, J. Rose, D. Schreve, R. Scott, K. Scott, C. Stringer, R.Waghorne, M. Warren and F. Wenban-Smith for providing some of the material analysed and general discussion. C. Helmsley and J. Todd released material from the Natural History Museum, London, for destructive analysis. R. Allen provided technical support. G. Peeters gave permission to reproduce images of Bithynia. The analyses were funded by English Heritage, NERC and the Wellcome Trust (grant GR076905MA). This is a contribution to the Ancient Human Occupation of Britain (AHOB) project funded by the Leverhulme Trust.
Ethics declarations
Competing interests
The authors declare no competing financial interests.
Supplementary information
This file contains Supplementary Figure 1 and legend, a Supplementary Discussion on temperature estimates across the study, additional references and Supplementary Text concerning the Supplementary Data file (see separate file). (PDF 768 kb)
Supplementary Data 1/Location details together with key site information and references. This table includes additional MIS attributions that may have been reliant on either original A/I data or new IcPD data. Supplementary Data 2/Mean Ala D/L values tabulated against terrace stratigraphy for four representative river systems in southern Britain; tributary and non-fluvial sites are excluded (full data and references in Supplementary Data 1). Approximate height ranges relate to the occurrence of interglacial sediments above the modern river (taken from data given in 15,18,6,23) rather than the terrace surface (Fig. 2) Note the increasing Ala values with increasing terrace elevation (and therefore age) within each fluvial system. Terrace heights are not comparable between fluvial systems due to a variety of local factors. Within a fluvial system, terraces of differing age can overlap in height due to cut-and-fill terrace formation (see Fig. 1), so attributions in the original papers are made on the basis of geological mapping. (XLS 179 kb)
About this article
Cite this article
Penkman, K., Preece, R., Bridgland, D. et al. A chronological framework for the British Quaternary based on Bithynia opercula. Nature 476, 446–449 (2011). https://doi.org/10.1038/nature10305
Received:

Accepted:

Published:

Issue Date:
Comments
By submitting a comment you agree to abide by our Terms and Community Guidelines. If you find something abusive or that does not comply with our terms or guidelines please flag it as inappropriate.