Abstract
Energy is required to heat the outer solar atmosphere to millions of degrees (refs 1, 2) and to accelerate the solar wind to hundreds of kilometres per second (refs 2–6). Alfvén waves (travelling oscillations of ions and magnetic field) have been invoked as a possible mechanism to transport magneto-convective energy upwards along the Sun's magnetic field lines into the corona. Previous observations7 of Alfvénic waves in the corona revealed amplitudes far too small (0.5 km s−1) to supply the energy flux (100–200 W m−2) required to drive the fast solar wind8 or balance the radiative losses of the quiet corona9. Here we report observations of the transition region (between the chromosphere and the corona) and of the corona that reveal how Alfvénic motions permeate the dynamic and finely structured outer solar atmosphere. The ubiquitous outward-propagating Alfvénic motions observed have amplitudes of the order of 20 km s−1 and periods of the order of 100–500 s throughout the quiescent atmosphere (compatible with recent investigations7,10), and are energetic enough to accelerate the fast solar wind and heat the quiet corona.
Access options
Subscribe to Journal
Get full journal access for 1 year
$199.00
only $3.90 per issue
All prices are NET prices.
VAT will be added later in the checkout.
Rent or Buy article
Get time limited or full article access on ReadCube.
from$8.99
All prices are NET prices.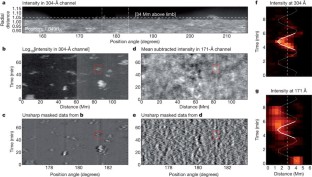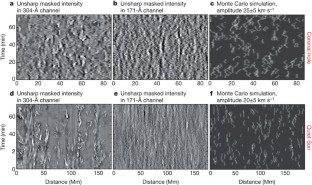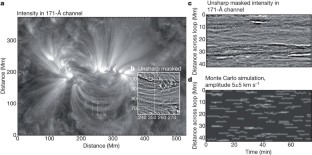 References
1

Belcher, J. W. & Olbert, S. Stellar winds driven by Alfvén waves. Astrophys. J. 200, 369–382 (1975)

2

Axford, W. I. et al. Acceleration of the high speed solar wind in coronal holes. Space Sci. Rev. 87, 25–41 (1999)

3

Matthaeus, W. H., Zank, G. P., Oughton, S., Mullan, D. J. & Dmitruk, P. Coronal heating by magnetohydrodynamic turbulence driven by reflected low-frequency waves. Astrophys. J. 523, L93–L97 (1999)

4

Cranmer, S. R., van Ballegooijen, A. A. & Edgar, R. J. Self-consistent coronal heating and solar wind acceleration from anisotropic magnetohydrodynamic turbulence. Astrophys. J. 171 (Suppl.). 520–551 (2007)

5

Suzuki, T. K. & Inutsuka, S.-i. Solar winds driven by nonlinear low-frequency Alfvén waves from the photosphere: parametric study for fast/slow winds and disappearance of solar winds. J. Geophys. Res. 111 A06101 10.1029/2005JA011502 (2006)

6

Verdini, A., Velli, M., Matthaeus, W. H., Oughton, S. & Dmitruk, P. A turbulence-driven model for heating and acceleration of the fast wind in coronal holes. Astrophys. J. 708, L116–L120 (2010)

7

Tomczyk, S. et al. Observations of Alfvén waves in the quiet solar corona. Science 317, 1192–1196 (2007)

8

Hansteen, V. H. & Leer, E. Coronal heating, densities, and temperatures and solar wind acceleration. J. Geophys. Res. 100, 21577–21593 (1995)

9

Withbroe, G. L. & Noyes, R. W. Mass and energy flow in the solar chromosphere and corona. Annu. Rev. Astron. Astrophys. 15, 363–387 (1977)

10

De Pontieu, B. et al. Chromospheric Alfvénic waves strong enough to power the solar wind. Science 318, 1574–1577 (2007)

11

Tsuneta, S. et al. The solar optical telescope for the Hinode mission: an overview. Sol. Phys. 249, 167–196 (2008)

12

Beckers, J. M. Solar spicules. Sol. Phys. 3, 367–433 (1968)

13

De Pontieu, B. et al. A tale of two spicules: the impact of spicules on the magnetic chromosphere. Publ. Astron. Soc. Jpn 59, 655–662 (2007)

14

Lemen, J. R. et al. The Atmospheric Imaging Assembly on the Solar Dynamics Observatory. Sol. Phys. (submitted)

15

De Pontieu, B. et al. The origin of hot coronal plasma. Science 331, 55–58 (2011)

16

De Pontieu, B., McIntosh, S. W., Hansteen, V. H. & Schrijver, C. J. Observing the roots of solar coronal heating—in the chromosphere. Astrophys. J. 701, L1–L6 (2009)

17

Tomczyk, S. & McIntosh, S. W. Time-distance seismology of the solar corona with CoMP. Astrophys. J. 697, 1384–1391 (2009)

18

Patsourakos, S. & Klimchuk, J. A. Nonthermal spectral line broadening and the nanoflare model. Astrophys. J. 647, 1452–1465 (2006)

19

McIntosh, S. W. et al. Observations supporting the role of magnetoconvection in energy supply to the quiescent solar atmosphere. Astrophys. J. 654, 650–664 (2007)

20

McIntosh, S. W., Leamon, R. J. & De Pontieu, B. The spectroscopic footprint of the fast solar wind. Astrophys. J. 727, 7 (2011)

21

Hollweg, J. V. Alfvén waves in a two-fluid model of the solar wind. Astrophys. J. 181, 547–566 (1973)

22

Chandran, B. D. G. Alfvén-wave turbulence and perpendicular ion temperatures in coronal holes. Astrophys. J. 720, 548–554 (2010)

23

Cranmer, S. R. & van Ballegooijen, A. A. Can the solar wind be driven by magnetic reconnection in the Sun's magnetic carpet? Astrophys. J. 720, 824–847 (2010)
Acknowledgements
SDO is the first mission of NASA's Living With a Star Program. NCAR is sponsored by the NSF.
Ethics declarations
Competing interests
The authors declare no competing financial interests.
Supplementary information
About this article
Cite this article
McIntosh, S., De Pontieu, B., Carlsson, M. et al. Alfvénic waves with sufficient energy to power the quiet solar corona and fast solar wind. Nature 475, 477–480 (2011). https://doi.org/10.1038/nature10235
Received:

Accepted:

Published:

Issue Date:
Comments
By submitting a comment you agree to abide by our Terms and Community Guidelines. If you find something abusive or that does not comply with our terms or guidelines please flag it as inappropriate.