Abstract
EBI2 (also called GPR183) is an orphan G-protein-coupled receptor that is highly expressed in spleen and upregulated upon Epstein–Barr-virus infection1. Recent studies indicated that this receptor controls follicular B-cell migration and T-cell-dependent antibody production2,3,4,5,6. Oxysterols elicit profound effects on immune and inflammatory responses as well as on cholesterol metabolism7,8,9. The biological effects of oxysterols have largely been credited to the activation of nuclear hormone receptors10,11. Here we isolate oxysterols from porcine spleen extracts and show that they are endogenous ligands for EBI2. The most potent ligand and activator is 7α,25-dihydroxycholesterol (OHC), with a dissociation constant of 450 pM for EBI2. In vitro, 7α,25-OHC stimulated the migration of EBI2-expressing mouse B and T cells with half-maximum effective concentration values around 500 pM, but had no effect on EBI2-deficient cells. In vivo, EBI2-deficient B cells or normal B cells desensitized by 7α,25-OHC pre-treatment showed reduced homing to follicular areas of the spleen. Blocking the synthesis of 7α,25-OHC in vivo with clotrimazole, a CYP7B1 inhibitor, reduced the content of 7α,25-OHC in the mouse spleen and promoted the migration of adoptively transferred pre-activated B cells to the T/B boundary (the boundary between the T-zone and B-zone in the spleen follicle), mimicking the phenotype of pre-activated B cells from EBI2-deficient mice. Our results show an unexpected causal link between EBI2, an orphan G-protein-coupled receptor controlling B-cell migration, and the known immunological effects of certain oxysterols, thus uncovering a previously unknown role for this class of molecules.
Access options
Subscribe to this journal
Receive 51 print issues and online access
$199.00 per year
only $3.90 per issue
Rent or buy this article
Prices vary by article type
from$1.95
to$39.95
Prices may be subject to local taxes which are calculated during checkout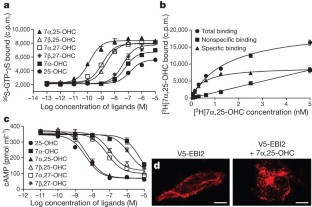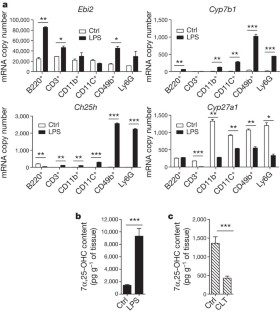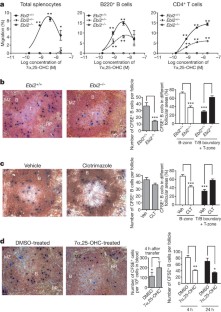 Similar content being viewed by others
Accession codes
Primary accessions
GenBank/EMBL/DDBJ
References
Birkenbach, M., Josefsen, K., Yalamanchili, R., Lenoir, G. & Kieff, E. Epstein-Barr virus-induced genes: first lymphocyte-specific G protein-coupled peptide receptors. J. Virol. 67, 2209–2220 (1993)

Pereira, J. P., Kelly, L. M., Xu, Y. & Cyster, J. G. EBI2 mediates B cell segregation between the outer and centre follicle. Nature 460, 1122–1126 (2009)

Pereira, J. P., Kelly, L. M. & Cyster, J. G. Finding the right niche: B-cell migration in the early phases of T-dependent antibody responses. Int. Immunol. 22, 413–419 (2010)

Gatto, D., Paus, D., Basten, A., Mackay, C. R. & Brink, R. Guidance of B cells by the orphan G protein-coupled receptor EBI2 shapes humoral immune responses. Immunity 31, 259–269 (2009)

Goodnow, C. C., Vinuesa, C. G., Randall, K. L., Mackay, F. & Brink, R. Control systems and decision making for antibody production. Nature Immunol. 11, 681–688 (2010)

Chan, T. D. et al. In vivo control of B-cell survival and antigen-specific B-cell responses. Immunol. Rev. 237, 90–103 (2010)

Schroepfer, G. J., Jr Oxysterols: modulators of cholesterol metabolism and other processes. Physiol. Rev. 80, 361–554 (2000)

Björkhem, I. & Diczfalusy, U. Oxysterols: friends, foes, or just fellow passengers? Arterioscler. Thromb. Vasc. Biol. 22, 734–742 (2002)

Zhao, C. & Dahlman-Wright, K. Liver X receptor in cholesterol metabolism. J. Endocrinol. 204, 233–240 (2010)

Willy, P. J. et al. LXR, a nuclear receptor that defines a distinct retinoid response pathway. Genes Dev. 9, 1033–1045 (1995)

Jin, L. et al. Structural basis for hydroxycholesterols as natural ligands of orphan nuclear receptor RORγ. Mol. Endocrinol. 24, 923–929 (2010)

Russell, D. W. Oxysterol biosynthetic enzymes. Biochim. Biophys. Acta 1529, 126–135 (2000)

Smith, L. L. Cholesterol autoxidation 1981–1986. Chem. Phys. Lipids 44, 87–125 (1987)

Rose, K. A. et al. Cyp7b, a novel brain cytochrome P450, catalyzes the synthesis of neurosteroids 7α-hydroxy dehydroepiandrosterone and 7α-hydroxy pregnenolone. Proc. Natl Acad. Sci. USA 94, 4925–4930 (1997)

Paila, Y. D. & Chattopadhyay, A. Membrane cholesterol in the function and organization of G-protein coupled receptors. Subcell. Biochem. 51, 439–466 (2010)

Liu, C. et al. Identification of relaxin-3/INSL7 as an endogenous ligand for the orphan G-protein-coupled receptor GPCR135. J. Biol. Chem. 278, 50754–50764 (2003)

Lund, E. G., Kerr, T. A., Sakai, J., Li, W. P. & Russell, D. W. cDNA cloning of mouse and human cholesterol 25-hydroxylases, polytopic membrane proteins that synthesize a potent oxysterol regulator of lipid metabolism. J. Biol. Chem. 273, 34316–34327 (1998)

Cali, J. J. & Russell, D. W. Characterization of human sterol 27-hydroxylase. A mitochondrial cytochrome P-450 that catalyzes multiple oxidation reaction in bile acid biosynthesis. J. Biol. Chem. 266, 7774–7778 (1991)

Diczfalusy, U. et al. Marked upregulation of cholesterol 25-hydroxylase expression by lipopolysaccharide. J. Lipid Res. 50, 2258–2264 (2009)

Bauman, D. R. et al. 25-Hydroxycholesterol secreted by macrophages in response to Toll-like receptor activation suppresses immunoglobulin A production. Proc. Natl Acad. Sci. USA 106, 16764–16769 (2009)

Napolitani, G., Rinaldi, A., Bertoni, F., Sallusto, F. & Lanzavecchia, A. Selected Toll-like receptor agonist combinations synergistically trigger a T helper type 1–polarizing program in dendritic cells. Nature Immunol. 6, 769–776 (2005)

Reif, K. et al. Balanced responsiveness to chemoattractants from adjacent zones determines B-cell position. Nature 416, 94–99 (2002)

Kelly, E., Bailey, C. P. & Henderson, G. Agonist-selective mechanisms of GPCR desensitization. Br. J. Pharmacol. 153, S379–S388 (2008)

Walzer, T. et al. Identification, activation, and selective in vivo ablation of mouse NK cells via NKp46. Proc. Natl Acad. Sci. USA 104, 3384–3389 (2007)

Kesteman, N., Vansanten, G., Pajak, B., Goyert, S. M. & Moser, M. Injection of lipopolysaccharide induces the migration of splenic neutrophils to the T cell area of the white pulp: role of CD14 and CXC chemokines. J. Leukoc. Biol. 83, 640–647 (2008)

Hannedouche, S. et al. Oxysterols direct immune cell migration via EBI2. Nature 10.1038/10280 (2011)

Li, D. & Spencer, T. A. Synthesis of 7α-hydroxy derivatives of regulatory sterols. Steroids 65, 529–535 (2000)

Sˇt'astná, E. et al. Stereoselectivity of sodium borohydride reduction of saturated steroidal ketones using conditions of Luche reduction. Steroids 75, 721–725 (2010)

Kumar, B. S. et al. Gas chromatography-mass spectrometry-based simultaneous quantitative analytical method for urinary oxysterols and bile acids in rats. Anal. Biochem. 408, 242–252 (2011)
Acknowledgements
We thank J. Palmer and J. Blevitt for microscopic image acquisition. We thank J. Zhu, R. Luna and S. Nguyen for technical assistance and J. Cowden for scientific discussions.
Ethics declarations
Competing interests
The authors declare no competing financial interests.
Supplementary information
This file contains Supplementary Tables 1-2, Supplementary Figures 1-17 with legends and Supplementary Methods. (PDF 1381 kb)
About this article
Cite this article
Liu, C., Yang, X., Wu, J. et al. Oxysterols direct B-cell migration through EBI2. Nature 475, 519–523 (2011). https://doi.org/10.1038/nature10226
Received:

Accepted:

Published:

Issue Date:

DOI: https://doi.org/10.1038/nature10226
Comments
By submitting a comment you agree to abide by our Terms and Community Guidelines. If you find something abusive or that does not comply with our terms or guidelines please flag it as inappropriate.