Abstract
A hallmark of RNA silencing is a class of approximately 22-nucleotide RNAs that are processed from double-stranded RNA precursors by Dicer. Accurate processing by Dicer is crucial for the functionality of microRNAs (miRNAs). The current model posits that Dicer selects cleavage sites by measuring a set distance from the 3′ overhang of the double-stranded RNA terminus. Here we report that human Dicer anchors not only the 3′ end but also the 5′ end, with the cleavage site determined mainly by the distance (∼22 nucleotides) from the 5′ end (5′ counting rule). This cleavage requires a 5′-terminal phosphate group. Further, we identify a novel basic motif (5′ pocket) in human Dicer that recognizes the 5′-phosphorylated end. The 5′ counting rule and the 5′ anchoring residues are conserved in Drosophila Dicer-1, but not in Giardia Dicer. Mutations in the 5′ pocket reduce processing efficiency and alter cleavage sites in vitro. Consistently, miRNA biogenesis is perturbed in vivo when Dicer-null embryonic stem cells are replenished with the 5′-pocket mutant. Thus, 5′-end recognition by Dicer is important for precise and effective biogenesis of miRNAs. Insights from this study should also afford practical benefits to the design of small hairpin RNAs.
Relevant articles
Open Access articles citing this article.
Seokju Park

,

Hee Doo Yang

…

Suk Woo Nam

Experimental & Molecular Medicine Open Access 21 June 2022

Trung Duc Nguyen

,

Tam Anh Trinh

…

Tuan Anh Nguyen

Nature Communications Open Access 19 April 2022

Veerendra Kumar Sharma

,

Sandeep Marla

…

David Edward Cook

Genome Biology Open Access 03 January 2022
Access options
Subscribe to this journal
Receive 51 print issues and online access
$199.00 per year
only $3.90 per issue
Rent or buy this article
Prices vary by article type
from$1.95
to$39.95
Prices may be subject to local taxes which are calculated during checkout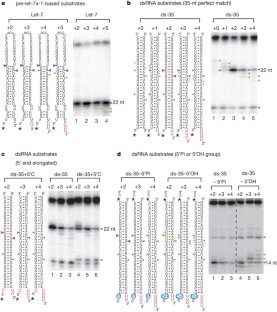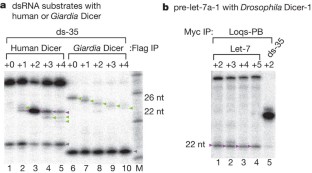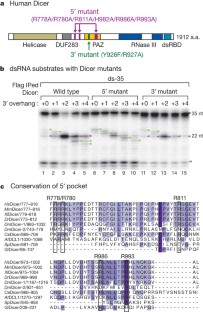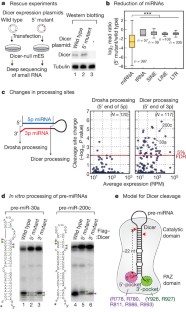 References
Kim, V. N., Han, J. & Siomi, M. C. Biogenesis of small RNAs in animals. Nature Rev. Mol. Cell Biol. 10, 126–139 (2009)

Lee, Y. et al. The nuclear RNase III Drosha initiates microRNA processing. Nature 425, 415–419 (2003)

Ketting, R. F. et al. Dicer functions in RNA interference and in synthesis of small RNA involved in developmental timing in C. elegans . Genes Dev. 15, 2654–2659 (2001)

Bernstein, E., Caudy, A. A., Hammond, S. M. & Hannon, G. J. Role for a bidentate ribonuclease in the initiation step of RNA interference. Nature 409, 363–366 (2001)

Grishok, A. et al. Genes and mechanisms related to RNA interference regulate expression of the small temporal RNAs that control C. elegans developmental timing. Cell 106, 23–34 (2001)

Hutvagner, G. et al. A cellular function for the RNA-interference enzyme Dicer in the maturation of the let-7 small temporal RNA. Science 293, 834–838 (2001)

Knight, S. W. & Bass, B. L. A role for the RNase III enzyme DCR-1 in RNA interference and germ line development in Caenorhabditis elegans . Science 293, 2269–2271 (2001)

Hammond, S. M., Boettcher, S., Caudy, A. A., Kobayashi, R. & Hannon, G. J. Argonaute2, a link between genetic and biochemical analyses of RNAi. Science 293, 1146–1150 (2001)

Tabara, H., Yigit, E., Siomi, H. & Mello, C. C. The dsRNA binding protein RDE-4 interacts with RDE-1, DCR-1, and a DExH-box helicase to direct RNAi in C. elegans . Cell 109, 861–871 (2002)

Mourelatos, Z. et al. miRNPs: a novel class of ribonucleoproteins containing numerous microRNAs. Genes Dev. 16, 720–728 (2002)

Han, J. et al. Molecular basis for the recognition of primary microRNAs by the Drosha–DGCR8 complex. Cell 125, 887–901 (2006)

Vermeulen, A. et al. The contributions of dsRNA structure to Dicer specificity and efficiency. RNA 11, 674–682 (2005)

Zhang, H., Kolb, F. A., Brondani, V., Billy, E. & Filipowicz, W. Human Dicer preferentially cleaves dsRNAs at their termini without a requirement for ATP. EMBO J. 21, 5875–5885 (2002)

Zhang, H., Kolb, F. A., Jaskiewicz, L., Westhof, E. & Filipowicz, W. Single processing center models for human Dicer and bacterial RNase III. Cell 118, 57–68 (2004)

MacRae, I. J., Zhou, K. & Doudna, J. A. Structural determinants of RNA recognition and cleavage by Dicer. Nature Struct. Mol. Biol. 14, 934–940 (2007)

MacRae, I. J. et al. Structural basis for double-stranded RNA processing by Dicer. Science 311, 195–198 (2006)

Burroughs, A. M. et al. A comprehensive survey of 3′ animal miRNA modification events and a possible role for 3′ adenylation in modulating miRNA targeting effectiveness. Genome Res. 20, 1398–1410 (2010)

Wu, H., Ye, C., Ramirez, D. & Manjunath, N. Alternative processing of primary microRNA transcripts by Drosha generates 5′ end variation of mature microRNA. PLoS ONE 4, e7566 (2009)

Heo, I. et al. Lin28 mediates the terminal uridylation of let-7 precursor microRNA. Mol. Cell 32, 276–284 (2008)

Chiang, H. R. et al. Mammalian microRNAs: experimental evaluation of novel and previously annotated genes. Genes Dev. 24, 992–1009 (2010)

Bartel, D. P. MicroRNAs: target recognition and regulatory functions. Cell 136, 215–233 (2009)

Tomari, Y., Matranga, C., Haley, B., Martinez, N. & Zamore, P. D. A protein sensor for siRNA asymmetry. Science 306, 1377–1380 (2004)

Serra, M. J. et al. Effects of magnesium ions on the stabilization of RNA oligomers of defined structures. RNA 8, 307–323 (2002)

Gunther, T. Concentration, compartmentation and metabolic function of intracellular free Mg2+ . Magnes. Res. 19, 225–236 (2006)

Jiang, F. et al. Dicer-1 and R3D1-L catalyze microRNA maturation in Drosophila . Genes Dev. 19, 1674–1679 (2005)

Saito, K., Ishizuka, A., Siomi, H. & Siomi, M. C. Processing of pre-microRNAs by the Dicer-1–Loquacious complex in Drosophila cells. PLoS Biol. 3, e235 (2005)

Miyoshi, K., Miyoshi, T., Hartig, J. V., Siomi, H. & Siomi, M. C. Molecular mechanisms that funnel RNA precursors into endogenous small-interfering RNA and microRNA biogenesis pathways in Drosophila . RNA 16, 506–515 (2010)

Förstemann, K. et al. Normal microRNA maturation and germ-line stem cell maintenance requires Loquacious, a double-stranded RNA-binding domain protein. PLoS Biol. 3, e236 (2005)

Lee, Y. S. et al. Distinct roles for Drosophila Dicer-1 and Dicer-2 in the siRNA/miRNA silencing pathways. Cell 117, 69–81 (2004)

Roy, A., Kucukural, A. & Zhang, Y. I-TASSER: a unified platform for automated protein structure and function prediction. Nature Protocols 5, 725–738 (2010)

Murchison, E. P., Partridge, J. F., Tam, O. H., Cheloufi, S. & Hannon, G. J. Characterization of Dicer-deficient murine embryonic stem cells. Proc. Natl Acad. Sci. USA 102, 12135–12140 (2005)

Heo, I. et al. TUT4 in concert with Lin28 suppresses microRNA biogenesis through pre-microRNA uridylation. Cell 138, 696–708 (2009)

Seitz, H., Ghildiyal, M. & Zamore, P. D. Argonaute loading improves the 5′ precision of both microRNAs and their miRNA* strands in flies. Curr. Biol. 18, 147–151 (2008)

Chang, K., Elledge, S. J. & Hannon, G. J. Lessons from Nature: microRNA-based shRNA libraries. Nature Methods 3, 707–714 (2006)

Silva, J., Chang, K., Hannon, G. J. & Rivas, F. V. RNA-interference-based functional genomics in mammalian cells: reverse genetics coming of age. Oncogene 23, 8401–8409 (2004)

Kim, D. H. & Rossi, J. J. Strategies for silencing human disease using RNA interference. Nature Rev. Genet. 8, 173–184 (2007)

Han, K. An efficient DDAB-mediated transfection of Drosophila S2 cells. Nucleic Acids Res. 24, 4362–4363 (1996)

Hafner, M. et al. Transcriptome-wide identification of RNA-binding protein and microRNA target sites by PAR-CLIP. Cell 141, 129–141 (2010)

Li, H. & Durbin, R. Fast and accurate short read alignment with Burrows–Wheeler transform. Bioinformatics 25, 1754–1760 (2009)

Babiarz, J. E., Ruby, J. G., Wang, Y., Bartel, D. P. & Blelloch, R. Mouse ES cells express endogenous shRNAs, siRNAs, and other Microprocessor-independent, Dicer-dependent small RNAs. Genes Dev. 22, 2773–2785 (2008)

Benjamini, Y. & Hochberg, Y. Controlling the false discovery rate—a practical and powerful approach to multiple testing. J. R. Stat. Soc., B 57, 289–300 (1995)
Acknowledgements
We are grateful to G. Hannon for Dicer-null mouse ES cells; J. Doudna for Giardia Dicer cDNA; and M. Siomi for Drosophila Dicer-1, Dicer-2, Loqs-PB and R2D2 constructs. We also thank the members of the V.N.K. laboratory, particularly C. Joo, M.-J. Yoon, K.-H. Yeom and A. Cho for discussions and technical help. The V.N.K. laboratory was supported by the Creative Research Initiatives Program (2010000021) and National Honor Scientist Program (20100020415) through the National Research Foundation and the BK21 Fellowships (J.-E.P. and H.C.) from the Ministry of Education, Science and Technology. Research in the D.J.P. laboratory was supported by the National Institutes of Health.
Ethics declarations
Competing interests
The authors declare no competing financial interests.
Supplementary information
About this article
Cite this article
Park, JE., Heo, I., Tian, Y. et al. Dicer recognizes the 5′ end of RNA for efficient and accurate processing. Nature 475, 201–205 (2011). https://doi.org/10.1038/nature10198
Received:

Accepted:

Published:

Issue Date:

DOI: https://doi.org/10.1038/nature10198
Comments
By submitting a comment you agree to abide by our Terms and Community Guidelines. If you find something abusive or that does not comply with our terms or guidelines please flag it as inappropriate.