Abstract
Arising from R. Calsbeek & R. M. Cox Nature 465, 613–616 (2010)10.1038/nature09020; Calsbeek and Cox reply
Discerning the relative influence of competition and predation as selective forces is an important goal of evolutionary ecology. Calsbeek and Cox1 argue that intraspecific competition outweighs predation as an agent of natural selection on island populations of the lizard Anolis sagrei. However, we identify several problems with the design and analysis of the Calsbeek and Cox1 study that we believe render its results uninterpretable.
This is a preview of subscription content
Access options
Subscribe to Journal
Get full journal access for 1 year
$199.00
only $3.90 per issue
All prices are NET prices.
VAT will be added later in the checkout.
Tax calculation will be finalised during checkout.
Rent or Buy article
Get time limited or full article access on ReadCube.
from$8.99
All prices are NET prices.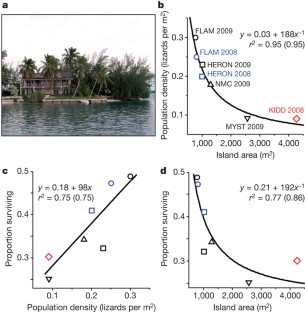 References
1

Calsbeek, R. & Cox, R. M. Experimentally assessing the relative importance of predation and competition as agents of selection. Nature 465, 613–616 (2010)

2

Schoener, T. W. & Schoener, A. Distribution of vertebrates on some very small islands. II. Patterns in species number. J. Anim. Ecol. 52, 237–262 (1983)

3

Schoener, T. W. & Schoener, A. Inverse relation of survival of lizards with island size and avifaunal richness. Nature 274, 685–687 (1978)

4

Schoener, T. W., Losos, J. B. & Spiller, D. Island biogeography of populations: an introduced species transforms survival patterns. Science 310, 1807–1809 (2005)

5

Polis, G. A. & Hurd, S. D. Linking marine and terrestrial food webs: allochthonous input from the ocean supports high primary productivity on small islands and coastal land communities. Am. Nat. 147, 396–423 (1996)

6

Spiller, D. A. et al. Marine subsidies have multiple effects on coastal food webs. Ecology 91, 1424–1434 (2010)

7

Díaz-Uriarte, R. Anti-predator behaviour changes following an aggressive encounter in the lizard Tropidurus hispidus . Proc. R. Soc. Lond. B 266, 2457–2464 (1999)
Ethics declarations
Competing interests
Competing financial interests: declared none
About this article
Cite this article
Losos, J., Pringle, R. Competition, predation and natural selection in island lizards. Nature 475, E1–E2 (2011). https://doi.org/10.1038/nature10140
Received:

Accepted:

Published:

Issue Date:
Further reading
Ryan Calsbeek
Robert M. Cox

Nature (2011)
Comments
By submitting a comment you agree to abide by our Terms and Community Guidelines. If you find something abusive or that does not comply with our terms or guidelines please flag it as inappropriate.