Abstract
The primate lentivirus auxiliary protein Vpx counteracts an unknown restriction factor that renders human dendritic and myeloid cells largely refractory to HIV-1 infection1,2,3,4,5,6. Here we identify SAMHD1 as this restriction factor. SAMHD1 is a protein involved in Aicardi–Goutières syndrome, a genetic encephalopathy with symptoms mimicking congenital viral infection, that has been proposed to act as a negative regulator of the interferon response7. We show that Vpx induces proteasomal degradation of SAMHD1. Silencing of SAMHD1 in non-permissive cell lines alleviates HIV-1 restriction and is associated with a significant accumulation of viral DNA in infected cells. Concurrently, overexpression of SAMHD1 in sensitive cells inhibits HIV-1 infection. The putative phosphohydrolase activity of SAMHD1 is probably required for HIV-1 restriction. Vpx-mediated relief of restriction is abolished in SAMHD1-negative cells. Finally, silencing of SAMHD1 markedly increases the susceptibility of monocytic-derived dendritic cells to infection. Our results demonstrate that SAMHD1 is an antiretroviral protein expressed in cells of the myeloid lineage that inhibits an early step of the viral life cycle.
Your institute does not have access to this article
Relevant articles
Open Access articles citing this article.
Jeffrey Kuniholm

,

Carolyn Coote

&

Andrew J. Henderson

Retrovirology Open Access 28 June 2022

Ousman Jobe

,

Jiae Kim

…

Mangala Rao

Scientific Reports Open Access 09 May 2022

Alessandra Gallinaro

,

Maria Franca Pirillo

…

Andrea Cara

npj Vaccines Open Access 21 April 2022
Access options
Subscribe to Journal
Get full journal access for 1 year
$199.00
only $3.90 per issue
All prices are NET prices.
VAT will be added later in the checkout.
Tax calculation will be finalised during checkout.
Buy article
Get time limited or full article access on ReadCube.
$32.00
All prices are NET prices.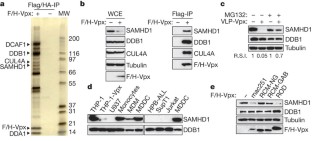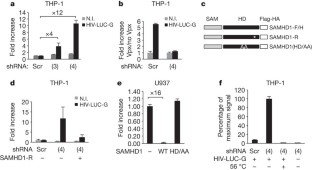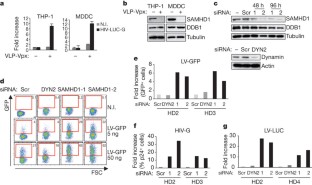 References
Goujon, C. et al. Characterization of simian immunodeficiency virus SIVSM/human immunodeficiency virus type 2 Vpx function in human myeloid cells. J. Virol. 82, 12335–12345 (2008)

Goujon, C. et al. SIVSM/HIV-2 Vpx proteins promote retroviral escape from a proteasome-dependent restriction pathway present in human dendritic cells. Retrovirology 4, 2 (2007)

Hirsch, V. M. et al. Vpx is required for dissemination and pathogenesis of SIVSM PBj: evidence of macrophage-dependent viral amplification. Nature Med. 4, 1401–1408 (1998)

Kaushik, R., Zhu, X., Stranska, R., Wu, Y. & Stevenson, M. A cellular restriction dictates the permissivity of nondividing monocytes/macrophages to lentivirus and gammaretrovirus infection. Cell Host Microbe 6, 68–80 (2009)

Sharova, N. et al. Primate lentiviral Vpx commandeers DDB1 to counteract a macrophage restriction. PLoS Pathog. 4, e1000057 (2008)

Ayinde, D., Maudet, C., Transy, C. & Margottin-Goguet, F. Limelight on two HIV/SIV accessory proteins in macrophage infection: is Vpx overshadowing Vpr? Retrovirology 7, 35 (2010)

Rice, G. I. et al. Mutations involved in Aicardi-Goutieres syndrome implicate SAMHD1 as regulator of the innate immune response. Nature Genet. 41, 829–832 (2009)

Nakatani, Y. & Ogryzko, V. Immunoaffinity purification of mammalian protein complexes. Methods Enzymol. 370, 430–444 (2003)

Bergamaschi, A. et al. The human immunodeficiency virus type 2 Vpx protein usurps the CUL4A–DDB1 DCAF1 ubiquitin ligase to overcome a postentry block in macrophage infection. J. Virol. 83, 4854–4860 (2009)

Srivastava, S. et al. Lentiviral Vpx accessory factor targets VprBP/DCAF1 substrate adaptor for cullin 4 E3 ubiquitin ligase to enable macrophage infection. PLoS Pathog. 4, e1000059 (2008)

Li, N., Zhang, W. & Cao, X. Identification of human homologue of mouse IFN-γ induced protein from human dendritic cells. Immunol. Lett. 74, 221–224 (2000)

Liao, W., Bao, Z., Cheng, C., Mok, Y. K. & Wong, W. S. Dendritic cell-derived interferon-γ-induced protein mediates tumor necrosis factor-α stimulation of human lung fibroblasts. Proteomics 8, 2640–2650 (2008)

Zhao, D., Peng, D., Li, L., Zhang, Q. & Zhang, C. Inhibition of G1P3 expression found in the differential display study on respiratory syncytial virus infection. Virol. J. 5, 114 (2008)

Zimmerman, M. D., Proudfoot, M., Yakunin, A. & Minor, W. Structural insight into the mechanism of substrate specificity and catalytic activity of an HD-domain phosphohydrolase: the 5′-deoxyribonucleotidase YfbR from Escherichia coli . J. Mol. Biol. 378, 215–226 (2008)

Gramberg, T., Sunseri, N. & Landau, N. R. Evidence for an activation domain at the amino terminus of simian immunodeficiency virus Vpx. J. Virol. 84, 1387–1396 (2010)

Stremlau, M. et al. The cytoplasmic body component TRIM5α restricts HIV-1 infection in Old World monkeys. Nature 427, 848–853 (2004)

Sheehy, A. M., Gaddis, N. C., Choi, J. D. & Malim, M. H. Isolation of a human gene that inhibits HIV-1 infection and is suppressed by the viral Vif protein. Nature 418, 646–650 (2002)

Neil, S. J., Zang, T. & Bieniasz, P. D. Tetherin inhibits retrovirus release and is antagonized by HIV-1 Vpu. Nature 451, 425–430 (2008)

Altfeld, M., Fadda, L., Frleta, D. & Bhardwaj, N. DCs and NK cells: critical effectors in the immune response to HIV-1. Nature Rev. Immunol. 11, 176–186 (2011)

Yan, N. & Lieberman, J. Gaining a foothold: how HIV avoids innate immune recognition. Curr. Opin. Immunol. 23, 21–28 (2011)

Manel, N. et al. A cryptic sensor for HIV-1 activates antiviral innate immunity in dendritic cells. Nature 467, 214–217 (2010)

Borrow, P., Shattock, R. J. & Vyakarnam, A. Innate immunity against HIV: a priority target for HIV prevention research. Retrovirology 7, 84 (2010)

Cobb, A. et al. Development of a HIV-1 lipopeptide antigen pulsed therapeutic dendritic cell vaccine. J. Immunol. Methods 365, 27–37 (2011)

Lepelley, A. et al. Innate sensing of HIV-infected cells. PLoS Pathog. 7, e1001284 (2011)

Blanchet, F. P. et al. Human immunodeficiency virus-1 inhibition of immunoamphisomes in dendritic cells impairs early innate and adaptive immune responses. Immunity 32, 654–669 (2010)

Kumar, D., Shadrach, J. L., Wagers, A. J. & Lassar, A. B. Id3 is a direct transcriptional target of Pax7 in quiescent satellite cells. Mol. Biol. Cell 20, 3170–3177 (2009)

Sobhian, B. et al. HIV-1 Tat assembles a multifunctional transcription elongation complex and stably associates with the 7SK snRNP. Mol. Cell 38, 439–451 (2010)
Acknowledgements
We wish to thank members of the Molecular Virology laboratory for critical reading of the manuscript, N. Manel for SIV3+ molecular clone and J. Luban for SIV delta Vpx and Vpx mutants. This work was supported by grants from the ERC (250333), Sidaction, ANRS and FRM 'équipe labéllisée' to M.B. N.L was supported by ANRS and SIDACTION fellowships; B.S. by ANRS fellowship; M.R. by CNRS/région Languedoc Roussillon fellowship. O.S. and N.C. are supported by grants from ANRS, Sidaction, ANR, European FP7 contract 201412 and Institut Pasteur.
Ethics declarations
Competing interests
The authors declare no competing financial interests.
Supplementary information
About this article
Cite this article
Laguette, N., Sobhian, B., Casartelli, N. et al. SAMHD1 is the dendritic- and myeloid-cell-specific HIV-1 restriction factor counteracted by Vpx. Nature 474, 654–657 (2011). https://doi.org/10.1038/nature10117
Received:

Accepted:

Published:

Issue Date:

DOI: https://doi.org/10.1038/nature10117
Comments
By submitting a comment you agree to abide by our Terms and Community Guidelines. If you find something abusive or that does not comply with our terms or guidelines please flag it as inappropriate.