Abstract
Integrated optical modulators with high modulation speed, small footprint and large optical bandwidth are poised to be the enabling devices for on-chip optical interconnects1,2. Semiconductor modulators have therefore been heavily researched over the past few years. However, the device footprint of silicon-based modulators is of the order of millimetres, owing to its weak electro-optical properties3. Germanium and compound semiconductors, on the other hand, face the major challenge of integration with existing silicon electronics and photonics platforms4,5,6. Integrating silicon modulators with high-quality-factor optical resonators increases the modulation strength, but these devices suffer from intrinsic narrow bandwidth and require sophisticated optical design; they also have stringent fabrication requirements and limited temperature tolerances7. Finding a complementary metal-oxide-semiconductor (CMOS)-compatible material with adequate modulation speed and strength has therefore become a task of not only scientific interest, but also industrial importance. Here we experimentally demonstrate a broadband, high-speed, waveguide-integrated electroabsorption modulator based on monolayer graphene. By electrically tuning the Fermi level of the graphene sheet, we demonstrate modulation of the guided light at frequencies over 1 GHz, together with a broad operation spectrum that ranges from 1.35 to 1.6 µm under ambient conditions. The high modulation efficiency of graphene results in an active device area of merely 25 µm2, which is among the smallest to date. This graphene-based optical modulation mechanism, with combined advantages of compact footprint, low operation voltage and ultrafast modulation speed across a broad range of wavelengths, can enable novel architectures for on-chip optical communications.
Relevant articles
Open Access articles citing this article.
Dina Reda Elshahat

,

Nihal F. F. Areed

&

Bedir Yousif

Plasmonics Open Access 11 May 2023

Luca Anzi

,

Artur Tuktamyshev

…

Roman Sordan

npj 2D Materials and Applications Open Access 21 April 2022

Chiara Trovatello

,

Giulia Piccinini

…

Stefano Dal Conte

npj 2D Materials and Applications Open Access 28 March 2022
Access options
Subscribe to this journal
Receive 51 print issues and online access
$199.00 per year
only $3.90 per issue
Rent or buy this article
Get just this article for as long as you need it
$39.95
Prices may be subject to local taxes which are calculated during checkout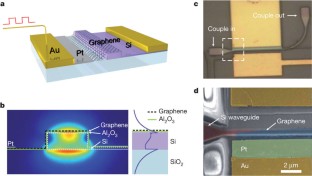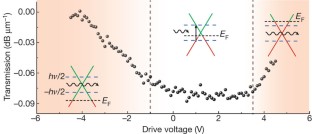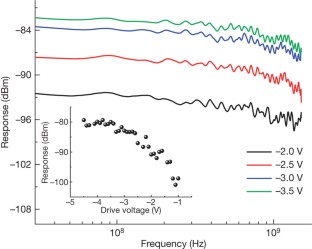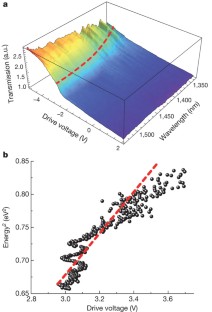 References
Miller, D. A. B. Are optical transistors the logical next step? Nature Photon. 4, 3–5 (2010)

Reed, G. T., Mashanovich, G., Gardes, F. Y. & Thomson, D. J. Silicon optical modulators. Nature Photon. 4, 518–526 (2010)

Liu, A. S. et al. A high-speed silicon optical modulator based on a metal-oxide-semiconductor capacitor. Nature 427, 615–618 (2004)

Kuo, Y. H. et al. Strong quantum-confined Stark effect in germanium quantum-well structures on silicon. Nature 437, 1334–1336 (2005)

Liu, J. et al. Waveguide-integrated, ultralow-energy GeSi electro-absorption modulators. Nature Photon. 2, 433–437 (2008)

Miller, D. A. B. et al. Band-edge electroabsorption in quantum well structures — the quantum-confined Stark-effect. Phys. Rev. Lett. 53, 2173–2176 (1984)

Xu, Q., Schmidt, B., Pradhan, S. & Lipson, M. Micrometre-scale silicon electro-optic modulator. Nature 435, 325–327 (2005)

Novoselov, K. S. Electric field effect in atomically thin carbon films. Science 306, 666–669 (2004)

Geim, A. K. & Novoselov, K. S. The rise of graphene. Nature Mater. 6, 183–191 (2007)

Schwierz, F. Graphene transistors. Nature Nanotechnol. 5, 487–496 (2010)

Bonaccorso, F., Sun, Z., Hasan, T. & Ferrari, A. Graphene photonics and optoelectronics. Nature Photon. 4, 611–622 (2010)

Liao, L. et al. High-speed graphene transistors with a self-aligned nanowire gate. Nature 467, 305–308 (2010)

Avouris, P., Chen, Z. H. & Perebeinos, V. Carbon-based electronics. Nature Nanotechnol. 2, 605–615 (2007)

Wang, F. et al. Gate-variable optical transitions in graphene. Science 320, 206–209 (2008)

Li, Z. Q. et al. Dirac charge dynamics in graphene by infrared spectroscopy. Nature Phys. 4, 532–535 (2008)

Xia, F. N., Mueller, T., Lin, Y. M., Valdes-Garcia, A. & Avouris, P. Ultrafast graphene photodetector. Nature Nanotechnol. 4, 839–843 (2009)

Xu, X., Gabor, N. M., Alden, J. S., van der Zande, A. M. & McEuen, P. L. Photo-thermoelectric effect at a graphene interface junction. Nano Lett. 10, 562–566 (2010)

Nair, R. R. et al. Fine structure constant defines visual transparency of graphene. Science 320, 1308 (2008)

Mak, K. F. et al. Measurement of the optical conductivity of graphene. Phys. Rev. Lett. 101, 196405 (2008)

Bolotin, K. I. et al. Ultrahigh electron mobility in suspended graphene. Solid State Commun. 146, 351–355 (2008)

Du, X., Skachko, I., Barker, A. & Andrei, E. Y. Approaching ballistic transport in suspended graphene. Nature Nanotechnol. 3, 491–495 (2008)

Kampfrath, T., Perfetti, L., Schapper, F., Frischkorn, C. & Wolf, M. Strongly coupled optical phonons in the ultrafast dynamics of the electronic energy and current relaxation in graphite. Phys. Rev. Lett. 95, 187403 (2005)

Kim, K. S. et al. Large-scale pattern growth of graphene films for stretchable transparent electrodes. Nature 457, 706–710 (2009)

Bae, S. et al. Roll-to-roll production of 30-inch graphene films for transparent electrodes. Nature Nanotechnol. 5, 574–578 (2010)

Reina, A. et al. Large area, few-layer graphene films on arbitrary substrates by chemical vapor deposition. Nano Lett. 9, 30–35 (2009)

Li, X. et al. Large-area synthesis of high-quality and uniform graphene films on copper foils. Science 324, 1312–1314 (2009)

Zhang, Y. B., Brar, V. W., Girit, C., Zettl, A. & Crommie, M. F. Origin of spatial charge inhomogeneity in graphene. Nature Phys. 5, 722–726 (2009)

Jablan, M., Buljan, H. & Soljacˇic´, M. Plasmonics in graphene at infrared frequencies. Phys. Rev. B 80, 245435 (2009)

Zhou, S. Y. et al. First direct observation of Dirac fermions in graphite. Nature Phys. 2, 595–599 (2006)

Rogers, J. A., Someya, T. & Huang, Y. G. Materials and mechanics for stretchable electronics. Science 327, 1603–1607 (2010)
Acknowledgements
This work was supported by the National Science Foundation Nano-scale Science and Engineering Center (NSF-NSEC) for Scalable and Integrated Nano Manufacturing (SINAM) (grant no. CMMI-0751621) and by the US Department of Energy, Basic Energy Sciences Energy Frontier Research Center (DoE-LMI-EFRC) under award DOE DE-AC02-05CH11231. M.L. thanks Y. Rao for discussions.
Ethics declarations
Competing interests
International patent applications may be affected by the paper.
About this article
Cite this article
Liu, M., Yin, X., Ulin-Avila, E. et al. A graphene-based broadband optical modulator. Nature 474, 64–67 (2011). https://doi.org/10.1038/nature10067
Received:

Accepted:

Published:

Issue Date:

DOI: https://doi.org/10.1038/nature10067
Comments
By submitting a comment you agree to abide by our Terms and Community Guidelines. If you find something abusive or that does not comply with our terms or guidelines please flag it as inappropriate.